Mental Health & Wellbeing Practitioner: Specialist Adult Mental Health
PGCert
Train as a mental health and wellbeing practitioner and learn how to support adults experiencing severe and enduring mental ill health, by delivering psychologically informed, low intensity interventions.
Overview
This course has been designed to prepare you for the new and innovative mental health and wellbeing practitioner (MHWP) role, which will form a core part of existing community health teams. You will become employed by a local participating mental health service, working alongside other mental health practitioners, therapists and practitioners, and spend a training year undertaking this Postgraduate Certificate. During the 12-month course, you will be trained in the engagement and assessment of adults with severe mental health problems. You'll also learn how to develop care plans and deliver low intensity psychologically informed interventions in collaboration with service users, their carers, and families. Whether you are already employed, or aspire to work, in the adult mental health sector, you will benefit from a high-quality academic experience, which combines online study, in-person clinical skills training and practice-based learning. The course also aligns with the work-based component of the mental health and wellbeing training programme designated by Health Education England.
Please note, this course is also available as an undergraduate University Advanced Certificate for which different entry criteria apply.
Course features
Professional Practice Placements
What you'll study
The course comprises three modules which provide insights into the importance of multi-disciplinary working, care coordination, and supporting collaborative decision-making with service users, their families, and carers. You will gain the knowledge and expertise needed to work effectively in community mental health teams, as part of an emerging and developing workforce.
You will also gain the skills needed to deliver wellbeing-focused, psychologically informed interventions, aligned to cognitive-behavioural principles. These interventions will be based on the best evidence available and seek to address the difficulties often experienced by people with severe mental health problems.
Care Planning in Partnership
Engagement and Assessment with People with Severe Mental Health Problems
Wellbeing-Focused Psychologically Informed Interventions for Severe Mental Health Problems
How you'll study
The course adopts a blended model of online study, in-person clinical skills training and practice-based learning. This blended approach, which may be subject to adjustment in line with service delivery needs, enables you to learn from observation and skills practice under supervision, while also working in fully functioning adult community mental health/integrated primary care services. There are additional benefits from the flexibility of remote learning.
An initial two-day induction will be followed by one to two days per week of remote learning sessions including keynote lectures and interactive learning. There will be three blocks of in-person learning in clinical skills, which you can attend at Edge Hill University or an alternative venue in the East of England. The remaining time will be spent in the workplace engaging in practice-based learning.
It is expected that trainees will complete a minimum of 80 hours of clinical practice working with patients in an adult community mental health service. This will include 40 hours delivering psychologically informed interventions. You will also receive a minimum of 40 hours supervision. This will include 20 hours of case management and 20 hours of clinical skills in practice.
How you'll be assessed
You will be assessed through a combination of assignments, report writing and simulated assessments. This will include video recordings, a reflective portfolio, and more traditional written assignments. We will test your ability to organise, structure and manage information and develop concepts and arguments.
Who will be teaching you
Several members of the course team have practical experience working in the mental health sector, such as health visitors, mental health nurses, family therapists, social workers, psychologists, counsellors and psychotherapists, all of whom will have dealt with the long-term consequences of mental health issues not being addressed at an early age.
You will be taught by academic experts with a diverse portfolio of research and teaching and learning experience across a variety of disciplines. Areas of interest include health and social care, public health, health commissioning, and workforce transformation, as well as other relevant disciplines such as sociology, psychology, criminal justice, law, ethics, and counselling and psychotherapy.
There will also be opportunities to learn from associate tutors and visiting lecturers who have their own experiences, knowledge and skills to share from working with vulnerable individuals.
Entry criteria
Entry requirements
You should have a degree equivalent to UK first-class or second-class honours (2:2 or above), as well as at least five GCSEs at Grade C or Grade 4 or above (or equivalent), including GCSE English Language.
You will also need to demonstrate the intrapersonal skills and values consistent with providing hopeful, person-centred care and show a commitment to working with people with complex mental health needs.
An interview forms part of the selection process.
If you accept a formal offer from Edge Hill University you will be required to apply for a Disclosure and Barring Service (DBS) Enhanced Disclosure indicating that you meet the mandatory criteria of 'Clearance to Work with Children and/or Vulnerable Adults'. Further information will be sent to you after you have firmly accepted an offer.
How to apply
Apply full-time
Apply online through NHS Jobs
Apply online through NHS Jobs.
We recommend interested applicants create an account with NHS Jobs and set up an email alert to search 'mental health and wellbeing practitioner'. You will then be made aware when posts go out to advert.
Successful candidates will be employed by a specific NHS trust and released to train at Edge Hill University.
Should you accept an offer of a place to study with us and formally enrol as a student, you will be subject to the provisions of the regulations, rules, codes, conditions and policies which apply to our students. These are available at www.edgehill.ac.uk/studentterms.
Did you know?
If you join a full time undergraduate degree at Edge Hill University, we will guarantee you the offer of a room in our halls of residence for the first year of your course.
Discover our accommodation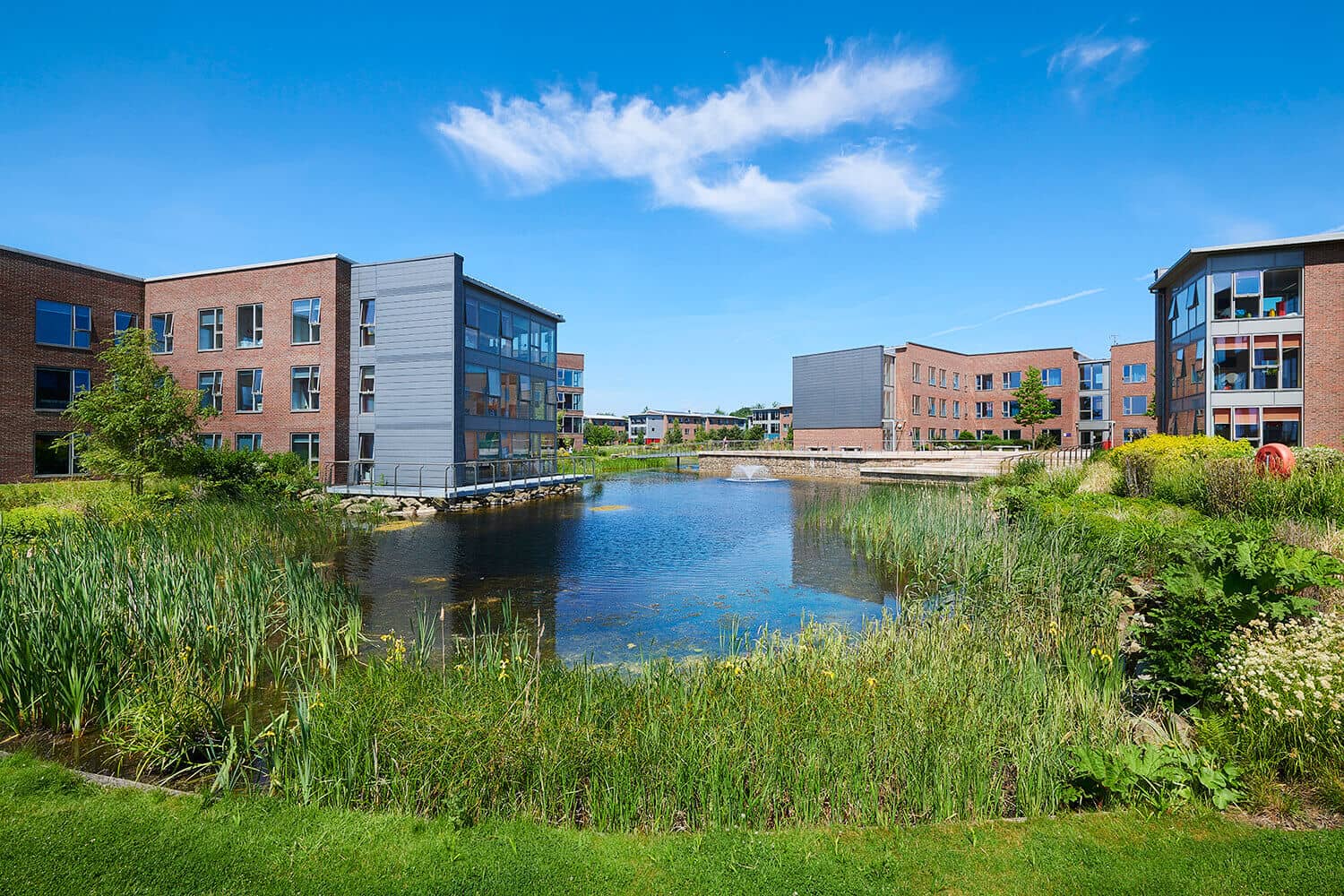 Facilities
The Faculty of Health, Social Care and Medicine offers some of the best facilities for the education and training of health and social care professionals in the country.
The outstanding teaching and learning resources include leading edge clinical skills facilities, an 860-seat lecture theatre, and a variety of teaching rooms and social learning spaces.
Where you'll study
Clinical Skills and Simulation Centre
Faculty of Health, Social Care and Medicine
Learning resources
The Clinical Skills and Simulation Centre offers a variety of simulated environments from home, through primary and emergency care, to secondary care and beyond. The flexible and adaptable facilities include a ward environment, operating theatre, an anatomy and ultrasound resource centre, a 'Better at Home' suite, clinical skills area and consultation rooms.
You will benefit from access to a wide variety of healthcare equipment, as well as a range of full-body patient simulators that can breathe, talk, have pulses and can simulate a wide range of symptoms and clinical conditions. This will enable you to undertake practical scenarios in realistic settings, providing ideal preparation for professional practice placements and future employment.
Finance
Tuition fees
UK Full-Time
Free of charge
for the course
There are currently no tuition fees for this course which is funded by Health Education England.
EU/EEA and Swiss students who have settled or pre-settled status under the EU Settlement Scheme, as well as Irish nationals, may also be eligible to join the Fastrack course free of charge.
Financial support
You will be funded at NHS Agenda for Change (AfC) Band 4 level for the twelve months of study. Further information about pay and benefits in the NHS is available on the NHS Health Careers website.
Your future career
On successful completion of the course, you will be equipped with the necessary skills, knowledge and capabilities to work as a mental health and wellbeing practitioner. You will be eligible to apply for Band 5 mental health and wellbeing practitioner posts. Your experience of intensive practice-based sessions, and working across agencies while training, will further enhance your employability and ensure you have a variety of options for career progression.
The role of mental health and wellbeing practitioner emerged in response to the NHS Long Term Plan (2019) which set out a commitment to new and integrated models of primary and community mental health care. This new community-based offer will include access to psychological therapies, improved physical health care, employment support, personalised and trauma-informed care, medicines management and support for self-harm and coexisting substance use. This includes maintaining and developing new services for people who have the most complex needs and proactive work to address racial disparities.
Download our course leaflet