Supervision: Children and Young People's Mental Health & Wellbeing
PGCert
We've designed this course for experienced mental health practitioners. We'll help you develop the skills and knowledge needed to provide supervision to other Education Mental Health Practitioners as part of the Mental Health in Schools Team initiative.
Overview
You're already making a real difference to children and young people. And if your manager has told you that you're ready for this course, they've seen your potential and think you're the type of person that would make a great supervisor.
So what will your training involve? Here at Edge Hill, we'll help you develop leadership skills and boost your expertise in clinical supervision. You'll also learn what it takes to apply a whole school approach to boost mental health and wellbeing.
Discover how to work in partnership with schools to build relationships, identify gaps in provision and contribute to existing structures and processes. And get an in-depth understanding of the structure of Mental Health Support Teams (MHSTs). As a supervisor, you'll be an important agent for change and someone other Education Mental Health Practitioners can always turn to.
This is a dynamic and innovative career move, responding to the needs of children and young people within your area. Ready to get started?
What you'll study
We've designed this postgraduate certificate to explore the concepts and processes of clinical supervision with a focus on education systems.
Examine supervisory relationship issues. Gain expertise in formulating and evaluating intervention strategies. Develop practical skills in understanding the application of clinical supervision competencies within MHSTs.
You'll explore the culture, ethos and environment of education settings and examine teaching strategies. We'll also make sure you how to know to effectively support practitioners working with whole school approaches to mental health.
Education Mental Health Practitioner Supervisor Training Module
Education Mental Health Practitioner Supervisor Training Module 2
How you'll study
The programme is delivered through monthly online or face-to-face sessions, complemented by access to a range of online resources and guided independent study and learning. Face-to-face sessions will take place at Edge Hill University.
Trainee supervisors are expected to be involved in actively delivering education mental health practitioner supervision and will receive a process of support and guidance from trained staff at the university, timetabled flexibly to fit around your work commitments.
How you'll be assessed
You will be assessment via a clinical portfolio which is developed, negotiated and tailored to your bespoke learning needs, knowledge and experience.
You will be expected to submit videos of supervision sessions and record learning and clinical supervision hours alongside your portfolio development.
There are no formal written examinations as part of the current assessment methods on the programme.
Who will be teaching you
You will be taught by professionals with expertise across disciplines including health, education, the children's workforce, public health, sociology, psychology, criminal justice, counselling and psychotherapy, ethics and law.
The programme team have practical experience working in the children and young people's sector as health visitors, school nurses, mental health nurses, youth justice professionals, social workers, psychologists, child and adolescent mental health services' practitioners, counsellors and psychotherapists. These roles all involve dealing with the long-term consequences of mental health issues not being addressed at an early age.
Associate tutors and guest lecturers, who have specialist knowledge of working with vulnerable children and adolescents, will also contribute to programme delivery.
Entry criteria
Entry requirements
You should have a degree equivalent to UK first-class or second-class honours (2:2 or above) in a relevant subject, such as child health and wellbeing, child and adolescent mental health and wellbeing, psychology, or early years, primary or secondary education. GCSE English Language and GCSE Mathematics at Grade C or Grade 4 or above (or equivalent) are also required.
You will need to have experience of working as a mental health practitioner, typically evidenced by two or more years working therapeutically, clinically or consultatively within a children and young people's educational or mental health setting, with children and young people with mental health difficulties. You will be expected to have experience of delivering cognitive behavioural therapy (CBT) informed practice and supervision, ideally at low intensity. Experience of delivering mental health interventions in education settings is desirable.
An interview forms part of the selection process.
How to apply
If you wish to apply for this course, please email [email protected] in the first instance.
Should you accept an offer of a place to study with us and formally enrol as a student, you will be subject to the provisions of the regulations, rules, codes, conditions and policies which apply to our students. These are available at www.edgehill.ac.uk/studentterms.
Did you know?
If you join a full time undergraduate degree at Edge Hill University, we will guarantee you the offer of a room in our halls of residence for the first year of your course.
Discover our accommodation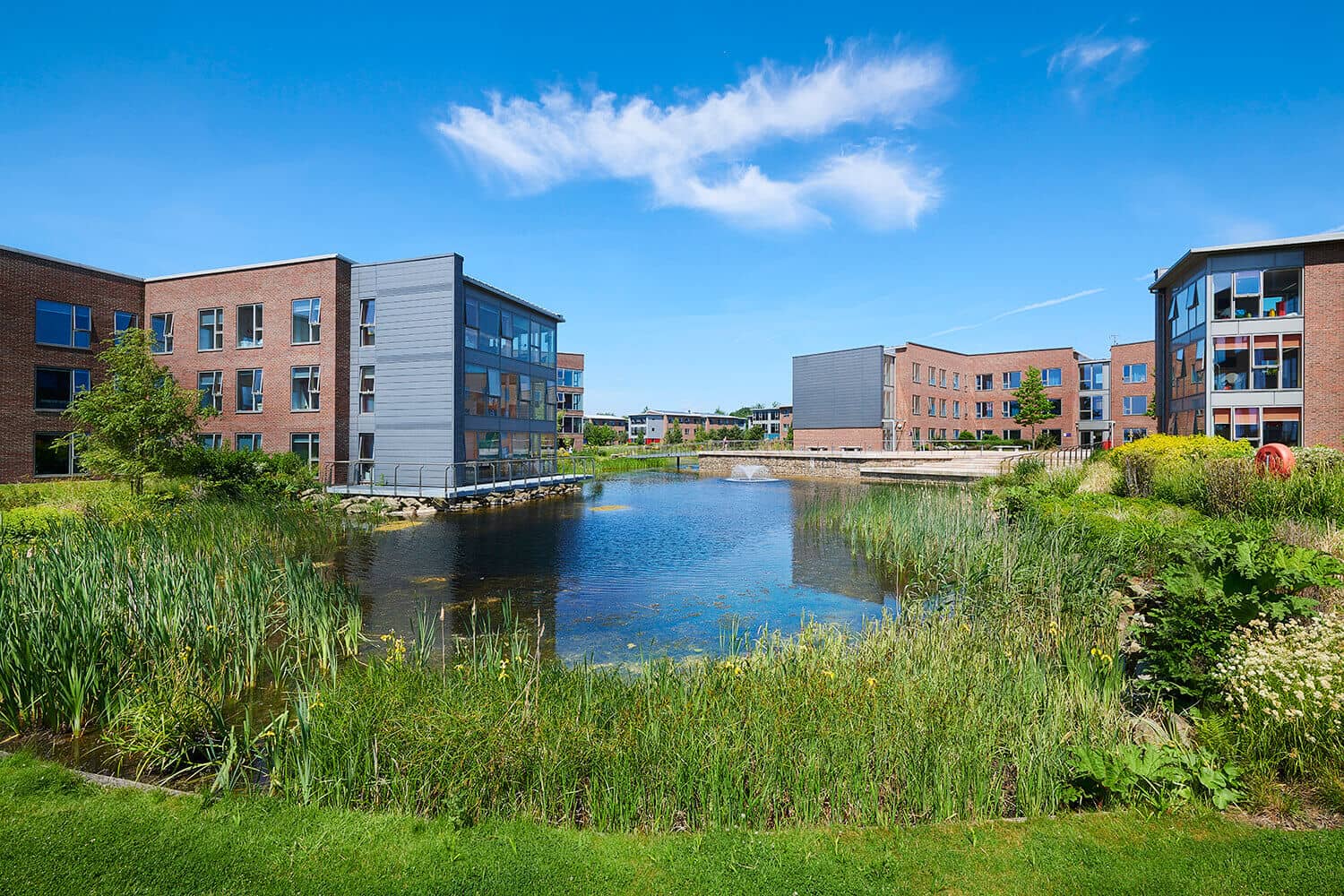 Facilities
The Faculty of Health, Social Care and Medicine offers some of the best facilities for the education and training of health and social care professionals in the country.
The outstanding teaching and learning resources include leading edge clinical skills facilities, an 860-seat lecture theatre, and a variety of teaching rooms and social learning spaces.
Where you'll study
Faculty of Health, Social Care and Medicine
Finance
Tuition fees
If you are joining the course on a place commissioned by Health Education England, your tuition fees will be paid on your behalf by the public body. If you have a non-commissioned place, you will be liable for the payment of tuition fees.
Tuition fees for UK students enrolling on the course on a non-commissioned basis in academic year 2022/23 are £5,000.
EU/EEA and Swiss students who have settled or pre-settled status under the EU Settlement Scheme, as well as Irish nationals, may be eligible for the UK tuition fee rate.
Financial support
Please view the relevant Money Matters guide for comprehensive information about the financial support available to eligible UK students joining postgraduate courses at Edge Hill University.
EU/EEA and Swiss students who have settled or pre-settled status under the EU Settlement Scheme may be eligible to apply for financial support. Irish nationals should ordinarily apply to Student Universal Support Ireland (SUSI). Please see www.edgehill.ac.uk/eufinance for further details.
Your future career
Our postgraduate certificate provides a professional development opportunity for those already working as supervisors of practitioners delivering low intensity interventions with children and young people.
You'll be ready to supervise educational health practitioners and children's wellbeing practitioners. The course will also stand you in good stead if you choose to pursue further training in cognitive behavioural therapy supervision.
Download our course leaflet