Child & Adolescent Mental Health & Wellbeing
MSc
Become the children's mental health leader you want to see. Champion change that promotes and protects the mental health and wellbeing of children and young people based on evidence-backed research.
Closed to international applications for September 2023.
Overview
Did you know there has been a significant rise in the rate of mental health issues in young people? Evidence shows that early help can make a big difference.
Our MSc Child & Adolescent Mental Health & Wellbeing gives you the knowledge and skills to deliver better results for children. We've designed the course around key legislation, policy, guidelines and practice.
You'll learn to develop and challenge current thinking and reflect on how to deliver best practice. We'll help you develop your leadership skills as you learn to bring about effective transformation.
Develop a dual approach as a result of your evidence-based reading and research. Early help as a preventative measure and the importance of protecting and promoting lifelong mental health and wellbeing.
This Masters is ideal if you work, or want to work, in children and young people's mental health. You'll develop broad applied research skills relevant to today's education, community, health and social care sectors.
Course features
International students can apply
What you'll study
Examining wellness in children and young people's mental health, you'll consider the value and efficiency of early help and assess the impact of trauma and complexity.
You'll be introduced to the fundamentals of leadership and transformation in mental health services from a range of perspectives. This will lead you to a collaborative approach, working effectively as part of a team and across service boundaries, to ensure the maximum benefit for young people and their families is achieved.
Learn research skills as you look at contemporary children and young people's mental health theory and practice. You'll enhance your employability as you explore your creativity, embrace new innovations, and learn positive ways to challenge yourself and others.
The MSc Child & Adolescent Mental Health & Wellbeing course culminates in a choice of dissertation of a publishable standard in your chosen discipline.
Impact of Trauma and Complexity on Children and Young People
Innovation in Mental Health
Leadership and Transformation in Children and Young People's Mental Health
Wellness and Early Help With Children and Young People
Working Across Boundaries from Theory to Practice in Children and Young People's Mental Health
How you'll study
The course will be delivered through a combination of lectures, student-led seminars, tutorials and experiential activities.
How you'll be assessed
Our varied and creative approach to assessment will include written assessments, scenario-based activities, creative presentations, patchwork text production, written and verbal self-reflection, and portfolio development.
Who will be teaching you
The research-active programme team has current and direct experience of working with children, young people, families and communities, including experience of working in the mental health sector and in a range of child and adolescent mental health related services.
Additional expertise will be provided by guest lecturers who will be invited to share their knowledge and experience of subjects such as trauma and complexity, early interventions, leadership and transformation, innovation, and a variety of applied therapeutic interventions and approaches.
The research interests of the programme team include collaboration with children, young people and their families, early intervention and wellbeing, systems working, trauma and complexity, mental health and family interventions, leadership and innovation, and primary and secondary education.
Entry criteria
Entry requirements
You should have a degree equivalent to UK first-class or second-class honours (2:2 or above) in a relevant subject such as child and adolescent mental health, child health and wellbeing, health and social care, psychology, sociology or education.
English language requirements
International students require IELTS 6.5, with a score no lower than 6.0 in each individual component, or an equivalent English language qualification.
If your current level of English is half a band, one band, or one-and-a-half bands lower, either overall or in one or two elements, you may want to consider our Pre-Sessional English course.
How to apply
There is an online application process for this course.
Please choose the application form for your preferred intake date and mode of study.
Please see our international student pages for further information about how to apply as a prospective international student.
Should you accept an offer of a place to study with us and formally enrol as a student, you will be subject to the provisions of the regulations, rules, codes, conditions and policies which apply to our students. These are available at www.edgehill.ac.uk/studentterms.
Did you know?
If you join a full time undergraduate degree at Edge Hill University, we will guarantee you the offer of a room in our halls of residence for the first year of your course.
Discover our accommodation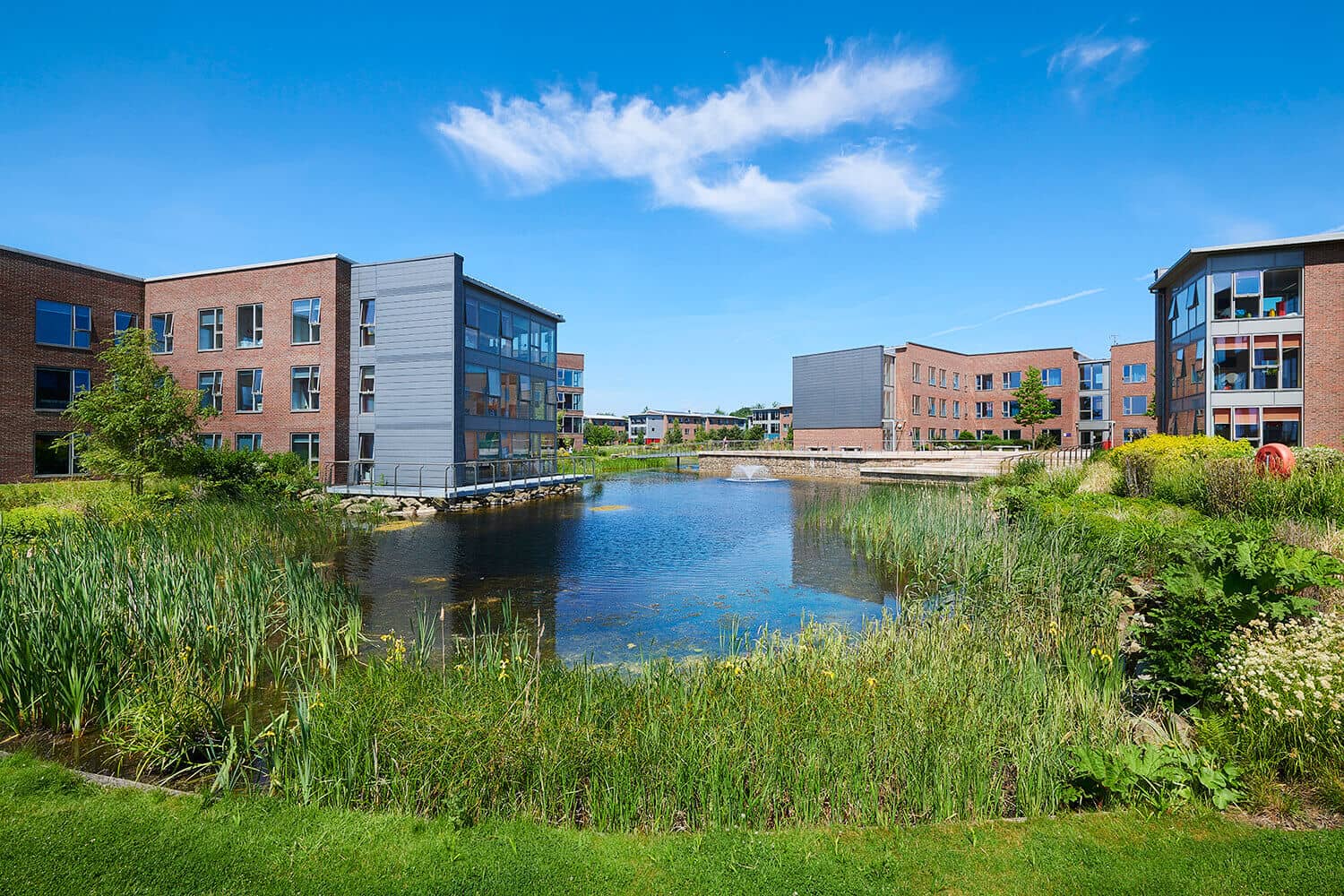 Facilities
The Faculty of Health, Social Care and Medicine offers outstanding facilities for the education and training of health and social care professionals.
The contemporary teaching and learning resources include leading edge clinical skills facilities, an 860-seat lecture theatre, and a variety of teaching rooms and social learning spaces.
Where you'll study
Faculty of Health, Social Care and Medicine
Finance
Tuition fees
UK Part-Time
£47 per credit
for 180 credits
EU/EEA and Swiss students who have settled or pre-settled status under the EU Settlement Scheme, as well as Irish nationals, may be eligible for the UK tuition fee rate.
Financial support
Please view the relevant Money Matters guide for comprehensive information about the financial support available to eligible UK students joining postgraduate courses at Edge Hill University.
EU/EEA and Swiss students who have settled or pre-settled status under the EU Settlement Scheme may be eligible to apply for financial support. Irish nationals can ordinarily apply to Student Universal Support Ireland (SUSI). If you are an EU student who does not have settled or pre-settled status, or are an international student from a non-EU country, please see our international student finance pages.
Your future career
You'll leave us ready to support children and young people in a range of roles, such as:
pastoral support worker
special educational needs coordinator
children's centre worker
youth worker
social care worker
teaching assistant
learning mentors
family support officer
parent liaison
Your skills and training also opens doors to research-based career opportunities. You could also consider further training in child psychology, social work, psychotherapy, nursing or teaching.
Course changes
Every effort has been made to ensure the accuracy of this information, however our courses are subject to ongoing review and development. Changing circumstances may necessitate alteration to, or the cancellation of, courses.
Changes may be necessary to comply with the requirements of professional bodies, revisions to subject benchmarks statements, to keep courses updated and contemporary, or as a result of student feedback. We reserve the right to make variations if we consider such action to be necessary or in the best interests of students.
Track changes to this course
Download our course leaflet