Education Mental Health Practitioner for Children and Young People
PGDip
Study with us for a year and learn how to support children and young people with mental health problems. As an Education Mental Health Practitioner, you'll play a key role in the government's Mental Health Support Teams (MHSTs) initiative.
Overview
The role of an Education Mental Health Practitioner (EMHP) is an innovative and important role in the government's Mental Health Support Teams (MHSTs) – part of the National Children and Young People's Improving Access to Psychological Therapies initiative.
In your year of study with us, we'll help you get ready for the role and teach you how to make a difference working with children and young people.
As an EMHP you'll work alongside schools to support children and young people with mental health problems and wellbeing. This is a dynamic and innovative career choice, responding to the needs of children and young people within your area.
The course has two key components. First you'll learn how to deliver low intensity, evidence-based interventions. Next you'll focus on supporting schools to develop whole school approaches to positive mental health. This includes carrying out audits, taking part in consultations and providing group sessions for school staff, parents and young people.
Every child or young person you work with will be different. To prepare you for the different scenarios you'll face, we'll help you become confident in identifying areas of adversity, disadvantage and risk. And because you're employed by local mental health services, you'll get plenty of practical hands-on experience alongside classroom-based study. This will teach you the skills and knowledge you need to hit the ground running in your career.
Course features
Professional Practice Placements
What you'll study
The curriculum aligns with the work-based component of Health Education England's Education Mental Health Practitioner training programme. You'll graduate with the skills and knowledge needed to support child and adolescent mental health within an education context.
Discover the incidence, prevalence and presentation of common mental health problems. Learn the core skills of active listening, engagement, alliance building, information gathering and giving, and shared decision-making. And find out how to conduct child-centred interviews to identify difficulties, goals, strengths, risk to self or others, and the context of the child in their family and wider environment.
You'll examine the research around children and young people's development, psychology and mental health. Enjoy exploring evidence-based interventions informed by behaviour change models and strategies.
Assessment and Engagement
Children and Young People's Mental Health Settings: Context and Values
Common Problems and Processes in Education Settings
Evidence-Based Interventions for Common Mental Health Problems with Children and Young People (Theory and Skills)
Interventions for Emerging Mental Health Difficulties in Education Settings
Working, Assessing and Engaging in Education Settings
How you'll study
The programme is delivered through a combination of lectures, seminars, workshops, critical debate, case studies, problem-based learning, independent study and professional practice.
Commencing with a three-day induction, the programme will typically feature an initial period of classroom-based delivery for three days a week, with two days in practice, for a period of 4-8 weeks.
Following this, there will usually be a transition to three days per week in practice-based settings, with two days a week of classroom-based delivery.
These arrangements are subject to change and are reviewed for each cohort in response to collaboration with partner mental health services.
It is expected that trainees will complete a minimum of 80 hours of clinical practice, see a minimum of eight appropriate cases and receive a minimum of 40 hours supervision. This will include 20 hours of case management and 20 hours of clinical skills in practice.
How you'll be assessed
You will be assessed through a combination of assignments, examinations, project work, report writing and simulated assessments. These will include video recordings, individual and group presentations, reflective portfolios, and traditional written assignments.
You will also need to evidence whole school-working in education settings and include evidence of supporting peer mentoring, providing staff training or running a psycho-education workshop.
In addition to this, you will conduct groupwork with children, young people or parents or provide a piece of consultation work.
Who will be teaching you
You will be taught by professionals with expertise across disciplines including health, education, the children's workforce, public health, sociology, psychology, criminal justice, counselling and psychotherapy, ethics and law.
The programme team have practical experience working in the children and young people's sector as health visitors, school nurses, mental health nurses, youth justice professionals, social workers, psychologists, child and adolescent mental health services' practitioners, counsellors and psychotherapists. All of these roles involve dealing with the long-term consequences of mental health issues not being addressed at an early age.
Associate tutors and guest lecturers, who have specialist knowledge of working with vulnerable children and adolescents, will also contribute to programme delivery.
Entry criteria
Entry requirements
You should have a degree equivalent to UK first-class or second-class honours (2:2 or above) in a relevant subject, such as child health and wellbeing, child and adolescent mental health and wellbeing, psychology, or early years, primary or secondary education. GCSE English Language and GCSE Mathematics at Grade C or Grade 4 or above (or equivalent) is also required.
Experience of working with children and young people and/or in mental health/education settings is desirable.
An interview forms part of the selection process.
If you accept a formal offer from Edge Hill University you will be required to apply for a Disclosure and Barring Service (DBS) Enhanced Disclosure indicating that you meet the mandatory criteria of 'Clearance to Work with Children and/or Vulnerable Adults'. Further information will be sent to you after you have firmly accepted an offer.
How to apply
Apply full-time
Apply online through NHS Jobs
We recommend interested applicants create an account with NHS Jobs and set up an email alert to search 'education mental health practitioner'. You will then be made aware when posts go out to advert.
Successful candidates will be employed by a specific NHS trust and released to train at Edge Hill University.
Should you accept an offer of a place to study with us and formally enrol as a student, you will be subject to the provisions of the regulations, rules, codes, conditions and policies which apply to our students. These are available at www.edgehill.ac.uk/studentterms.
Did you know?
If you join a full time undergraduate degree at Edge Hill University, we will guarantee you the offer of a room in our halls of residence for the first year of your course.
Discover our accommodation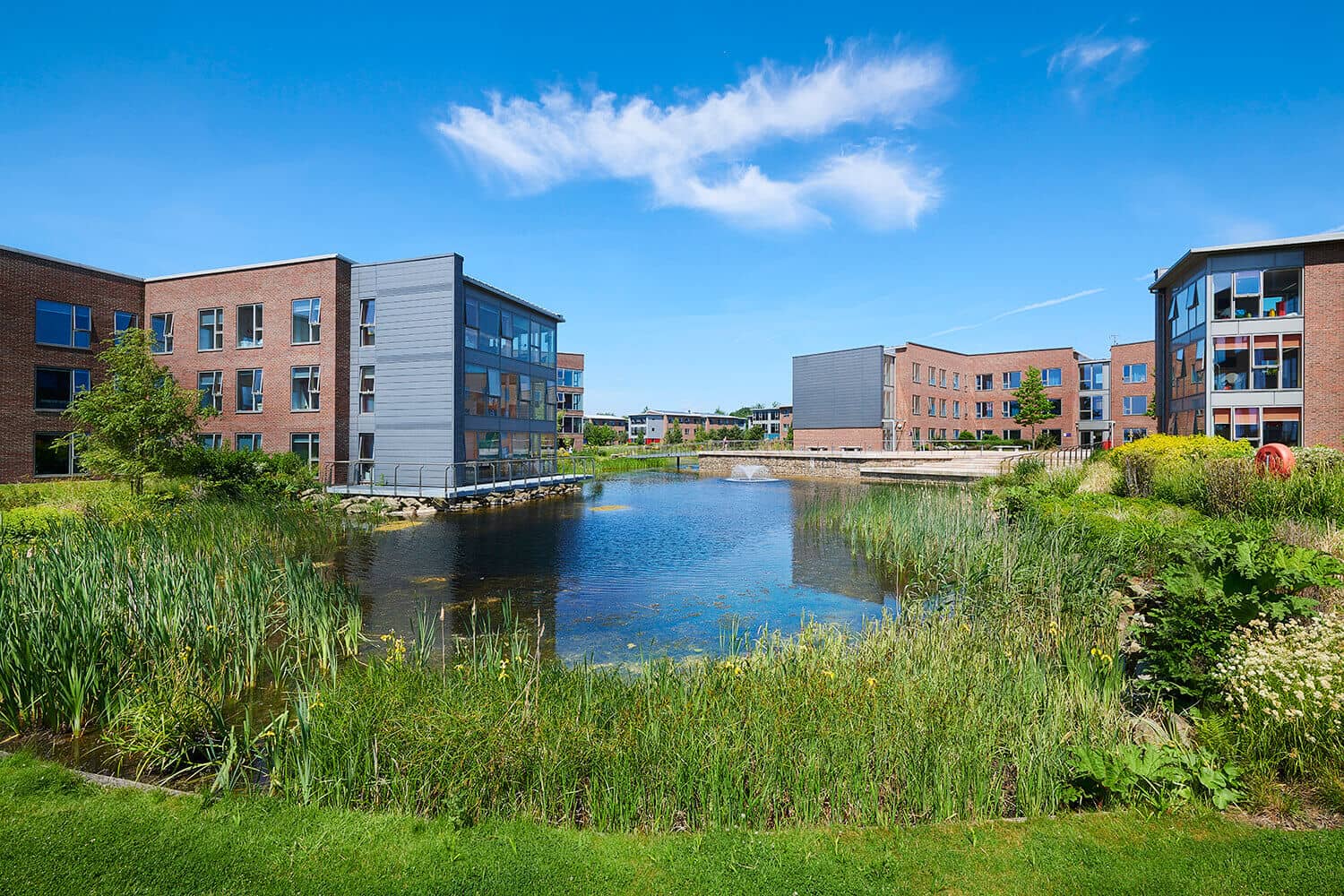 Facilities
The Faculty of Health, Social Care and Medicine offers some of the best facilities for the education and training of health and social care professionals in the country.
The outstanding teaching and learning resources include leading edge clinical skills facilities, an 860-seat lecture theatre, and a variety of teaching rooms and social learning spaces.
Where you'll study
Faculty of Health, Social Care and Medicine
Finance
Tuition fees
UK Full-Time
Free of charge
for the course
There are currently no tuition fees for this course which is funded by Health Education England.
EU/EEA and Swiss students who have settled or pre-settled status under the EU Settlement Scheme, as well as Irish nationals, may also be eligible to join this course free of charge.
Financial support
You will be funded at NHS Agenda for Change (AfC) Band 4 level for the twelve months of study. Further information about pay and benefits in the NHS is available on the NHS Health Careers website.
Your future career
Child and adolescent mental health services are being transformed across England. As part of a Government strategy to ensure services are available in schools, third-sector voluntary agencies and the private sector, new roles are being created to deliver evidence-based brief psychological interventions.
Once you have successfully completed the course, you'll be eligible to apply for band 5 education mental health practitioner posts supporting children and young people, as well as their parents or carers. Your experience of intensive practice-based sessions and multi-agency working will enhance your employability and give you a variety of options for career progression.
This is a dynamic and innovative career choice, responding to the needs of children and young people within your area.
Download our course leaflet