Medicine
MMed
Develop an evidence-based approach and advance your clinical practice in your specialist area of medicine on a programme for qualified, experienced doctors who are registered with the General Medical Council.
Overview
The MMed enables experienced, qualified doctors to develop an evidence- based approach to healthcare practice and to obtain a postgraduate qualification whilst enhancing clinical expertise in a specific discipline of medicine.
The programme has been designed in collaboration with senior clinicians and academics and is at the cutting edge of both contemporary medical practice and research. It will allow you to extend your knowledge and skills to advanced levels within your dedicated area of work.
You can choose from a range of specialist pathways.
MMed Acute Medicine
MMed Adult and Later Life Psychiatry
MMed Breast Radiology
MMed Cardiology
MMed Child and Adolescent Psychiatry
MMed Clinical Microbiology and Virology
MMed Cross-Sectional Imaging
MMed Elderly Medicine
MMed Endocrinology
MMed Forensic Psychiatry
MMed Gastroenterology
MMed Haematology
MMed Interventional Cardiology
MMed Musculoskeletal Radiology
MMed Nephrology
MMed Neurology
MMed Neonatology
MMed Paediatrics
MMed Pain Management
MMed Psychiatry
MMed Regional Anaesthesia
MMed Respiratory Medicine
MMed Rheumatology
MMed Stereotactic Radiotherapy
MMed Stroke and Rehabilitation
Whichever pathway you choose, the programme will be delivered in partnership with Wrightington, Wigan and Leigh NHS Foundation Trust.
What you'll study
This course consists of two clinical research modules, a work-based learning module and a dissertation. Topics covered will include:
Innovative aspects of evidence based practice in the medical speciality – the application of advanced knowledge of physiology, pathology, microbiology and imaging. The aim is to enable you to acquire an advanced understanding of the process of service innovation in the relevant subject area.
Qualitative and quantitative research methods.
Critiquing research findings.
Writing a research proposal.
Analysis of quantitative data.
Systematic reviews.
Research governance and ethics.
Focus on a significant piece of investigative enquiry from conceptualisation through to completion.
For more information about each module, including the dates and times of module sessions, please see our Continuing Professional Development Modules for Health and Social Care Practitioners pages.
Clinical Research Part 1: Critical Appraisal
Clinical Research Part 2: Developing a Research Proposal
Dissertation for Health and Social Care Professionals
Work-Based Learning in Clinical Practice
How you'll study
The programme is delivered over two to three years, commencing in September each year. The academic year runs from September through to July, though the dissertation submission will be in September of the second year, with the option to defer the dissertation to the third year.  The dissertation allows you to focus on a significant piece of investigative enquiry from conceptualisation through to completion.
You will experience a variety of teaching and learning strategies including lectures, seminars, individual and group tutorials and independent guided study.
Face-to-face sessions will be delivered at Edge Hill University and Wrightington Hospital. An online Virtual Learning Environment (VLE) is used for some components of the programme. The clinical modules also have elements of practice-based learning which are typically facilitated in the workplace.
How you'll be assessed
Assessment methods include a research proposal, written assignments, completion of online activities and discussions, Objective Structured Clinical Examinations (OSCEs), clinical log books, seminar presentations and a dissertation.
Who will be teaching you
The programme team consists of experienced academic staff from across Edge Hill University and expert clinicians from Wrightington, Wigan and Leigh NHS Foundation Trust and surrounding hospitals. This collaborative approach provides a team of high calibre individuals to support your learning. Additionally, leading physicians from related specialities are invited as guest speakers on the clinical modules. Edge Hill University enjoys an excellent reputation for the teaching quality of its programmes. All staff involved in the delivery of modules and pathways within this programme are currently involved in scholarly and research related activities which are congruent with their teaching responsibilities.
Entry criteria
Entry requirements
In addition to having a medical degree, you will also need to be registered with the General Medical Council to work in the UK or alternatively have successfully applied for an International Training Fellowship. You should have attained a higher postgraduate qualification (for example, MSc or equivalent) and have current experience in the appropriate medical specialty. An interview will form part of the selection process.
Employment may be arranged in conjunction with the course of study or alternatively you may already be in full-time employment in the UK.
For further information regarding eligibility for International Training Fellowships, please email [email protected].
How to apply
If you wish to apply for this course, please email your CV to [email protected] in the first instance.
Should you accept an offer of a place to study with us and formally enrol as a student, you will be subject to the provisions of the regulations, rules, codes, conditions and policies which apply to our students. These are available at www.edgehill.ac.uk/studentterms.
Did you know?
If you join a full time undergraduate degree at Edge Hill University, we will guarantee you the offer of a room in our halls of residence for the first year of your course.
Discover our accommodation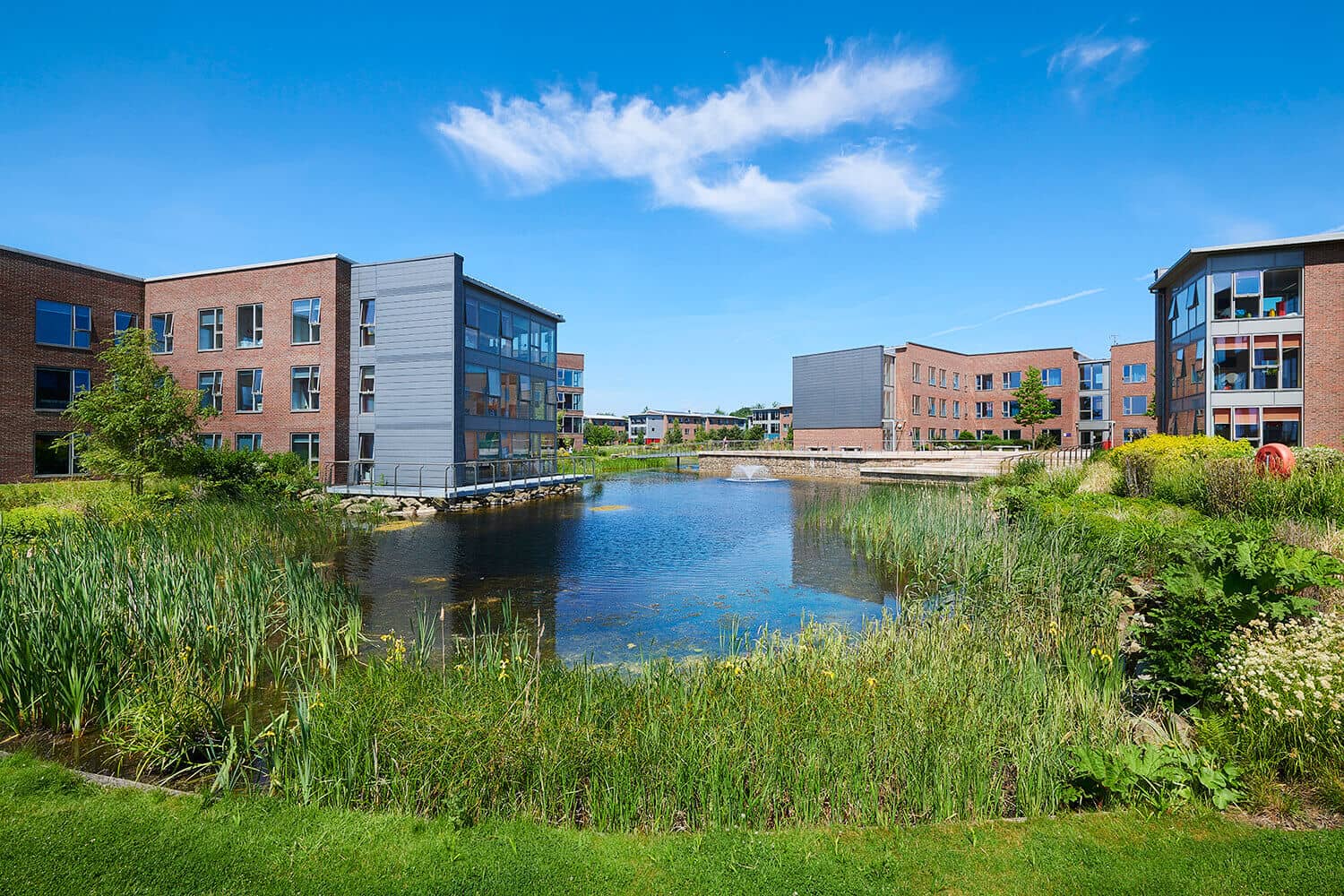 Where you'll study
Faculty of Health, Social Care and Medicine
Finance
Tuition fees
If you are joining the MMed in academic year 2024/25, are already registered with the General Medical Council, and have been working in the NHS for a minimum of two years at the point you enrol on the programme, you can expect the tuition fee to be £16,000 for the entire course, subject to completing the programme within three years.
Alternatively, if you are joining the MMed in academic year 2024/25 and are appointed as an International Training Fellow, you can expect the tuition fee to be £35,000 for the entire course, subject to completing the programme within three years.
Financial support
Please view the relevant Money Matters guide for comprehensive information about the financial support available to eligible UK students joining postgraduate courses at Edge Hill University.
EU/EEA and Swiss students who have settled or pre-settled status under the EU Settlement Scheme may be eligible to apply for financial support. Irish nationals can ordinarily apply to Student Universal Support Ireland (SUSI). If you are an EU student who does not have settled or pre-settled status, or are an international student from a non-EU country, please see our international student finance pages.
Your future career
Medical professionals need to continually seek ways to improve their career prospects in an increasingly competitive job market where a postgraduate qualification is often now deemed essential.
The MMed provides a highly relevant qualification for doctors working in a specialist area of medicine which will add to your portfolio of qualifications and provide you with opportunities for professional development supported by expert clinicians and academics.
Course changes
Every effort has been made to ensure the accuracy of this information, however our courses are subject to ongoing review and development. Changing circumstances may necessitate alteration to, or the cancellation of, courses.
Changes may be necessary to comply with the requirements of professional bodies, revisions to subject benchmarks statements, to keep courses updated and contemporary, or as a result of student feedback. We reserve the right to make variations if we consider such action to be necessary or in the best interests of students.
Track changes to this course
Download our course leaflet