Surgical Care Practice
MSc
Develop your generic and specialist surgical knowledge and clinical and professional skills, on a Royal College of Surgeons of England accredited programme.
Closed to applications for September 2023.
Overview
This innovative Masters degree is suitable for qualified registered practitioners who have been appointed as a trainee surgical care practitioner within a surgical directorate. Your role should incorporate the delivery of care and clincal skills within all phases of surgical care, particularly pre-, peri-, intra- and post-operative care.
You will be provided with a systematic and critical understanding of the breadth and depth of knowledge within specific areas of practice. You will develop core and specialist surgical skills and extend your knowledge and practice within the surgical care environment. This will include some operative procedures that will enable specialist practitioners to provide continuity of service and standards of care to patients in areas which do not necessarily need to be provided by medically qualified staff. The programme aims to help you to become a competent and capable surgical care practitioner equipped to deliver high quality outcomes for patients in the UK. On successful completion of the programme you will have demonstrated the capabilities required by the RCS.
Eleven specialist pathways are available:
MSc Surgical Care Practice (Cardiothoracic Surgery)
MSc Surgical Care Practice (General Surgery)
MSc Surgical Care Practice (Gynaecology Surgery)
MSc Surgical Care Practice (Oral and Maxillofacial Surgery)
MSc Surgical Care Practice (Neurosurgery)
MSc Surgical Care Practice (Otorhinolaryngology Surgery)
MSc Surgical Care Practice (Plastic and Reconstructive Surgery)
MSc Surgical Care Practice (Robot Assisted Surgery)
MSc Surgical Care Practice (Trauma and Orthopaedic Surgery)
MSc Surgical Care Practice (Urology)
MSc Surgical Care Practice (Vascular Surgery)
Course features
Professional accreditation
What you'll study
Designed to be completed over three years, the MSc Surgical Care Practice programme is based on a two phased approach to teaching and learning:
Phase 1 (Year 1 and 2)
Initially, you will study the foundation module which introduces you to the context of their role and the capabilities required to deliver high quality, safe and effective care for surgical patients. This is followed by the development of the in-depth knowledge, understanding, clinical skills and behaviours required within all phases of surgical care: pre-, peri-, intra- and post-operative care of the generic and complex adult surgical patient. You will also develop research capabilities, focusing largely on critical appraisal, evidence-based practice, and research/quality improvement in healthcare.
Phase 2 (Year 3)
During the specialist phase in Year 3, you will gain further advanced knowledge and understanding within your chosen surgical speciality. Completion of an in-depth research inquiry concludes this programme.
Running throughout phase one and two are two a non-credit bearing e-portfolio modules. These embed the spiral approach to learning in the workplace. They will revisit and build on in-depth knowledge, understanding and achievement of generic (phase one) and specialty specific (phase two) clinical skills and capabilities in increasingly complex and challenging situations.
For more information about each module, including the dates and times of module sessions, please see our Continuing Professional Development Modules for Health and Social Care Practitioners pages.
How you'll study
You will engage in collaborative learning, peer-to-peer engagement, learning through self and joining a community of learners that will provide ongoing support as part of the MSc Surgical Care Practice programme. A series of online learning resources will allow you to explore topics prior to attending the in-person teaching sessions, and let you engage with the content at different times and locations in preparation for lead lectures supporting your independent, directed study.
This programme utilises a range of learning and teaching strategies, including lectures, workshops, practical demonstration, clinical teaching, simulation, tutorials, case-based and workplace learning. These will be delivered in weekly theory blocks throughout the programme, primarily at the Manchester campus, St James building.
Throughout the programme, you will undertake workplace learning, working alongside the multidisciplinary team to deliver safe and effective care to patients in all phases of surgical care.
The curriculum framework for the Surgical Care Practitioner (RCS Ed and RCS Eng, 2022) requires a minimum of 2,200 hours over the 3 year programme in combined clinical activities in pre, peri, intra and post operative care. A compulsory minimum of 1,100 hours must be completed in the operating theatre.
It is expected that the equivalent of 4.5 hours per week to facilitate self-directed learning and engagement with Edge Hill University's virtual learning environment. Full-time attendance will typically consist of approximately 24-30 contact hours per week, meaning this course is accessible for those with other commitments.
Please note, some face-to-face sessions and/or examinations may be undertaken at Edge Hill University instead of St James' in Manchester.
How you'll be assessed
Summative assessments will take the form of written assignments, written exams case studies (written and oral presentations), Practical Assessment of clinical examination Skills (PACES).
Each individual workplace-based assessment (WBA) is designed to assess a range of important aspects of performance in different training situations. For example:
The Direct Observation of Procedural Skills (DOPS), where you will perform a specific practical procedure that is directly observed
Case-based Discussion (CbD), requiring the evaluation of your performance in the management of a patient. This will provide an indication of your competence in areas such as clinical reasoning, decision-making and the application of medical knowledge in relation to patient care
Clinical Evaluation Exercise (CEX), where a clinical encounter with a patient is evaluated to provide an indication of your competence in skills essential for outstanding clinical care.
Who will be teaching you
You will be taught by tutors from the Faculty of Health, Social Care and Medicine who have the experience and expertise to deliver the applied elements of this MSc via lectures, seminars and discussions. In addition, teaching will be provided by associate lecturers who are either medically qualified, or employed as qualified surgical care practitioners.
The majority of your learning opportunities will be provided from your workplace-based learning. You will work with an Educational Supervisor who is an experienced senior consultant and a Clinical Supervisor, who can be another surgical consultant or senior SCP as well as other experienced clinicians. Your Education Supervisor is responsible for ensuring that appropriate standards of performance are adhered to and that you are presented with the opportunities for you to demonstrate the required competencies.
Entry criteria
Entry requirements
To join this MSc, you must:
Be a registered non-medical practitioner working within a specific/specialist area of surgical practice, registered with a healthcare Professional Statutory Regulatory Body (PSRB).
Demonstrate ability to work at master's level, evidenced by prior studies. Minimum requirement is typically a lower second-class honours degree. A third class honours degree classification and/or a relevant Diploma in Healthcare will be considered on an individual basis.
Have completed at least 18 months post-registration experience in surgical practice.
Be employed as a Trainee Surgical Care Practitioner (TSCP) (supernumerary) for the duration of the programme. Documentary evidence required. Loss of employment as a TSCP during the programme may result in withdrawal from the programme.
Provide evidence of written approval from your TSCP employing organisation to confirm their support for the duration of the MSc Surgical Care Practice programme.
Provide written approval identifying a named educational supervisor and clinical supervisors who agree to support an appropriate workplace environment providing relevant clinical experience throughout the programme, as required by the Royal College of Surgeons (1).
Provide documentary evidence from your employer of satisfactory Disclosure and Barring Services (DBS) Enhanced Disclosure and occupational health checks, covering the duration of the programme.
Medical doctors or international students will not be eligible to apply for this course. Please visit our course listing page for alternative courses which you may be interested in.
Should you accept an offer of a place to study with us and formally enrol as a student, you will be subject to the provisions of the regulations, rules, codes, conditions and policies which apply to our students. These are available at www.edgehill.ac.uk/studentterms.
English language requirements
Students whose education is in a language other than English, will also need IELTS 6.5, with no individual section less than 6.0, being regarded as meeting the general English requirements for awards, or equivalent alternative English language qualifications for students who are already in employment in the UK and where English is not their first language.
How to apply
There is an online application process for this course.
Applications for September 2024 are currently not open. This page will be updated with this information as soon as it is available.
Please note that this course requires you to download the additional information document to support your application. The document will then be uploaded to your online application submission.
Please read the additional guidance document for further assistance on your application.
Should you accept an offer of a place to study with us and formally enrol as a student, you will be subject to the provisions of the regulations, rules, codes, conditions and policies which apply to our students. These are available at www.edgehill.ac.uk/studentterms.
Did you know?
If you join a full time undergraduate degree at Edge Hill University, we will guarantee you the offer of a room in our halls of residence for the first year of your course.
Discover our accommodation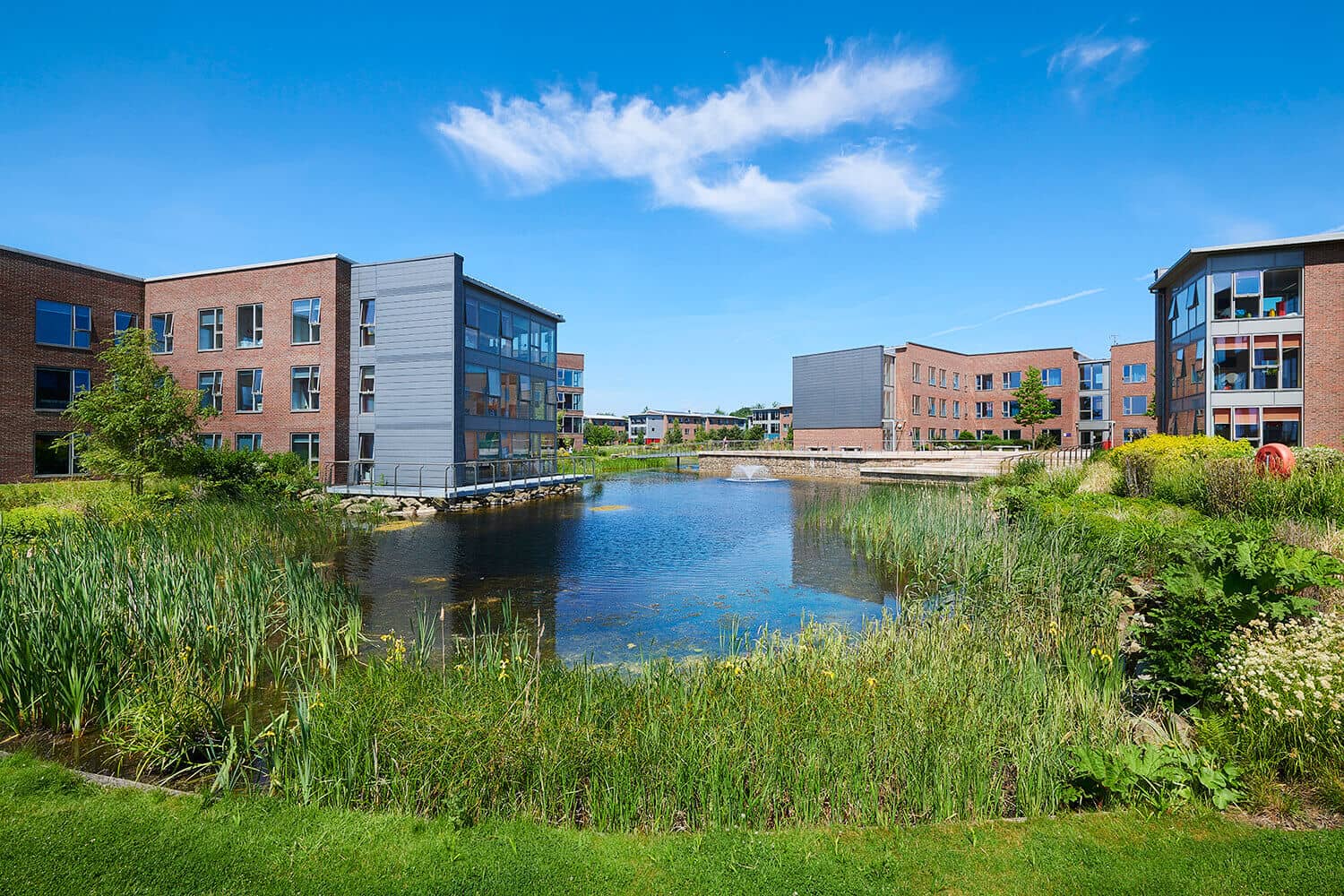 Facilities
St James' in central Manchester provides an extensive modern clinical simulation suite, including a mock operating theatre, ambulance simulator and clinical skills stations. A 3D immersive simulation suite enables you to practice clinical scenarios in a realistic, supportive and safe environment. Additional facilities include a library and IT resources.
Finance
Tuition fees
The tuition fees will be split equally over three years.
Year 1 = £3350
Year 2 = £3350
Year 3 = £3300
EU/EEA and Swiss students who have settled or pre-settled status under the EU Settlement Scheme, as well as Irish nationals, may be eligible for the UK tuition fee rate.
Financial support
Please view the relevant Money Matters guide for comprehensive information about the financial support available to eligible UK students joining postgraduate courses at Edge Hill University.
EU/EEA and Swiss students who have settled or pre-settled status under the EU Settlement Scheme may be eligible to apply for financial support. Irish nationals can ordinarily apply to Student Universal Support Ireland (SUSI). Please see our EU student finance page for further details.
Your future career
On completion of this programme, you will gain a nationally recognised qualification that enables you to undertake the advanced role of a surgical care practitioner.
You will also be able to demonstrate a number of core and specialist skills that will enable you to work effectively as part of the extended surgical team, work competently to practice within your surgical speciality and to be able to function confidently, competently and autonomously.
Course changes
Every effort has been made to ensure the accuracy of this information, however our courses are subject to ongoing review and development. Changing circumstances may necessitate alteration to, or the cancellation of, courses.
Changes may be necessary to comply with the requirements of professional bodies, revisions to subject benchmarks statements, to keep courses updated and contemporary, or as a result of student feedback. We reserve the right to make variations if we consider such action to be necessary or in the best interests of students.
Track changes to this course
Download our course leaflet