What lies at the centre of a great community? A supportive culture. Here at Edge Hill, our welcoming campus has a strong community feeling. And this is reflected in our outstanding student support provision.
Don't just take our word for it – our students voted us in the Top 10 in the UK for student support (WhatUni Student Choice Awards 2022). And in 2021 we were shortlisted for Outstanding Support for Students (Times Higher Education Awards 2021).
You'll find the friendly faces of our support teams in our Catalyst building – each team is on-hand to help you achieve your full potential with us here at Edge Hill.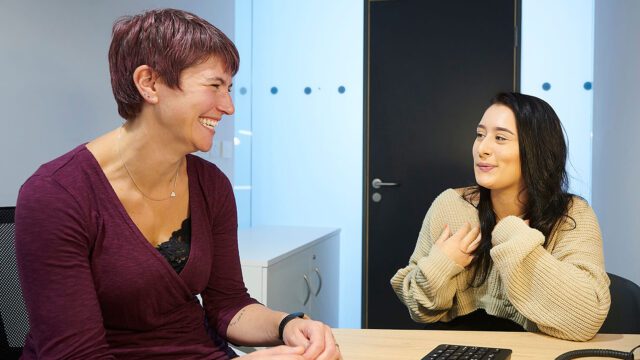 Lending a helping hand
Looking for advice on managing your money? Need some support with your wellbeing? Want to know what's happening on campus? Whatever you need, our teams in Student Services are here to help.
Want to reach out or find out more? Make appointments with any of our student services teams at the Catalyst Helpdesk. Give them a call, drop them an email, or pop in. And if you want more info, you'll find it on our Student Services webpages.
Helping you reach your potential
We're very proud of our Catalyst building, which is home to a huge number of books, journals and learning spaces. So that you can make the most out of these resources, our Library and Learning Services team are on hand to support with your academic development.
Want some help with revision? Wondering how Harvard referencing works? Our UniSkills workshops are designed to address these questions and more. You'll develop your academic writing skills, master exam preparation, learn how to manage dissertation writing, and how to deliver an engaging presentation in these helpful sessions.
We've also designed a suite of TechSkills workshops, where you can develop specific skills in technology. Learn how to design a creative poster, create a blog, or set up a basic website – all skills that will be useful in your university journey and beyond.
For students with Specific Learning Difficulties (SpLD), we've a dedicated support team who can offer advice, guidance, support, and assessments. They'll also help get you set up with assistive technologies like Mindmapping and Text to Speech software – which are freely available to all students.
Catalyst is open 24/7, so you can visit the helpdesk anytime to ask for help. Want more info? Visit our Library and Learning Services webpages.
Prepare for graduate success
Looking to get a head-start on your CV? Get involved with volunteering? Learn what graduate employers are looking for? Our award-winning Careers team are here to help you plan your degree and build your employability from the day you join us.
95.4% of our students are employed or in further study within 15 months of graduating (Graduate Outcomes 2019/20).
Helping you turn ambitions into reality
Develop your skills. Gain work experience. Stand out from the crowd. From your first semester right through to graduation and beyond, here are some of the ways we'll help you succeed.
Looking for a part-time job? Our dedicated Employment Adviser will help you find part-time work alongside your studies to earn extra cash and gain transferable skills.
Get involved with volunteering. It's a great way to enhance your CV, make new friends, and boost your confidence. Our Volunteering Advisers work with charitable organisations in the local community and beyond – and are here to help you find the perfect opportunity.
Fancy working at some of the UKs biggest summer events? We're talking Glastonbury. Wimbledon. Aintree Grand National. We've helped students to apply for some really exciting summer work opportunities, and we're here for you too. And if you're up for spending a summer overseas, we'll help you find vacation jobs in places like USA or Australia.
Prepare for your future career. Already have your dream career in mind? Want to explore all the possibilities? Our Careers Advisers will help you to research and plan for your future career, from developing your CV to finding and applying for graduate jobs. Writing a stand-out job application? Doing well at an interview? They're here to guide you through it all.
As well as offering one to one support, we also arrange careers fairs, workshops and masterclasses. These events are your opportunity to network with employers from some of the world's leading brands. And our annual Careers Awards Evening celebrates the progress and achievement of students and alumni in enhancing their employability.
Our Careers service are based in Catalyst – so you can arrange an appointment with one of the team via the Catalyst Helpdesk. Or you can book via their website, where you can also use their 'Ask a Question' service to get advice or feedback via email.