Urology Practice
PGCert
Gain a comprehensive insight into all aspects of urological nursing on a programme for registered adult nurses and qualified physician associates, enabling you to become part of a growing community of urological practitioners.
Closed to applications for September 2023.
Overview
This Postgraduate Certificate, which is delivered as part of a partnership between Mersey and West Lancashire Teaching Hospitals NHS Trust and Edge Hill University, provides a comprehensive overview of caring for patients with urological conditions in a range of different working environments. The programme is ideal for both registered adult nurses and qualified physician associates who are caring for urology patients in any area of practice in primary or secondary care. You will gain expertise in all major areas of urological care including prostate assessment, haematuria, uro-oncology, functional urology, andrology, urological emergencies and renal stone disease. Developing the ability to plan and implement basic interventions for a range of urological conditions, you will also gain first-hand experience of interpreting a variety of clinical data, pathology results and diagnostic investigations. You will graduate with enhanced employability in your current role and be well placed to apply for specialist urological positions with the skills, knowledge and understanding to improve patient care and become an autonomous urological practitioner.
What you'll study
This one-year course combines the study of both clinical elements of urology with broader areas around urology service and professional practice.
You will focus on the seven major sub-specialities of contemporary urology care, including prostate assessment, haematuria, uro-oncology, andrology, urological emergencies, continence and renal stone disease. The course will feature practical demonstrations and the exploration of common urological investigations. You will examine palliative care, service development, ethics, resilience and autonomous practice, developing specialist skills and gaining service users' perspectives. Assessment, diagnosis, treatment planning and evaluation will be embedded throughout your learning.
A choice of optional modules provides you with the opportunity to develop specialist skills and techniques in flexible cystoscopy or local anaesthetic transperineal prostate biopsy or tailor the final strand of the course to your individual needs. A bespoke option enables you to focus, for example, on developing a practical skill, conducting a literature review of contemporary urology guidelines, or developing a business case for a new service. The course team will offer guidance and support and help you to identify the most appropriate project for your personal or service development.
Foundations for Urology Care
Clinical Urology Skills: Flexible Cystoscopy
Clinical Urology Skills: Local Anaesthetic Transperineal Prostate Biopsy
Negotiated Learning Shell 7.20
Optional modules provide an element of choice within the course curriculum. The availability of optional modules may vary from year to year and will be subject to minimum student numbers being achieved. This means that the availability of specific optional modules cannot be guaranteed. Optional module selection may also be affected by timetabling requirements. Some restrictions on optional module choice or combinations of optional modules may apply.
How you'll study
The course is taught primarily through lectures for the first trimester but as you progress through the programme there will be an increasing emphasis on student-led learning, as well as practical demonstrations, debates, seminars and student presentations. The final third of the programme is bespoke to each student depending on the area of study you choose to focus on.
You will have the opportunity to participate in specialist activities that will enrich your learning in your individual area of interest. These might include attending specialist clinics, working alongside a specialist practitioner, or attending an audit meeting.
The programme adopts a blended approach which typically requires you to commit to one study day per week. The first trimester incorporates the majority of face-to-face teaching, with a more student-led approach to the second trimester. Individual learning, supported by a designated academic supervisor, is the focus of the final phase of the course.
The majority of study days will be held at the Education, Training & Conference Centre in Nightingale House at Whiston Hospital. There may be occasions when study days are held at other locations, including the Edge Hill University campus.
How you'll be assessed
The first two trimesters of the programme are assessed through an essay and case study presentation which also includes a question and answer session.
The assessment of the negotiated learning module in the third trimester will vary by area of study but may include a reflective essay, case study, portfolio of evidence, presentation or objective structured clinical examination (OSCE).
Who will be teaching you
The programme team is led by two consultant urologists, a senior lecturer and a senior urology nurse. You will be taught by subject experts in urology and other related specialities, with lectures delivered by doctors, nurses and other allied health professionals from across the North West of England. Many of these professionals are not only involved in clinical practice but also actively participate in research.
Entry criteria
Entry requirements
The normal minimum entry requirement is a degree equivalent to UK first-class or upper second-class honours (2:1 or above) in a nursing or a health-related subject. Applicants with a lower degree classification, or those who don't have an undergraduate degree, may still be considered for the course, subject to having relevant experience within urology and being able to demonstrate readiness to study.
You should have active registration with a UK regulatory body, such as the Nursing and Midwifery Council or General Medical Council. You must be currently employed as an adult nurse or physician associate and have direct experience of caring for patients with urological conditions. Written confirmation will need to be provided by your line manager or training lead confirming their support for your application.
Registered nurses joining the course should have a minimum of 12 months post-registration clinical experience, inclusive of a minimum of six months caring for patients with urological conditions, within the past five years.
Physician associates would be considered on completion of their initial training, subject to practicing within a urological setting.
An interview forms part of the selection process.
How to apply
There is an online application process for this course.
Applications for September 2024 will be available during the Autumn term. This page will be updated with further details.
Should you accept an offer of a place to study with us and formally enrol as a student, you will be subject to the provisions of the regulations, rules, codes, conditions and policies which apply to our students. These are available at www.edgehill.ac.uk/studentterms.
Did you know?
If you join a full time undergraduate degree at Edge Hill University, we will guarantee you the offer of a room in our halls of residence for the first year of your course.
Discover our accommodation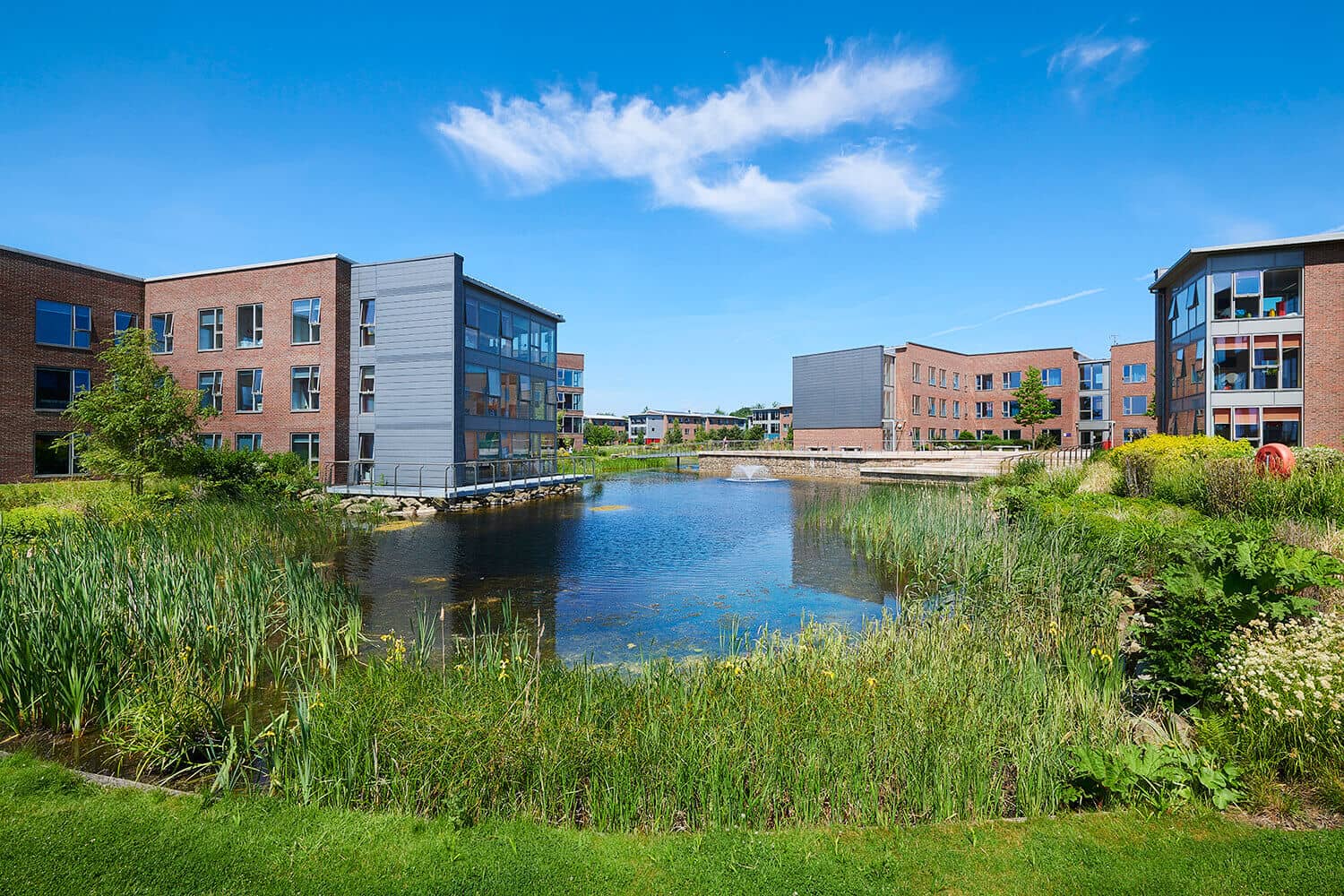 Facilities
The Education, Training & Conference Centre in Nightingale House at Whiston Hospital is the location for the majority of study days on the course. Whiston Hospital is part of St Helens and Knowsley Teaching Hospitals NHS Trust which provides services to those within the local community and further afield. The Trust was awarded Outstanding status by the Care Quality Commission in 2019 and Trust of the Year 2019 by the Health Service Journal.
The Education, Training & Conference Centre in Nightingale House comprises a lecture theatre, seminar rooms and classrooms, skills rooms, and an NHS library with IT facilities.
Some study days may take place at Edge Hill University where the Faculty of Health, Social Care and Medicine offers some of the best facilities for the education and training of health and social care professionals in the country.
The outstanding teaching and learning resources include leading edge clinical skills facilities, an 860-seat lecture theatre, and a variety of teaching rooms and social learning spaces.
Finance
Tuition fees
EU/EEA and Swiss students who have settled or pre-settled status under the EU Settlement Scheme, as well as Irish nationals, may be eligible for the UK tuition fee rate.
Financial support
Please view the relevant Money Matters guide for comprehensive information about the financial support available to eligible UK students joining postgraduate courses at Edge Hill University.
EU/EEA and Swiss students who have settled or pre-settled status under the EU Settlement Scheme may be eligible to apply for financial support. Irish nationals can ordinarily apply to Student Universal Support Ireland (SUSI). Please see our EU student finance page for further details.
Your future career
The extensive curriculum of this Postgraduate Certificate will enhance your skillset and employability in a variety of ways.
The programme will support you in developing more advanced skills and increased specialisation in your current role or a general setting, ensuring you have the expertise to improve the care of patients with urological conditions.
You will also be well placed to apply for specialist nursing positions in urological care, such as a urology-oncology clinical nurse specialist, nurse practitioner or advanced nurse practitioner in urology, urology nurse clinician, or stone specialist nurse.
You may wish to join the British Association of Urological Nurses (BAUN) and gain access to a network of established national and international urological experts.
Course changes
Every effort has been made to ensure the accuracy of this information, however our courses are subject to ongoing review and development. Changing circumstances may necessitate alteration to, or the cancellation of, courses.
Changes may be necessary to comply with the requirements of professional bodies, revisions to subject benchmarks statements, to keep courses updated and contemporary, or as a result of student feedback. We reserve the right to make variations if we consider such action to be necessary or in the best interests of students.
Track changes to this course
Download our course leaflet