Social Work
BA (Hons)
UCAS code: L500
Ready to make a difference? Train as a social worker to help people and their families. With support from our experienced team and visiting lecturers which include social workers currently in practice, you'll prepare for this rewarding role and gain eligibility to register with Social Work England.
Overview
Social work is demanding, but rewarding. Every day you'll face different challenges, working in diverse communities and helping individuals with complex needs.
Delivered alongside our partners in the Cheshire & Merseyside Social Work Teaching Partnership, this social work degree prepares you for a career in the field of your choice. This could involve supporting families and children, or in adult social work, including mental health.
We'll show you how to communicate and empathise with individuals from a range of communities and backgrounds. This is an essential skill for working in the multidisciplinary environments common in contemporary social work settings. Across your three years, you'll complete 30 on-campus skills development days to improve your practice. These will also help develop your skills in how to engage with those who access social work services and other professionals too.
You'll be taught by a team of qualified and registered social workers, including approved mental health practitioners. Listen to their stories and learn from their expertise about interventions, perspectives and settings.
The programme is underpinned by Social Work England's professional standards for social work education and training and by reference to the British Association of Social Work's Code of Ethics and other requirements. After graduation, you can apply to register with Social Work England which you will need to do in order to practice as a social worker.
Course features
Professional accreditation

Professional practice placements
My lecturers were amazing, every single one of them. They all had different approaches to teaching and each one taught me lessons in life and my career that I will never forget."
Linzi Riley
BA (Hons) Social Work
View alumni profile
The lecturers have been very supportive and bring social work experiences to the classroom. They have a wide range of social work experiences, such as working with children and families, working with adults with disabilities, working with mental health and many more."
Nicola Else
BA (Hons) Social Work
View student profile
What you'll study
The programme aims to provide an undergraduate course which:
Provides you with a respected and highly skilled pool of practice educators and other professionals to contribute to your learning.
Utilises the experiences of those who have contact with social work and related services to enhance your student journey.
Focuses on the needs of people who use services, their families and carers (people with lived experience), and centres the whole learning experience around them.
Consistently reinforces and prepares you for the contemporary nature of multi-disciplinary and multi–professional social work practice, recognising the importance of ongoing support and professional development.
Expects, develops and maintains high standards of professional conduct from you and staff cohorts at all times and under all circumstances.
Is underpinned by a range of teaching, learning and assessment opportunities which prepare you for the realities of contemporary social work practice within and across a range of settings.
Provides an individual, stimulating, exciting and challenging experience with professionalism and research-mindedness at the centre of the experience.
Discover the historical and contemporary purposes of social work in society, and consider the legal and social policies that inform this practice. You'll learn sociological and psychological theories to help you understand the challenges facing individuals, families, and communities. This includes considering issues such as the impact of poverty and social exclusion. You'll develop the core skills and methods to set you up for success in the rest of your degree and beyond, demonstrating you can meet the required standards for working in practice.
Social Work Law, Policy and Practice
Engagement, Relationships and Interaction in Professional Practice
Theory and Methods for Contemporary Professional Practice
Preparation for Professional Practice
In addition to the above modules, you will undertake skills development days during Year 1. These skills development days are a professional/regulatory body training requirement which must be successfully completed in order to progress to Year 2.
Build your confidence in a range of social work settings and develop your research skills in Year 2. You'll focus on working with children and their families, those with mental health challenges, and vulnerable adults. Develop a research proposal and undertake your own research project, understanding the relevance of research to practice. And you'll think creatively and critically about your practice during a 70-day practice learning placement.
Social Research and Methods of Inquiry
Theory, Research and Critical Practice with Children, Young People and Families
Theory, Research and Critical Practice in Mental Health
Theory, Research and Critical Practice with Adults
Practice Learning 1: Applying Theory, Methods and Research
In addition to the above modules, you will undertake mandatory skills development days during Year 2. These skills development days are a professional/regulatory body training requirement which must be successfully completed in order to progress to Year 3.
You'll complete 100 days of practice learning in your final year. Grasp the opportunity to gain more experience of working with children or adults. Modules during this year allow you to further specialise in practice with adults or children, young people and families. For your dissertation, you'll research an aspect of social work theory or practice and work independently to advance your understanding of the role of research in social work.
Practice Learning 2: Applying Theory, Methods and Research
Specialist Practice with Adults
Specialist Social Work with Children, Young People and Families
How you'll study
During our social work degree, academic-based learning will be delivered through lectures, tutorials, seminars and workshops.
The programme incorporates a minimum of 200 days of practice-based learning, including at least 170 days spent on placements and an additional 30 skills development days on campus.
All placements are organised and monitored by the University, with both academic work and practice placements contributing to the overall outcome of your degree. You will be allocated a Practice Education Lecturer (PEL) who is a qualified and registered social worker, with an additional qualification in practice learning, to support you whilst in practice. You will be responsible for travel and parking costs while on placement.
As practice education is arranged in collaboration with the Cheshire and Merseyside Social Work Teaching Partnership, most placements will be drawn from the partnership's geographical footprint across Greater Merseyside, Cheshire West and Chester, and West Lancashire.
How you'll be assessed
Our social work degree utilises a range of assessment methods which emulate the demands of real-life practice. These include writing essays and reports, delivering presentations, undertaking text analysis, working in small groups/teams, preparing a portfolio of evidence, completing assessment documents, using video/audio diaries, engaging in role plays and sitting exams. Appropriately registered and qualified professionals, in conjunction with university staff, assess your practice learning.
Who will be teaching you
Social work education at Edge Hill University is provided in collaboration with the Cheshire and Merseyside Social Work Teaching Partnership. The teaching partnership comprises of four universities, eight local authorities, two community NHS trusts and one voluntary sector organisation.
You can expect input from staff with expertise and knowledge of a range of social work, social care and interprofessional interventions, perspectives and settings. Contributors to the programme also include people who have direct experience of services, experienced and expert practitioners, those with lived experience and carers, senior managers and policy makers.
Entry criteria
Entry requirements
Typical offer 120 UCAS Tariff points, plus GCSE English Language at Grade C or Grade 4 or above (or equivalent). No specific subjects are required but it is desirable to have studied Psychology or Sociology.
Applications will also be considered if you have 112 UCAS Tariff points and are from an under-represented group in Higher Education – that is: have caring responsibilities, considerable work experience, or are a care leaver. If you meet one or more of these widening participation criteria and can demonstrate that you have the desire or prior experience that is relevant to working with vulnerable children and families, or adults in social care, we will consider your application on an individual basis.
Eligible social work degree candidates must provide evidence of study within the three years prior to application. Alternatively, you should have some relevant paid or unpaid experience and be able both to evidence this and relate it to social work as an activity with due regard for appropriate values, and an understanding of the nature of social work in contemporary society. You should recognise the perspective of people who use services, their families and carers and have a clear commitment to becoming a social worker.
An interview, brief presentation, group-related discussion, and a written test form part of the selection process.
If you are called for interview you will be assessed by a pre-prepared short presentation and an individual interview with emphasis on the ability to communicate with others/group-based skills. The interview will be conducted by a member of the academic team and a colleague with lived experience. You will be expected to demonstrate the following general attributes aligned to the BASW PCF Level at the point of entry to training:
Professional attitude
Commitment to complete the degree and work as a social worker
Commitment to equality and diversity
Good communication skills including competence in written and spoken English
Understanding of the social work role.
International students are encouraged to apply and are subject to the same processes as other candidates, with the addition of IELTS and visa requirements etc.
RP(E)L arrangements: If you are wishing to transfer from other institutions or programmes through RP(E)L, you will be considered for admission against the following criteria:
Prior learning at the appropriate currency to demonstrate that you meet the necessary pre-requisites for study at the level required
Adequate levels of achievement in order to succeed at the level required.
RP(E)L in respect of practice learning is not permitted under any circumstances for anyone applying to start the programme. However, in exceptional circumstances, you may apply to transfer from one UK, SWE approved undergraduate/qualifying programme to another, having already successfully completed practice learning requirements. In such circumstances, you must provide signed, verifiable practice learning documentation to evidence that all comparable practice requirements have been successfully completed, via the appropriate process and referral to the Practice Issues/RP(E)L panel. In addition, you will need to submit a short, written piece before the formal interview as a means of assessing comprehension etc, and to ascertain your possession of basic IT skills.
Social work is a regulated profession and you will be required to adhere to the standards set out by the regulator regarding Conduct & Ethics and Health & Character, while also adhering to other codes of professional conduct.
If you accept an offer of a place from Edge Hill University, you will be required to complete a Declaration of Suitability for Social Work. This is a Social Work England requirement where you must demonstrate fitness to practise in relation to your conduct, health and character. It includes applying for a Disclosure and Barring Service (DBS) Enhanced Disclosure indicating that you meet the mandatory criteria of 'Clearance to Work with Children and/or Vulnerable Adults'. Further information will be sent to you after you have firmly accepted an offer.
Example offers
| Qualification | Requirement |
| --- | --- |
| A Level | BBB. |
| BTEC Extended Diploma (or combination of BTEC QCF qualifications) | Distinction, Distinction, Merit (DDM). |
| T Level | Overall grade of Merit. |
| International Baccalaureate (IB) | We are happy to accept IB qualifications which achieve the required number of UCAS Tariff points. |
| Access to Higher Education Diploma | 45 credits at Level 3, for example 24 credits at Distinction and 21 credits at Merit. The required total can be attained from various credit combinations. |
Please note, the above examples may differ from actual offers made. A combination of A Level and BTEC awards may also be accepted.
If you have a minimum of two A Levels (or equivalent), there is no maximum number of qualifications that we will accept UCAS points from. This includes additional qualifications such as Extended Project Qualification (EPQ), AS Levels that haven't been continued to A Level, and General Studies AS or A Level awards.
English language requirements
International students require IELTS 7.0, with a score no lower than 6.5 in each individual component, or an equivalent English language qualification.
If your current level of English is half a band lower, either overall or in one or two elements, our Pre-Sessional English course might be for you.
How to apply
Should you accept an offer of a place to study with us and formally enrol as a student, you will be subject to the provisions of the regulations, rules, codes, conditions and policies which apply to our students. These are available at www.edgehill.ac.uk/studentterms.
Did you know?
If you join a full time undergraduate degree at Edge Hill University, we will guarantee you the offer of a room in our halls of residence for the first year of your course.
Discover our accommodation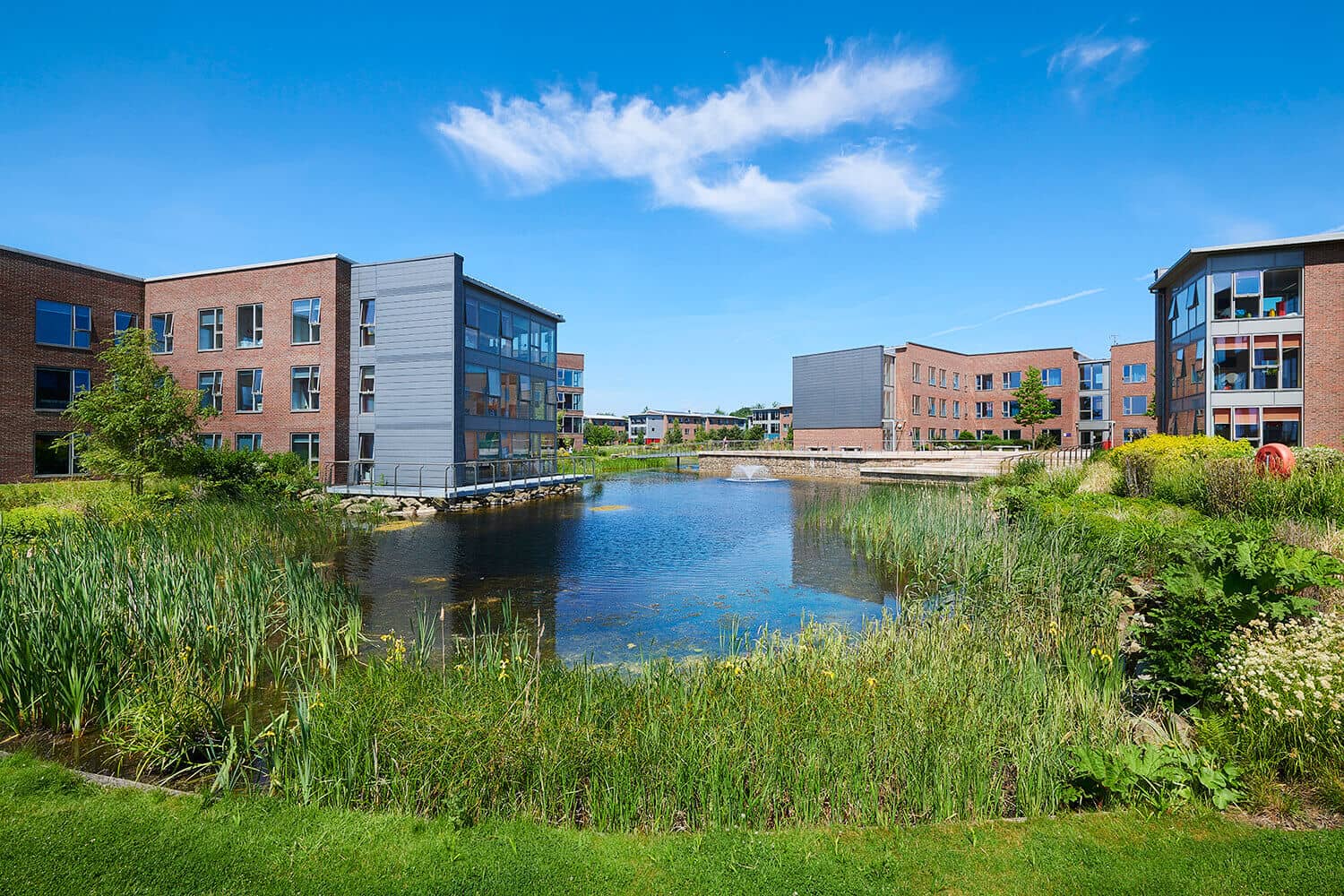 Facilities
The Faculty of Health, Social Care and Medicine offers outstanding facilities for the education and training of health and social care professionals.
The contemporary teaching and learning resources include leading edge clinical skills facilities, an 860-seat lecture theatre, and a variety of teaching rooms and social learning spaces.
Where you'll study
Faculty of Health, Social Care and Medicine
Finance
Tuition fees
The University may administer a small inflationary rise in tuition fees, in line with Government policy, in subsequent academic years as you progress through the course.
EU/EEA and Swiss students who have settled or pre-settled status under the EU Settlement Scheme, as well as Irish nationals, may be eligible for the UK tuition fee rate.
Financial support
You may be eligible to apply for a Social Work Bursary. Residency conditions and additional eligibility criteria apply. You should be aware that while all eligible students can expect to receive the placement allowance, universities are allocated a certain number of Social Work Bursary awards and will nominate some of their students to receive one. Receipt of a Social Work Bursary is therefore not guaranteed and there is no right of appeal. Please visit the NHS social work students page for further information.
Subject to eligibility, UK students joining this course can apply for a Tuition Fee Loan from the Government to cover the full cost of tuition fees. UK students enrolling on the course may also be eligible to apply for additional maintenance loan funding to help with living costs. Please view the relevant Money Matters guide for comprehensive information about the financial support available to eligible UK students, together with details of how to apply for potential funding.
EU/EEA and Swiss students who have settled or pre-settled status under the EU Settlement Scheme may be eligible to apply for financial support. Irish nationals can ordinarily apply to Student Universal Support Ireland (SUSI). If you are an EU student who does not have settled or pre-settled status, or are an international student from a non-EU country, please see our international student finance pages.
Your future career
On successful completion of our Social Work degree, you'll also be eligible to apply for registration with Social Work England. Our strong connections with employers and partners, who contribute to the delivery of our course, means you'll be fully prepared for social work practice when you graduate.
Once you graduate, you'll have the flexibility to choose from a variety of social work fields to begin your career. This could be working with children, adults and communities in the statutory, voluntary, private and charitable sectors both nationally and internationally. It's up to you whether you decide to specialise in one area or try your hand in different areas of social work. Perhaps you'll start in child protection then change to adult social work, learning difficulties, or even social justice.
As social work is a regulated profession, you'll be expected to adhere to the standards set out by the professional regulator, as well as other profession-specific organisations and agencies, such as the British Association of Social Workers.
Course changes
Every effort has been made to ensure the accuracy of this information, however our courses are subject to ongoing review and development. Changing circumstances may necessitate alteration to, or the cancellation of, courses.
Changes may be necessary to comply with the requirements of professional bodies, revisions to subject benchmarks statements, to keep courses updated and contemporary, or as a result of student feedback. We reserve the right to make variations if we consider such action to be necessary or in the best interests of students.
Track changes to this course
Discover Uni: Full-Time Study
Download our course leaflet