Psychology (Conversion)
MSc
Achieve the British Psychological Society Graduate Basis for Chartered Membership and take the first step towards gaining status as a chartered psychologist on this conversion programme for graduates from other subject areas.
Closed to applications for September 2023.
Overview
Course length:
1 year full-time
2-3 years part-time
Start dates:
September 2023
September 2024
Location:
Edge Hill University
Subject(s):
Psychology
Faculty:
Arts and Sciences
Department:
Psychology
Eager to switch career paths? Interested in the secrets of the human brain and behaviour? Want to take your first step towards becoming a psychologist? Our MSc Psychology Conversion provides graduates in disciplines other than psychology the opportunity to obtain the Graduate Basis for Chartered Membership (GBC) with the British Psychological Society (BPS).
GBC allows you to pursue postgraduate training in applied areas of psychology associated with the Societies' Divisions (such as educational and clinical psychology). It's the first step toward gaining status as a chartered psychologist.
You'll study different areas of psychology, including biological, cognitive, social and developmental psychology. We'll also look at personality and individual differences in the study of human behaviour. As well as focusing on these five interrelated areas, you'll develop and advance your knowledge of psychological research methods and data analysis.
Outside the lecture theatre, look out for exciting opportunities to work with our experts on their latest research projects. Your psychology degree will be taught by experts who are carrying out world-leading research in their field.
Our student-led psychology society brings together people who share a love for the subject. Attend their social events, benefit from peer mentoring and networking opportunities, and hear from unique speakers from across the UK.
Course features
International students can apply

Professional accreditation
What you'll study
You'll study all the core areas of psychology as specified and required by the British Psychological Society for the accreditation of conversion courses.
Examine the nature of personality and individual differences, including intelligence, developmental patterns and changes in social and cognitive abilities, interpersonal behaviour and the impact of social contexts on behaviour.
Explore cognitive language and biological psychology. Gain an understanding of the role of biology in underpinning behaviour, attention, perception, language and memory.
In our research methods module, you'll learn to organise, analyse, interpret and report findings of research involving quantitative (numerical) data. You'll then look at approaches to qualitative research and analysis.
Completing a dissertation at the end of the programme allows you to design, conduct and present your own original research project. This will be on a topic that reflects your own interests and career aspirations.
Personality and Individual Differences
Psychology Masters (Conversion) Dissertation
Research Methods and Data Analysis
How you'll study
Teaching methods follow a variety of formats from traditional style lectures to tutorials, seminars and workshops.
How you'll be assessed
Most modules are assessed by a mixture of examination and coursework though some are assessed solely by coursework.
Coursework assignments might be essays, research project reports, group presentations or the critical analysis of research papers.
Who will be teaching you
Psychology is a rapidly growing department at Edge Hill University, currently with eighteen members of staff. The programme team are all research active, particularly in the areas of thinking and reasoning, work psychology, psychological aspects of substance abuse, counselling, close relationships and the functioning of working memory.
Members of the team have been published in major national and international peer reviewed journals such as The British Journal of Psychology, The Quarterly Journal of Experimental Psychology, The Journal of Experimental Psychology and Learning, Memory and Cognition, Cognitive Neuropsychology, Journal of Neurology, Neurosurgery and Psychiatry, Psychological Review, and Human Perception and Performance.
The Department of Psychology operates a research internship scheme where you may have the opportunity to volunteer to assist with staff research across a range of exciting projects. Previous projects have focused on subjects including eye movements and memory, alcohol and inhibition, autistic traits, attentional bias to pictures and words, personality and offending behaviour, behaviour change and food awareness, multiple perspective taking, the neural underpinnings of action simulation, and the question of whether emojis reveal true emotions.
Entry criteria
Entry requirements
You should have a degree equivalent to UK first-class or second-class honours (2:2 or above). This should either be in a subject other than psychology or a psychology degree which does not confer eligibility for the Graduate Basis for Registration of the British Psychological Society.
English language requirements
International students require IELTS 6.5, with a score no lower than 6.0 in each individual component, or an equivalent English language qualification.
If your current level of English is half a band, one band, or one-and-a-half bands lower, either overall or in one or two elements, you may want to consider our Pre-Sessional English course.
How to apply
There is an online application process for this course. Applications for September 2024 have not yet opened. Please continue to check this page for further updates.
Please see our international student pages for further information about how to apply as a prospective international student.
Should you accept an offer of a place to study with us and formally enrol as a student, you will be subject to the provisions of the regulations, rules, codes, conditions and policies which apply to our students. These are available at www.edgehill.ac.uk/studentterms.
Did you know?
If you join a full time undergraduate degree at Edge Hill University, we will guarantee you the offer of a room in our halls of residence for the first year of your course.
Discover our accommodation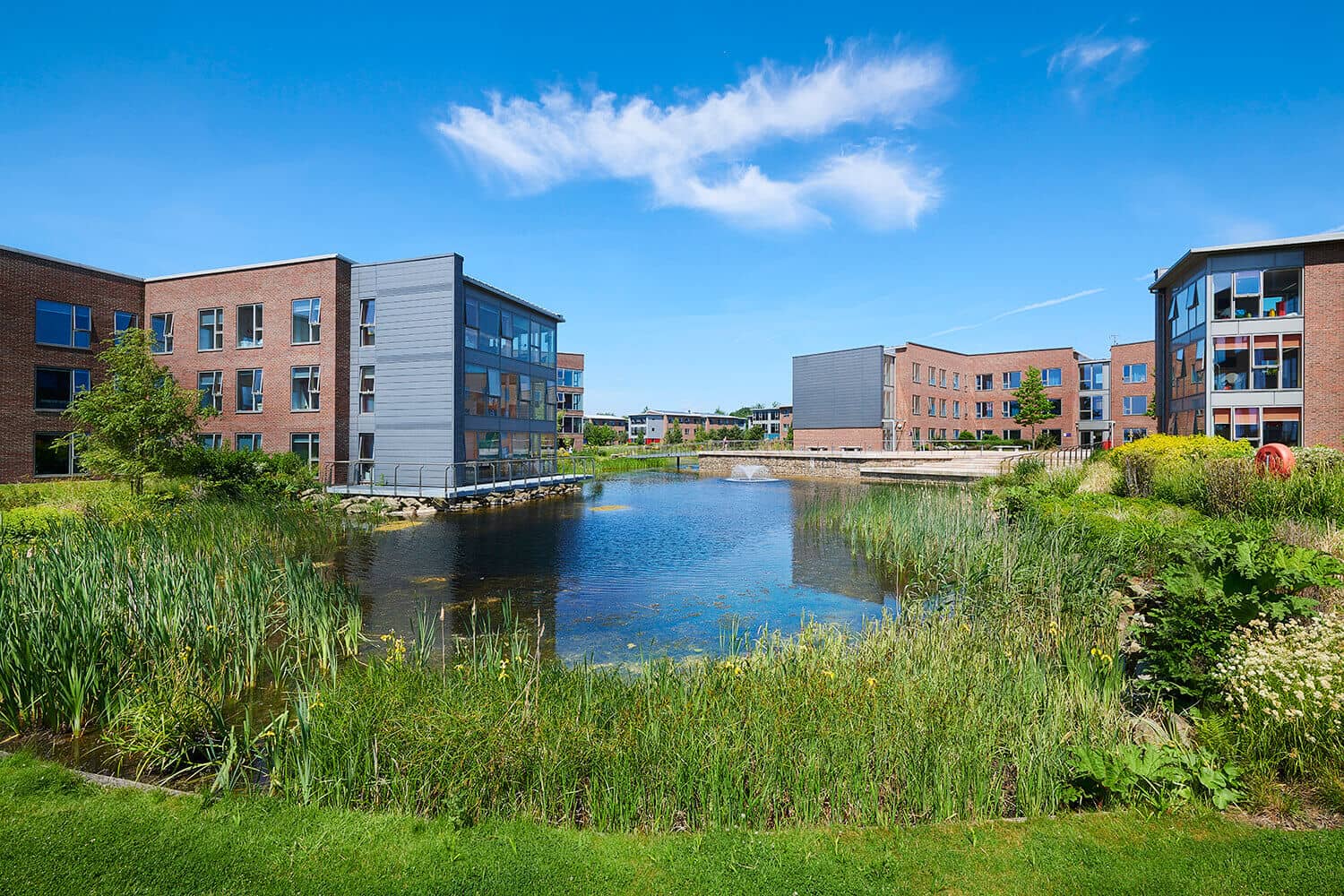 Facilities
The £6million Law and Psychology building provides contemporary teaching and learning facilities for students in the Department of Psychology and the School of Law, Criminology and Policing.
The three-storey building includes a 250-seat lecture theatre, seminar and tutorial rooms, and social learning areas which encourage a more informal and interactive style of learning. There are also specially designed laboratory and experimental facilities for psychological research.
Where you'll study
Learning resources
Psychology resources include state-of-the-art eye trackers, transcranial direct current stimulation (tDCS) methods, and near-infrared spectroscopy (NIRS) for examining cognitive functioning and brain activity. Other specialist laboratories include a group testing laboratory, bi-directional observation rooms, a 'bar simulation laboratory' (for alcohol research), audio-visual suites and dedicated IT facilities equipped with subject specific software installed to support experimental work.
Finance
Tuition fees
UK Part-Time
£47 per credit
for 180 credits
EU/EEA and Swiss students who have settled or pre-settled status under the EU Settlement Scheme, as well as Irish nationals, may be eligible for the UK tuition fee rate.
Financial support
Please view the relevant Money Matters guide for comprehensive information about the financial support available to eligible UK students joining postgraduate courses at Edge Hill University.
EU/EEA and Swiss students who have settled or pre-settled status under the EU Settlement Scheme may be eligible to apply for financial support. Irish nationals can ordinarily apply to Student Universal Support Ireland (SUSI). If you are an EU student who does not have settled or pre-settled status, or are an international student from a non-EU country, please see our international student finance pages.
Your future career
The MSc Psychology Conversion is accredited with the British Psychological Society as conferring eligibility for the Graduate Basis for Chartered Membership (GBC) provided the minimum mark of at least 50% is achieved. This is the first step towards becoming a chartered psychologist.
So what can you do with an MSc Psychology Conversion? There'll be a wide range of routes open to you when you finish this programme. Many of our graduates go on to work in these areas:
Educational psychology
Clinical psychology
Work psychology
Health psychology
Teaching and research
You'll also be well qualified to enter professions such as advertising, care, personnel or teaching (further training required). Or you might choose to continue your studies with a MPhil or PhD.
Course changes
Every effort has been made to ensure the accuracy of this information, however our courses are subject to ongoing review and development. Changing circumstances may necessitate alteration to, or the cancellation of, courses.
Changes may be necessary to comply with the requirements of professional bodies, revisions to subject benchmarks statements, to keep courses updated and contemporary, or as a result of student feedback. We reserve the right to make variations if we consider such action to be necessary or in the best interests of students.
Track changes to this course
Download our course leaflet