Psychotherapy and Counselling – Contemporary Creative Approaches
MSc
Explore creative and expressive person-centred experiential therapy. Learn contemporary creative approaches to psychotherapy and counselling as you develop your practice. This course is approved by the UK Association of Humanistic Psychology Practitioners.
Overview
What are the benefits of different approaches in counselling and psychotherapy? Find out as you explore contemporary creative and verbal approaches to psychotherapy.
We offer a practical approach to training suitable for new and advanced practitioners. You'll explore the benefits of creative arts as therapy. See how to use drawing, painting, guided imagery, movement, drama, writing, poetry and sculpture. We offer a financial contribution of up to £1,200 towards the cost of personal therapy and clinical supervision.
Our two-year psychotherapy and counselling Masters draws upon psychology, neuro-psychotherapy, neuroscience and biosciences to reflect the scientific content required in psychotherapy training. You'll also look at developmental psychology, humanistic and attachment theories, and abnormal and clinical psychology.
We'll support you to work at emotional depth with people in psychological distress as you develop your practice. You'll work with children, young people and adults in a series of work placements and experiences. Graduate with the expertise you need to pursue professional accreditation.
Course features
International students can apply

Professional practice placements
What you'll study
Focus on theory and self-development for practice. Study a strong foundation of psychological theory. Develop an understanding of the difference between traditional and contemporary forms of therapy.
You'll look at key research methods and approaches as you develop expressive arts and counselling skills. We encourage you to explore your idea of self through a range of creative and therapeutic approaches.
In Year 2 of your studies in psychotherapy and counselling, your focus will turn to clients. You'll develop real-world experience on placements managed by an external independent clinical supervisor.
Psychotherapists need to practice at emotional and relational depth. We'll help you build your self-awareness and emotional availability. You'll join a process-oriented peer supervision group and attend personal development sessions.
Creative Connections 1: Therapeutic and Psychological Theories
Creative Connections 2: Developing Creative and Therapeutic Skills
Creative Connections 3: Expressive Personal Development (1)
Creative Connections 4: Advancing Creative and Therapeutic Process Skills
Creative Connections 5: Expressive Personal Development (2)
How you'll study
The course is delivered through a combination of short blocks of classroom teaching on campus and online learning seminars, supplemented by the use of online skills practice sessions. When off-campus you will have scheduled online teaching sessions each week, as well as online academic support sessions.
To support your growing self-awareness and emotional insight, you will practice your therapy skills with peers both in person and via the online virtual learning environment, receiving feedback and guidance from academic staff. You will also help to set up and run a small community support group in an approved placement setting to enhance your growing capacity to work in an empathic helping relationship.
All students will be expected to attend ongoing personal therapy for the duration of the programme. At least 40 hours of personal therapy must be undertaken in Year 1, with support provided to help you secure a placement to undertake the required 100 hours of clinical practice in Year 2. The University will make a contribution of up to £600 towards the costs of the personal therapy in Year 1 and clinical supervision in Year 2. Any additional costs above this amount are to be met by the student.
How you'll be assessed
You will be assessed using a variety of approaches including portfolios, vivas, presentations, seminars and written assignments.
There are no formal written examinations as part of the current assessment methods on this programme.
Who will be teaching you
You will be taught by a range of practitioners and tutors who have national and international expertise in counselling and psychotherapy.
The core programme team have published research in person-centred expressive arts therapy, psychology, psychotherapy, arts psychotherapies and dance movement psychotherapy, as well as medical sociology, mental health philosophy, critical counselling studies and feminist health praxis.
There will also be contributions to programme delivery from guest speakers and visiting lecturers to help further enhance your learning experience.
Entry criteria
Entry requirements
You should have a degree equivalent to UK first-class or upper second-class honours (2:1 or above) in either counselling and/or psychotherapy or a cognate discipline which has a focus on supporting and developing individual growth and expression and psychological mindedness. Relevant subjects include care work, community arts, dance, education, music, nursing, psychology, social work, sport, theatre studies or visual arts.
Students with lower degree classifications and/or demonstrable practice experience may be admitted at the faculty's discretion, subject to the production of additional written evidence of your ability to study at Master's level.
Ideally, you should have at least 50 hours of paid or voluntary experience working with clients from vulnerable populations, experiencing issues relating to emotional and mental wellbeing, as well as working creatively with diverse arts media and/or demonstrating an interest and curiosity in engaging with the creative process.
Your application should demonstrate both creative and psychotherapeutic skills and qualities:
Creative skills in any art form and, if relevant, the use of these skills with vulnerable populations.
Your understanding of psychotherapeutic qualities such as warmth and compassion.
Owing to the demanding nature of the course, if you accept an offer from Edge Hill University you will be required to complete a medical questionnaire. In exceptional circumstances you may need to have a medical examination in order to establish your medical fitness.
If you accept a formal offer from Edge Hill University you will be required to apply for a Disclosure and Barring Service (DBS) Enhanced Disclosure indicating that you meet the mandatory criteria of 'Clearance to Work with Children and/or Vulnerable Adults'. Further information will be sent to you after you have firmly accepted an offer.
English language requirements
International students require IELTS 6.5, with a score no lower than 6.0 in each individual component, or an equivalent English language qualification.
If your current level of English is half a band, one band, or one-and-a-half bands lower, either overall or in one or two elements, you may want to consider our Pre-Sessional English course.
How to apply
There is an online application process for this course.
Please choose the application form for your preferred intake date and mode of study.
Please see our international student pages for further information about how to apply as a prospective international student. Please note this course is now closed to international applications for September 2023.
Should you accept an offer of a place to study with us and formally enrol as a student, you will be subject to the provisions of the regulations, rules, codes, conditions and policies which apply to our students. These are available at www.edgehill.ac.uk/studentterms.
Did you know?
If you join a full time undergraduate degree at Edge Hill University, we will guarantee you the offer of a room in our halls of residence for the first year of your course.
Discover our accommodation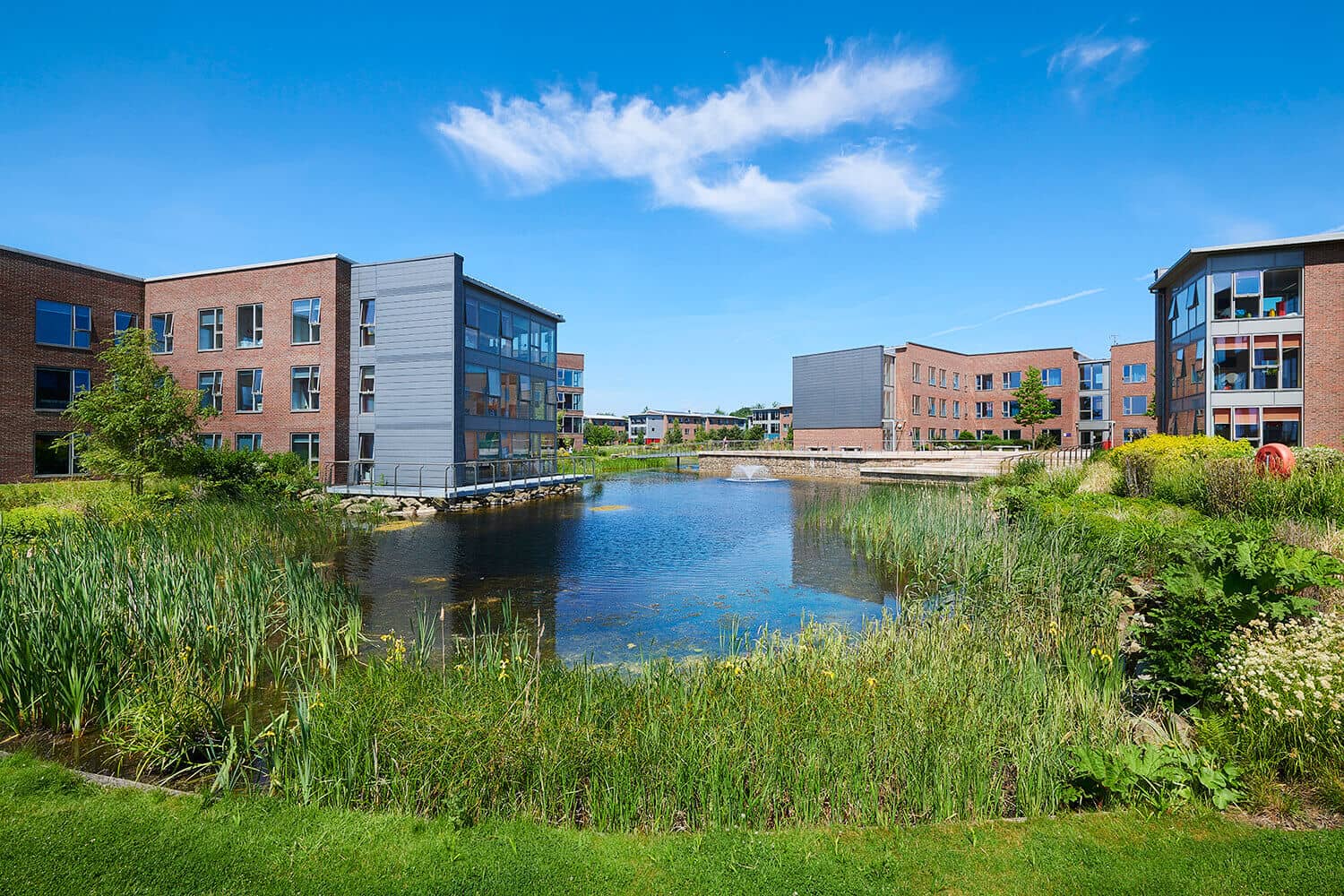 Facilities
The Faculty of Health, Social Care and Medicine offers outstanding facilities for the education and training of health and social care professionals.
The contemporary teaching and learning resources include leading edge clinical skills facilities, an 860-seat lecture theatre, and a variety of teaching rooms and social learning spaces.
Where you'll study
Faculty of Health, Social Care and Medicine
Finance
Tuition fees
UK Part-Time
£51 per credit
for 180 credits
EU/EEA and Swiss students who have settled or pre-settled status under the EU Settlement Scheme, as well as Irish nationals, may be eligible for the UK tuition fee rate.
Financial support
Please view the relevant Money Matters guide for comprehensive information about the financial support available to eligible UK students joining postgraduate courses at Edge Hill University.
EU/EEA and Swiss students who have settled or pre-settled status under the EU Settlement Scheme may be eligible to apply for financial support. Irish nationals can ordinarily apply to Student Universal Support Ireland (SUSI). If you are an EU student who does not have settled or pre-settled status, or are an international student from a non-EU country, please see our international student finance pages.
Your future career
You'll graduate with the skills and expertise you need to enter practice as a psychotherapist. You'll have the group and individual therapy experience employers are looking for.
Your MSc Psychotherapy and Counselling – Contemporary Creative Approaches degree can open the doors to private practice and the public sector as well as charities and non-profit organisations. You can explore options in mental health services, the third sector, and the corporate world. Possible career areas include roles within:
NHS
charities
employee assistance and wellbeing programmes
youth justice
social care
probation
pastoral support in schools
advocacy and special educational needs
health and social welfare
leadership and workforce development
The programme is approved by the UKAHPP (the UK Association for Humanistic Psychology Practitioners).
You may wish to apply for, and work towards, individual UKAHPP Psychotherapist Accreditation on successful completion of the programme – subject to meeting the published criteria. This is the pathway for UKAHPP sponsorship to the UK Council for Psychotherapy (UKCP) for Psychotherapist Registration with the Humanistic and Integrative Psychotherapy College (HIPC). Alternative awarding bodies are also available in the UK who you may also choose to approach.
Course changes
Every effort has been made to ensure the accuracy of this information, however our courses are subject to ongoing review and development. Changing circumstances may necessitate alteration to, or the cancellation of, courses.
Changes may be necessary to comply with the requirements of professional bodies, revisions to subject benchmarks statements, to keep courses updated and contemporary, or as a result of student feedback. We reserve the right to make variations if we consider such action to be necessary or in the best interests of students.
Track changes to this course
Download our course leaflet