Health Psychology
MSc
Embark on the first stage of health psychology postgraduate training for Psychology graduates, gaining specialist knowledge and core skills through in-person workshops, lectures and online study.
Overview
Course length:
1 year full-time
2 years part-time
Start dates:
September 2023
Location:
Edge Hill University
Subject(s):
Psychology
Department:
Psychology
Equipping you with the knowledge base and practical skills required to become a scientific practitioner in health settings, this course aligns with the first stage of postgraduate training in health psychology for Psychology graduates who already have the Graduate Basis for Chartered Membership (GBC) with the British Psychological Society. You will gain an advanced knowledge and understanding of health psychology theory and practice, as well as discover the application of health psychology across all aspects of health, illness and disability. Gaining the core skills in health psychology stipulated by the British Psychological Society, you will develop the enhanced interpersonal, evaluative, technical and creative skills needed to assess health issues and design appropriate interventions. You will also gain analytical and problem-solving skills, advanced research skills and other transferable skills to prepare you for postgraduate employment or further study in health psychology and beyond. The course offers a blended learning experience, combining the benefits of in-person teaching with the flexibility of online learning.
What you'll study
You will be immersed in all aspects of health psychology theory and practice and the application of health psychology across health, illness and disability. You will discover key interventions that are designed to facilitate changes to health-related behaviour, improve wellbeing and promote recovery. Key professional issues in health psychology will also be explored, with opportunities to interact with professionals working in a variety of roles and settings that will help you determine your future career path.
An examination of the experience of being ill and in need of health care will be underpinned by assessing the role psychology can play in ensuring that people receive appropriate care and manage an illness effectively. This will include exploring medically unexplained illnesses and conditions to gain insights into the complex relationship between mind and body, in particular the role of psychological factors in disease and illness. The social, cultural and economic factors and environments which influence health and wellbeing in society will also be considered.
Developing expertise in advanced research methods will prepare you for your dissertation. Research methods which may be introduced include multivariate analysis of variance (MANOVA), analysis of covariance (ANCOVA), regression, mediation moderation, thematic analysis and interpretative phenomenological analysis.
The course content will be sensitive to issues concerning social responsibility, for example seeking advice from service user reference groups in all stages of the research process. Optimal ways of disseminating research findings in inclusive formats will also be highlighted, while the style of language used to discuss health psychology will be an additional key consideration.
Advanced Research Methods
Advanced Statistical and Qualitative Methods
Applications of Health Psychology
Independent Research Project in Health Psychology
Health and Wellbeing in Society
How you'll study
You will be taught through a combination of lectures and workshops. A blended approach is adopted, with teaching typically taking place across two days per week, with one day being in-person and one day being online.
How you'll be assessed
You will be assessed through a combination of written assessments, oral presentation, project work and a dissertation.
Who will be teaching you
Psychology is a rapidly growing department at Edge Hill University with academic experts who are research active. In particular, this is in the areas of thinking and reasoning, work psychology, psychological aspects of substance abuse, counselling, close relationships, and the functioning of working memory.
Department of Law and Psychology staff have been published in major national and international peer reviewed journals such as The British Journal of Psychology, The Quarterly Journal of Experimental Psychology, The Journal of Experimental Psychology and Learning, Memory and Cognition, Cognitive Neuropsychology, Journal of Neurology, Neurosurgery and Psychiatry, Psychological Review, and Human Perception and Performance.
The Department of Psychology operates a research internship scheme where you may have the opportunity to volunteer to assist with staff research across a range of exciting projects. Previous projects have focused on subjects including eye movements and memory, alcohol and inhibition, autistic traits, attentional bias to pictures and words, personality and offending behaviour, behaviour change and food awareness, multiple perspective taking, the neural underpinnings of action simulation, and the question of whether emojis reveal true emotions.
Entry criteria
Entry requirements
You should have a degree equivalent to UK first-class or upper second-class honours (2:1 or above) in psychology, as well as the Graduate Basis for Chartered Membership (GBC) with the British Psychological Society.
You will also need to demonstrate attaining a minimum of upper second-class honours (2:1 or above) in your dissertation module (or equivalent final-year research project), evidencing this by supplying a detailed copy of your degree transcript (or equivalent).
An interview may form part of the selection process.
English language requirements
International students require IELTS 6.5, with a score no lower than 6.0 in each individual component, or an equivalent English language qualification.
If your current level of English is half a band or one band lower, either overall or in one or two elements, you may want to consider our Pre-Sessional English course.
How to apply
This is a new course currently in development. Online applications will open once the validation process is complete.
Should you accept an offer of a place to study with us and formally enrol as a student, you will be subject to the provisions of the regulations, rules, codes, conditions and policies which apply to our students. These are available at www.edgehill.ac.uk/studentterms.
Did you know?
If you join a full time undergraduate degree at Edge Hill University, we will guarantee you the offer of a room in our halls of residence for the first year of your course.
Discover our accommodation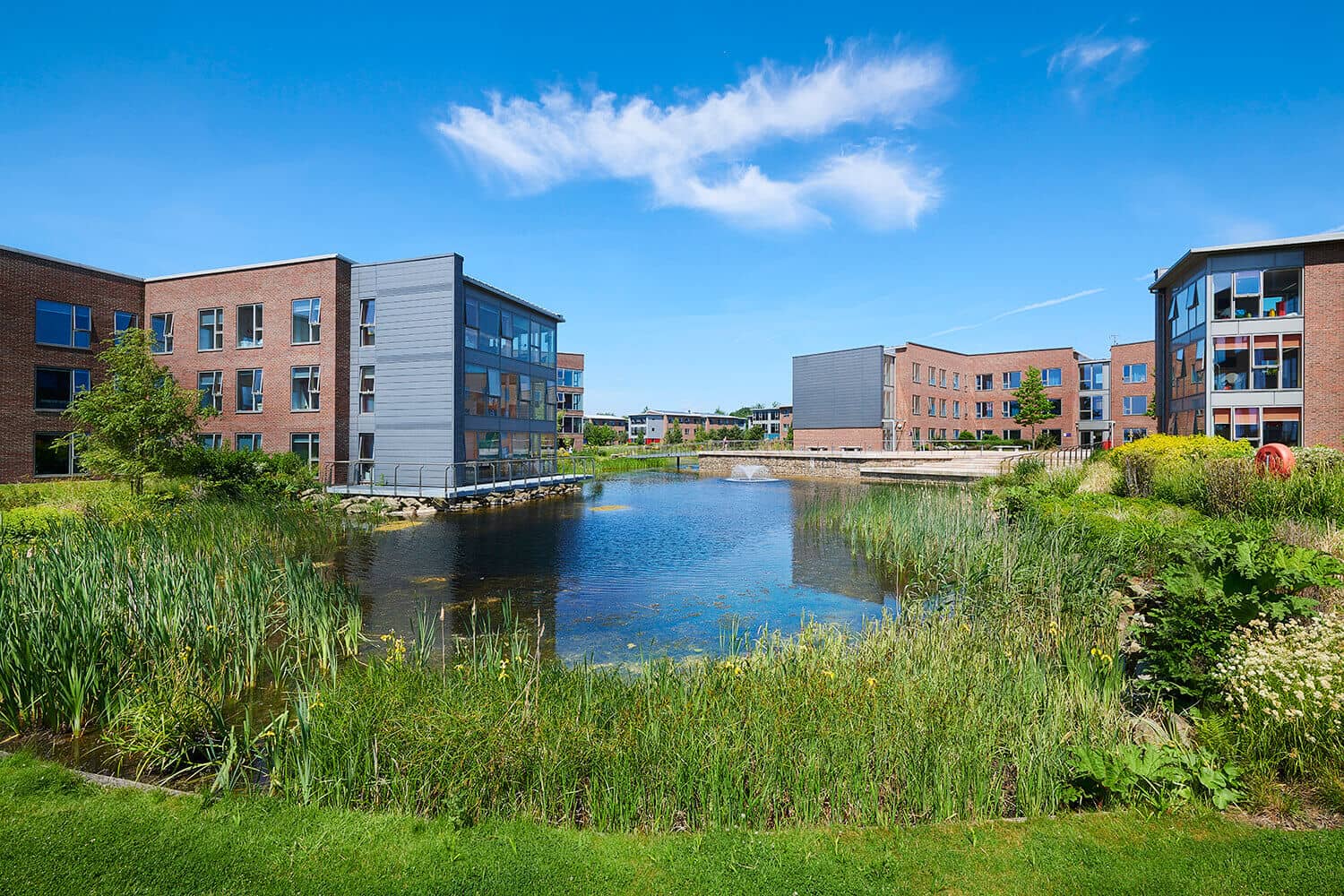 Facilities
The £6million Law and Psychology building provides contemporary teaching and learning facilities for students in the Department of Psychology and the Department of Law and Criminology.
The three-storey building includes a 250-seat lecture theatre, seminar and tutorial rooms, and social learning areas which encourage a more informal and interactive style of learning. There are also specially designed experimental facilities for psychological research.
Where you'll study
Learning resources
Psychology resources include state-of-the-art eye trackers, transcranial direct current stimulation (tDCS) methods, and near-infrared spectroscopy (NIRS) for examining cognitive functioning and brain activity. Other specialist laboratories include a group testing laboratory, two bi-directional observation rooms, a 'bar simulation laboratory' (for alcohol research), audio-visual suites and dedicated IT facilities equipped with subject specific software installed to support experimental work.
Finance
Tuition fees
Tuition fees for students joining this course in academic year 2023/24 are still to be announced. We will update this information as soon as it is available.
EU/EEA and Swiss students who have settled or pre-settled status under the EU Settlement Scheme, as well as Irish nationals, may be eligible for the UK tuition fee rate.
Financial support
Financial support arrangements for eligible UK students joining this course in academic year 2023/24 are still to be announced by the Government. You are advised to check this page regularly and once the position has been confirmed we will update this information.
EU/EEA and Swiss students who have settled or pre-settled status under the EU Settlement Scheme may be eligible to apply for financial support. Irish nationals should ordinarily apply to Student Universal Support Ireland (SUSI). If you are an EU student who does not have settled or pre-settled status, or are an international student from a non-EU country, please see our international student finance pages.
Your future career
The course provides the practical skills and knowledge needed for the first stage of postgraduate training to become a health psychologist. It will prepare you to undertake stage two training in health psychology, which is accredited by the Health and Care Professions Council (HCPC), should you wish to pursue a career as a practitioner psychologist in health.
An alternative potential route is to undertake a PhD or doctoral level study in health psychology or a related area. Successful completion of the course will also enhance your prospects of obtaining a place on a doctorate training programme in clinical psychology.
Having developed expertise in health and psychology more broadly, you will graduate well equipped for entering a variety of professional avenues across academic, healthcare, and public health settings. These include research psychologist positions, postdoctoral research in health psychology, and a variety of medical settings.
Course changes
Every effort has been made to ensure the accuracy of this information, however our courses are subject to ongoing review and development. Changing circumstances may necessitate alteration to, or the cancellation of, courses.
Changes may be necessary to comply with the requirements of professional bodies, revisions to subject benchmarks statements, to keep courses updated and contemporary, or as a result of student feedback. We reserve the right to make variations if we consider such action to be necessary or in the best interests of students.
Track changes to this course
Download our course leaflet