Doctor of Philosophy
PhD
Focus on a research area in depth, receive substantial training in a range of research approaches and write a thesis that will demonstrate your understanding of how to develop a critical academic argument.
Closed to further applications for October 2022 entry. The PhD remains open to applications for February 2023 entry.
Overview
Course length:
3 years full-time
4.5 years part-time
Start dates:
October 2022
February 2023
October 2023
February 2024
Location:
Edge Hill University
Subject(s):
Research
Department:
Graduate School
This PhD provides you with the opportunity to interrogate a research topic of interest and develop your knowledge and research skills that can help you in a career in or beyond academia. You will receive training in the theoretical aspects of research. The overall focus is on acquiring the knowledge and skills to design, conduct, evaluate, disseminate and defend your own individual research. You will also acquire a range of transferable skills that are highly sought after by employers, including the capacity for critical thought.
The PhD will suit candidates from a range of backgrounds and disciplines. It is particularly suitable if you aspire to a research-based career.
What you'll study
Compulsory research training sessions will cover aspects of research design, research data management and research project management. These sessions will enable you to identify, evaluate and construct arguments, design research questions, and make an original contribution to knowledge. Ethics, values and equality in research will also be considered.
Alongside this, you will devise and complete a programme of related studies, tailored to your own learning and skills needs, with the additional option of attending further training sessions focusing on methodological considerations in the sciences, social sciences, and arts and humanities.
How you'll study
The production of a research thesis through independent study will be underpinned by a research training and development programme.
How you'll be assessed
The first element of the PhD (research project registration) will be assessed through the production of a research proposal, a project management plan and a skills development portfolio. You will also undertake a viva voce examination (project registration viva).
Approximately halfway through your studies, your progress will be assessed through a second viva (progression viva). Your final thesis will be assessed through a further viva (final viva).
Who will be teaching you
Being a research degree, you will not be taught through lectures, as the various training sessions are discussion-based, however your research project will be supported by supervisors within the university who have international research profiles in their discipline.
The completion of your individual research project will be supported by regular supervision meetings with experts in your chosen field of study.
Entry criteria
Entry requirements
You should have a degree equivalent to UK first-class or upper second-class honours (2:1 or above) and ideally also a Masters degree. No specific subjects are required.
English language requirements
International students require IELTS 7.0, with a score no lower than 6.5 in each individual component, or an equivalent English language qualification, at the point of application.
If your current level of English is half a band or one band lower, either overall or in one or two elements, you may want to consider our Pre-Sessional English course.
Further information about how international postgraduate research applicants can meet our English Language requirements is available on the International Students website.
How to apply
There is an online application process for this course.
Please choose the application form for your preferred intake date and mode of study.
The deadline for applications for February 2023 entry is Thursday 20 October 2022.
As part of your application you will need to submit a research proposal that should not exceed 2,000 words. You will also need to submit an academic CV, a scan of your passport, budget sheet and a scan of your degree certificates/transcripts with your application.
Detailed guidance on writing your research proposal and additional application support is available on the Graduate School website.
You should instruct your referees to send your references to [email protected]  at the point of application using a professional email address or company headed paper.
International applicants will also need to provide evidence of meeting the English Language requirements as part of their application.
Please see our international student pages for further information about how to apply as a prospective international student.
Did you know?
If you join a full time undergraduate degree at Edge Hill University, we will guarantee you the offer of a room in our halls of residence for the first year of your course.
Discover our accommodation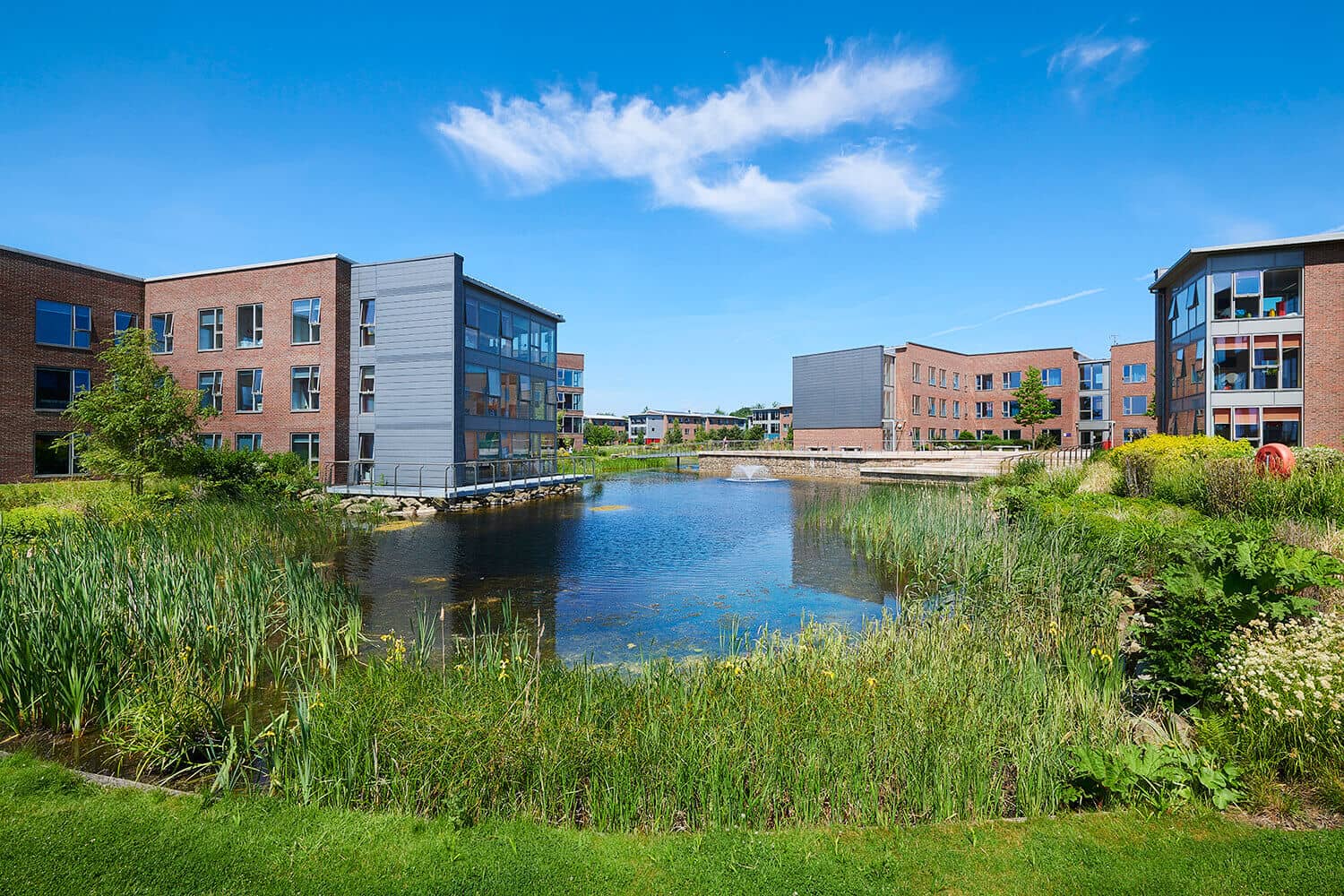 Facilities
As a postgraduate research student, you will be registered in the University's Graduate School and be based in the faculty or department that is most appropriate for your project.
Departmental facilities are complemented by the University library which stocks around 200,000 items, including books, journals, e-resources and multimedia. In addition, you can access PCs, laptops, software and assistive technologies.
Extensive social learning areas and study spaces enable group discussion, quiet work and silent study. The specialist team staffing our Ask Desk are available to assist with any queries, with dedicated support available for students with Specific Learning Difficulties (SpLD).
Where you'll study
Finance
Tuition fees
Tuition fees for international students joining the course in academic year 2022/23 are £14,000 a year for full-time study and £8,500 a year for part-time study.
EU/EEA and Swiss students who have settled or pre-settled status under the EU Settlement Scheme, as well as Irish nationals, may be eligible for the UK tuition fee rate.
Financial support
Please view the relevant Money Matters guide for comprehensive information about the financial support available to eligible UK students joining postgraduate courses at Edge Hill University.
EU/EEA and Swiss students who have settled or pre-settled status under the EU Settlement Scheme may be eligible to apply for financial support. Irish nationals should ordinarily apply to Student Universal Support Ireland (SUSI). If you are an EU student who does not have settled or pre-settled status, or are an international student from a non-EU country, please see our international student finance pages.
Your future career
The skills and experience acquired through a PhD will provide ideal preparation for pursuing a research-based career.
Course changes
Every effort has been made to ensure the accuracy of this information, however our courses are subject to ongoing review and development. Changing circumstances may necessitate alteration to, or the cancellation of, courses.
Changes may be necessary to comply with the requirements of professional bodies, revisions to subject benchmarks statements, to keep courses updated and contemporary, or as a result of student feedback. We reserve the right to make variations if we consider such action to be necessary or in the best interests of students.
Track changes to this course
Download our course leaflet