Education (EdD)
Professional Doctorate
Immerse yourself in educational research on a programme for experienced professionals working as educators, enabling you to make an original contribution to knowledge in an area of professional practice.
Closed to international applications for September 2023.
Overview
Course length:
Typically 5 years part-time
Start dates:
October 2023
October 2024
Location:
Edge Hill University
Subject(s):
Research
Department:
Graduate School
This Professional Doctorate in Education (EdD) offers research-based professional development to experienced professionals whose practice is concerned with education. Applications from professionals within all fields of education are welcomed, including professionals based in early years, schools or higher education settings, and professional educators working in health, social care or other occupations in the private and public sectors.
The academic rigour of the EdD is comparable with that of a PhD, while being characterised by its focus on professional practice. Designed to meet the needs of full-time professionals, the EdD will enable you to extend your understanding of theory, practice and policy in the context of your profession. You will become an independent and reflective researcher, develop advanced research skills and gain a critical understanding of research methodologies, as you undertake research that leads to an original contribution to knowledge within your area of professional practice.
Course features
International students can apply
What you'll study
In the first two years of the course, you will attend compulsory research training sessions which will help you to finalise your research proposal within the first two terms of study. These sessions will focus on methodology, research design, research project and data management, and research ethics.
The training sessions will be complemented by small group seminars. These are specifically designed to support the completion of the two assessment stages which make up the first stage of the EdD, while also refining your educational research skills to enable you to produce original, doctoral-level, practice-based research. You will gain a comprehensive insight into debates in literature relating to your chosen area of professional practice, as well as begin to critically justify your chosen methodological approach, based on an identifiable philosophical position.
Following these first two years, the focus of your work will be on completing your research and writing up a 60,000-word doctoral thesis in which you will make a distinct contribution to professional knowledge in your field of study.
How you'll study
The programme typically requires approximately 23.5 hours per week dedicated to research-related activity.
During the first year of study, compulsory research training sessions and small group seminars will be scheduled as face-to-face sessions over one Saturday, one full weekend and a three-day summer school. There will also be 10 compulsory online twilight research development sessions and three compulsory online Saturday schools.
During the second year of study, you will be required to attend 10 scheduled online twilight research development sessions and two online Saturday schools.
For the third year of study and beyond, ongoing group support will be provided at two scheduled online Saturday schools and three online twilight sessions per year.
Outside of these occasions, attendance on campus will be determined by your individual development needs and the nature of your project.
How you'll be assessed
The course incorporates three viva examinations where your written submissions will be assessed by a team of experts.
The first assessment stage is project registration. This will take place approximately seven months after starting the course and will be assessed through the production of a research proposal, a project management plan and a skills development portfolio. You will also undertake a viva voce examination (project registration viva).
At approximately 24 months into your studies, your progress will be assessed through a progression review and a progression viva voce examination. You will be required to produce some draft chapters which will form part of your final thesis and a written progress report of up to 6,000 words.
At the third viva examination, which represents the culmination of the Professional Doctorate, your final thesis will be presented.
Who will be teaching you
Compulsory research training sessions and research development sessions will be led by academic experts from across the University. You will also be supported by two supervisors who, between them, will have academic expertise in the methodological and substantive areas of your research.
Within the Faculty of Education, academics have particular expertise in issues relating to social justice and inclusion, children and young people's voice and rights, children and young people's mental health, special educational needs, early years education, primary and secondary education, initial teacher education, further and higher education, adult education and widening participation, and the philosophy of education.
Entry criteria
Entry requirements
You should have a degree equivalent to UK first-class or upper second-class honours (2:1 or above) and a master's degree (for example MA, MSc or MRes, or equivalent) in a relevant education or social science subject.
You must also have at least two years of professional experience that is relevant to the focus of your proposed research. In exceptional circumstances, applicants without a master's qualification, or those with a master's qualification in an alternative subject, may also be considered, subject to having substantial relevant professional experience and demonstrating an understanding of research methodology and its application.
English language requirements
International students require IELTS 7.0, with a score no lower than 6.5 in each individual component, or an equivalent English language qualification, at the point of application.
Please note, however, that as this is a part-time research degree it is subject to certain visa restrictions. Please contact the International Office to check whether the University can sponsor your visa for part-time study.
If your first language is not English and you have an IELTS score (or equivalent) which is half a band lower, either overall or in one or two elements, our Postgraduate Research Pre-Sessional course could be ideal for you.
Further information about how international postgraduate research applicants can meet our English Language requirements is available on the International Students website.
How to apply
There is an online application process for this course.
The deadline for applications for October 2023 entry is Tuesday 20 June 2023.
As part of your application you will need to submit a research proposal that should not exceed 2,000 words. You will also need to submit an academic CV, a scan of your passport, budget sheet and a scan of your degree certificates/transcripts with your application.
Detailed guidance on writing your research proposal and additional application support is available on the Graduate School website.
You should instruct your referees to send your references to [email protected] at the point of application using a professional email address or company headed paper.
International applicants will also need to provide evidence of meeting the English Language requirements as part of their application.
Please see our international student pages for further information about how to apply as a prospective international student.
Did you know?
If you join a full time undergraduate degree at Edge Hill University, we will guarantee you the offer of a room in our halls of residence for the first year of your course.
Discover our accommodation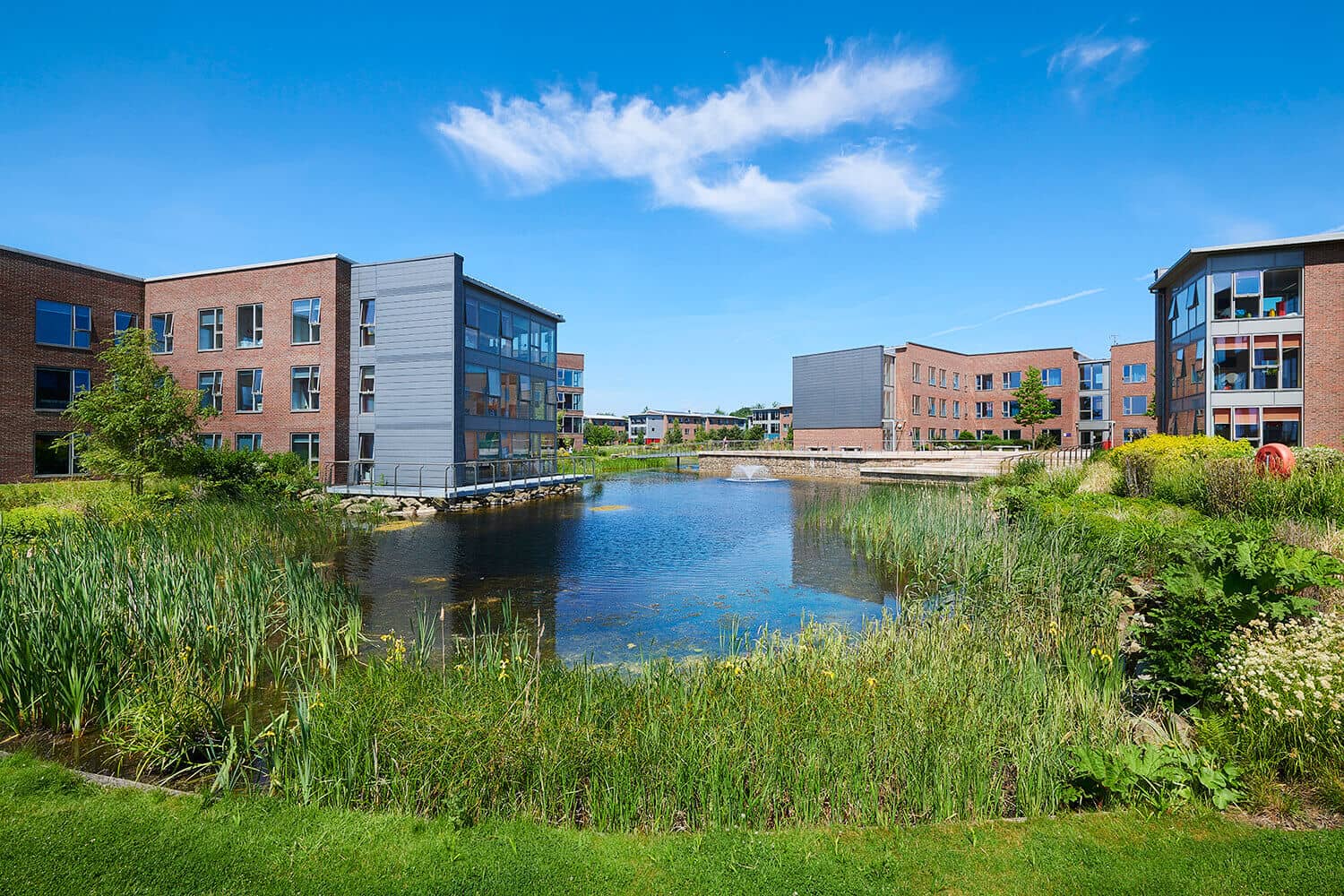 Facilities
As a postgraduate research student, you will be registered in the University's Graduate School and be based in the faculty or department that is most appropriate for your project. Professional Doctorate in Education (EdD) students will normally be based in the Faculty of Education.
Housed in a state-of-the-art £9million building, the Faculty of Education enjoys a stunning setting from both its lakeside and piazza buildings.
Facilities in the lakeside building include a 300-seat lecture theatre, five well-equipped ICT suites, and 18 teaching rooms complete with the latest technology. The lakeside building is also home to a popular vegan and vegetarian cafe where students can meet to socialise and discuss their studies. The nearby piazza building offers modern facilities including a lecture theatre and a number of seminar rooms.
Where you'll study
Finance
Tuition fees
EU/EEA and Swiss students who have settled or pre-settled status under the EU Settlement Scheme, as well as Irish nationals, may be eligible for the UK tuition fee rate.
Financial support
Please view the relevant Money Matters guide for comprehensive information about the financial support available to eligible UK students joining postgraduate courses at Edge Hill University.
EU/EEA and Swiss students who have settled or pre-settled status under the EU Settlement Scheme may be eligible to apply for financial support. Irish nationals can ordinarily apply to Student Universal Support Ireland (SUSI). If you are an EU student who does not have settled or pre-settled status, or are an international student from a non-EU country, please see our international student finance pages.
Your future career
This programme will enhance your personal and professional development. The methodological expertise and contribution to advancing knowledge within your field will lead to significantly increased knowledge and understanding about aspects of your practice.
You will be well placed to seek promotion to a variety of different roles, including academic posts and management positions, within your area of professional expertise.
Download our course leaflet