Emergency Services Management (DESM)
Professional Doctorate
Join a research degree for senior managers from the emergency services (ambulance, police, or fire and rescue) where you will engage in cross-disciplinary dialogue, develop as a researcher and gain skills to apply to professional practice.
Overview
Course length:
4.5 years part-time
Start dates:
October 2022
October 2023
Location:
Edge Hill University
Subject(s):
Research
Department:
Graduate School
Professionalisation of the emergency services workforce and the development of strategic leadership within the blue lights, namely the ambulance, police, and fire and rescue services, are at the top of government and reform agendas.
If you are a leader or senior manager from the emergency services or prison and probation service, or if you work for local authorities, councils or health organisations and have responsibilities under the Civil Contingencies Act 2004, this programme will enhance your ability to question, analyse, critique and theorise. It will also encourage interoperability and multi-agency cooperation in line with the statutory duty for collaboration between the emergency services introduced in the Police and Crime Bill 2017. You will develop professional management practice while gaining an appreciation and understanding of the relationship between management research and the professional practice of management.
Upon successful completion of the Professional Doctorate in Emergency Services Management (ambulance, police, or fire and rescue services), you will have obtained and demonstrated the creation and interpretation of new knowledge, through original research, of a quality to satisfy peer review and merit publication. You will make a significant contribution towards new professional practice and academic knowledge.
What you'll study
You will work on a research project throughout the course, resulting in a thesis of doctoral standard, demonstrating an original contribution to the field of approximately 55,000 words.
Alongside this, you will undertake development activity in the first two years of the course. This comprises of:
Core and methodological training which will help you to finalise your research proposal by the end of the first semester.
A programme of related studies which will be tailored to address your specific learning needs to help you enhance your skills as a researcher.
Subject-specific researcher training which will focus on a range of themes, including contemporary issues and challenges in management practice of the emergency services, multi-agency collaboration and interoperability between organisations, and reflexivity and becoming a reflective practitioner.
How you'll study
The programme typically requires approximately 23.5 hours per week dedicated to research-related activity. The way in which this research is structured is primarily led by you, with supervisory input.
You will also attend scheduled researcher development sessions, ranging from individual personal supervisor-led contact to supported online learning, small group work and teacher-led lectures.
There is a requirement to attend Edge Hill University once per week for core and methodical training in the first semester of the programme, in addition to a total of three weekends across the first two years of the programme for subject-specific researcher training.
Outside of these occasions, attendance on campus will be determined by your individual development needs and the nature of your project.
How you'll be assessed
The programme incorporates three viva examinations where your written submissions are assessed by a team of experts.
At the first examination, after approximately seven months of study, your research proposal will be scrutinised. At the second examination, between two and three years after first registration, your research to date will be reviewed. At the third examination, your final thesis is presented.
Who will be teaching you
You will be supervised in your research by a team of academic and professional experts with specialist knowledge of emergency services management. Guest speakers will also contribute to the delivery of the programme.
Entry criteria
Entry requirements
You should have a degree equivalent to UK first-class or second-class honours (2:2 or above) and a Masters degree (for example, MBA, MA, MSc or MRes, or equivalent). No specific subjects are required.
You must also have at least five years of management or professional experience. In exceptional circumstances, applicants without a Masters qualification but with substantial professional experience may be considered.
Overseas applicants will be considered on an individual basis and will be expected to demonstrate English language proficiency to a minimum standard of IELTS 7.0 or equivalent. Please note, however, that as this is a part-time research degree it is subject to certain visa restrictions. Please contact the International Office to check whether the University can sponsor your visa for part-time study.
English language requirements
International students require IELTS 7.0, with a score no lower than 6.5 in each individual component, or an equivalent English language qualification, at the point of application.
If your current level of English is half a band or one band lower, either overall or in one or two elements, you may want to consider our Pre-Sessional English course.
Please note, however, that as this is a part-time research degree it is subject to certain visa restrictions. Please contact the International Office to check whether the University can sponsor your visa for part-time study.
Further information about how international postgraduate research applicants can meet our English Language requirements is available on the International Students website.
How to apply
There is an online application process for this course.
Please choose the application form for your preferred intake date and mode of study.
The deadline for applications for October 2022 entry is Thursday 30 June 2022.
The deadline for applications for February 2023 entry is Thursday 20 October 2022.
As part of your application you will need to submit a research proposal that should not exceed 2,000 words. You will also need to submit an academic CV, a scan of your passport, budget sheet and a scan of your degree certificates/transcripts with your application.
Detailed guidance on writing your research proposal and additional application support is available on the Graduate School website.
You should instruct your referees to send your references to [email protected] at the point of application using a professional email address or company headed paper.
International applicants will also need to provide evidence of meeting the English Language requirements as part of their application.
Please see our international student pages for further information about how to apply as a prospective international student.
Did you know?
If you join a full time undergraduate degree at Edge Hill University, we will guarantee you the offer of a room in our halls of residence for the first year of your course.
Discover our accommodation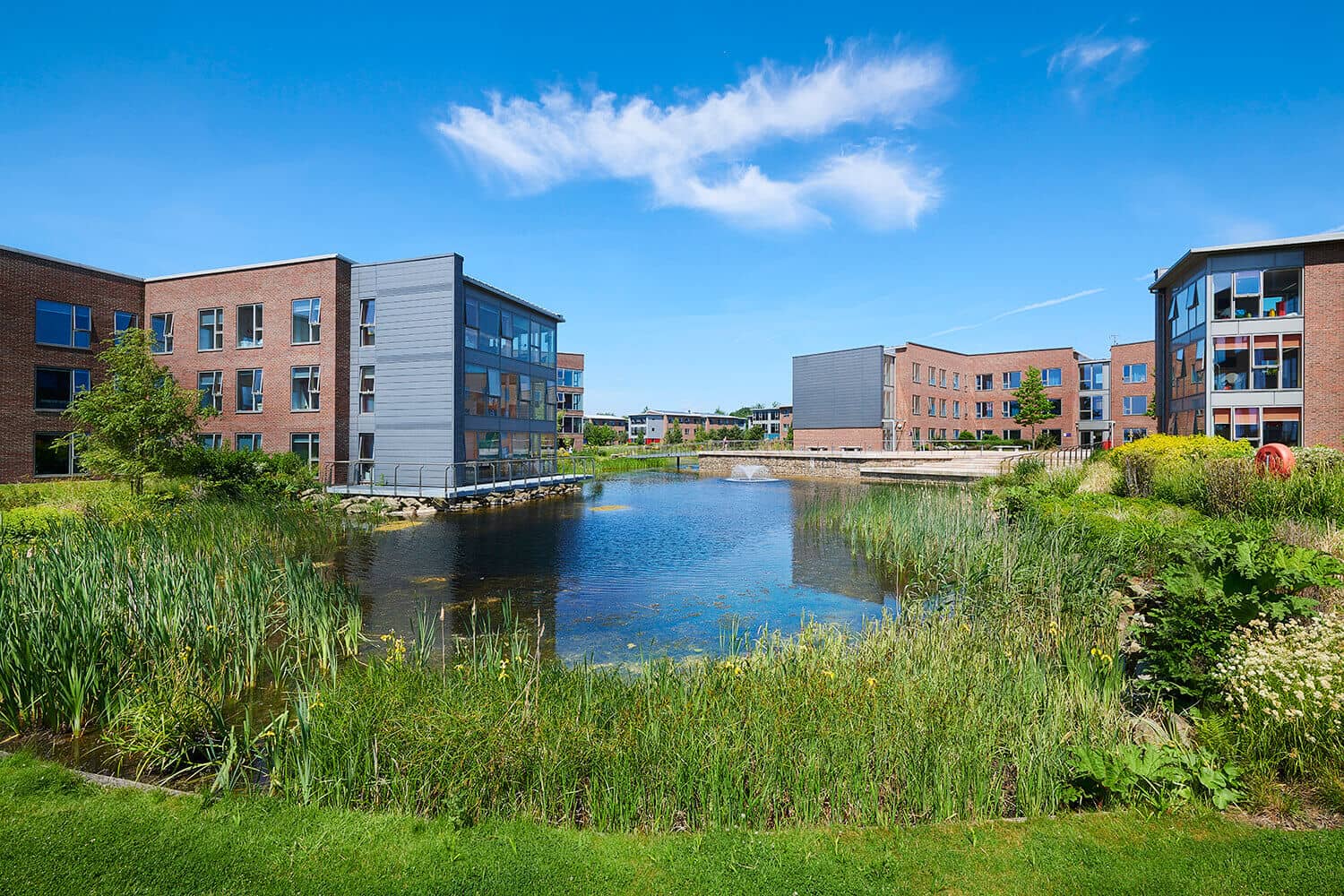 Facilities
As a postgraduate research student, you will be registered in the University's Graduate School and be based in the faculty or department that is most appropriate for your project. Professional Doctorate in Emergency Services Management students will normally be based in Edge Hill Business School.
A stunning £8million building provides impressive teaching and learning facilities for students in Edge Hill Business School.
The contemporary three-storey building offers a 100-seat lecture theatre and modern seminar and meeting rooms. There are also social learning areas which encourage a more informal and interactive style of learning, in addition to an attractive roof garden and atrium.
Where you'll study
Finance
Tuition fees
EU/EEA and Swiss students who have settled or pre-settled status under the EU Settlement Scheme, as well as Irish nationals, may be eligible for the UK tuition fee rate.
Financial support
Please view the relevant Money Matters guide for comprehensive information about the financial support available to eligible UK students joining postgraduate courses at Edge Hill University.
EU/EEA and Swiss students who have settled or pre-settled status under the EU Settlement Scheme may be eligible to apply for financial support. Irish nationals should ordinarily apply to Student Universal Support Ireland (SUSI). If you are an EU student who does not have settled or pre-settled status, or are an international student from a non-EU country, please see our international student finance pages.
Your future career
This programme will enhance your personal development across a wide range of roles performed by staff in the emergency services. You will also be well placed to take advantage of opportunities in consultancy or to pursue a teaching career in higher education.
Course changes
Every effort has been made to ensure the accuracy of this information, however our courses are subject to ongoing review and development. Changing circumstances may necessitate alteration to, or the cancellation of, courses.
Changes may be necessary to comply with the requirements of professional bodies, revisions to subject benchmarks statements, to keep courses updated and contemporary, or as a result of student feedback. We reserve the right to make variations if we consider such action to be necessary or in the best interests of students.
Track changes to this course
Download our course leaflet