Conservation Management
MSc
Learn the skills, techniques and theories to manage our planet's ecosystems on our award-winning MSc Conservation Management course. Put knowledge into action with over 25 days of fieldwork on this degree accredited by the Chartered Institute of Ecology and Environmental Management.
Overview
Our MSc Conservation Management degree has won Higher Education Programme of the Year 2023 in the Chartered Institute of Ecology and Environmental Management (CIEEM) awards, recognising the course's ability to inspire the next generation of conservationists.
How do we repair ecological damage? What's the best way to protect our environment for future generations? Study the skills and theory you need at the level your career demands.
You'll develop professional field skills and expertise on our conservation management course. Immerse yourself in the ecological theory behind habitat management and restoration. Learn to identify and survey plants, vertebrates and invertebrates to a professional standard.
We make sure you become confident in safe and ethical professional working practices with over 25 days of fieldwork including our week-long residential course.
We'll also help you find a 2-4 week work placement with a conservation organisation or ecological consultancy. You'll have the chance to put your knowledge into practice and make industry connections.
Course features
Fieldwork

International students can apply

Professional accreditation

Work placement opportunity
What you'll study
Laboratory skills. Fieldwork. Ecosystem expertise. You'll gain the scientific knowledge and project management skills for a career in conservation management.
Our conservation management course prioritises fieldwork. You'll learn to carry out habitat surveys and identify plants, invertebrates, mammals and birds. You'll also develop mapping skills in geographic information systems (GIS) and use your findings to assess the management needs of a site.
In the laboratory, you'll learn microscopy to identify bryophytes and invertebrates, and train in soil analysis techniques.
You'll apply everything you've learnt to a unique research project and work adhering to professional scientific standards. Plan the project. Analyse risks and ethics. Carry out data handling and statistical approaches. You'll discover how to write up your findings in a concise scientific style ready to share, and undertake assessments with real-world relevance.
Biodiversity Planning and Legislation
Ecology and Biogeography in Conservation
GIS and Cartography for Conservation Management
Restoration and Conservation Planning
Vertebrate Monitoring and Management
How you'll study
Fieldwork is an integral part of many modules and is used to provide a multitude of experiences across species, habitats and conservation issues. A variety of local sites are used including dunes, meadows and forests. The programme includes a residential field course. All field trip costs are included within course fees.
In small classes, lecture-style sessions and practical work are designed to develop subject-specific skills, clarify concepts, raise questions and collect data. Follow-up seminars may consider analysis, data presentation, qualitative observations, elucidation of trends, and integration with theoretical ideas.
If you are studying full-time, you will typically attend classes for two full days per week. If you are studying part-time, you will typically attend either one full day or two half days per week depending on the semester, with an additional full day occasionally required for field trips. Some modules will be taught daily for one or two week periods. You will also spend 20 days undertaking a conservation placement over a three-five month period in addition to the above commitments.
You can read about student Natalie's experience of the conservation placement, which she chose to undertake at Ainsdale Sand Dunes National Nature Reserve at www.edgehill.ac.uk/scrubneversleeps.
How you'll be assessed
The course has a variety of assessment methods which are designed to develop the full range of skills and expertise relevant to the subject. These include a research thesis, scientific reports, voucher specimen collections, vegetation portfolios, field-based management plans and examinations.
Who will be teaching you
Edge Hill University has over 30 years' experience in delivering field biology degrees and has a wealth of experienced tutors, technical staff and field equipment to support the study of conservation and ecology on this programme.
The course is taught by a small friendly team who have considerable teaching and research experience in the area. All staff are research active which means that they are up-to-date with current developments in their areas of interest and pass this knowledge onto their students. Staff expertise includes forest and grassland conservation, habitat restoration and sustainable management of ecosystems, including ecosystem functioning and using mapping approaches in ecology.
Entry criteria
Entry requirements
You should have a degree equivalent to UK first-class or second-class honours (2:2 or above). No specific subjects are required.
English language requirements
International students require IELTS 6.5, with a score no lower than 6.0 in each individual component, or an equivalent English language qualification.
If your current level of English is half a band, one band, or one-and-a-half bands lower, either overall or in one or two elements, you may want to consider our Pre-Sessional English course.
How to apply
There is an online application process for this course.
Please choose the application form for your preferred intake date and mode of study.
Please see our international student pages for further information about how to apply as a prospective international student.
Should you accept an offer of a place to study with us and formally enrol as a student, you will be subject to the provisions of the regulations, rules, codes, conditions and policies which apply to our students. These are available at www.edgehill.ac.uk/studentterms.
Did you know?
If you join a full time undergraduate degree at Edge Hill University, we will guarantee you the offer of a room in our halls of residence for the first year of your course.
Discover our accommodation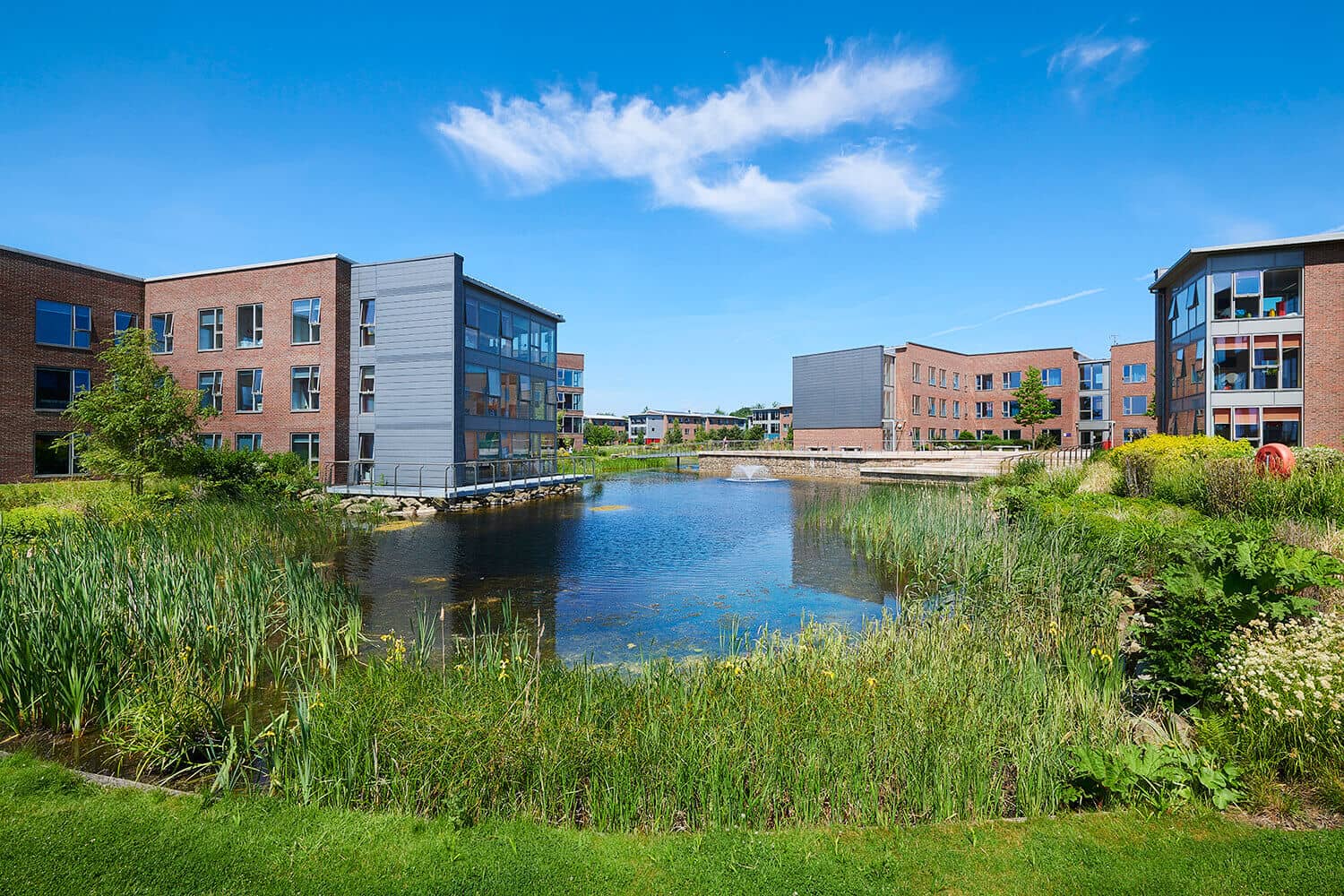 Facilities
Our BioSciences building incorporates modern teaching and research laboratories which support practical work. A dedicated research laboratory provides facilities for MSc students to complete invertebrate and plant identifications alongside departmental researchers using high powered microscopes, appropriate identification guides and museum reference specimens.
A number of the best nature reserves in the country are in close proximity to the campus. You will be taught within a short travelling distance of impressive field sites such as one of the finest saltmarsh and dune systems in Europe, restored mires of international importance, hay meadows and limestone woodlands. The University also has extensive grounds including meadows which serve as a useful area for demonstrating sampling techniques.
Where you'll study
Finance
Tuition fees
UK Part-Time
£50 per credit
for 180 credits
EU/EEA and Swiss students who have settled or pre-settled status under the EU Settlement Scheme, as well as Irish nationals, may be eligible for the UK tuition fee rate.
Financial support
Please view the relevant Money Matters guide for comprehensive information about the financial support available to eligible UK students joining postgraduate courses at Edge Hill University.
EU/EEA and Swiss students who have settled or pre-settled status under the EU Settlement Scheme may be eligible to apply for financial support. Irish nationals can ordinarily apply to Student Universal Support Ireland (SUSI). If you are an EU student who does not have settled or pre-settled status, or are an international student from a non-EU country, please see our international student finance pages.
Your future career
Your conservation management Masters opens doors to careers with major conservation bodies and consultancies. Our graduates now work for:
Wildfowl and Wetlands Trust
Royal Society for the Protection of Birds (RSPB)
National Trust
Natural England
Atkins UK
Jacobs
Avian Ecology
Some of our graduates go into conservation research, working for the Centre for Ecology and Hydrology and at various universities.
As an accredited degree with the Chartered Institute of Ecology and Environmental Management (CIEEM), this MSc will equip you with the knowledge and skills required for a successful career in conservation or ecological consultancy. You'll be eligible for free student membership of the CIEEM while you study.
As well as enhancing your CV, CIEEM student membership comes with a range of benefits, from access to publications and local events to an online professional development tool and discounted rates on training and conferences. You can find more information at cieem.net.
Course changes
Every effort has been made to ensure the accuracy of this information, however our courses are subject to ongoing review and development. Changing circumstances may necessitate alteration to, or the cancellation of, courses.
Changes may be necessary to comply with the requirements of professional bodies, revisions to subject benchmarks statements, to keep courses updated and contemporary, or as a result of student feedback. We reserve the right to make variations if we consider such action to be necessary or in the best interests of students.
Track changes to this course
Download our course leaflet