Advanced Clinical Practice
MSc
Devise evidence-based strategies which underpin practice as you become a highly effective leader with the skills and knowledge required to assess the development needs of yourself and others.
Overview
This programme is designed to enable health and social care professionals to extend their knowledge to an advanced level within their specialist field of practice. It is suitable both for individuals who wish to become advanced practitioners, or for those individuals who wish to promote the advance of practice within their field of work.
The course consists of a wide range of highly flexible taught and work-based learning modules that will enable busy practitioners to access patient-care enhancing education and become a leader who can demonstrate a high level of autonomy in their specialist area of practice.
What you'll study
The programme will support you in becoming a competent and capable advanced clinical practitioner. You will be equipped with the skills, knowledge and understanding to deliver, sustain and enhance safe, professional, ethical and excellent quality of care across health and care services in your specific area or scope of practice.
Successful completion of the course will:
Equip you with a critical understanding of the role that an advanced clinical practitioner plays in the delivery of safe, effective, high quality patient care as a member of the wider multidisciplinary team.
Support you in the development of the capabilities to practice with autonomy, accountability and critical insight in decision-making in complex and uncertain environments within your defined scope of advanced clinical practice.
Help you to develop as an advanced clinical practitioner who is a resilient, effective team leader able to challenge and act as a change agent supported by a critical understanding of evidence-based practice while managing risk and upholding patient safety.
Enable you to critically assess your own learning and training needs required to work safely and effectively as an advanced clinical practitioner while advocating for the development of others.
Equip you with the skills required to critically engage in research activity/quality improvement projects and apply the outcomes to enhance the quality and safety of person-centred care.
Compulsory modules
For more information about each module, including the dates and times of module sessions, please see our Continuing Professional Development Modules for Health and Social Care Practitioners pages.
Context of Advanced Practice
Developing Clinical Skills and Capabilities in Advanced Practice (Adult)
Developing Research Capabilities for Advanced Clinical Practice
E-Portfolio for Advanced Clinical Practice
Research Inquiry for Advanced Practice
Advanced Respiratory Care Practice (Adult)
Developing a Business Case for Change and Innovation
Developing Potential in Others
Educational Leadership in Health Settings
Identification and Management of Frailty and Complex Care
Identification and Management of Neuro-Vestibular Disorders in Adults
Medical Needs of Adults with a Learning Disability
Mentoring and Coaching in Clinical Education
Negotiated Learning Shell 7.20
Negotiated Learning Shell 7.10
Promoting Professionalism and Ethics in Multidisciplinary Practice
Strategic Clinical Leadership
Teaching and Learning in the Clinical Context
Transforming End of Life Communication and Spiritual Care
Transforming End of Life Trajectories
Transforming Integrated Palliative and End of Life Care
Where your course includes optional modules, these are to provide an element of choice within the course curriculum. The availability of optional modules may vary from year to year and will be subject to minimum student numbers being achieved. This means that the availability of specific optional modules cannot be guaranteed. Optional module selection may also be affected by timetabling requirements. Some restrictions on optional module choice or combinations of optional modules may apply.
How you'll study
Diverse teaching and learning strategies will be used, ranging from individual personal teacher contact to supported online learning, small group work to teacher-led lectures.
While the majority of classes will take place at Edge Hill University, some modules may involve studying at sites other than Ormskirk in which case you will be responsible for travel and parking costs.
How you'll be assessed
Assessment methods vary according to the demands of the module but can be through assignments, Objective Structured Clinical Examinations, portfolios, seminar presentations and work-based learning projects.
Who will be teaching you
The programme team comprises of expert staff with many years experience in clinical practice in areas such as emergency care, paramedic practice, respiratory care, mental health, primary care and medical practice.
You will also be taught by associate tutors from primary and secondary care, neurology, biological sciences and areas of senior healthcare management.
Entry criteria
Entry requirements
To join this course, you must be a practitioner who is a member of a UK-recognised Professional Statutory Regulatory Body (PSRB).
You should typically have a degree equivalent to UK first-class or second-class honours (2:2 or above) in a relevant healthcare-related subject. Applicants with a third-class honours degree or a Diploma in a relevant healthcare-related subject, who have adequate clinical experience may also be considered.
You will need to demonstrate your ability to study at Masters level, evidenced within your application by your prior studies and/or experiential learning.
Your employer must also confirm that you are suitable for the role of advanced clinical practitioner in their organisation, with access to the appropriate workplace environment to gain relevant clinical experience throughout the programme, including appropriate clinical supervision by a designated Coordinating Education Supervisor and Associate Workplace Supervisors to meet Health Education England (HEE) requirements.
Working with your employer/workplace organisation, you should have a suitable job role identified for when you are qualified, compliant with the requirements of Health Education England Centre for Advancing Practice, that will direct your programme of study.
Applications must be supported by a reference from your current employer.
An interview forms part of the selection process to confirm that you meet the criteria and to consider your potential pathway through the course.
English language requirements
While international students who are not resident and working in the UK cannot currently join this course, if you are working and resident in the UK but your first language is not English, you will need IELTS 6.5 overall, with a score no lower than 6.0 in each individual component, or an equivalent English language qualification.
How to apply
Should you accept an offer of a place to study with us and formally enrol as a student, you will be subject to the provisions of the regulations, rules, codes, conditions and policies which apply to our students. These are available at www.edgehill.ac.uk/studentterms.
Did you know?
If you join a full time undergraduate degree at Edge Hill University, we will guarantee you the offer of a room in our halls of residence for the first year of your course.
Discover our accommodation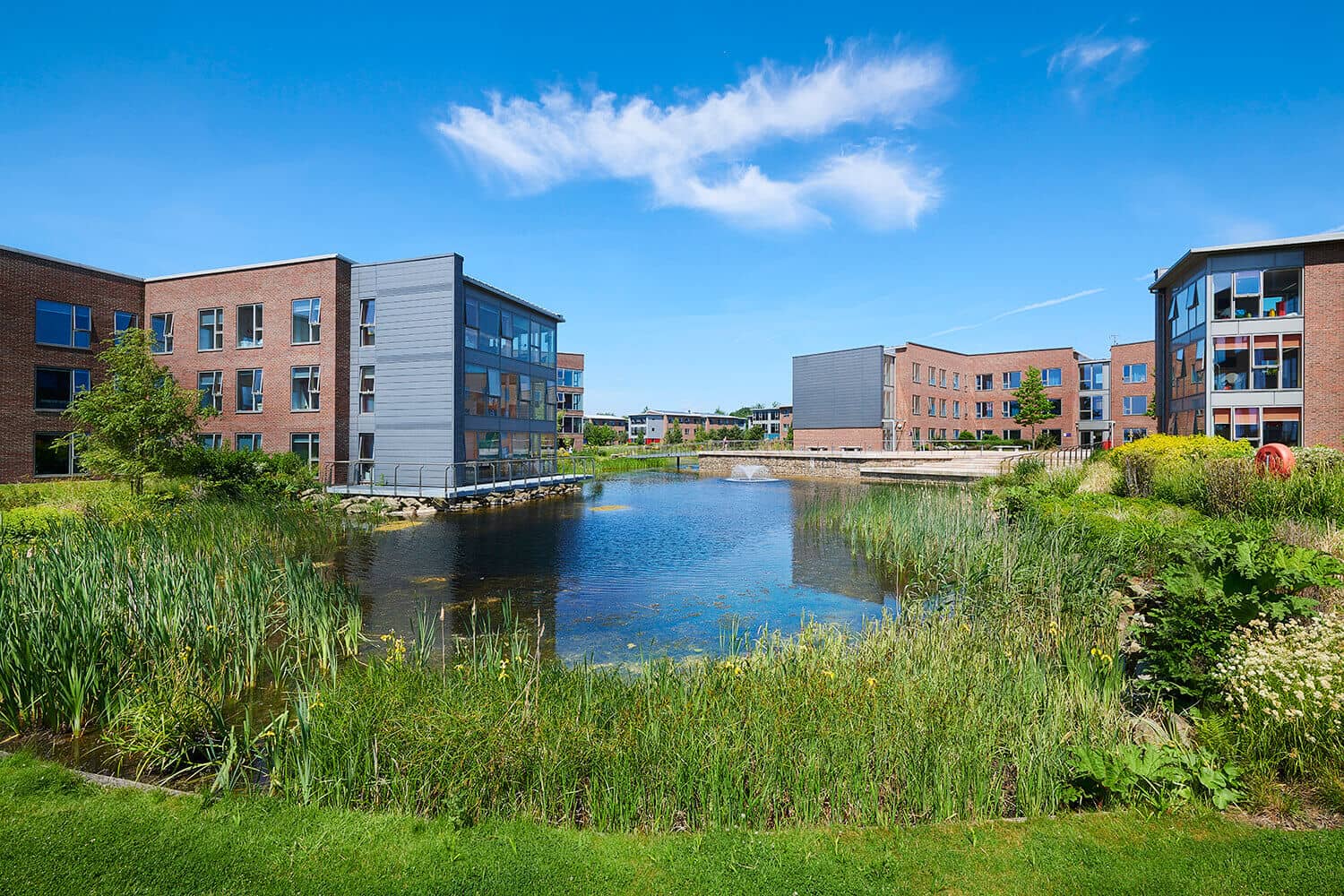 Facilities
The Faculty of Health, Social Care and Medicine offers outstanding facilities for the education and training of health and social care professionals.
The contemporary teaching and learning resources include leading edge clinical skills facilities, an 860-seat lecture theatre, and a variety of teaching rooms and social learning spaces.
Where you'll study
Faculty of Health, Social Care and Medicine
Finance
Tuition fees
UK Part-Time
£50 per credit
for 60 credits
EU/EEA and Swiss students who have settled or pre-settled status under the EU Settlement Scheme, as well as Irish nationals, may be eligible for the UK tuition fee rate.
Financial support
Please view the relevant Money Matters guide for comprehensive information about the financial support available to eligible UK students joining postgraduate courses at Edge Hill University.
EU/EEA and Swiss students who have settled or pre-settled status under the EU Settlement Scheme may be eligible to apply for financial support. Irish nationals can ordinarily apply to Student Universal Support Ireland (SUSI). Please see our EU student finance page for further details.
Your future career
This programme will enhance your ability to gain employment in more senior roles as an advanced clinical practitioner, within your chosen field of healthcare.
Successful completion of this MSc enables you to meet Health Education North West's requirements to practice at an advanced level across the health professions spectrum, including roles such as paramedics, operating department practitioners, nurses, dietitians, occupational therapists and physiotherapists.
Course changes
Every effort has been made to ensure the accuracy of this information, however our courses are subject to ongoing review and development. Changing circumstances may necessitate alteration to, or the cancellation of, courses.
Changes may be necessary to comply with the requirements of professional bodies, revisions to subject benchmarks statements, to keep courses updated and contemporary, or as a result of student feedback. We reserve the right to make variations if we consider such action to be necessary or in the best interests of students.
Track changes to this course
Download our course leaflet