Clinical Skills and Simulation Centre
The Clinical Skills and Simulation Centre provides advanced facilities for our Health, Social Care and Medicine programmes. With a multi-million-pound investment, the Centre has been designed to be both flexible and adaptable, and meet the needs of today and tomorrow.
As a student, you can use our facilities to take part in a range of simulation scenarios and learn necessary skills for your chosen course. These scenarios are designed to replicate real-world conditions and enable you to safely practice situations that you might be confronted with on placement or when qualified.
Facilities
Ward
This area is used for:
ward-based simulations focusing on the critical/deteriorating patient (we have piped air which can act as oxygen)
interprofessional learning where students from different disciplines learn to work together
scenarios focusing on patient safety, ethical or moral reasoning
Interactive 360s
Ward (1, alterative view)
Ward (2, alternative view)
Small, flexible debrief rooms
Small groups of students observe live scenarios. Students are given a pre-brief to understand the learning outcomes of each session and those taking part will be given a role and a situation synopsis. The debrief follows the scenario and participants and those watching are guided through the debriefing process.
Students are encouraged to do most of the talking in the debriefing. Those observing the session can watch via TV screens, actively critique and provide feedback in the debrief. This process helps students develop peer review and reflective practice skills.
There are 12 small flexible debrief rooms in total, allowing for multiple scenarios to be run simultaneously.
Small, flexible space (1)
Small, flexible space (2)
Small, flexible space (3)
Theatre areas
This area is used by Operating Department Practitioners (ODPs) but is also available to be used by other students. The theatre area is ideal for running scenarios that focus on human factors and non-technical skills, including: situation awareness, leadership, communication, hierarchy, team work and decision-making skills.
Anatomy and ultrasound resource centre
In recent years, there has been a move away from dissection with the advent of new technology that allows us to see inside the human body with specialised devices. We have access to amazing, state-of-the-art technology in the new anatomy and ultrasound resource centre.
Clinical skills space
This is a large, clinical skills space suitable for running multiple skills, for example airway, venepuncture, arterial blood, and abdominal examination trainers.
It can be configured as one large space or separated into the three separate skill areas.
Large, flexible spaces
There are three large flexible spaces, one on each floor these are multi-purpose and can be used as an Objective Structured Clinical Examinations (OSCEs) area, additional skills area, ward, history taking or physical examination area.
The first floor has been designed for carrying out OSCEs or Multiple or Mini Interviews (MMIs).
It has eight OSCE bays with an additional five rooms designed for consultation.
Consultation rooms
These rooms can be used for history taking, physical examination, counselling or for general consultation.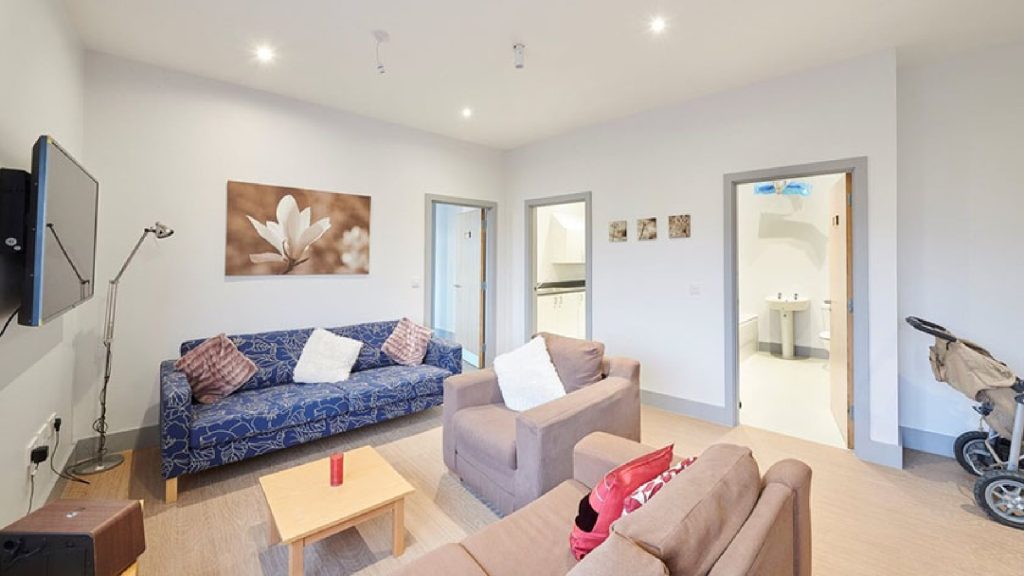 'The Better at Home' suite
The Better at Home Suite is a collaboration with Alder Hey Children's Hospital for the WellChild national charity, which helps show parents how to provide essential care for their children once they leave hospital. The suite at Edge Hill University was originally the first parent and carer training facility in the UK.
The flat area is typically used for scenarios focusing on the home environment including social work, community care (dementia care), home births and paramedic call-outs.
'The Better at Home' suite – living space
'The Better at Home' suite – bedroom
Equipment
We have a range of human patient simulators that cover all age ranges and imitate the effects of breathing, have pulses and heart and lung sounds. These parameters can be changed depending on the scenario and they can have lines inserted or be catheterised. The simulators are operated from the control room where staff can provide the patient's voice and take any calls from students.
We also have many part-task trainers including airway trainers, venepuncture arms, arterial blood gas arms, PROMPT maternal and abdominal.
Commitment to the community
Community engagement is important to the Clinical Skills and Simulation Centre.
Service users and carers are an important component to the successful delivery of the simulation and skills sessions.
Standardised participants and service users
Standardised participants and service users portray the characteristics of real patients. At Edge Hill University, we work with standardised participants and service users within the Centre to provide a level of realism and feedback that can enhance aspects of simulated learning.
Open events
Open events are offered to potential students interested in pursuing a career in healthcare to see the facilities and courses available.
Future development
The Centre aims to encourage future collaborations with external partners and to provide education to the local healthcare community. Get in touch if you interested in working with us.
You can make a difference.
We are looking for dynamic members of the public to work with us in our Standardised/Simulated Participant role.
Find out more about the role