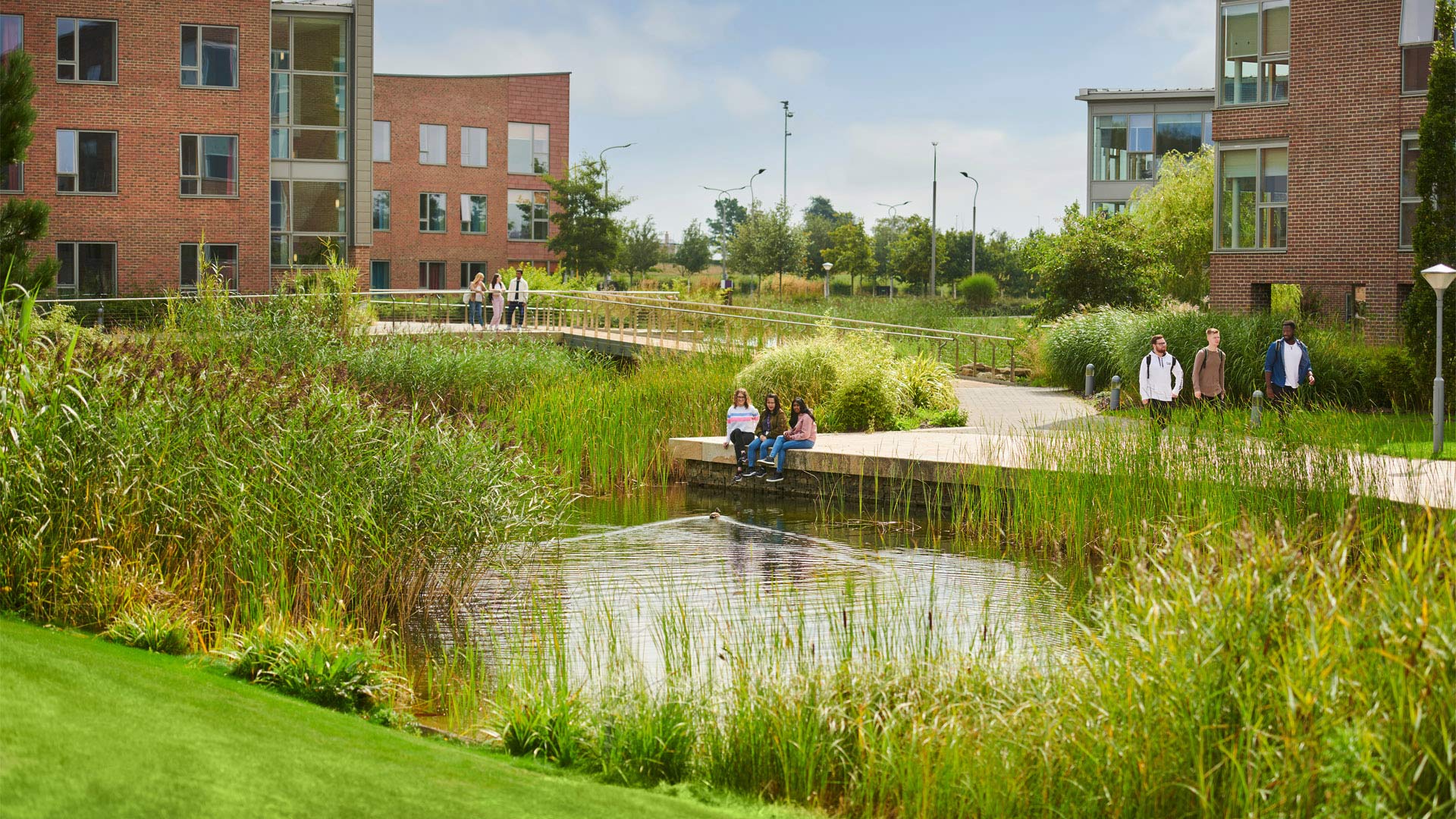 Welcome back to campus

We hope you've had a good break and are ready to get back to uni life.
Get involved in Student Life
To get you back into Student Life, we have a range of activities and events taking place during your first week, plus lots more planned in for the rest of the academic year including:
State-of-the-art sport and fitness facilities
There's something for everyone at the Sports Centre – try out the fitness suite, swimming pool, classes and racket sports with a FREE trial student membership between 1 September and 21 October 2022.
If you enjoy using our fantastic facilities, you can then purchase your student membership for a discounted price of just £90 for the whole academic year (purchase needs to be made by 9 October 2022). This includes the fitness suite, exercise classes, swimming and Campus Sport programme.
Edge Hill Sport now offers 1-2-1 personal training. This means whatever your goals, fitness level or experience our Personal Trainers are here to help you reach them!
The Campus Sport programme provides the opportunity to enjoy sport in a social non-competitive environment. Why not get involved and try out a range of activities regardless of your ability? We aim to create a fun, relaxed atmosphere that is inclusive for all. Head to the Edge Hill Sport page for more information.
Feeling peckish? You'll be spoilt for choice!
From authentic street food and vegan graze boxes to pizza and paninis, there's a wide range of food outlets around campus including:
Garden 41, Faculty of Health building
Roots Kitchen, Faculty of Education Lakeside building
SU Venue and Bar (featuring Stone Willy's Kitchen)
Subway, The Hub
For more information including menus and opening times visit food at Edge Hill.
If you want to bring your own food and tea, you'll find microwaves and hot water tap in the 41 Below commuter hub located in the basement of the health building.
Looking for some quality entertainment?
The Arts Centre runs an exciting programme of events including film screenings, talks and comedy performances – all free for our students. Here's our top picks for the next few weeks:
Free Film Friday: Lightyear, 7pm, Friday 7 October
Comedy at the Arts Centre, 8pm, Thursday 13 October
Edge Hill Mela Festival, 11am – 5pm, Friday 14 October
To order your free tickets, email [email protected]
Keep an eye on the webpage – new events are added regularly.
Need a breather?
The Faith and Reflection Room (based in the Magnolia building at Forest Court) provides a space for prayer, meditation, or to reflect. You can access the Room 24 hours a day, 7 days a week. Between 6am and 9pm, Monday to Friday, you can get in by swiping your Unicard. Outside of these times the door is locked please go to the Security and Customer Information Centre, at the University Main Entrance and they will let you in.
Upcoming events
Welcome Back Fair
Wednesday 5 October in the Hub, 11am – 2pm
Head to the Hub for everything you need to get you back into Student Life at EHU. From Careers to Edge Hill Sport and SU societies to the Student Opportunity Fund, plus a range of local and national businesses – there's something for everyone. And… there will be lots of freebies to get your hands on too!
Student Life Portal
Find out about all the events and activities taking place at Edge Hill on our brand new Student Life Portal! You can search for specific events to help you develop a particular skill, social events to meet new people, or find a new interest!
Check out the portal
Commuter Breakfast
Are you a commuter student? If so, you're invited to join our new regular Commuter Breakfast mornings. Every Tuesday and Thursday in Creative Edge between 8am and 9am, you can grab your free coffee and breakfast muffin, chat to other commuting students and get bespoke information from different teams around the university.
Find out more
Black History Month: My Hidden Race – In Conversation with Anyika Onuora
Tuesday 18 October, 1pm, venue to be confirmed.
We can't wait to welcome Olympian, Anyika Onuora, to campus for an inspiring talk about her fantastic hard-hitting autobiography My Hidden Race. Anyika will be discussing how she has overcome numerous challenges throughout her career to win an Olympic medal for Team GB. Book your free place now.
Parking on campus
At the start of term we see a busy Ormskirk campus with a high demand for parking. In a few weeks, a large number of students will begin going out on placement and this will significantly ease the demand for on-campus parking. In the meantime, the overflow car parks on the tennis courts and Trim Trail are in operation and the University operates a shuttle service every 20 minutes from the overflow car parks to the Hub in the centre of campus.
We provide a range of comprehensive travel advice on alternative ways to access campus, which can be found in the sustainability section of our website.
If you are able to arrange car sharing with other students, then you are can reserve a space on the main University car park. Further details are available in the car sharing service available on our website.
To park at the Ormskirk Campus, you require a parking permit. These can be requested online. From Monday 17 October you will need to display a permit to park on campus. If you park off campus, please do so in a legal and considerate manner.
Although these next few weeks will be busy, traffic and parking will ease considerably as we move into October.
Thank you for your patience.
Got a question, need help, not sure where to go?
The Catalyst Helpdesk Team are there to answer your questions about university life – it's a great place to go if you're unsure about who to speak to. So if you are stuck don't be afraid to pop in and ask – the Helpdesk is located on the ground floor of Catalyst.
The team can also help you by phone or email so wherever you are, you can easily get in touch.
The Helpdesk is available between 8am and 8pm Monday to Friday and 10am to 6pm at weekends.
If you need any help out of hours, our Campus Support Team are available 24/7.
Visit the Security and Customer Information Centre on campus (F6 on the Campus Map)
To keep informed, stay connected and get involved with Student Life follow us on Twitter and Facebook @StudentsEHU.