Sustainable Leadership and Management
MSc
Manage, motivate and inspire people to understand the sustainable and economic challenges facing organisations. Develop the skills, expertise and mindset required to become a successful leader. You'll be fully equipped to direct businesses to growth, success and sustainability targets.
Closed to international applications for September 2023.
Overview
Businesses face increasingly complex obstacles in today's global marketplace. You can be an agent for positive change.
Focusing on sustainability, this course explores how to successfully promote and implement sustainable change strategies within business environments. Gain key insights on how to balance economic objectives with long-term sustainability goals whilst developing the management skills and knowledge required to lead organisations.
As a graduate in management or a related area, this course is ideal if you're interested in sustainability and are aspiring for a career in change management or organisational development. On this Masters degree, you'll reflect on your own practice and strengthen your skills.
You'll study sustainable strategies, innovation, and social responsibility. You'll be fully prepared to meet the current and future challenges facing organisations.
Ready to reach your potential? Our MSc Sustainable Leadership and Management course will help you to focus your career on supporting an organisation's growth, success and sustainability.
Course features
International students can apply
What you'll study
How can organisations innovate products and processes responsibly? How do we ensure that businesses are transparent and accountable for the social and environmental impacts of their processes? You'll engage in discussions and debates to explore the answers to these questions.
You'll examine what leadership will look like in a decade, with particular focus on what the challenges for businesses will be. You will also develop a critical perspective in organisational strategy and will build your skills and confidence in the decision-making processes.
Businesses are required to adapt and adjust quickly and efficiently to the ever evolving economic, social and environmental factors. You will develop a significant understanding of how businesses can meet their goals and targets and you'll learn how to support them to adjust to new and emerging processes and practices.
You'll gain professional research skills to prepare you for a dissertation on the topic of business development or management to complete your course. A practice based research alternative to the dissertation is available to those already in employment at a senior level.
Innovation: Leading Agile Operations
Leading Corporate Social Responsibility
Strategy Sustainable Perspectives
Sustainable Transformation
The Management Consultancy Project
Optional modules provide an element of choice within the course curriculum. The availability of optional modules may vary from year to year and will be subject to minimum student numbers being achieved. This means that the availability of specific optional modules cannot be guaranteed. Optional module selection may also be affected by timetabling requirements. Some restrictions on optional module choice or combinations of optional modules may apply.
How you'll study
The course will be delivered through a hybrid approach that makes use of group sessions, one-to-one meetings, and online learning. The modules may be delivered weekly, in block sessions, or by other appropriate arrangements such as audio/video conferencing or online discussions as appropriate.
How you'll be assessed
Subject knowledge and understanding are assessed through coursework including essays, reports, portfolios, and presentations. You will also complete an independent research project of 20,000 words.
Who will be teaching you
Edge Hill Business School is home to a thriving research community, hosts a growing international partnership portfolio, and is a member of AACSB International (The Association to Advance Collegiate Schools of Business), the world's largest management education network.
This MSc is taught by highly motivated and experienced academics specialising in different areas of organisational research. All members of the programme team are active researchers engaged with projects at national and international level.
You will also be invited to attend a series of research seminars organised by the department and have the opportunity to present your own work within a supportive and nurturing environment.
Entry criteria
Entry requirements
You should have a degree equivalent to UK first-class or upper second-class honours (2:1 or above) in a cognate business discipline.
Students with a lower second-class honours degree (2:2) may be admitted at the department's discretion, based on evidence of relevant experience and/or prior learning through working in a management position within an organisational context.
Professionally qualified and/or experienced candidates without a degree will also be considered on an individual basis.
English language requirements
International students require IELTS 6.5, with a score no lower than 6.0 in each individual component, or an equivalent English language qualification.
If your current level of English is half a band, one band, or one-and-a-half bands lower, either overall or in one or two elements, you may want to consider our Pre-Sessional English course.
How to apply
There is an online application process for this course.
Please choose the application form for your preferred intake date and mode of study.
Please see our international student pages for further information about how to apply as a prospective international student.
Should you accept an offer of a place to study with us and formally enrol as a student, you will be subject to the provisions of the regulations, rules, codes, conditions and policies which apply to our students. These are available at www.edgehill.ac.uk/studentterms.
Did you know?
If you join a full time undergraduate degree at Edge Hill University, we will guarantee you the offer of a room in our halls of residence for the first year of your course.
Discover our accommodation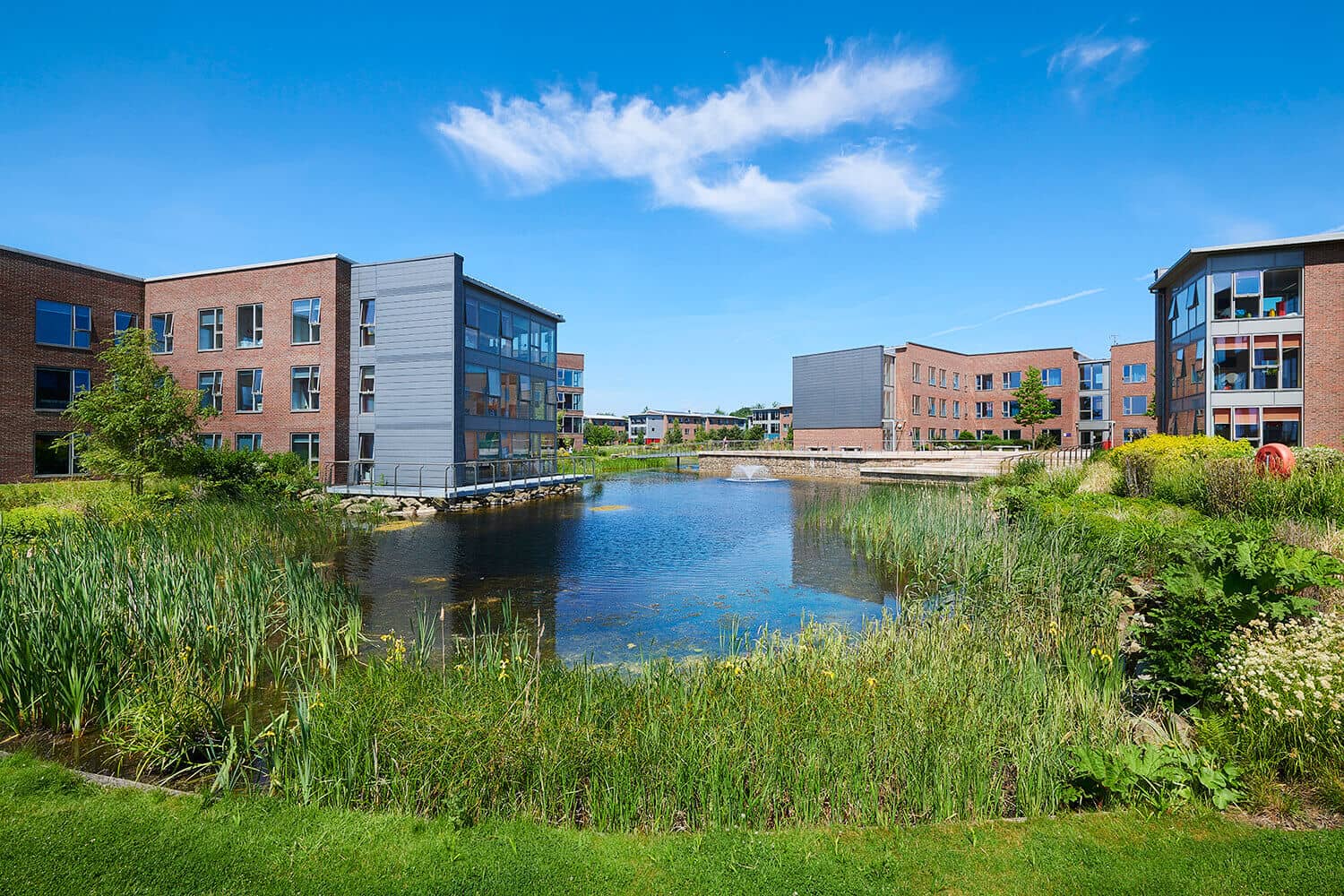 Facilities
A stunning £8m building provides state-of-the-art teaching and learning facilities for students in Edge Hill Business School.
The contemporary three-storey building offers a 100-seat lecture theatre and modern seminar and meeting rooms. There are also social learning areas which encourage a more informal and interactive style of learning, in addition to an attractive roof garden and atrium.
Where you'll study
Finance
Tuition fees
UK Part-Time
£47 per credit
for 180 credits
EU/EEA and Swiss students who have settled or pre-settled status under the EU Settlement Scheme, as well as Irish nationals, may be eligible for the UK tuition fee rate.
Financial support
Please view the relevant Money Matters guide for comprehensive information about the financial support available to eligible UK students joining postgraduate courses at Edge Hill University.
EU/EEA and Swiss students who have settled or pre-settled status under the EU Settlement Scheme may be eligible to apply for financial support. Irish nationals can ordinarily apply to Student Universal Support Ireland (SUSI). If you are an EU student who does not have settled or pre-settled status, or are an international student from a non-EU country, please see our international student finance pages.
Your future career
Our MSc Sustainable Leadership and Management course offers a crucial step towards a career in general and senior management, organisational development or as a consultant.
You'll leave us with the skills to forge a successful management career in the commercial world, third sector or public sector and will be equipped to apply for roles in the following areas:
Graduates will be well placed to apply for roles in the following areas:
Business consultancy
Corporate social responsibility
Community development and engagement
Human resources
Organisational development and change management
Project management
Research and innovation
Strategy and sustainability analyst or consultant
The skills and experience you gain through this Masters degree can also prepare you for higher research qualifications, such as MPhil and PhD.
Download our course leaflet