Sport, Physical Activity and Mental Health
MSc
Design. Implement. Evaluate. Discover what it takes to create effective sport and physical activity initiatives that promote and support mental health. Delivered in partnership with Everton in the Community, we'll set you up for success with this distinctive interdisciplinary degree.
Overview
Already working in the world of sport? Or want to make the move into this field? Look no further. We've teamed up with Everton in the Community (the official charity of Everton Football Club) to offer a distinctive opportunity for anyone with an interest in sport, physical activity and mental health.
You'll work with academics, practitioners and other professionals to understand the relationship between movement and our minds. We'll also help you examine how mental health can be improved – and compromised – by taking part in sport, physical activity and exercise.
Knowing what makes an effective programme for promoting good mental health is key, so you'll spend time examining others and designing your own. You'll also have the opportunity to carry out research which focuses on policy and creating impact.
Your career in the world of sport
Running this degree with Everton in the Community means we can offer you distinctive opportunities. This might be the chance to deliver one of their programmes, complete work experience or join a research project.
As well as recent graduates, this programme is perfect for practitioners, professionals and policy makers. Our students come from a range of backgrounds including youth and social work, creative industries and public health. For anyone already working in community or professional sport, this is an ideal development opportunity.
Course features
International students can apply

Work placement opportunity
What you'll study
What factors affect how we feel in our body and mind? And how are they linked to inequality? Can sport and physical activity improve our mental health?
Analyse vital questions like these while looking at how sport and physical activity programmes are designed and evaluated. We'll also explore how these programmes emerge out of local, national and international policy processes and priorities.
Shape your studies around your interests through optional modules. You might study how mental health can be improved at different levels of sport. Or perhaps you'll explore mental health promotion and the needs of different population groups.
You'll apply everything you've learned to a research dissertation on a topic of your choice. We'll encourage you to use insight from relevant work experience to inform this project.
Carrying out your own research, you'll discover how organisations address mental health and illness, and the ethical dilemmas involved in research. At the same time, you'll boost your project and people management skills.
Applied Research Dissertation in Sport, Physical Activity and Mental Health
Mental Health and Mental Illness: Prevalence, Determinants and Inequality
Research Methods and Programme Design in Sport, Physical Activity and Mental Health
The Policy Process in Sport, Physical Activity and Mental Health
Mental Health Awareness for Community Sports Participants and Practitioners
Mental Health Awareness for Performance Sport Athletes and Practitioners
Sport, Physical Activity and Mental Health Promotion for Adults and Older People
Sport, Physical Activity and Mental Health Promotion for Children and Young People
Optional modules provide an element of choice within the course curriculum. The availability of optional modules may vary from year to year and will be subject to minimum student numbers being achieved. This means that the availability of specific optional modules cannot be guaranteed. Optional module selection may also be affected by timetabling requirements. Some restrictions on optional module choice or combinations of optional modules may apply.
How you'll study
The course will be delivered in a variety of ways, including lectures, workshops, student-led seminars and discussions, tutorials, applied work experience, and practitioner-oriented mentoring.
You will typically be required to attend one afternoon and one early morning session per week and engage in supported activity (such as tutorials) as appropriate.
Alongside your academic studies, you will be supported to undertake applied work experience with our key partners, including Everton in the Community, on projects such as our award-winning Tackling the Blues programme for children and young people.
How you'll be assessed
You will be assessed through a combination of coursework (including essays, policy briefings and reports, and programme evaluations), individual presentations and a research dissertation.
There are no formal written examinations as part of the current assessment methods on this programme.
Who will be teaching you
You will be taught by academic staff who possess expertise in a variety of disciplines allied to sport, physical activity and mental health, including sociology, psychology, coaching, education, and policy analysis.
The programme team have gained national and international recognition for their research. This research has been undertaken on a range of topics including mental health and illness among children and young people, the design of community sport programmes for men with mental illness, mental health and illness among community and professional sports workers (including athletes, coaches and officials), and mental health in education and the sport and physical activity workforce.
Practitioners and professionals who work in sport, physical activity and mental health, in addition to other guest speakers involved in teaching and research, will also regularly contribute to the delivery of the programme.
Entry criteria
Entry requirements
You should have a degree equivalent to UK first-class or upper second-class honours (2:1 or above) in a relevant sports-related discipline. Suitable subjects include sports development, sports management, sport and exercise science, sports coaching, sports psychology, sociology of sport, and physical activity and health. If you have a degree in a related field, such as education, psychology, sociology, mental health, public health, or business and management, you are also encouraged to apply.
Applicants with a lower second class honours degree in one of the above disciplines, in addition to relevant work or other experience in the field of sport, physical activity and mental health, may also be admitted at the Department's discretion.
Evidence of a suitable standard of English literacy and numeracy, such as GCSE English Language and GCSE Mathematics at Grade C or Grade 4 or above (or equivalent), is also desirable.
If you accept a formal offer from Edge Hill University, you will be required to apply for a Disclosure and Barring Service (DBS) Enhanced Disclosure indicating that you meet the mandatory criteria of 'Clearance to Work with Children and/or Vulnerable Adults'.
English language requirements
International students require IELTS 6.5, with a score no lower than 6.0 in each individual component, or an equivalent English language qualification.
If your current level of English is half a band, one band, or one-and-a-half bands lower, either overall or in one or two elements, you may want to consider our Pre-Sessional English course.
How to apply
There is an online application process for this course. Applications for September 2024 are not currently open.
Please see our international student pages for further information about how to apply as a prospective international student.
Should you accept an offer of a place to study with us and formally enrol as a student, you will be subject to the provisions of the regulations, rules, codes, conditions and policies which apply to our students. These are available at www.edgehill.ac.uk/studentterms.
Did you know?
If you join a full time undergraduate degree at Edge Hill University, we will guarantee you the offer of a room in our halls of residence for the first year of your course.
Discover our accommodation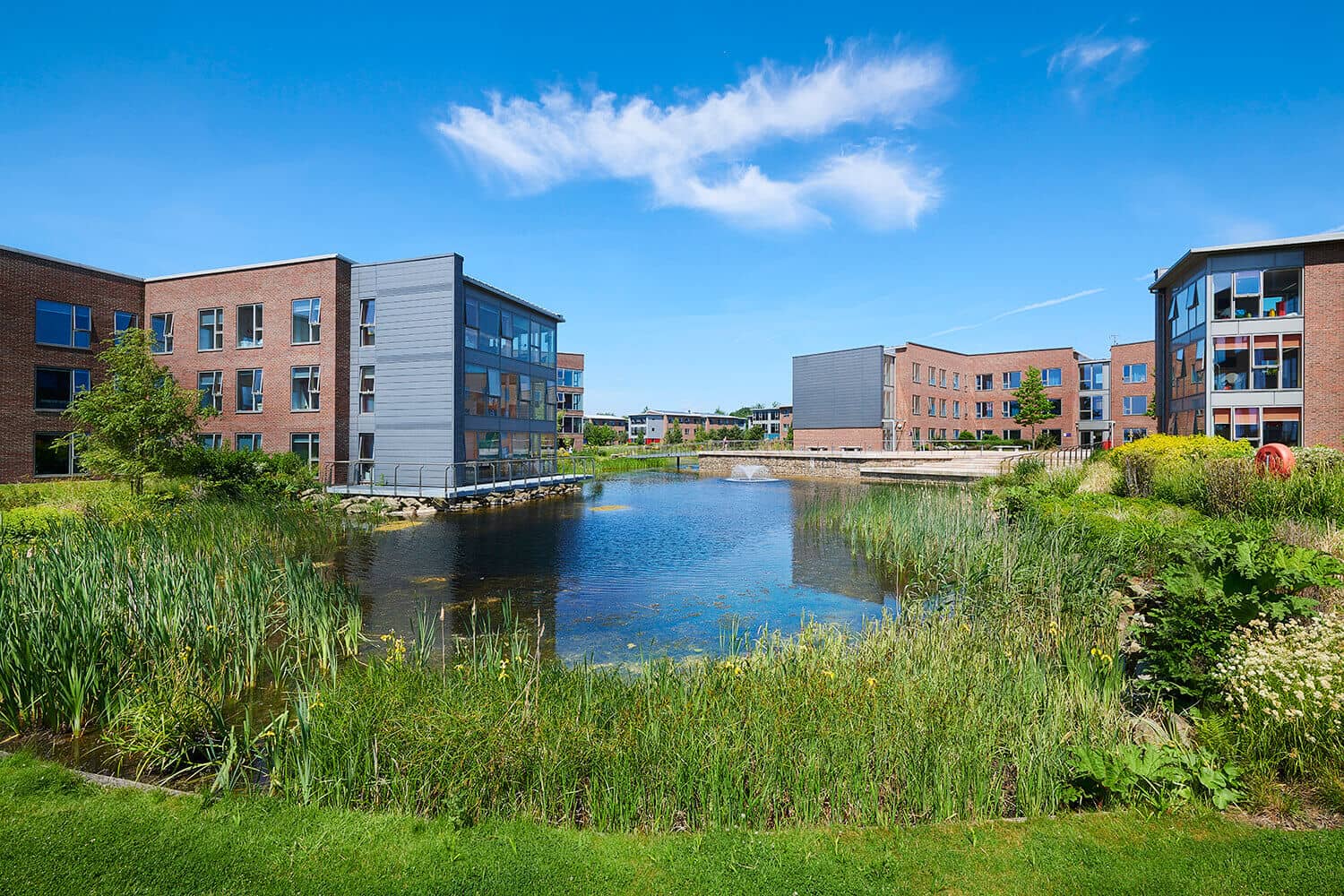 Facilities
Based in the Wilson Centre, the Department of Sport and Physical Activity places a strong emphasis on practical work underpinned by outstanding facilities. There are dedicated laboratories in performance analysis, biomechanics, physiology, psychology, musculoskeletal, biochemistry, vision analysis, sleep, exercise and performance, and functional rehabilitation, as well as a sports therapy clinic.
Extensive use is also made of the on-campus leisure facilities which include top-of-the-range 3G football and rugby pitches, hockey pitches, tennis courts, competition-standard athletics track and an athletics field. Our sports centre boasts a 25-metre swimming pool, double sports hall for badminton, basketball, netball and squash, a 100-station fitness suite, aerobics studio and a health suite with sauna and steam rooms.
Where you'll study
Finance
Tuition fees
UK Part-Time
£50 per credit
for 180 credits
EU/EEA and Swiss students who have settled or pre-settled status under the EU Settlement Scheme, as well as Irish nationals, may be eligible for the UK tuition fee rate.
Financial support
Please view the relevant Money Matters guide for comprehensive information about the financial support available to eligible UK students joining postgraduate courses at Edge Hill University.
EU/EEA and Swiss students who have settled or pre-settled status under the EU Settlement Scheme may be eligible to apply for financial support. Irish nationals can ordinarily apply to Student Universal Support Ireland (SUSI). If you are an EU student who does not have settled or pre-settled status, or are an international student from a non-EU country, please see our international student finance pages.
Your future career
Our MSc Sport, Physical Activity and Mental Health prepares you for a range of rewarding career paths in community and professional sport, education, youth work, business and marketing, and events.
Students from this course have secured a range of roles including:
sport and mental health officer
personal development manager
mental health and wellbeing practitioner
health navigator
player care officer
children and young people's mental health promotion worker
research assistant
teacher and lecturer
health and wellbeing manager
social prescription worker
education and mental health practitioner
Want to specialise further? You'll be in a great position to progress to doctoral study in sport and physical activity or another related field.
Download our course leaflet