Secondary Physical Education with QTS (11-16)
PGCE
GOV.UK code: X9C6
Think you've got what it takes to inspire students and encourage them to get moving? Fuel your passion for staying active and boost pupils' physical and mental abilities. On our PGCE Secondary Physical Education, you'll gain recommendation for Qualified Teacher Status.
Closed to further applications for September 2023 entry.
Overview
Role models are so important when it comes to keeping young people active. Will you rise to the challenge in the classroom? You'll be eager to showcase your enthusiasm for physical education in schools and share the benefits of movement on the body and mind.
Our PGCE Secondary Physical Education course will prepare you for the rigours of teaching physical education in secondary settings. You'll already have an undergraduate degree in a related area, so we'll focus on helping you develop the skills you need to engage young people with the subject.
We've designed this course so you can combine learning on campus with practical experience in the classroom. You'll spend 26 weeks on placement in school settings. Whenever you need support or feedback, you can turn to your subject specific tutors and school-based expert mentor. We're here to help you become the best teacher you can be.
Discover the most effective ways of delivering your lessons and captivating your students. At the same time, develop your understanding of subject specific approaches, classroom management, adaptive teaching and the different ways pupils learn.
Successful completion of the programme leads to recommendation for the Qualified Teacher Status (QTS).
Course features
Professional accreditation

Professional practice placements

International students can apply
What you'll study
At the start of the programme, you'll assess your existing subject knowledge to pinpoint areas of development and strengths.
Get a fundamental understanding of essential educational theory and teaching methods. Then cover strategies in a range of sports including dance, gymnastics, athletics, swimming, and other outdoor and adventure activities. While covering these areas, we'll encourage you to define what effective teaching and learning looks like in the subject.
You'll learn how to plan lessons effectively and in line with the national curriculum. And how to check your teaching is always adaptive, research-informed and inclusive. To help you do this, you'll get the chance to tailor your approach for pupils with special needs and disabilities, as well as supporting pupils who speak English as an additional language.
Experience life as a physical education teacher with up to 26 weeks of placement in at least two secondary school settings, working alongside our expert mentors and tutors.
The Effective PE Teacher: Explorations in Method, Policy and Theory
The Expert PE Teacher: Subject Knowledge as the Foundation of Expertise
The Professional PE Teacher at Work: Combining Knowledge, Theory and Method
PGCE Secondary Professional Practice 1
PGCE Secondary Professional Practice 2
How you'll study
A combination of academic study, group discussion and reflection, and practical, work-based learning in the classroom will give you all the knowledge and skills you need to become a creative and innovative teacher. The programme aims to develop a reflective and critically analytical approach to education.
You will spend up to 26 weeks on placement in schools, colleges and other settings, putting your training into practice through assisting in and taking responsibility for classes, and working alongside mentors and peers to further your professional development. The focus initially is on observation and supporting teaching and learning. Your teaching timetable will increase as your training progresses and you become more confident and competent in the classroom.
How you'll be assessed
You will be assessed, through a balanced combination of coursework and portfolio assessments, against both academic criteria and the Standards related to QTS. Various other tasks will enable you to show your competence in ICT and other areas of PE.
Before the end of your PGCE you will need to complete a Career Entry and Development Profile (CEDP) which acts as a useful bridge between your initial teacher training programme and your two-year induction as an early career teacher.
Who will be teaching you
The Faculty of Education has been at the forefront of teacher education for 135 years and today enjoys the enviable position of being one of the country's leading providers of education, training and research for the children's workforce.
You will be taught by a dedicated team of knowledgeable, experienced, friendly and supportive tutors who have the welfare of their trainees as a number one priority.
All of the tutors on the programme are experienced teachers of Physical Education who will model good practice and encourage you to develop your own teaching style.
Entry criteria
Entry requirements
To join this PGCE, you will be expected to have:
A degree equivalent to UK first-class or second-class honours (2:2 or above) in a relevant subject
GCSE English Language and GCSE Mathematics at Grade C or Grade 4 or above (or equivalent qualification)
Satisfactory levels of Information and Communications Technology competence
A commitment to, and understanding of, secondary education, demonstrating the personal attributes, values and motivation required to train as a teacher.
Please note, for the purposes of initial teacher training, level 2 literacy and numeracy qualifications are not considered as equivalent to GCSE Grade C or Grade 4 in English Language and Mathematics.
If you accept a formal offer from Edge Hill University you will be required to meet the Department for Education's standards for physical and mental fitness to teach and clearance to work with children. Further information, including a Declaration of Health questionnaire and details of how to apply for a Disclosure and Barring Service (DBS) Enhanced Disclosure will be sent to you after you have firmly accepted an offer.
English language requirements
International students require IELTS 6.5, with a score no lower than 6.0 in each individual component, or an equivalent English language qualification.
If your current level of English is half a band, one band, or one-and-a-half bands lower, either overall or in one or two elements, you may want to consider our Pre-Sessional English course.
How to apply
Should you accept an offer of a place to study with us and formally enrol as a student, you will be subject to the provisions of the regulations, rules, codes, conditions and policies which apply to our students. These are available at www.edgehill.ac.uk/studentterms.
Did you know?
If you join a full time undergraduate degree at Edge Hill University, we will guarantee you the offer of a room in our halls of residence for the first year of your course.
Discover our accommodation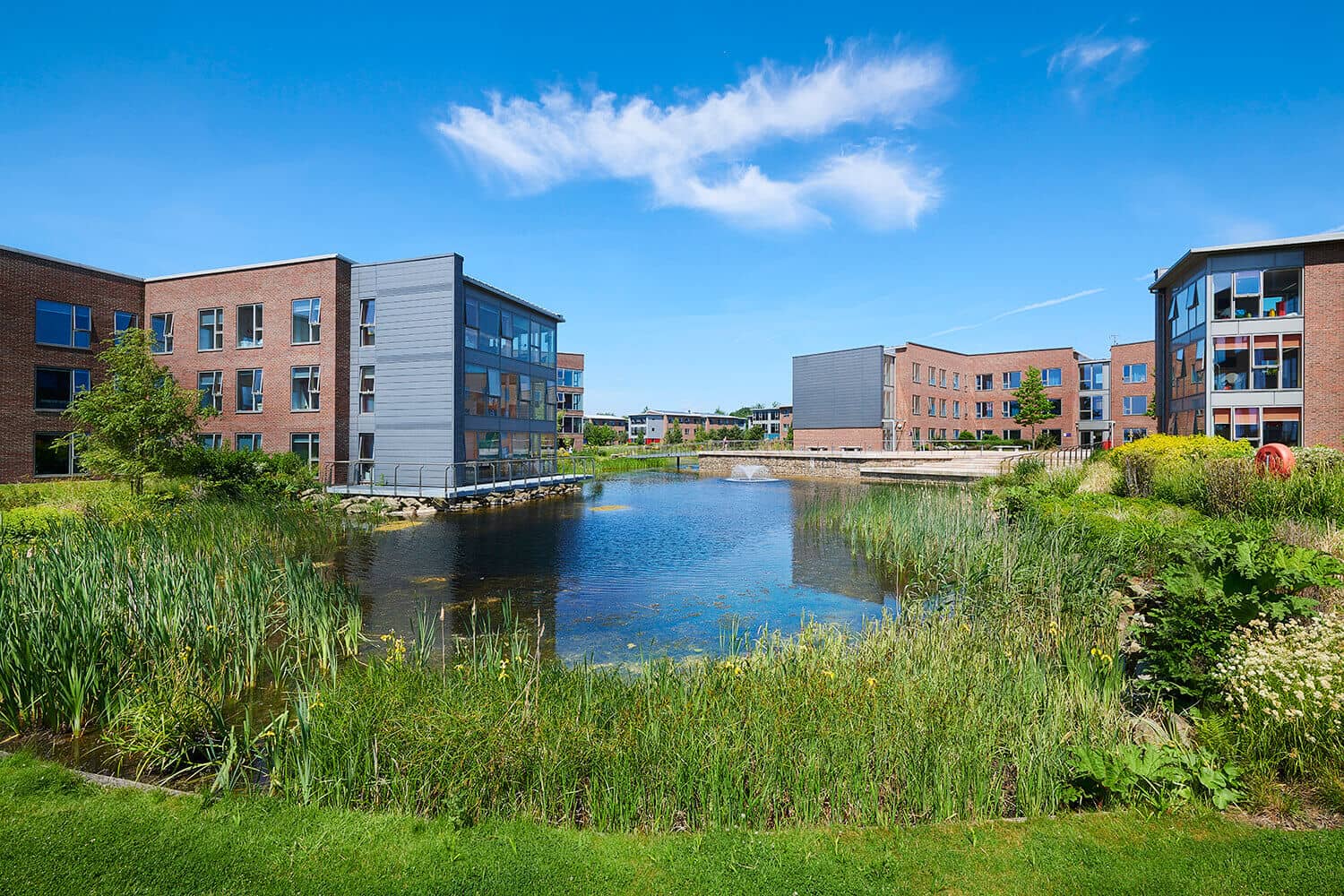 Facilities
Housed in a state-of-the-art £9million building, the Faculty of Education enjoys a stunning setting from both its lakeside and piazza buildings.
Facilities in the lakeside building include a 300-seat lecture theatre, five well-equipped ICT suites, and 18 teaching rooms complete with the latest technology. The lakeside building is also home to a popular vegan and vegetarian cafe where students can meet to socialise and discuss their studies.
The nearby piazza building offers modern facilities including a lecture theatre and a number of seminar rooms.
Where you'll study
Finance
Tuition fees
The UK tuition fee rate is subject to final Government approval for academic year 2023/24 entry.
EU/EEA and Swiss students who have settled or pre-settled status under the EU Settlement Scheme, as well as Irish nationals, may be eligible for the UK tuition fee rate.
Financial support
Subject to eligibility, UK students joining this course can apply for a Tuition Fee Loan from the Government to cover the full cost of tuition fees. UK students enrolling on the course may also be eligible to apply for additional funding to help with living costs.

Please view the relevant Money Matters guide for comprehensive information about the financial support available to eligible UK students.
Applicants to Student Finance should apply for undergraduate funding and not a postgraduate loan. Subject to eligibility, UK students joining this course can apply for an additional Bursary from the government. Please see updated eligibility from the bursaries and scholarships page.
EU/EEA and Swiss students who have settled or pre-settled status under the EU Settlement Scheme may be eligible to apply for financial support. Irish nationals can ordinarily apply to Student Universal Support Ireland (SUSI). If you are an EU student who does not have settled or pre-settled status, or are an international student from a non-EU country, please see our international student finance pages.
Your future career
This PGCE is accredited by the Department for Education. Successful completion of the programme will enable you to gain recommendation for Qualified Teacher Status (QTS). You will be well placed to progress into employment as an early career teacher of physical education at secondary school level.
Your future isn't limited to teaching. You might decide to further your studies and progress with an MA or PhD. We've also had students apply for overseas sports scholarships and take up roles in coaching.
Course changes
Every effort has been made to ensure the accuracy of this information, however our courses are subject to ongoing review and development. Changing circumstances may necessitate alteration to, or the cancellation of, courses.
Changes may be necessary to comply with the requirements of professional bodies, revisions to subject benchmarks statements, to keep courses updated and contemporary, or as a result of student feedback. We reserve the right to make variations if we consider such action to be necessary or in the best interests of students.
Track changes to this course
Download our course leaflet