Marketing Communications & Branding
MA
Get ahead in marketing. Study advanced advertising, public relations and brand management. Develop the skills and confidence to plan, strategise and build brands for global success.
Overview
Persuasive words. Powerful images. Purposeful strategy. Marketing has never been so exciting. Learn how to drive success with our MA Marketing Communications & Branding.
Businesses around the world are looking for the best ways to sell more. How do they identify their target market? Stand out from the crowd? Or make sure they're hitting the right note in diverse communities? You'll explore current trends and contemporary topics as you study the evolving world of marketing.
You'll discover how changing attitudes, social media and new technologies are changing advertising. You'll study new ways of thinking about public relations in the digital age. Join us and see how brand strategy and marketing planning can make or break a company.
You'll leave Edge Hill Business School ready to power successful marketing campaigns in the industry that appeals to you.
Course features
International students can apply
What you'll study
Our marketing communications and branding Masters takes an international view. Every country is part of the world economy bringing new business challenges and opportunities. You'll gain a deep understanding of marketing, advertising, branding and public relations in this global context.
We encourage you to develop a contemporary view of your field. You'll analyse a range of popular, well-established marketing ideas. You'll debate their relevance for today's brands and consumers in a world of ever-changing technology.
You'll look at strategic marketing planning. You'll untangle the psychology and management of brands. You'll also study integrated marketing communications and public relations campaigns.
An important element of the course is your dissertation. You'll immerse yourself in cutting-edge research and try out research methodologies and techniques as you investigate a specific topic or issue within your field.
Advertising and Marketing Communications
Marketing: A Critical Introduction
Public Relations and Reputation Management
Strategic Brand Management
Strategic Marketing Planning
How you'll study
The programme will be delivered through lectures, seminars and tutorials. For full-time students this typically requires two days attendance per week, with one day per week the usual requirement for part-time students.
As well as preparing for and attending lectures, seminars, tutorials and workshops, you will spend time reading and completing coursework, including written assignments, portfolios and presentations.
Extensive use is made of information technology (for example, via our Virtual Learning Environment) to support classroom activities.
How you'll be assessed
Throughout the programme, there is a combination of different forms of assessment to test intellectual development, vocational capability, and critical thinking. Coursework often involves both individual and group-based working. Case studies and problem solving exercises are used.
Who will be teaching you
Edge Hill Business School is home to a thriving research community, hosts a growing international partnership portfolio, and is a member of AACSB International (The Association to Advance Collegiate Schools of Business), the world's largest management education network.
The course is delivered by specialists in areas such as marketing, advertising, branding, e-commerce and small and medium sized enterprises. The team includes academically and professionally qualified staff, as well as active researchers who publish in academic journals. All members of the programme team have an energy and enthusiasm for their subject areas and are passionate about student learning and development.
Entry criteria
Entry requirements
You should have a degree equivalent to UK first-class or second-class honours (2:2 or above). No specific subjects are required.
English language requirements
International students require IELTS 6.5, with a score no lower than 6.0 in each individual component, or an equivalent English language qualification.
If your current level of English is half a band, one band, or one-and-a-half bands lower, either overall or in one or two elements, you may want to consider our Pre-Sessional English course.
How to apply
There is an online application process for this course.
Please choose the application form for your preferred intake date and mode of study.
Please see our international student pages for further information about how to apply as a prospective international student.
Should you accept an offer of a place to study with us and formally enrol as a student, you will be subject to the provisions of the regulations, rules, codes, conditions and policies which apply to our students. These are available at www.edgehill.ac.uk/studentterms.
Did you know?
If you join a full time undergraduate degree at Edge Hill University, we will guarantee you the offer of a room in our halls of residence for the first year of your course.
Discover our accommodation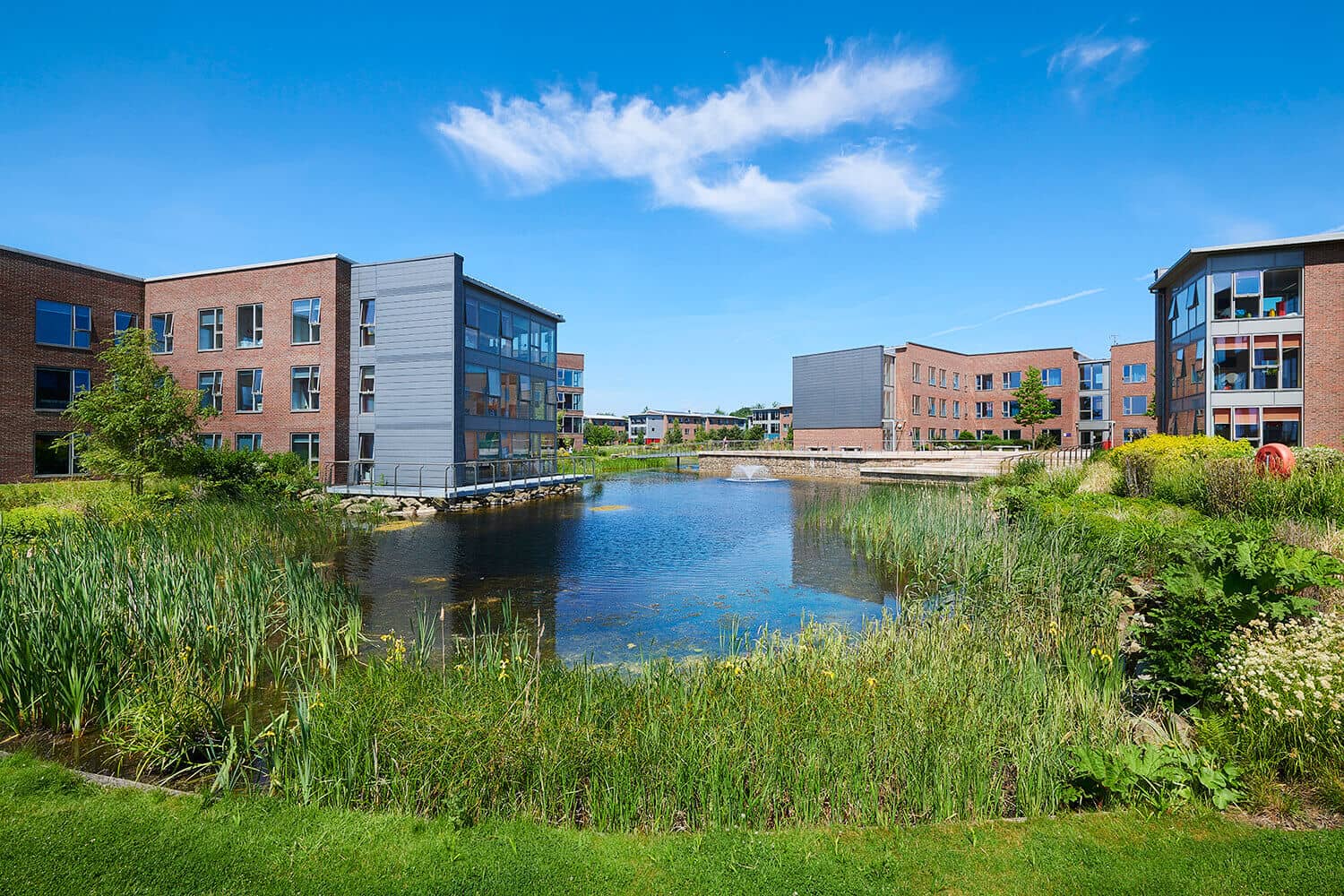 Facilities
A stunning £8million building provides impressive teaching and learning facilities for students in Edge Hill Business School.
The contemporary three-storey building offers a 100-seat lecture theatre and modern seminar and meeting rooms. There are also social learning areas which encourage a more informal and interactive style of learning, in addition to an attractive roof garden and atrium.
Where you'll study
Finance
Tuition fees
UK Part-Time
£47 per credit
for 180 credits
EU/EEA and Swiss students who have settled or pre-settled status under the EU Settlement Scheme, as well as Irish nationals, may be eligible for the UK tuition fee rate.
Financial support
Please view the relevant Money Matters guide for comprehensive information about the financial support available to eligible UK students joining postgraduate courses at Edge Hill University.
EU/EEA and Swiss students who have settled or pre-settled status under the EU Settlement Scheme may be eligible to apply for financial support. Irish nationals can ordinarily apply to Student Universal Support Ireland (SUSI). If you are an EU student who does not have settled or pre-settled status, or are an international student from a non-EU country, please see our international student finance pages.
Your future career
Our MA Marketing Communications & Branding degree sets you up for a successful career. A strong understanding of marketing is essential for managers everywhere. Your Masters opens doors to exciting career options in advertising, digital communications, marketing and business leadership. You could also look at teaching.
Our Business School alumni are forging careers in the private and public sector, in retail, in enterprise and with famous brands you'll know, such as Jaguar Land Rover, Vodafone, British Telecom and Panasonic.
Edge Hill Business School marketing graduates have found rewarding roles, such as:
Talent acquisition manager
Change manager
Senior HR project consultant
Business to business (B2B) marketing executive
Service coordinator
Digital content coordinator
Insights and analytics specialist
Recovery and reorganisation – assistant manager
Business development manager
Graduate project manager
You'll leave us with in-demand marketing skills and knowledge. You'll be capable of developing marketing, communications and branding strategies for any organisation.
Download our course leaflet