Health & Social Wellbeing
BA (Hons)
UCAS code: L511
What are the main influences on human health and wellbeing? We'll help you understand the challenges of this area with key theories, policies, and practice elements. Prepare for a future in the fascinating field of health and social wellbeing.
Overview
In the UK there are a wide range of professional roles in health and social care, with around three million people working in the sector. A career in this area gives you the chance to make a difference to individuals, families and entire communities.
Our degree in health and social wellbeing provides you with an in-depth understanding of the wider influences on health and wellbeing, and application to practice in populations and healthcare environments.
We'll explore how health and care systems have evolved over time, and the origins of public health, influenced by politics, the economy, society, ethics and legal factors.
You'll analyse inequalities in health and how they might be addressed.
We'll build your research skills year on year to develop your critical thinking and analysis ready for your Year 3 dissertation project and future career.
Our approach combines theoretical knowledge and hands-on learning to apply your knowledge of health and wellbeing across different communities. Boost your employability and experience with placement opportunities during the course.
Course features
Work placement opportunity
What you'll study
You'll explore health in social, cultural, political and economic contexts. With this knowledge you'll form your opinions on the health and wellbeing of individuals, communities and populations. Explore how health changes over the life course and how life experience and social conditions can feed into this. Study the relationship between health, policies and interventions. We'll also introduce the academic, professional and research skills you'll apply throughout your degree and working life.
Health and Social Wellbeing Across the Life Course
Introduction to Professional and Academic Skills
Introduction to Research Skills
Social Policy for Health and Wellbeing
Sociological and Psychological Perspectives on Health and Wellbeing
During Year 2, you'll deepen your understanding of issues like health and place, social policies and housing. Enhance your skills in community health assets and needs assessments, understand how health inequalities develop and how to address them. Develop and apply your research skills in quantitative and qualitative research. Choose an additional optional module from topics such as vulnerability in society, leadership, health and wellbeing in the early years and safeguarding.
Health, Place and Community
Housing, Health and Social Welfare
Applied Health Psychology in Context
Exercise, Diet and Health Promotion
Leadership and Management in the Workplace and Society
Legal and Ethical Perspectives
Negotiated Learning Shell
Nurturing Health and Wellbeing in the Early Years
Psychological Approaches to Health and Social Wellbeing
Develop your skills for life after university during 140 hours of work-based placement experience. In lectures and seminars, you'll focus on inter-professional working and explore health and wellbeing from a global perspective. Critically examine how professionals work and collaborate in multi-agency and integrated care systems settings, and evaluate the role of agencies such as the World Health Organisation, non-governmental organisations and the wider aid sector. Your research skills will come into play as you complete a research dissertation.
Health and Wellbeing: Global Perspectives
Personal Career Development
Working and Collaborating in Integrated Care Systems
Primary Research Dissertation
Applied Health Psychology in Context
Child and Adolescent Mental Health
Children, Young People, Crime and Deviance
Exercise, Diet and Health Promotion
Negotiated Learning Shell
Risk, Resilience and Resistance
Supporting the Health and Wellbeing of Children and Young People with Special Needs and Disabilities
The Wider Determinants of Overweight and Obesity
Vulnerable Children, Young People And The Law
Where your course includes optional modules, these are to provide an element of choice within the course curriculum. The availability of optional modules may vary from year to year and will be subject to minimum student numbers being achieved. This means that the availability of specific optional modules cannot be guaranteed. Optional module selection may also be affected by timetabling requirements. Some restrictions on optional module choice or combinations of optional modules may apply.
How you'll study
The programme will involve a combination of small group working, classroom debate and discussion, the use of key note lectures, role play, and problem-based learning. There are opportunities to engage in fieldwork and work-based learning to enhance your employability. You will also have access to the Virtual Learning Environment (VLE) resources that are available.
Throughout the course you will develop research and management skills that will help you to gain an interdisciplinary perspective of the study of health, illness and disease, exploring the factors which contribute to the health and wellbeing of individuals and populations. Through this you will draw on the disciplines of biology, sociology, psychology, social policy and public health.
The emphasis is on social determinants of health and wellbeing, the promotion of health and wellbeing, policy issues and debates, the delivery and management of services and health systems, and the evaluation of evidence.
How you'll be assessed
Assessment includes essays, seminar presentations, exams, work-based assessment, interactive workbook, online activities and a third-year dissertation on a topic of your choice. Before these assessments take place you will be given guidance and have the opportunity for your work to be reviewed.
Who will be teaching you
A variety of members of the Applied Health and Social Care team will be involved in the delivery of this programme. The majority are research active senior lecturers who have worked or are still working in a health and social care environment.
Tutors have a diverse range of health-related skills. Their areas of expertise and knowledge include research practice, sociology and psychology, population health, leadership, clinical communication, sexuality, ageing, health promotion, domestic abuse, nutrition, youth justice, social policy, safeguarding, behaviour support and systems practice.
Entry criteria
Entry requirements
Typical offer 104-112 UCAS Tariff points. No specific subjects are required.
Example offers
| Qualification | Requirement |
| --- | --- |
| A Level | BCC-BBC. |
| BTEC Extended Diploma (or combination of BTEC QCF qualifications) | Distinction, Merit, Merit (DMM). |
| T Level | Overall grade of Merit. |
| International Baccalaureate (IB) | We are happy to accept IB qualifications which achieve the required number of UCAS Tariff points. |
| Access to Higher Education Diploma | 45 credits at Level 3, for example 9 credits at Distinction and 36 credits at Merit or 15 credits at Distinction and 30 credits at Merit. The required total can be attained from various credit combinations. |
Please note, the above examples may differ from actual offers made. A combination of A Level and BTEC awards may also be accepted.
If you have a minimum of two A Levels (or equivalent), there is no maximum number of qualifications that we will accept UCAS points from. This includes additional qualifications such as Extended Project Qualification (EPQ), AS Levels that haven't been continued to A Level, and General Studies AS or A Level awards.
English language requirements
International students require IELTS 6.0, with a score no lower than 5.5 in each individual component, or an equivalent English language qualification.
If your current level of English is half a band, one band, or one-and-a-half bands lower, either overall or in one or two elements, you may want to consider our Pre-Sessional English course.
How to apply
Should you accept an offer of a place to study with us and formally enrol as a student, you will be subject to the provisions of the regulations, rules, codes, conditions and policies which apply to our students. These are available at www.edgehill.ac.uk/studentterms.
Did you know?
If you join a full time undergraduate degree at Edge Hill University, we will guarantee you the offer of a room in our halls of residence for the first year of your course.
Discover our accommodation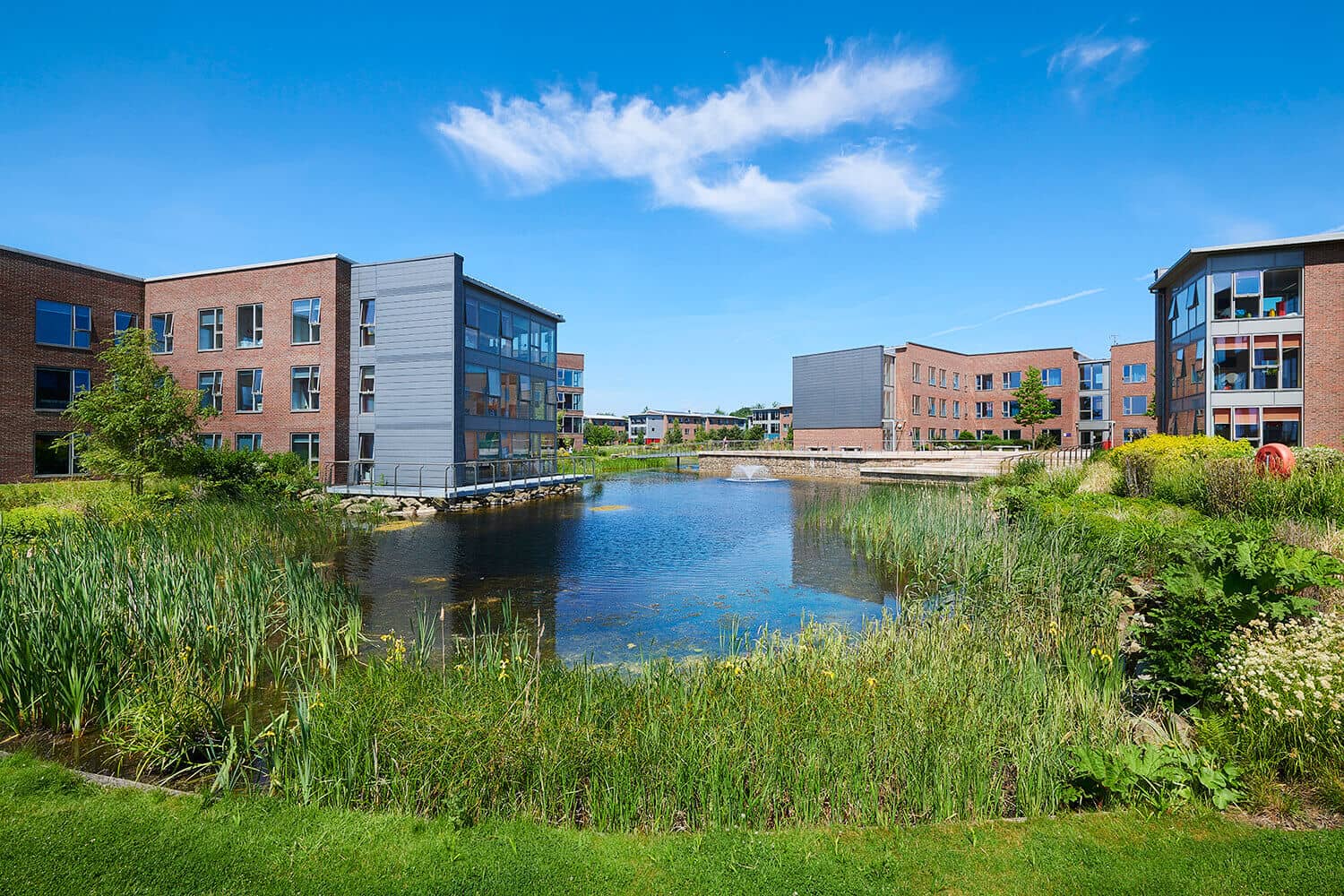 Facilities
The Faculty of Health, Social Care and Medicine offers outstanding facilities for the education and training of health and social care professionals.
The contemporary teaching and learning resources include leading edge clinical skills facilities, an 860-seat lecture theatre, and a variety of teaching rooms and social learning spaces.
Where you'll study
Faculty of Health, Social Care and Medicine
Finance
Tuition fees
The University may administer a small inflationary rise in tuition fees, in line with Government policy, in subsequent academic years as you progress through the course.
EU/EEA and Swiss students who have settled or pre-settled status under the EU Settlement Scheme, as well as Irish nationals, may be eligible for the UK tuition fee rate.
Financial support
Subject to eligibility, UK students joining this course can apply for a Tuition Fee Loan from the Government to cover the full cost of tuition fees. UK students enrolling on the course may also be eligible to apply for additional funding to help with living costs.

Please view the relevant Money Matters guide for comprehensive information about the financial support available to eligible UK students.
EU/EEA and Swiss students who have settled or pre-settled status under the EU Settlement Scheme may be eligible to apply for financial support. Irish nationals can ordinarily apply to Student Universal Support Ireland (SUSI). If you are an EU student who does not have settled or pre-settled status, or are an international student from a non-EU country, please see our international student finance pages.
Your future career
Our degree forms a strong foundation for a wide range of careers across the health and social care sectors. The knowledge, skills and experience gained during your time with us will be attractive to potential employers in this enriching and varied industry. Work in sectors such as the NHS, local authorities, Voluntary, Community and Social Enterprise (VCSE) and the private sector. You could work in areas like:
Public health
Mental health
Criminal justice
Management and administration
Child protection
Health promotion
The housing sector
Previous graduates from our health and social wellbeing degree have gone on to rewarding job roles like:
Healthcare support worker
Social worker
NHS manager
Public health practitioner
Psychological wellbeing practitioner
You might decide to continue your studies with further training. Some students go on to complete postgraduate studies or a Masters in their chosen fields, or practitioner training.
Course changes
Every effort has been made to ensure the accuracy of this information, however our courses are subject to ongoing review and development. Changing circumstances may necessitate alteration to, or the cancellation of, courses.
Changes may be necessary to comply with the requirements of professional bodies, revisions to subject benchmarks statements, to keep courses updated and contemporary, or as a result of student feedback. We reserve the right to make variations if we consider such action to be necessary or in the best interests of students.
Track changes to this course
Discover Uni: Full-Time Study
Download our course leaflet