Clinical & Professional Paramedic Practice
BSc (Hons)
Question and challenge paramedic practice to promote effective care delivery on a flexible degree that enables qualified paramedics to develop specialist knowledge and skills.
Overview
This programme provides the opportunity to gain a comprehensive understanding of the challenges faced by paramedics.
If you are practicing as a paramedic and wish to build upon your clinical experience and advance your academic standing to degree level, this is the course for you. The programme will enhance your professional decision-making and critical judgment and help you to develop a body of knowledge that will influence your practice and the practice of others in your professional sphere.
You will study two core modules with the remainder of the degree offering a flexible choice of modules which can be tailored to meet individual professional and academic needs.
What you'll study
The course's core modules introduce you to the skills and methods of research and subsequently involve the completion of a dissertation.
The Research Methods module will help you to develop skills in specific aspects of research methodology and equip you to prepare a proposal to undertake a small scale piece of research. The emphasis throughout is on the practical application of research principles to ensure that practice is evidence-based.
The Advancing Practice Project module offers you, with the support of an academic supervisor, the opportunity to develop your ability to independently produce a sustained piece of work.
You will select a total of 40 credits from a number of optional paramedic-related modules and choose a further 20 credit module from the Faculty of Health and Social Care and Medicine's CPD portfolio.
Advancing Practice Project
Clinical Examinations and Diagnostics
Enhancing Paramedic Practice
Ethical and Moral Dilemmas in Health
Negotiated Learning Shell
You will select an additional 20 credit module from the Faculty of Health, Social Care and Medicine's professional development portfolio.
For more information about each module, including the dates and times of module sessions, please see our Continuing Professional Development Modules for Health and Social Care Practitioners pages.
Optional modules provide an element of choice within the course curriculum. The availability of optional modules may vary from year to year and will be subject to minimum student numbers being achieved. This means that the availability of specific optional modules cannot be guaranteed. Optional module selection may also be affected by timetabling requirements. Some restrictions on optional module choice or combinations of optional modules may apply.
How you'll study
Module delivery approaches vary from face-to-face classroom-based activities to solely online delivery. Many modules involve a blended approach combining online study with taught sessions at the Edge Hill University campus or St James' in Manchester. The Advancing Practice Project module is delivered at Alder Hey Institute in the Park in Liverpool.
The course is designed for busy professionals to study on a part-time basis whilst in employment. It is possible to study the degree as a full award or study a module on a standalone basis.
How you'll be assessed
The programme utilises a variety of assessment techniques and strategies, including written assignments and examinations, observed structured clinical examinations, seminar presentations, interviews and the development of a portfolio.
Who will be teaching you
The teaching team comprises research-active senior lecturers with extensive clinical and professional expertise and experience. Guest lecturers with specific subject and clinical speciality experience from all professional disciplines will also contribute to the richness and variety of the programme.
Entry criteria
Entry requirements
To join this course, you should be practicing as a paramedic.
You must be registered with the Health and Care Professionals Council as a qualified paramedic or hold an overseas paramedic or allied health professional qualification and IELTS 6.0 or equivalent (with 6.0 achieved in the written and spoken language element of the test, completed within the last two years).
You should have 240 UK credits with 120 at level 4 (Cert HE) and 120 at level 5 (Dip HE). Alternatively, students who are over 21 will be considered if they can demonstrate the ability to study at degree level by the successful completion of a 20 credit Edge Hill University degree level module.
You will have an informal interview with a pathway coordinator to verify that you meet the entry requirements and plan your pathway to ensure the course will meet your individual needs.
How to apply
There is an online application process for this course.
Please choose the application form for your preferred intake date and mode of study.
Should you accept an offer of a place to study with us and formally enrol as a student, you will be subject to the provisions of the regulations, rules, codes, conditions and policies which apply to our students. These are available at www.edgehill.ac.uk/studentterms.
Did you know?
If you join a full time undergraduate degree at Edge Hill University, we will guarantee you the offer of a room in our halls of residence for the first year of your course.
Discover our accommodation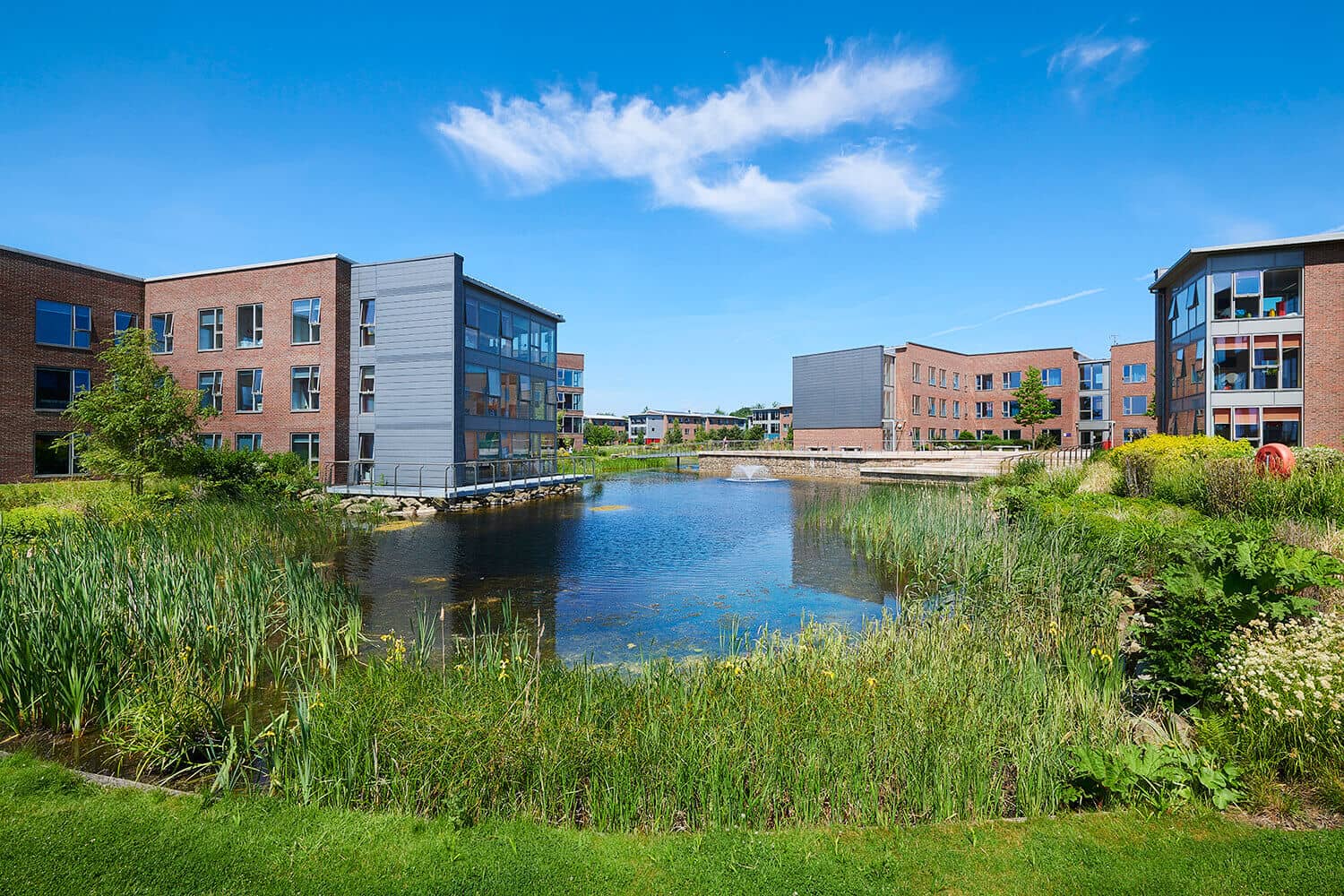 Facilities
The Faculty of Health, Social Care and Medicine offers outstanding facilities for the education and training of health and social care professionals.
The contemporary teaching and learning resources include leading edge clinical skills facilities, an 860-seat lecture theatre, and a variety of teaching rooms and social learning spaces.
These facilities are complemented by the modern clinical skills facility at St James' in Manchester city centre.
The Advancing Practice Project module is delivered at Alder Hey Institute in the Park in Liverpool, a dedicated research, education and innovation centre in children's healthcare.
Where you'll study
Faculty of Health, Social Care and Medicine
Finance
Tuition fees
UK Part-Time
£35 per credit
for 120 credits
EU/EEA and Swiss students who have settled or pre-settled status under the EU Settlement Scheme, as well as Irish nationals, may be eligible for the UK tuition fee rate.
Tuition fees
Tuition fees for students joining this course in academic year 2023/24 are still to be announced. We will update this information as soon as it is available.
EU/EEA and Swiss students who have settled or pre-settled status under the EU Settlement Scheme, as well as Irish nationals, may be eligible for the UK tuition fee rate.
Your future career
A degree will help you stand out from the crowd in a competitive job market, allowing you to progress in your profession whilst improving patient care.
You will also gain universal skills, such as how to problem solve, apply relevant knowledge and skills, communicate effectively and reflect on your practice.
Course changes
Every effort has been made to ensure the accuracy of this information, however our courses are subject to ongoing review and development. Changing circumstances may necessitate alteration to, or the cancellation of, courses.
Changes may be necessary to comply with the requirements of professional bodies, revisions to subject benchmarks statements, to keep courses updated and contemporary, or as a result of student feedback. We reserve the right to make variations if we consider such action to be necessary or in the best interests of students.
Track changes to this course
Download our course leaflet