Paramedic Practice
BSc (Hons)
UCAS code: BB95
Experience clinical scenarios and frontline service with emergency ambulance crews. Become a qualified paramedic on a degree taught primarily at St James' in Manchester in collaboration with the North West Ambulance Service.
Overview
Picture yourself on the scene of a serious incident. Are you holding your nerve and relying on extensive training, education and experience to deliver potentially life-saving treatment? You may have what it takes to be a paramedic.
During our paramedic practice degree, you'll learn how to become highly skilled in providing patients with the best possible care. Hone your critical thinking and decision-making skills that can make a difference in life-or-death situations.
Learn the fundamentals of paramedic practice such as professional duty of care, patient diversity and legal frameworks. Alongside this, you'll study how to recognise signs of clinical deterioration in patients that require timely intervention.
Taught primarily at St James', our Manchester city centre location, you'll develop your confidence and apply your skills in clinical scenarios in our immersive skills and simulation suite. Experience front line service with emergency ambulance crews, taking advantage of extensive placements across the North West in both urgent/emergency care and wider health and social settings. By the time you complete your three-year programme you'll have up to 60 weeks of hands-on experience under your belt.
You'll also be required to travel to the Ormskirk campus for a small number of taught sessions, assessments and learning opportunities throughout the three years of the programme.
Course features
Professional accreditation

Professional practice placements
What you'll study
Our paramedic practice degree provides a high-quality start to your career. In Year 1 we'll provide the fundamentals in bioscience, clinical practice and the principles of assessment and management in paramedic practice. Our theoretical content complements practical experience, introduced in simulated scenarios. Much of your learning will happen through exposure to, and reflection on, these practical exercises, spending 16 weeks in the field. You'll also develop a solid academic base and build professional competence.
Bioscience for Paramedics
Clinical Practice and Simulation 1
Development of Study Skills in Paramedic Practice
Fundamentals of Professional Paramedic Practice
Principles of Assessment and Management in Paramedic Practice
Can you make informed decisions under pressure? Simulations will teach you how to gather and analyse relevant information. We'll also challenge your subject specific skills, such as the ability to identify, assess, implement and evaluate patients' healthcare needs. Learn how to recognise signs of deteriorating disease and when you need to step in with a timely intervention. The 20 weeks you spend out on placement will pull your new skills and knowledge into shape.
Assessment, Decision-Making and Management
Clinical Practice and Simulation 2
Pathophysiology and Pharmacology for Paramedic Practice
Research and Evidence Based Practice
In Year 3 of your paramedic practice course, you'll spend up to 24 weeks on placement, reflecting on your experiences, and building your first hand understanding of the broad clinical environment in which paramedics work. Develop a deeper insight into the role of the paramedic and the professional requirements across a wide spectrum of clinical settings. Would you like to explore global emergency care? We've integrated international paramedic practice this year with the opportunity to apply for an international placement.
Clinical Practice and Simulation 3
Exploring the Scope of Paramedic Practice
Paramedic Practice in Primary and Urgent Care
Professional Paramedic Practice
How you'll study
The course is delivered in weekly blocks of theory and practice placements throughout each year. While the majority of classes will take place at St James', a small number of taught sessions, assessments and learning opportunities will take place at the Ormskirk campus of Edge Hill University. Some modules may also involve studying at other sites where you will be responsible for travel and parking costs.
To ensure that you are competent both academically and professionally, a wide range of learning experiences, teaching and assessment methods will be used, including: keynote lectures, group discussion and debate, student-led seminars, structured reflection, directed study, enquiry-based learning, skills teaching, and learning in practice. You will need to be responsible for your practice, be able to recognise the limits of your expertise and be capable of challenging practices and initiating care, which is patient-focused and based upon appropriate evidence.
Hospital placement areas are located across Greater Manchester while ambulance placements are located across the North West of England, with a main hub placement being with emergency ambulance crews. Practice learning will meet your learning needs and give you supportive and diverse experiences across the health and social care provision. These include main hub placements at ambulance stations and bespoke placements in NHS hospitals, community trusts, social care services and the independent sector. Placements will include weekends, early mornings, evenings and night work to ensure a full range of practice experiences. You will be responsible for travel and parking costs while on placement.
You are expected to be flexible during placement weeks to ensure that you can experience the full range of learning opportunities and shift patterns in clinical practice.
How you'll be assessed
The assessment process includes written essays, case studies, written examinations, practical examinations (Objective Structured Clinical Examinations), student presentations and practice assessment documentation.
Who will be teaching you
The main teaching team for this programme are registered paramedics. In addition, nurses, allied health and medical professionals, and other academic members will be involved in elements of teaching and assessment. In the workplace you will be supported by paramedic mentors, practice supervisors and qualified paramedics who will guide and supervise you during your placement. The programme team will support you through the provision of a module leader, personal tutor and link teacher who are able to offer academic and pastoral support as required.
Entry criteria
Entry requirements
Typical offer 112-120 UCAS Tariff points, for which no specific subjects are required, plus GCSE English Language and Mathematics at Grade C or Grade 4 or above (or equivalent).
Applicants must be aged 18 years or over at the start of the course and have permanent UK resident status.
Eligible candidates must provide evidence of study within the five years prior to application. An interview forms the selection process.
If you accept a formal offer from Edge Hill University you will need to satisfy occupational health requirements in respect of physical and mental fitness and will be required to apply for a Disclosure and Barring Service (DBS) Enhanced Disclosure indicating that you meet the mandatory criteria of 'Clearance to Work with Children and/or Vulnerable Adults'. Further information will be sent to you after you have firmly accepted an offer.
Example offers
| Qualification | Requirement |
| --- | --- |
| A Level | BBC-BBB. |
| BTEC Extended Diploma (or combination of BTEC QCF qualifications) | Distinction, Merit, Merit (DMM). |
| T Level | Overall grade of Merit. |
| International Baccalaureate (IB) | We are happy to accept IB qualifications which achieve the required number of UCAS Tariff points. |
| Access to Higher Education Diploma | 45 credits at Level 3, for example 15 credits at Distinction and 30 credits at Merit or 24 credits at Distinction and 21 credits at Merit. The required total can be attained from various credit combinations. |
Please note, the above examples may differ from actual offers made. A combination of A Level and BTEC awards may also be accepted.
If you have a minimum of two A Levels (or equivalent), there is no maximum number of qualifications that we will accept UCAS points from. This includes additional qualifications such as Extended Project Qualification (EPQ), AS Levels that haven't been continued to A Level, and General Studies AS or A Level awards.
How to apply
International
Unfortunately this course is not available to international students. Please see our A-Z of courses for alternative options.
Should you accept an offer of a place to study with us and formally enrol as a student, you will be subject to the provisions of the regulations, rules, codes, conditions and policies which apply to our students. These are available at www.edgehill.ac.uk/studentterms.
Did you know?
If you join a full time undergraduate degree at Edge Hill University, we will guarantee you the offer of a room in our halls of residence for the first year of your course.
Discover our accommodation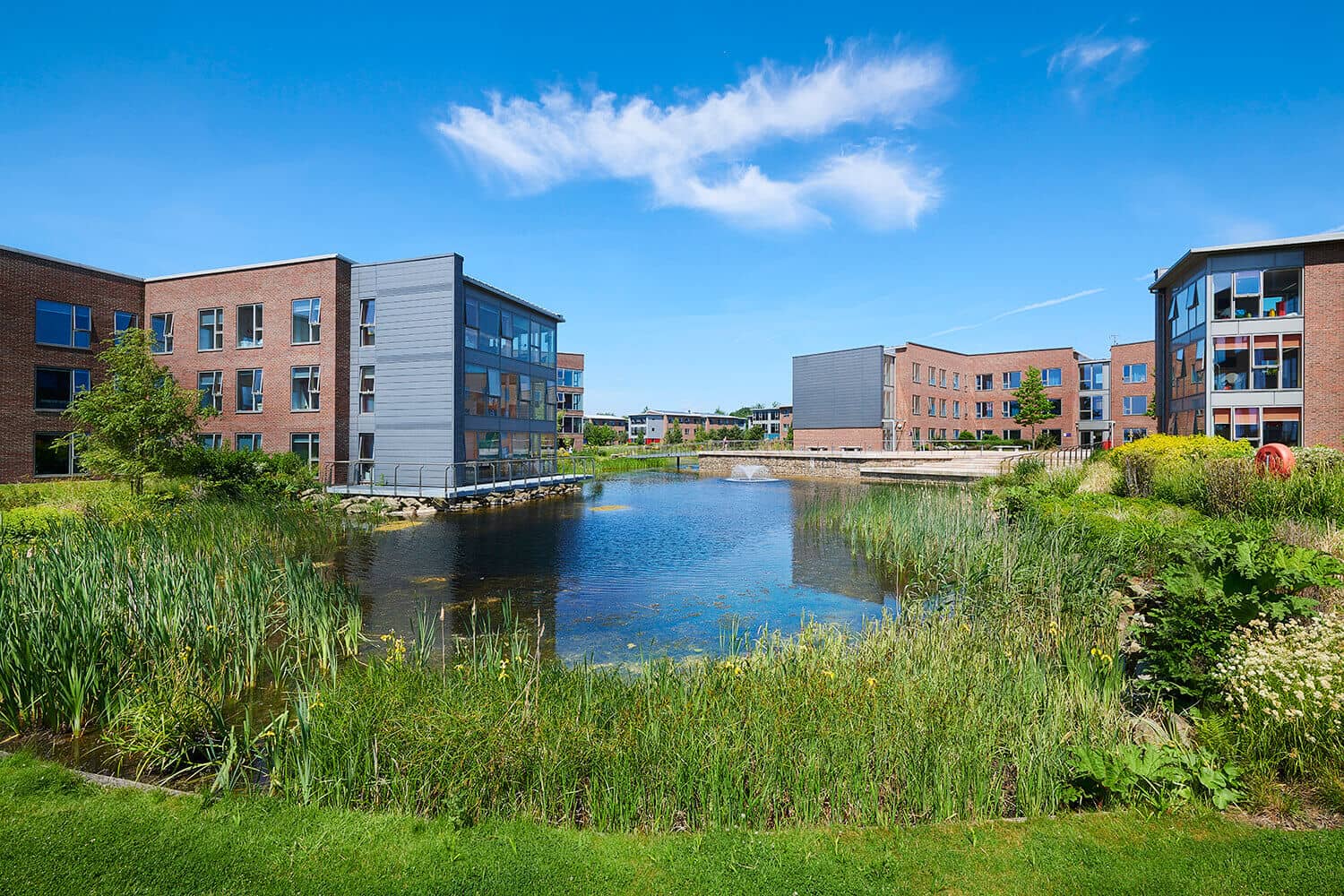 Facilities
The course is primarily delivered at St James' in central Manchester where the clinical skills facilities include an ambulance simulator.
A limited number of sessions will also take place in the Faculty of Health, Social Care and Medicine at Edge Hill University, focusing on particular specialist subjects, such as counselling and maternity care.
Learning resources
St James' provides an extensive modern clinical simulation suite, including a mock operating theatre, ambulance simulator and clinical skills stations. A 3D immersive simulation suite enables you to practice clinical scenarios in a realistic, supportive and safe environment. Additional facilities include an open plan library and IT resources.
The Clinical Skills and Simulation Centre on the University campus offers a variety of simulated environments from home, through primary and emergency care, to secondary care and beyond. The flexible and adaptable facilities include a ward environment, operating theatre, an anatomy and ultrasound resource centre, a 'Better at Home' suite, clinical skills area and consultation rooms.
Finance
Tuition fees
The University may administer a small inflationary rise in tuition fees, in line with Government policy, in subsequent academic years as you progress through the course.
EU/EEA and Swiss students who have settled or pre-settled status under the EU Settlement Scheme, as well as Irish nationals, may be eligible for the UK tuition fee rate.
Financial support
Students on this course may be entitled to the NHS Learner Support Fund if eligible. Visit the NHS Business Services Authority website for further information.
Subject to eligibility, UK students joining this course can apply for a Tuition Fee Loan from the Government to cover the full cost of tuition fees. UK students enrolling on the course may also be eligible to apply for additional maintenance loan funding to help with living costs. Please note, if you have studied all or part of a higher education course before joining BSc (Hons) Paramedic Practice, your entitlement to student funding could be affected. Unlike some pre-registration health and social care subjects, Paramedic Practice students are not exempt from rules relating to previous study and equivalent and lower qualifications. For further information, please visit our previous study and equivalent and lower qualifications page.
Please view the relevant Money Matters guide for comprehensive information about the financial support eligible to UK students.
EU/EEA and Swiss students who have settled or pre-settled status under the EU Settlement Scheme may be eligible to apply for financial support. Irish nationals can ordinarily apply to Student Universal Support Ireland (SUSI). Please see our EU student finance page for further details.
Your future career
Your career prospects are excellent. Qualified paramedics in urgent and emergency care settings are highly sought after. Graduates typically kickstart their career in the ambulance service as newly qualified paramedics, but during their careers also go into other roles such as:
Senior paramedic team leader
Advanced paramedic
Senior lecturer
Research paramedic
Advanced clinical practitioner
Some graduates stay within the ambulance service, moving through various senior clinical routes or into primary and urgent care. Edge Hill graduates have worked in:
North West Ambulance Service
Ambulance services across the UK
NHS Trusts
Higher Education Institutions
Alternatively, after graduation you may want to continue your studies and complete a postgraduate qualification.
Course changes
Every effort has been made to ensure the accuracy of this information, however our courses are subject to ongoing review and development. Changing circumstances may necessitate alteration to, or the cancellation of, courses.
Changes may be necessary to comply with the requirements of professional bodies, revisions to subject benchmarks statements, to keep courses updated and contemporary, or as a result of student feedback. We reserve the right to make variations if we consider such action to be necessary or in the best interests of students.
Track changes to this course
Discover Uni: Full-Time Study
Download our course leaflet