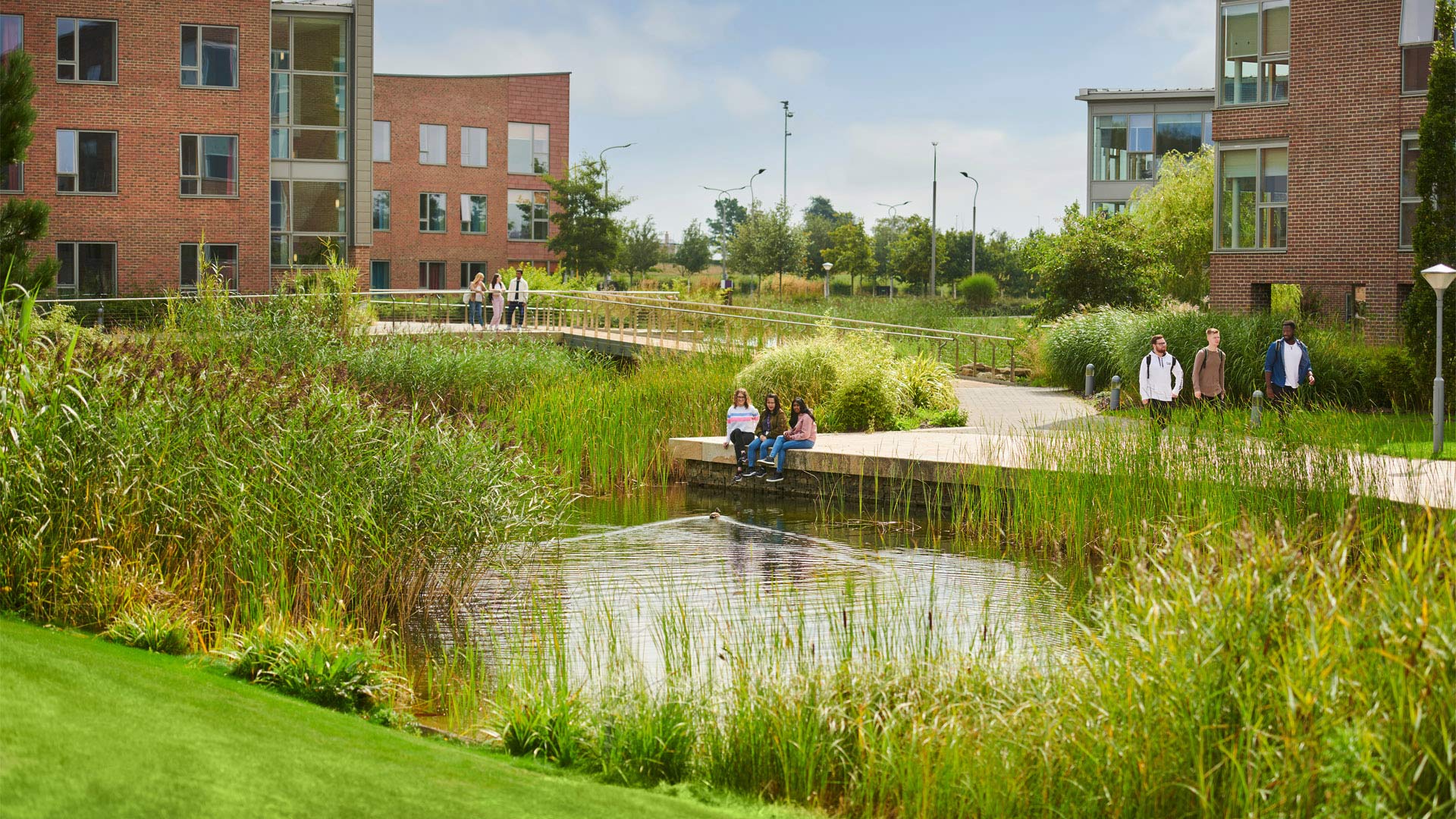 Is University worth it? Our cost of living support for students
We understand that the cost of living crisis is having an impact on everyone. And naturally, you might be questioning whether coming to university is the right decision in these difficult times.
You can count on us to support you throughout your time at Edge Hill. We've put together this page to highlight the benefits of going to university, financial help available, and the advantages of us being a university perfectly placed in the North West.
Increase your earning potential – You'll earn more money as a graduate
Bachelor's degrees are highly valued by employers and could potentially earn you a significantly higher salary. Not only will you have a greater choice of jobs, but you could earn more too. A degree continues to be a rewarding investment. It demonstrates your capabilities in communication, teamwork, and critical thinking, giving you a competitive advantage.
There is financial support available to help you fund your studies
Student finance
Most of our full-time undergraduate students apply for a Tuition Fee Loan to cover the cost of course fees. If you're eligible, you'll be able to borrow the full cost of your tuition fee from the government. And you won't have to pay anything until you've graduated and you're earning above a certain threshold amount.
Maintenance loans are available to help UK students with living costs such as food, accommodation, and travel. The amount you receive is dependent on your personal circumstances, such as your household income and where you're going to live while you're studying. Maintenance loans range from £4,651 to £9,978 a year and are usually paid in three instalments directly to your bank account.
You won't start repaying your student loans until the April after you've completed your course and are earning above a certain threshold amount (currently £25,000 per year). You'll pay 9% of any income you earn over the threshold and in most cases your repayments will be collected automatically by your employer. For example, if your yearly salary is £30,000, you'll be repaying £37.50 a month, that's less than £10 a week.
If at any point your income falls below the repayment threshold, you won't have to make any repayments until your income rises above the threshold again. Any loan remaining after 40 years will be cancelled.
Grants, bursaries and scholarships
Depending on your circumstances, you may be entitled to additional financial support from the Government, such as Adult Dependant's Grant, Childcare Grant, Disabled Students' Allowance and Parents' Learning Allowance.
We want you to excel at Edge Hill, whatever your background or financial income. We have bursaries and scholarships available that you may be eligible for, such as the NHS Learning Support Fund, social work bursary, or Sports Scholarships. Read all about them on our dedicated money matters page.
Student Opportunity Fund
The Student Opportunity Fund provides financial support for students in financial difficulty. This allows every student to take part in activities that enhance employability, build confidence, and develop transferable skills. It can help cover the costs of attending an interview, such as travel expenses which aren't covered by employers. We also have a range of interview wear that you can choose from and keep. So you don't have to splash the cash on new clothes.
Top 10 in the UK for university halls (WHATUNI Student Choice Awards 2023)
There's no doubt that one of your main expenses at university will be accommodation. Our halls are great value for money, with fees below the national average. All our halls include utility bills, free wifi and most are equipped with flatscreen TVs and mini fridges.
Don't worry about travel costs, you'll be located right here on campus. Only a stones throw away from Ormskirk town centre with easy access to the cities of Liverpool and Manchester.
If living on campus isn't for you, you'll still find that the North West is one of the cheapest places to live and travel around whilst you study. We even have a free Edge Link bus service with a direct link between campus and Ormskirk town centre.
If you're thinking of commuting, we offer free parking on campus. All you need to do is apply for a parking permit. Alternatively, you can save money on fuel and keep your vehicle's mileage down through our car sharing scheme. And you also get reserved priority parking.
Laptop loans
If you don't have the money to buy your own laptop, we've got you covered with our laptop loan scheme. You can self-issue one using your library account and then collect from a secure locker conveniently located on the ground floor of our Catalyst building. All with access to the University network and online file storage. You can loan a laptop for up to two weeks. Or you can request a longer-term loan.
Discounted food and commuter breakfasts
You can get 10% off food and drink at all our catering outlets on campus using Upay (our cashless payment system). We always offer a daily hot meal for as little as £1.50 in addition to other catering discounts across campus. Of course, fruit is available free of charge.
Will you be commuting to campus? Why not start your day with a free hot drink and breakfast? Available every Tuesday and Thursday in Creative Edge between 8am and 9am.
Financial support
Our Money Advice Team offer virtual and telephone appointments. Struggling with the cost of student life? The team are available to offer guidance on all money-related matters including student funding, how to manage your personal finances and how to access the Student Opportunity Fund.
We hope you've found this information useful. For queries about student finance, drop our Money Advice Team an email: [email protected]
If you've got questions about tuition fees, bursaries or payment methods, email: [email protected]
September 19, 2023