Psychology
BSc (Hons)
UCAS code: C800
Untangle behaviour. Unravel mysteries of the mind. Study the science of the brain on this course and achieve a BSc (Hons) Psychology degree accredited by the British Psychological Society.
Overview
Psychology puts every aspect of the brain and our behaviour under the microscope – how we learn, interact and use body language. Accredited by the British Psychological Society, our BSc (Hons) Psychology degree is designed to help you explore concepts and theories of the mind.
You'll investigate different areas by asking why. Why do mental illnesses occur? Why do we use substances? And we'll also ask how. How does memory affect our ability to recall a crime? How do you apply psychological theories to the real world?
Developing research skills is vital too. We'll help you explore the latest methodologies. At the same time, you'll develop career skills in creativity, critical thinking and communication.
Outside the lecture theatre, look out for exciting opportunities to work with our experts on their latest research projects. Your psychology degree will be taught by experts who are carrying out world-leading research in their field.
Our student-led psychology society brings together people who share a love for the subject. Attend their social events, benefit from peer mentoring and networking opportunities, and hear from unique speakers from across the UK.
Course features
International students can apply

Professional accreditation

Sandwich year option available

Studying abroad option available
In a fiercely competitive graduate employment market, any additional experience and recognition I can obtain will help me stand out from the crowd. The placement opportunity has helped me gain experience of working in a professional manner and will allow me to stand out from other candidates when applying for professional roles in the future.
Maddison Barnes
BSc (Hons) Psychology
View student profile
What you'll study
Understanding how theory and research relates to psychology in the real world will be an important part of your first year on our BSc (Hons) Psychology degree. You'll look at the biology of the brain and how its characteristics influence our perceptual and cognitive abilities, as well as our behaviour.
We'll also teach you about different areas including developmental and personality psychology. To support your future, you'll complete a module designed to boost your academic, personal, and interpersonal skills.
Essential Skills in Applied Psychology
Introduction to Cognitive & Biological Psychology
Introduction to Personality, Social & Developmental Psychology
Investigating Psychology 1
Investigating Psychology 2
You'll take a closer look at the four different areas of psychology – social, developmental, biological and cognitive. You'll learn how psychology can be applied to occupational, clinical, educational, health and forensic settings.
Building on what you learnt in Year 1 of your degree, we'll help you become confident in psychological research methods and data analysis. You'll also have the chance to work alongside a member of staff on their current research project.
Research Methods & Data Analysis
Design, carry out and present your own research project on a topic that reflects your interests and ambitions for your dissertation. As well as exploring personality and individual differences in human behaviour, you'll also shape your study with optional modules in specialist areas of psychology.
To prepare you for leaving university and taking the first steps in your career, we'll provide you with opportunities to reflect on your academic, personal and professional development.
Personality and Individual Differences
Reflections & Future Directions
Applying Psychology to Lifestyle Behaviour
Applied Psychopharmacology
Clinical Psychology and Mental Health
Forensic Psychology: Eyewitnesses and Suspects
Mind, Brain & Behaviour: The Foundations of Psychological Explanation
Psychology and the Virtual World
Psychology in the Courtroom
Psychology of Substance Use
Psychology Work Placement
Research Technologies and Tools
Special Educational Needs
Student Motivation and Engagement
Where your course includes optional modules, these are to provide an element of choice within the course curriculum. The availability of optional modules may vary from year to year and will be subject to minimum student numbers being achieved. This means that the availability of specific optional modules cannot be guaranteed. Optional module selection may also be affected by timetabling requirements. Some restrictions on optional module choice or combinations of optional modules may apply.
How you'll study
Our teaching methods vary from traditional style lectures to tutorials, seminars and workshops. There are well-equipped laboratory facilities consisting of IT rooms and research cubicles for conducting experiments. We have a wide range of IT facilities, including experiment generation and statistical packages.
How you'll be assessed
Understanding how theory and research relates to psychology in the real world will be an important part of your first year on our BSc (Hons) Psychology degree, most modules are assessed by a mixture of examination and coursework though some are assessed solely by coursework. Coursework assignments might be essays, research project reports, portfolios, group presentations, posters, or the critical analysis of research papers. In addition, in Year 3 you complete a dissertation.
Who will be teaching you
Understanding how theory and research relates to psychology in the real world will be an important part of your first year on our BSc (Hons) Psychology degree. Particularly in the areas of thinking and reasoning, educational psychology, work psychology, psychological aspects of substance abuse, health psychology, close relationships and the functioning of working memory.
Team members have been published in major national and international peer reviewed journals such as the British Journal of Psychology, Counselling Psychology Quarterly, The Quarterly Journal of Experimental Psychology and The Journal of Experimental Child Psychology.
The Department of Psychology operates a research internship scheme where you may have the opportunity to volunteer to assist with staff research across a range of exciting projects. Previous projects have focused on subjects including eye movements and memory, alcohol and inhibition, autistic traits, attentional bias to pictures and words, personality and offending behaviour, behaviour change and food awareness, multiple perspective taking, the neural underpinnings of action simulation, and the question of whether emojis reveal true emotions.
Entry criteria
Entry requirements
Typical offer 120-128 UCAS Tariff points, for which no specific subjects are required, plus GCSE English and GCSE Mathematics at Grade C or Grade 4 or above (or equivalent).
Please note, for the purposes of studying psychology, level 2 literacy and numeracy qualifications are not considered as equivalent to GCSE Grade C or Grade 4 in English Language and Mathematics.
Example offers
| Qualification | Requirement |
| --- | --- |
| A Level | BBB-ABB. |
| BTEC Extended Diploma (or combination of BTEC QCF qualifications) | Distinction, Distinction, Merit (DDM). |
| T Level | Overall grade of Merit. |
| International Baccalaureate (IB) | We are happy to accept IB qualifications which achieve the required number of UCAS Tariff points. |
| Access to Higher Education Diploma | 45 credits at Level 3, for example 24 credits at Distinction and 21 credits at Merit or 30 credits at Distinction and 15 credits at Merit. The required total can be attained from various credit combinations. |
Please note, the above examples may differ from actual offers made. A combination of A Level and BTEC awards may also be accepted.
If you have a minimum of two A Levels (or equivalent), there is no maximum number of qualifications that we will accept UCAS points from. This includes additional qualifications such as Extended Project Qualification (EPQ), AS Levels that haven't been continued to A Level, and General Studies AS or A Level awards.
English language requirements
International students require IELTS 6.0, with a score no lower than 5.5 in each individual component, or an equivalent English language qualification.
If your current level of English is half a band, one band, or one-and-a-half bands lower, either overall or in one or two elements, you may want to consider our Pre-Sessional English course.
How to apply
Should you accept an offer of a place to study with us and formally enrol as a student, you will be subject to the provisions of the regulations, rules, codes, conditions and policies which apply to our students. These are available at www.edgehill.ac.uk/studentterms.
Did you know?
If you join a full time undergraduate degree at Edge Hill University, we will guarantee you the offer of a room in our halls of residence for the first year of your course.
Discover our accommodation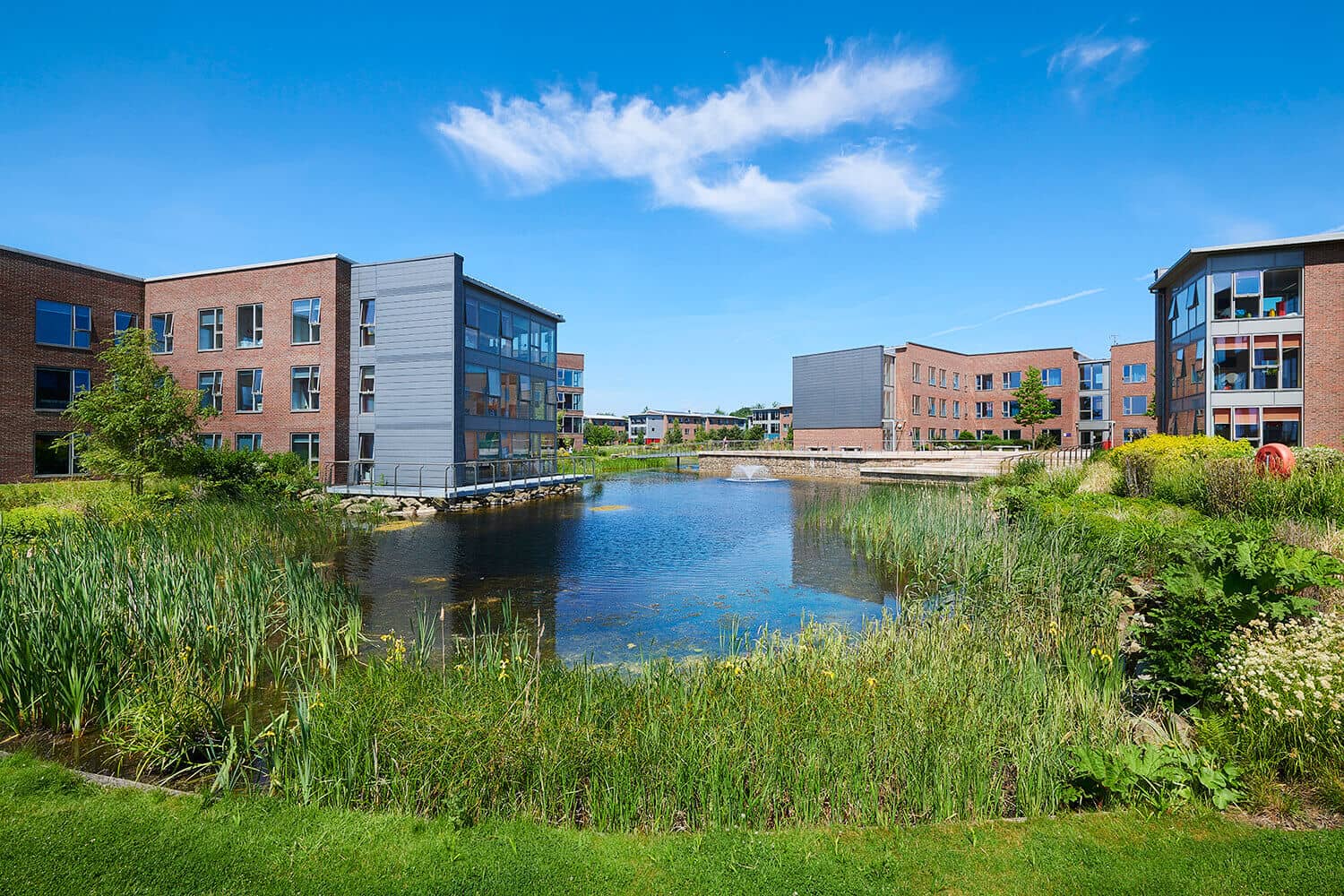 Facilities
The £6million Law and Psychology building provides contemporary teaching and learning facilities for BSc (Hons) Psychology students in the Department of Psychology and the School of Law, Criminology and Policing.
The three-storey building includes a 250-seat lecture theatre, seminar and tutorial rooms, and social learning areas which encourage a more informal and interactive style of learning. There are also specially designed laboratory and experimental facilities for psychological research.
Where you'll study
Learning resources
Psychology resources include state-of-the-art eye trackers, transcranial direct current stimulation (tDCS) methods, and near-infrared spectroscopy (NIRS) for examining cognitive functioning and brain activity. Other specialist laboratories include a group testing laboratory, bi-directional observation rooms, a 'bar simulation laboratory' (for alcohol research), audio-visual suites and dedicated IT facilities equipped with subject specific software installed to support experimental work.
Finance
Tuition fees
The University may administer a small inflationary rise in tuition fees, in line with Government policy, in subsequent academic years as you progress through the course.
EU/EEA and Swiss students who have settled or pre-settled status under the EU Settlement Scheme, as well as Irish nationals, may be eligible for the UK tuition fee rate.
Financial support
Subject to eligibility, UK students joining this course can apply for a Tuition Fee Loan from the Government to cover the full cost of tuition fees. UK students enrolling on the course may also be eligible to apply for additional funding to help with living costs.

Please view the relevant Money Matters guide for comprehensive information about the financial support available to eligible UK students.
EU/EEA and Swiss students who have settled or pre-settled status under the EU Settlement Scheme may be eligible to apply for financial support. Irish nationals can ordinarily apply to Student Universal Support Ireland (SUSI). If you are an EU student who does not have settled or pre-settled status, or are an international student from a non-EU country, please see our international student finance pages.
Your future career
Psychology opens up a range of career paths, so there is no typical next step for graduates. Many work in healthcare, but our graduates work across a range of sectors, including education and sport. Their job titles include everything from psychiatric support worker to wellbeing worker.
Because your BSc (Hons) Psychology degree is accredited by the British Psychological Society (BPS), you'll be eligible for the Graduate Basis for Chartered Membership (GBC), provided the minimum standard of a lower second class honours is achieved. This is the first step towards becoming a chartered psychologist.
However, you might decide to kickstart your career as soon you graduate. Many psychology graduates apply their skills to rewarding roles in:
the NHS
private healthcare providers
public health providers
local authorities
HM Prison and Probation Services
civil service
schools, universities and colleges
social care providers
It's important to note that if you want to train as a psychologist, you'll need to undertake postgraduate education. This undergraduate degree is the perfect first step to becoming a chartered psychologist.
Course changes
Every effort has been made to ensure the accuracy of this information, however our courses are subject to ongoing review and development. Changing circumstances may necessitate alteration to, or the cancellation of, courses.
Changes may be necessary to comply with the requirements of professional bodies, revisions to subject benchmarks statements, to keep courses updated and contemporary, or as a result of student feedback. We reserve the right to make variations if we consider such action to be necessary or in the best interests of students.
Track changes to this course
Discover Uni: Full-Time Study
Download our course leaflet