Primary Physical Education Specialist with QTS
PGCE
GOV.UK code: 2T4R
Inspire children to be fit and healthy by making physical education fun. On our specialist course, you'll develop expert knowledge alongside the ability to teach across the whole primary curriculum. And you'll graduate with recommendation for Qualified Teacher Status.
Overview
Successful completion of the programme leads to recommendation for Qualified Teacher Status (QTS).
Everyone needs a healthy lifestyle. The earlier we learn how to be fit and active, the easier it becomes to maintain these habits in adulthood. As a PE specialist, you'll show children aged 5-11 how to be physically active in fun and engaging ways, and learn how to teach the national curriculum for all key stage 1 and 2 subjects.
By spending time in placements in schools, you'll become a confident practitioner who meets Teachers' Standards. You'll gain the essential skills, knowledge and attitude for a two-year induction as an early career teacher, teaching the entire primary curriculum.
As this is a PGCE primary physical education specialist course, you'll finish it as an expert in teaching this subject. You'll inspire children to be physically fit and encourage your peers to deliver equally engaging lessons.
Course features
Professional accreditation

Professional practice placements

International students can apply
What you'll study
The course has four key elements. Academic study at Masters level is first. You'll gain essential professional and academic skills for teaching and analysing contemporary issues in primary education. Then you'll study a specialist interest area within primary physical education, developing expert knowledge of this.
Development of professional curriculum subject knowledge is second. Through this element, you'll gain essential insight for helping children progress with, and enjoy, their learning. You'll also learn creative approaches for teaching all subjects in the National Curriculum for England. Our tutors will help shape your classroom management confidence by running practical teaching workshops.
For the professional practice placement element, you'll spend a significant amount of time in schools experiencing life in the classroom and practicing your delivery of the key stages 1 and 2 curriculums. You'll keep working with your peers and tutors through online academic study. And you'll attend events (which could be at a weekend) and engage with international and historical views on primary physical education during the physical education conferences unit.
Contemporary Issues in Primary Education
Leading Development and Change in the Primary School (Physical Education Specialist)
Professional Practice 1 - PGCE Primary Education
Professional Practice 2 - PGCE Primary Education
How you'll study
Your learning experience will include lectures, seminars, workshop sessions and tutorials delivered using a hybrid blend of on-campus and online teaching. Independent study will be supported by materials provided through the virtual learning environment using a range of online teaching tools and applications. Your university-based experiences will be underpinned by reference to current research.
You will spend a significant amount of time undertaking professional practice placements, normally in key stages 1 and 2 in schools and other educational settings. During these experiences you will have opportunities to observe the work of expert practitioners. You will reflect on and discuss this practice with those practitioners and your trained school-based mentor. As you take on increasing responsibility for children's learning and development, you will start by working with small groups under the direction of the class teacher, sometimes with a student teacher partner, and progress to planning for and working with the whole class for significant periods of time, managing the learning of every child.
How you'll be assessed
Assessment strategies will include presentations to different audiences, academic essays individually tailored around your own professional interests, and ongoing task submission.
During professional practice your school-based mentor will assess your development through reflective conversations, reviewing and discussing your planning and assessment records, observing your teaching, and gathering the perspectives of other adults and, of course, of the children who work with you.
In all cases, you will be given clear assessment guidance. The assessment criteria will be shared with you and you will be given constructive feedback to help you to set targets and identify actions to help you make further progress.
You will compile an electronic portfolio that brings together evidence to demonstrate your professional development and your ability to meet the Teachers' Standards.
There are no formal written examinations as part of the current assessment methods on this programme.
Who will be teaching you
The Faculty of Education has been at the forefront of teacher education for 135 years and today enjoys the enviable position of being one of the country's leading providers of education, training and research for the children's workforce.
You will be taught in University and on professional practice in schools by a range of highly qualified and experienced teachers and tutors who are dedicated to excellence in primary education and who will model high quality practice to enable you to develop your own teaching style.
You will be supported throughout your programme by a Personal academic Tutor who will help you to manage your workload, engage with your academic studies, prepare for professional practice placements and secure your first teaching post.
Entry criteria
Entry requirements
When you apply, you are expected to have:
A commitment to, and understanding of, primary education in general and primary physical education in particular, demonstrating the personal attributes, values and motivation required to train as a teacher
Suitable presentational qualities, including a good standard of written English.
Before the programme commences, you should have:
A degree equivalent to UK first-class or second-class honours (2:2 or above). No specific subjects are required.
GCSEs at Grade C or Grade 4 or above (or equivalent) in English Language and Mathematics
GCSE at Grade C or Grade 4 or above (or equivalent) in Combined Science, Physics, Chemistry or Biology.
In addition, you will need A Level Physical Education (or equivalent) or be able to demonstrate a commitment to sport beyond the classroom, such as a recognised sports award or elite athlete status.
Please note, for the purposes of initial teacher training, level 2 literacy and numeracy qualifications are not considered as equivalent to GCSE Grade C or Grade 4 in English Language and Mathematics.
An academic reference is required for all students who have graduated in the last five years. An interview forms part of the selection process, which can be conducted online or face to face.
If you accept a formal offer from Edge Hill University you will be required to meet the Department for Education's standards for physical and mental fitness to teach and clearance to work with children. Further information, including a Declaration of Health questionnaire and details of how to apply for a Disclosure and Barring Service (DBS) Enhanced Disclosure will be sent to you after you have firmly accepted an offer.
English language requirements
International students require IELTS 6.5, with a score no lower than 6.0 in each individual component, or an equivalent English language qualification.
If your current level of English is half a band, one band, or one-and-a-half bands lower, either overall or in one or two elements, you may want to consider our Pre-Sessional English course.
How to apply
Should you accept an offer of a place to study with us and formally enrol as a student, you will be subject to the provisions of the regulations, rules, codes, conditions and policies which apply to our students. These are available at www.edgehill.ac.uk/studentterms.
Did you know?
If you join a full time undergraduate degree at Edge Hill University, we will guarantee you the offer of a room in our halls of residence for the first year of your course.
Discover our accommodation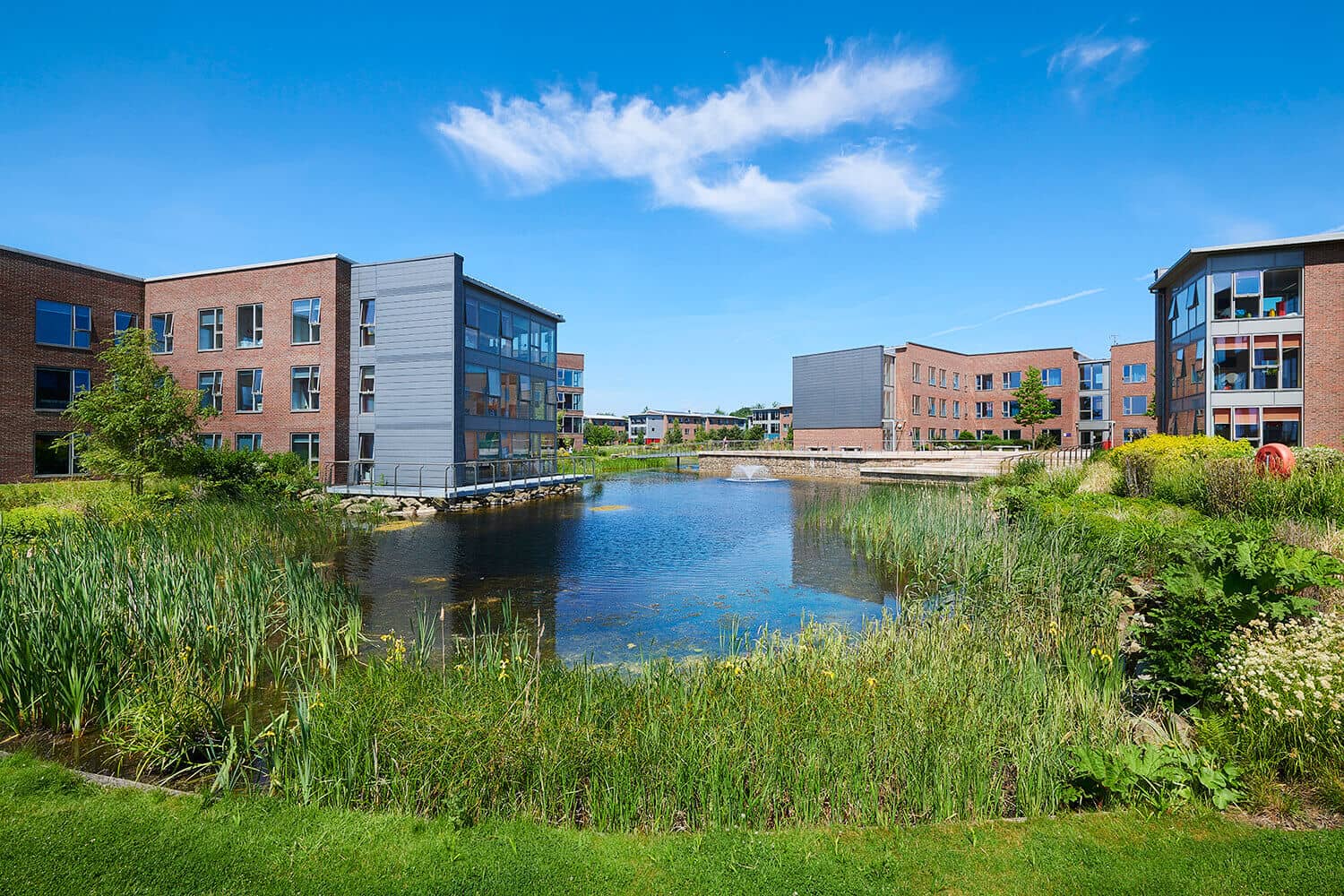 Facilities
Housed in a state-of-the-art £9million building, the Faculty of Education enjoys a stunning setting from both its lakeside and piazza buildings.
Facilities in the lakeside building include a 300-seat lecture theatre, five well-equipped ICT suites, and 18 teaching rooms complete with the latest technology. The lakeside building is also home to a popular vegan and vegetarian cafe where students can meet to socialise and discuss their studies.
The nearby piazza building offers modern facilities including a lecture theatre and a number of seminar rooms.
Where you'll study
Finance
Tuition fees
The University may administer a small inflationary rise in tuition fees, in line with Government policy, in subsequent academic years as you progress through the course.
EU/EEA and Swiss students who have settled or pre-settled status under the EU Settlement Scheme, as well as Irish nationals, may be eligible for the UK tuition fee rate.
Financial support
Applicants to Student Finance should apply for undergraduate funding and not a postgraduate loan. Subject to eligibility, UK students joining this course can apply for an additional Bursary from the government. Please see updated eligibility from the bursaries and scholarships page.
Subject to eligibility, UK students joining this course can apply for a Tuition Fee Loan from the Government to cover the full cost of tuition fees. UK students enrolling on the course may also be eligible to apply for additional maintenance loan funding to help with living costs. Please view the relevant Money Matters guide for comprehensive information about the financial support available to eligible UK students, together with details of how to apply for potential funding.
EU/EEA and Swiss students who have settled or pre-settled status under the EU Settlement Scheme may be eligible to apply for financial support. Irish nationals can ordinarily apply to Student Universal Support Ireland (SUSI). If you are an EU student who does not have settled or pre-settled status, or are an international student from a non-EU country, please see our international student finance pages.
Your future career
This PGCE is accredited by the Department for Education. Successful completion of the programme will enable you to gain recommendation for Qualified Teacher Status (QTS). You will be well placed to progress into employment as an early career teacher in a primary school.
You'll meet and exceed the national standards for Qualified Teacher Status, thanks to your specialist physical education expertise, primary curriculum knowledge and confidence in the classroom. Your enthusiasm for PE and the whole primary curriculum will inspire children across key stages 1 and 2. This may lead to you accepting a subject leadership role within a school.
You'll know how to reflect on your own professional progress and think critically about education sector developments. You'll complete a live exam called a VIVA at the end of the course, which your personal tutor will support you with. This is your opportunity to celebrate all you've achieved throughout the degree. You'll also take a professional portfolio out with you into your graduate career.
Course changes
Every effort has been made to ensure the accuracy of this information, however our courses are subject to ongoing review and development. Changing circumstances may necessitate alteration to, or the cancellation of, courses.
Changes may be necessary to comply with the requirements of professional bodies, revisions to subject benchmarks statements, to keep courses updated and contemporary, or as a result of student feedback. We reserve the right to make variations if we consider such action to be necessary or in the best interests of students.
Track changes to this course
Download our course leaflet