Primary Early Years Education with QTS
PGCE
GOV.UK code: X124
Discover how to ignite pupils' curiosity and foster their enthusiasm for learning on this degree. You'll specialise in training to teach children 3-7 years and gain recommendation for Qualified Teacher Status.
Closed to applications for September 2023. This course will not be running at Holy Cross College in September 2023.
Overview
Successful completion of the programme leads to recommendation for Qualified Teacher Status (QTS).
This early years teaching degree covers the essential skills and knowledge you'll need for teaching children aged 3-7. This includes primary schools, nurseries and children's centres.
We'll provide you with training for covering the entire early years foundation stage and key stage one. You'll also spend time in schools learning how to teach and you'll learn how to help primary age children to flourish. You can study this course at our Ormskirk campus, or at Holy Cross College & University Centre in Bury. International students can apply to study at Edge Hill University's Ormskirk campus only.
When you finish the course, you'll have the confidence and competence to take up your first teaching post. You'll know the latest teaching strategies inside out, and have the experience to engage young children.
Course features
Professional accreditation

Professional practice placements

International students can apply
What you'll study
There are three key parts to the course. The first is Personal and Professional Attitudes, Values and Beliefs. You'll learn to take charge of, and reflect on, your own progress as a trainee teacher. And consider what your professional attitudes, values and beliefs are when it comes to your learning journey and the education profession.
The second element is Subject and Curriculum Knowledge. This covers the national curriculum at key stage one for every subject, showing you how to plan, teach, and assess primary age pupils. You'll learn about the early years foundation stage and learning and development areas within this too.
Finally, there's the Craft of Teaching and Pedagogy. You'll complete a small research project and discover the important theories behind early years education. Discovering the ways children learn and how their needs differ, you'll come up with strategies for planning, teaching, assessing, and managing classrooms.
Being a Teacher-Researcher
Contemporary Debates in Early Childhood Education
How you'll study
A combination of academic study, group discussion and reflection, practical and work-based learning in the classroom will give you the knowledge and skills you need to become an excellent teacher. You will be supported by online and distance learning materials and encouraged to develop key skills, including the use of ICT, to support your own learning.
The course involves a significant amount of time in schools and settings. You will complete a series of placements in early years foundation stage classrooms (age range 3-5 years) and key stage 1 classrooms (age range 5-7 years). Here, you will work alongside mentors and peers to further your professional development.
In schools and early years settings you will undertake a range of differentiated training experiences which will be closely linked to your individual targets. Your teaching timetable will increase in relation to responsibility, as your training progresses and you become more confident and competent in the classroom. You will progressively assume the responsibility for the children and their achievement and progress, involving excellence in teaching, learning and assessment.
How you'll be assessed
A balanced combination of coursework and observed classroom experience will be assessed against the professional standards for QTS.
Before the end of your PGCE you will need to complete a professional portfolio which acts as a useful bridge between your initial teacher training programme and your two-year induction as an early career teacher.
Who will be teaching you
The Faculty of Education has been at the forefront of teacher education for 135 years and today enjoys the enviable position of being one of the country's leading providers of education, training and research for the children's workforce.
The teaching team delivering this programme has a wide range of experience and expertise as early years practitioners, local authority advisers, teachers in school and university tutors. They are committed to being at the forefront of developments and research within early years education.
Entry criteria
Entry requirements
When you apply, you are expected to have:
A commitment to, and understanding of, early years education, demonstrating the personal attributes, values and motivation required to train as a teacher
Suitable presentational qualities, including a good standard of written English.
Before the programme commences, you should have:
A degree equivalent to UK first-class or second-class honours (2:2 or above). No specific subjects are required.
GCSE English Language and GCSE Mathematics at Grade C or Grade 4 or above (or equivalent)
GCSE in combined Science (dual or single award) or in Physics, Chemistry or Biology at Grade C or Grade 4 or above (or equivalent). Please note, subjects that cover a narrower range of the National Curriculum, such as Human Biology or Environmental Science, are not acceptable.
An interview forms part of the selection process, which can be conducted online or face to face.
Please note, for the purposes of initial teacher training, level 2 literacy and numeracy qualifications are not considered as equivalent to GCSE Grade C or Grade 4 in English Language and Mathematics.
If you accept a formal offer from Edge Hill University you will be required to meet the Department for Education's standards for physical and mental fitness to teach and clearance to work with children. Further information, including a Declaration of Health questionnaire and details of how to apply for a Disclosure and Barring Service (DBS) Enhanced Disclosure will be sent to you after you have firmly accepted an offer.
English language requirements
International students require IELTS 6.5, with a score no lower than 6.0 in each individual component, or an equivalent English language qualification.
If your current level of English is half a band, one band, or one-and-a-half bands lower, either overall or in one or two elements, you may want to consider our Pre-Sessional English course.
How to apply
Should you accept an offer of a place to study with us and formally enrol as a student, you will be subject to the provisions of the regulations, rules, codes, conditions and policies which apply to our students. These are available at www.edgehill.ac.uk/studentterms.
Did you know?
If you join a full time undergraduate degree at Edge Hill University, we will guarantee you the offer of a room in our halls of residence for the first year of your course.
Discover our accommodation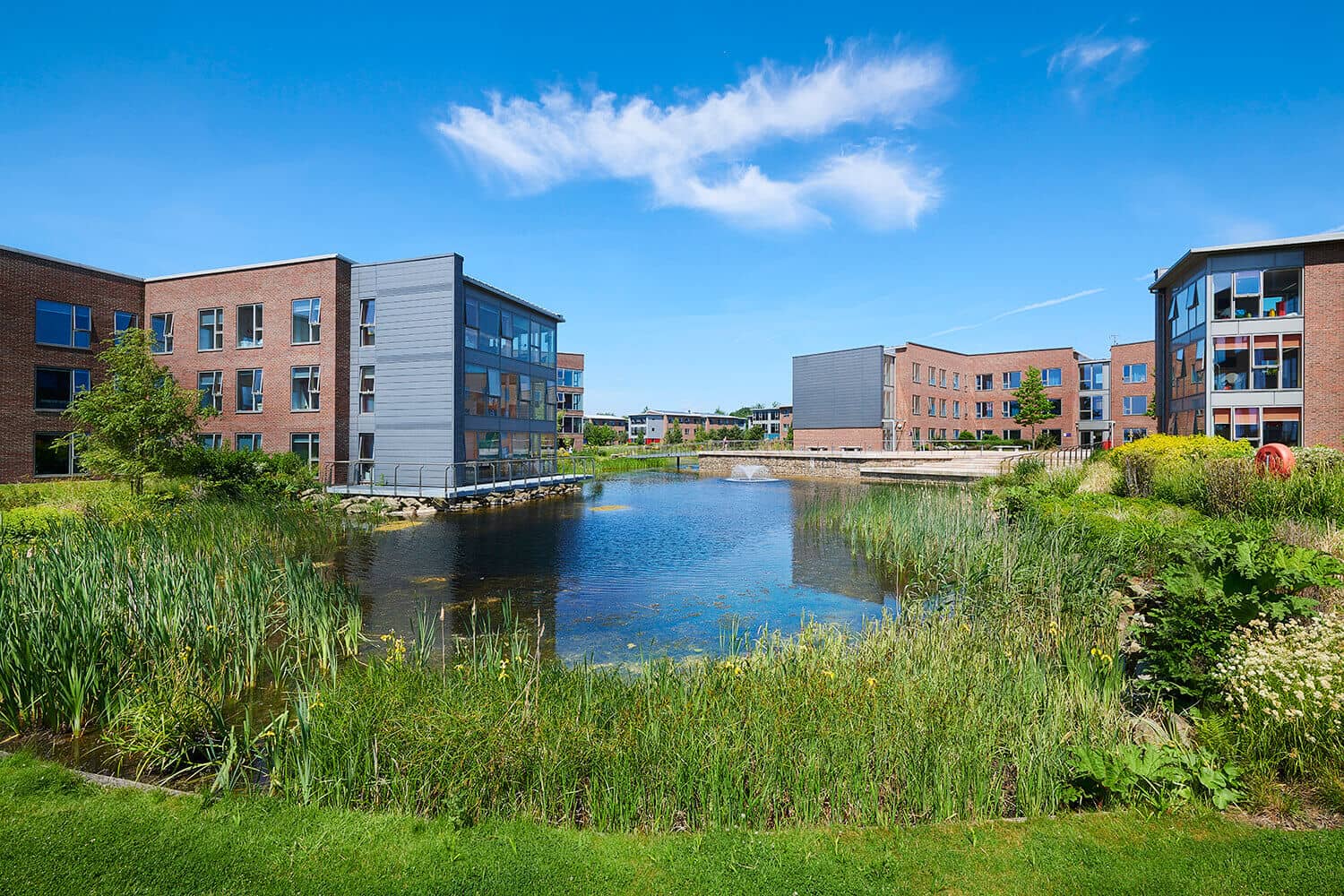 Facilities
Housed in a state-of-the-art £9million building, the Faculty of Education at Edge Hill University enjoys a stunning setting from both its lakeside and piazza buildings.
Facilities in the lakeside building include a 300-seat lecture theatre, five well-equipped ICT suites, and 18 teaching rooms complete with the latest technology. The lakeside building is also home to a popular vegan and vegetarian cafe where students can meet to socialise and discuss their studies.
The nearby piazza building offers modern facilities including a lecture theatre and a number of seminar rooms.
Alternatively, you can choose to study at Holy Cross College and University Centre in Bury. You'll be taught by Edge Hill lecturers and staff, and have access to a range of modern facilities, including recent building upgrades and refurbishments. There's a range of study spaces and a coffee shop where you can relax before lectures. Holy Cross is especially proud of their library, IT facilities, modern classrooms and meeting rooms in the Mary Kelly building where the face-to-face sessions will take place.
Where you'll study
Finance
Tuition fees
The UK tuition fee rate is subject to final Government approval for academic year 2023/24 entry.
EU/EEA and Swiss students who have settled or pre-settled status under the EU Settlement Scheme, as well as Irish nationals, may be eligible for the UK tuition fee rate.
Financial support
Applicants to Student Finance should apply for undergraduate funding and not a postgraduate loan. Subject to eligibility, UK students joining this course can apply for an additional Bursary from the government. Please see updated eligibility from the bursaries and scholarships page.
Subject to eligibility, UK students joining this course can apply for a Tuition Fee Loan from the Government to cover the full cost of tuition fees. UK students enrolling on the course may also be eligible to apply for additional maintenance loan funding to help with living costs. Please view the relevant Money Matters guide for comprehensive information about the financial support available to eligible UK students, together with details of how to apply for potential funding.
EU/EEA and Swiss students who have settled or pre-settled status under the EU Settlement Scheme may be eligible to apply for financial support. Irish nationals can ordinarily apply to Student Universal Support Ireland (SUSI). If you are an EU student who does not have settled or pre-settled status, or are an international student from a non-EU country, please see our international student finance pages.
Your future career
This PGCE is accredited by the Department for Education. Successful completion of the programme will enable you to gain recommendation for Qualified Teacher Status (QTS). You will be well placed to progress into employment as an Early Career Teacher in early years and primary settings.
Graduates work in schools across the UK and abroad. You'll have the essential skills for teaching in primary schools and early years settings, and have excellent knowledge of primary education and great classroom skills. You'll meet and exceed the national standards for Qualified Teacher Status.
You'll know how to teach the early years foundation stage curriculum in creative ways, stimulating children and encouraging them to feel excited about learning new things. And you'll know how to keep track of your own personal development, and keep a critical and analytical eye on education sector developments and policy changes.
Download our course leaflet