Physician Associate Studies
MSc
UCAS code: BB90
Ready to become a physician associate? Want to help with the diagnosis, management and care of patients? Undertake clinical training so you can work across the full range of medical specialities. Study with us and get started.
Overview
Eager to work in the field of medicine? Want to make a difference in an emerging healthcare role? Keen to learn through a combination of teaching and practical placements? Training to become a physician associate at Edge Hill University could be for you.
In our physician associate studies course, you'll discover everything you need to know about providing patient care under the supervision of a doctor. Learn how to interview and examine patients. Conduct clinical examinations. Order and interpret diagnostic tests. Make decisions about patient management and therapy.
The past ten years has seen a growing demand for newly-qualified physician associates within the NHS – in acute, primary care and mental health services. You'll graduate as a flexible and adaptable practitioner, eligible to sit the national exam, set by the Faculty of Physician Associates (FPA). You must pass this exam before you can apply for provisional professional registration.
Please note, regulation of physician associates by the General Medical Council is expected by 2024. Some requirements are therefore under review.
Course features
Professional practice placements
The clinical placements that the degree offers really helps build employability skills. You will gain many desired employment skills and importantly learn how to work as part of a multi-disciplinary team.
Eleanor Kidd
MSc Physician Associate Studies
View student profile
What you'll study
Our MSc Physician Associate Studies covers five central themes that are vital to this field.
The five central themes are:
Evidence-based medicine – analyse different research strategies and methodologies for conducting research. You'll learn how to carry out a literature review, and study the planning, implementation and reporting of research activity.
Professional behaviours and capabilities – focus on the professional identity, ethics and values essential for the job. You'll cover a range of subjects, including role development, teamwork, leadership, protected characteristics, and supporting vulnerable groups.
Clinical sciences – explore the underpinning scientific theory for the presentation of common diseases. You'll look at the bioscience behind investigative techniques and management principles, including anatomy, physiology, immunology and pharmacology.
Clinical care – discover day-to-day aspects of contemporary clinical practice. From managing clinical data to human factors in clinical decision-making. Diagnostic errors and patient safety to clinical governance, public health and critical reflection.
Preparation for practice – comprehensive first-hand experience of clinical history taking and examination will prepare you for delivering care and treatment. You'll learn how to conduct and interpret a differential diagnosis, prescribe medication, and action patient management plans. We'll also hone your decision-making, communication and record keeping skills.
You'll continue to build on these foundations throughout with critical clinical application and practice. Increasingly complex medical conditions and different areas of specialty are introduced to put the role in its multidisciplinary context.
How you'll study
The varied approach includes face to face lectures, tutorials, practical sessions and online materials. You will enhance your skills to develop higher level critical thinking, clinical reasoning, reflection and writing consistent with postgraduate study.
Academic study comprises just under 50% of the course, with the remainder spent on clinical placements. There are normally 22 weeks of academic teaching each year, with a further 24 weeks per year spent on clinical placements.
You will complete a total of 1,725 hours on clinical placements in hospital and community settings. This will provide you with invaluable experience of specialities including general hospital, emergency medicine, general practice, mental health, paediatrics, surgery, obstetrics and gynaecology.
All placements will be arranged for you by the University and aligned to competencies determined by the General Medical Council. You will be responsible for equipment costs such as stethoscopes and for travel and parking costs while on placement.
How you'll be assessed
You will be assessed through a combination of written tests, objective structured clinical examinations, presentations, essays and case reports. You will also compile a portfolio to demonstrate your professionalism and achievement of competence.
Who will be teaching you
The programme team comprises expert staff including highly experienced clinicians in areas such as intensive care, coronary care, mental health and primary care.
You will also be taught by associate tutors from primary and secondary care and senior healthcare management.
While on placement you will be supported by an educational supervisor (either a consultant or general practitioner depending on the setting) as well as clinical supervisors and the wider multi-disciplinary team.
Entry criteria
Entry requirements
You should have a degree equivalent to UK first-class or second-class honours (2:1 or above) in a bioscience or health related subject. You must be able to evidence studying significant human bioscience content either in this degree or at Masters level. You should also have GCSE English Language and GCSE Mathematics at Grade C or Grade 4 or above (or equivalent).
Applicants with a 2:2 honours degree in a bioscience or health related subject may be considered, subject to having at least two years of clinical experience, within the last five years, at the time of application.
Applicants with a relevant Masters degree but not a relevant undergraduate degree may also be considered and are encouraged to get in touch before applying.
If you do not meet the degree requirements but have relevant experience, you are welcome to contact us to discuss your suitability for the course.
An interview forms part of the selection process. Degree classification, relevance and/or health care experience may be used to prioritise applications for interview.
If you accept an offer from Edge Hill you will need to submit a Declaration of Health in respect of physical and mental fitness and will be required to apply for a Disclosure and Barring Service (DBS) Enhanced Disclosure indicating that you meet the mandatory criteria of 'Clearance to Work with Children and/or Vulnerable Adults'. Further information will be sent to you after you have firmly accepted an offer.
English language requirements
If English is not your first language, you will require IELTS 7.5, with a score no lower than 7.0 in each individual component, in line with General Medical Council requirements. This must be achieved prior to your application.
How to apply
International
EU/EEA and Swiss students who have settled or pre-settled status under the EU Settlement Scheme, as well as Irish nationals, are eligible to apply for this course.
Unfortunately this course is not available to other international students. Please see our A-Z of courses for alternative options.
Should you accept an offer of a place to study with us and formally enrol as a student, you will be subject to the provisions of the regulations, rules, codes, conditions and policies which apply to our students. These are available at www.edgehill.ac.uk/studentterms.
Did you know?
If you join a full time undergraduate degree at Edge Hill University, we will guarantee you the offer of a room in our halls of residence for the first year of your course.
Discover our accommodation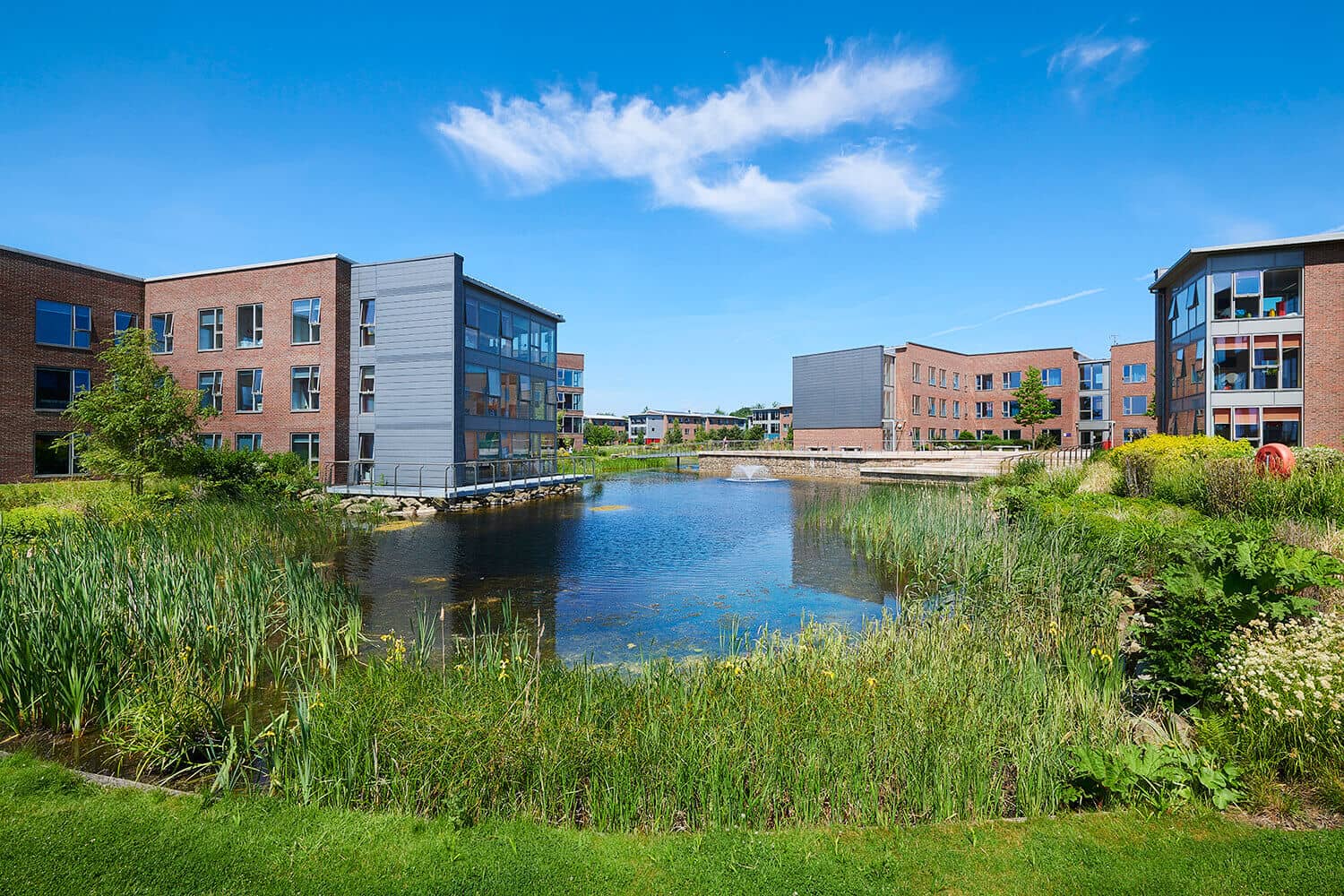 Facilities
The Faculty of Health, Social Care and Medicine offers outstanding facilities for the education and training of health and social care professionals.
The contemporary teaching and learning resources include leading edge clinical skills facilities, an 860-seat lecture theatre, and a variety of teaching rooms and social learning spaces.
Where you'll study
Clinical Skills and Simulation Centre
Faculty of Health, Social Care and Medicine
Learning resources
The Clinical Skills and Simulation Centre offers a variety of simulated environments from home, through primary and emergency care, to secondary care and beyond. The flexible and adaptable facilities include a ward environment, operating theatre, an anatomy and ultrasound resource centre, a 'Better at Home' suite, clinical skills area and consultation rooms.
You will benefit from access to a wide variety of healthcare equipment, as well as a range of full-body patient simulators that can breathe, talk, have pulses and can simulate a wide range of symptoms and clinical conditions. This will enable you to undertake practical scenarios in realistic settings, providing ideal preparation for professional practice placements and future employment.
Finance
Tuition fees
The University may administer a small inflationary rise in tuition fees, in line with Government policy, in subsequent academic years as you progress through the course.
EU/EEA and Swiss students who have settled or pre-settled status under the EU Settlement Scheme, as well as Irish nationals, may be eligible for the UK tuition fee rate.
Financial support
Subject to eligibility, UK students joining this course can apply for a postgraduate loan from the government to cover some of the cost of tuition fees. This does not cover the full tuition fee or any personal living costs.
Please view the relevant Money Matters guide for comprehensive information about the financial support available to eligible UK students. As an MSc Physician Associate Studies student, you can currently expect to receive a contribution of £2,550 a year from NHS England to assist with travel costs to your clinical placements. There is no application process. Payment will be administered by the University and eligible students can expect to receive confirmation of scheduled payment dates during enrolment. Please note that this is not guaranteed, and is dependent on NHS England's regulations.
EU/EEA and Swiss students who have settled or pre-settled status under the EU Settlement Scheme may be eligible to apply for financial support. Irish nationals can ordinarily apply to Student Universal Support Ireland (SUSI). Please see our EU student finance page for further details.
Your future career
To be employed as a physician associate, graduates must take the national exam set by the Faculty of Physician Associates (FPA). You can find out more information, including current exam fees, on the FPA website.
Once you've passed the exam, you will be eligible for provisional professional registration and can apply to be listed on the Managed Voluntary Register (MVR) hosted by the FPA. Clinical trusts are recommended to hire from the register, so it's strongly advised that you apply to be listed.
After taking these steps, you can go on to work as a physician associate in:
general hospitals
emergency medicine
mental health
surgery
primary care
Course changes
Every effort has been made to ensure the accuracy of this information, however our courses are subject to ongoing review and development. Changing circumstances may necessitate alteration to, or the cancellation of, courses.
Changes may be necessary to comply with the requirements of professional bodies, revisions to subject benchmarks statements, to keep courses updated and contemporary, or as a result of student feedback. We reserve the right to make variations if we consider such action to be necessary or in the best interests of students.
Track changes to this course
Download our course leaflet