SQE/Legal Practice
LLM
Gain the skills and knowledge necessary to sit the Solicitors' Qualification Exams (SQE) to practise as a solicitor in England and Wales. Develop a comprehensive knowledge of legal rules and practice with this high-level Masters qualification.
Closed to applications for September 2023.
Overview
LLM SQE/Legal Practice is designed to provide you with the skills and knowledge necessary to sit the Solicitors Qualification Exam (SQE1), as well as providing the opportunity for you to obtain an LLM in law. The qualification route to becoming a solicitor changed in 2022 and those wishing to enter the profession must now sit two sets of SQE examinations.
This course will prepare you for life in the legal profession and enhance your employment opportunities. If you are already working in the legal sector, the qualification will enhance your employment prospects and support your performance in your current role.
You will be equipped with the foundational knowledge that is required of a newly qualified solicitor to sit the first of the Solicitors Qualifying examinations (SQE1) as well as introducing you to the requirements of SQE2. You will study a mixture of practice-based and academic subjects delivered in partnership with BARBRI, an award-winning provider of professional legal education. In conjunction with BARBRI, you will explore core areas of functional legal knowledge and and learn how to apply this knowledge to the SQE 1 examination.
You will develop a high-level understanding and critical awareness of current problems in law. You will gradate with a range of transferable legal and personal skills including communication (oral and written), research, critical analysis, time management, teamwork, and applied problem solving.
Course features
Work placement opportunity
What you'll study
On our LLM SQE/Legal Practice you will understand, evaluate and apply the law in relation to hypothetical legal practice-based scenarios. You will gain an ability to critically evaluate how the regulatory regime for solicitors in England and Wales operates.
Broaden your skills for legal practise and enhance your ability to undertake extensive legal research, advanced legal reasoning, problem solving, and legal analysis skills.
You can focus on specific areas of law that interest you such as digital and cyber financial crime or digital platforms and competition law.
Functioning Legal Knowledge 1
Functioning Legal Knowledge 2
Skills for Legal Practice
Blockchain, Crypto and Digital Technology
Cyber Crime - Detection, Investigation and Enforcement
Digital and Cyber Financial Crime
Digital Platforms and Competition Law
Regulating Intellectual Property Law in Cyber Space
Optional modules provide an element of choice within the course curriculum. The availability of optional modules may vary from year to year and will be subject to minimum student numbers being achieved. This means that the availability of specific optional modules cannot be guaranteed. Optional module selection may also be affected by timetabling requirements. Some restrictions on optional module choice or combinations of optional modules may apply.
How you'll study
This course is designed in a way which allows flexible learning to adapt to your personal circumstances. Face-to-face tuition will occur at Edge Hill every two weeks. BARBRI-delivered content is delivered online asynchronously (not in real time), allowing you to study at a convenient time for you. BARBRI also offer frequent catch-up and consolidation sessions throughout the course.
We want you to feel supported, which is why the tutors at BARBRI will be on hand to guide you in your preparations for your SQE 1 exams You will be able to request 1:1 meetings, exam skill workshops and group strategy sessions with other students to help you in your exam success. You will also be allocated a Personal Tutor at Edge Hill who can offer general support relating to your course.
How you'll be assessed
The methods of assessment for all taught face-to-face modules will consist of coursework, through the submission of essays, a report and a research proposal. We will also prepare you to sit and pass the SQE examinations, through the BARBRI simulated Solicitors' Qualification Exams, which mimic the 'real life' SQE examinations.
Who will be teaching you
You will be taught by a combination of highly skilled Edge Hill University staff members and trained legal professionals at BARBRI. The academic team are actively engaged in research, meaning all material being delivered is current and informed by the latest best practice in the profession.
Entry criteria
Entry requirements
To join this programme, you will be expected to have:
A degree equivalent to a UK first-class or second-class honours (2:2 or above), in any discipline.
Relevant professional experience will also be considered.
English language requirements
International students require IELTS 6.5, with a score no lower than 6.0 in each individual component, or an equivalent English language qualification.
If your current level of English is half a band, one band, or one-and-a-half bands lower, either overall or in one or two elements, you may want to consider our Pre-Sessional English course.
How to apply
This course has an online application process. Applications for September 2024 have not yet opened.
Should you accept an offer of a place to study with us and formally enrol as a student, you will be subject to the provisions of the regulations, rules, codes, conditions and policies which apply to our students. These are available at www.edgehill.ac.uk/studentterms.
Did you know?
If you join a full time undergraduate degree at Edge Hill University, we will guarantee you the offer of a room in our halls of residence for the first year of your course.
Discover our accommodation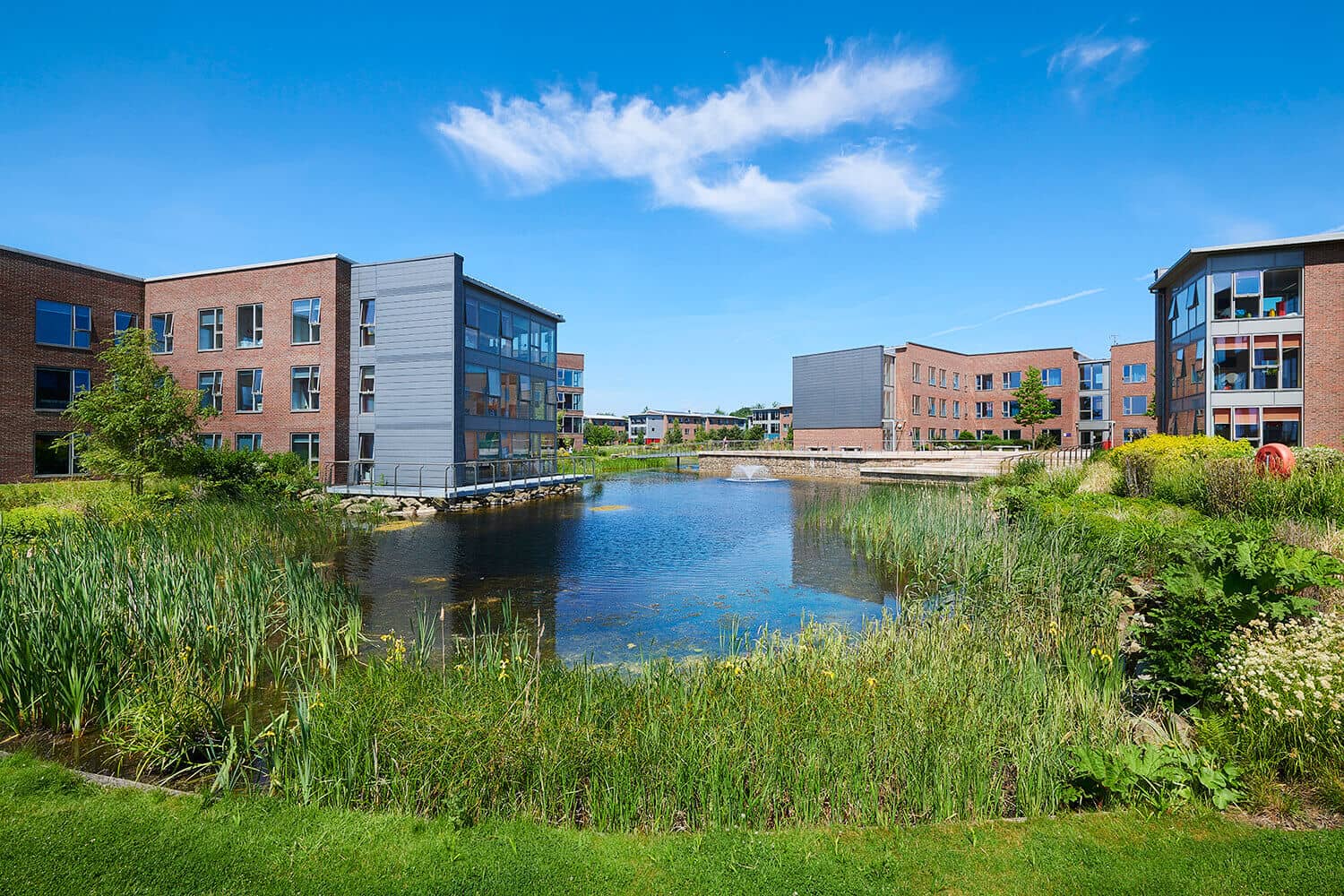 Facilities
The £6million Law and Psychology building provides contemporary teaching and learning facilities for students in the School of Law, Criminology and Policing and the
Department of Psychology.
The three-storey building includes a 250-seat lecture theatre, seminar and tutorial rooms, and social learning areas which encourage a more informal and interactive style of learning. Elsewhere on campus, there is a mooting room (a mock courtroom) and Police Training and Simulation Facility.
Where you'll study
Finance
Tuition fees
EU/EEA and Swiss students who have settled or pre-settled status under the EU Settlement Scheme, as well as Irish nationals, may be eligible for the UK tuition fee rate.
Financial support
Please view the relevant Money Matters guide for comprehensive information about the financial support available to eligible UK students joining postgraduate courses at Edge Hill University.
Please see our international student finance pages for financial support information for international students.
EU/EEA and Swiss students who have settled or pre-settled status under the EU Settlement Scheme may be eligible to apply for financial support. Irish nationals can ordinarily apply to Student Universal Support Ireland (SUSI). Please see our EU student finance page for further details.
Your future career
This course will prepare you to sit the first of the Solicitors Qualifying Examinations, which is the first stage of qualifying as a solicitor. SQE1 qualifications are required for those who want to practise as a solicitor in England and Wales and this course will ensure you acquire the skills necessary to sit the SQE1 examinations.
You will develop your overall knowledge and understanding of the SQE1 assessments. You'll graduate with a set of transferable legal and personal skills, including effective learning, critical thinking, information retrieval and selection, applied problem solving, communication, and presentation.
LLM SQE/Legal Practice can also be used to support your transition into other professional services and is a route to a range of career opportunities in the legal sector such as a trainee solicitor, paralegal, legal executive or other legal professional.
Other graduates from this course may choose an academic path. You could go into specialist legal research or study for a PhD.
Course changes
Every effort has been made to ensure the accuracy of this information, however our courses are subject to ongoing review and development. Changing circumstances may necessitate alteration to, or the cancellation of, courses.
Changes may be necessary to comply with the requirements of professional bodies, revisions to subject benchmarks statements, to keep courses updated and contemporary, or as a result of student feedback. We reserve the right to make variations if we consider such action to be necessary or in the best interests of students.
Track changes to this course
Download our course leaflet