iQTS (Primary 3-11)
PGCE
Are you are a practising or aspiring primary education teacher working outside of England? Turn your passion into a career with a globally transferable teaching qualification that will allow you to teach all over the world.
Closed to applications for September 2023.
Overview
International qualified teacher status (iQTS) is backed by the UK government and taught by approved English teacher training providers such as Edge Hill University. You will be supported to teach all subjects in the Primary curriculum. iQTS meets the same high standards as English qualified teacher status (QTS).
With Edge Hill's iQTS you can train via remote technology at a placement school in your region with no need to visit the UK.
You will gain the skills, experience and knowledge you need to be an excellent primary education teacher and will develop academic skills of criticality and research literacy that are transferable to further postgraduate study.
Complete your training with a gold standard teaching qualification and all the skills, experience and knowledge you need to be an excellent teacher
Training is provided by remote technology, giving you the flexibility to train where you live and work.
Course features
Professional practice placements

Professional accreditation

International students can apply
What you'll study
You will learn through professional practice in your placement school and study the principles of learning and curriculum design at postgraduate level. The course will also provide you with a thorough grounding in the academic principles of evidence-based practice.
This course is split into three modules designed to develop your knowledge and understanding of the steps needed to be awarded international qualified teacher status (iQTS). You will train to teach in the school in which you are employed, or another placement school you have identified in your local region.
The ITE Curriculum and Practice module is split across three phases – introductory, developmental and consolidation. We'll support you at each stage to ensure you progress through the curriculum milestones.
Your two credit bearing modules will help you to apply your knowledge and understanding of the theories of learning, curriculum design and adaptive teaching. You'll learn how to adapt your curriculum to meet the needs of all learners, through online discussions with your tutor and peers, and the use of your own independent reading.
Evidence-Informed Practice (International)
ITE Curriculum and Practice (iQTS) – Primary
Principles of Learning and Curriculum Design (International)
How you'll study
Scheduled online teaching by Edge Hill University tutors will take place on one half-day per week. All teaching sessions will be delivered online, through a combination of webinars and group and individual tutorials. You will also learn through completing planned independent reading and study tasks.
Our Virtual Learning Environment will allow you to critically engage with the central course texts. You will have the opportunity to discuss these in your teaching sessions, alongside regular feedback from your tutors to support you with the final module assessment.
This course consists of full-time attendance in your work placement. We'll support you with managing your workload, and we'll make sure that you have the tools in place to achieve your potential and meet the Teachers' standards.
How you'll be assessed
We will guide you through your coursework submissions, which includes written assignments and portfolios of evidence.
During your final school placement, you will complete an online reflection discussing how your experience has enabled you to meet the iQTS teachers' standards. You'll also complete a rationale of the design of a sequence of lessons, demonstrating critical awareness of the ways of knowing a particular subject area and the appropriate learning and teaching theories.
Who will be teaching you
The Faculty of Education has been at the forefront of teacher education for over 135 years and today enjoys the enviable position of being one of the country's leading providers of education, training and research for the children's workforce.
You will be guided by a mentor within your school, who will be trained and supported by Edge Hill University.
Your credit-bearing modules will be taught by a team of research-driven, highly experienced teachers including specialisms in your age phase.
Entry criteria
Entry requirements
Applicants must not be resident or employed in England for the duration of this programme.
When you apply, you are expected to have:
A commitment to, and understanding of, primary or early years education, demonstrating the personal attributes, values and motivation required to train as a teacher
UK or equivalent Bachelors degree (first or second class honours) from non-UK university or institution (UK ENIC)
GCSE English Language (or local equivalent qualification) and Mathematics at Grade C or Grade 4 or above (or equivalent qualification)
GCSE Science at Grade C or Grade 4 or above (or equivalent)
Sufficient levels of Information and Communications Technology competence and access to appropriate technology to engage with teaching and course materials e.g. virtual learning environment, email, video conferencing software
Capability in written English
An online interview determining suitability to teach is a necessary part of the selection process.
Prior to interview, candidates must provide:
A placement confirmation form, signed by a suitable representative of their placement setting, and including mentor CV in the required template
A completed subject knowledge audit form
Candidates will also need to prepare a short presentation for interview
Offers will be subject to satisfactory Quality Assurance of the placement setting by the iQTS admissions tutor.
Once an offer has been made:
Applicants will also be required to meet the Department for Education's standards for physical and mental fitness to teach
An appropriate safeguarding check must be provided from from the country of residence
Applicants who have lived or worked in the UK at any time will need to provide an International Child Protection Certificate as a condition of acceptance.
English language requirements
International students require IELTS 6.5, with a score no lower than 6.0 in each individual component, or an equivalent English language qualification.
If your current level of English is half a band, one band, or one-and-a-half bands lower, either overall or in one or two elements, you may want to consider our Pre-Sessional English course.
How to apply
Should you accept an offer of a place to study with us and formally enrol as a student, you will be subject to the provisions of the regulations, rules, codes, conditions and policies which apply to our students. These are available at www.edgehill.ac.uk/studentterms.
Did you know?
If you join a full time undergraduate degree at Edge Hill University, we will guarantee you the offer of a room in our halls of residence for the first year of your course.
Discover our accommodation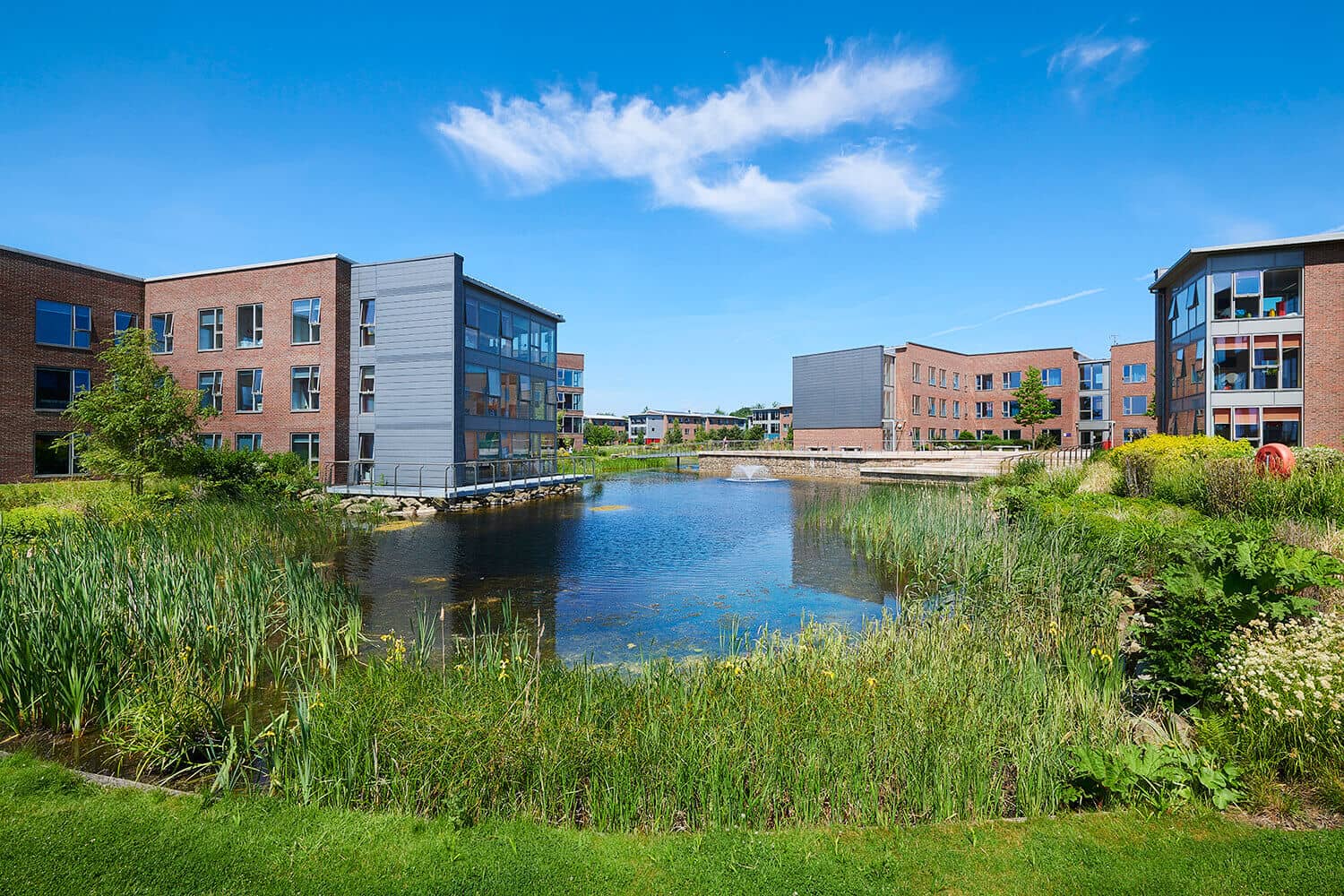 Finance
Tuition fees
Part time fees for this course for 2023/24 are still to be confirmed. This page will be updated as soon as this information is available.
Your future career
iQTS is internationally focused and well-regarded as a teacher qualification around the world. Open the door to future job opportunities in primary teaching anywhere in the world using the skills you gain with this internationally focused qualification.
You'll complete your training with a gold standard teaching qualification and all the skills, experience and knowledge you need to be an excellent teacher.
If you want to teach in England following successful completion of your iQTS course, you will be eligible to apply for English qualified teacher status (QTS)* without any additional fees or training required.
*You will also need the right visa or immigration status, and to pass an employer's criminal and professional safeguarding checks.
Edge Hill's PGCE qualification includes 60 Masters Level credits that can be transferred into a suitable Masters degree. If you complete the PGCE component of this course at Masters level, you may also wish to continue Masters level study on an appropriate Masters programme in education.
Download our course leaflet