Early Years Education
BA (Hons)
Enhance your knowledge of early years education for children from birth to five years as you analyse current approaches, examine how to meet children's individual needs, and explore the role of play.
Closed to international applications for September 2023.
Overview
This is a Level 6 conversion programme, giving you the opportunity to progress from a foundation degree (or equivalent) to an honours degree in a relevant subject.
The programme is primarily aimed at students progressing from the FdA Early Years Education and Leadership programme, although progression from other related foundation degrees may be possible. Focusing on the study of early years education frameworks within a range of local, national and international contexts, you will develop the knowledge and skills required to become an excellent practitioner within your setting and beyond, while also boosting your personal and professional career development.
The course is mapped to Early Childhood Graduate Practitioner Competencies and meets the full and relevant DfE criteria to be counted in the staff:child ratios of the Statutory Framework for the Early Years Foundation Stage.
What you'll study
This course will challenge your assumptions about children's learning and development. You will be encouraged to reflect on perceptions of what young children should be taught and how they should learn. You will explore the role of play in children's learning and examine the development of play-based provision in early years settings.
Adopting a critical perspective on early years education, you will discover the key theories and underpinning issues in the education of babies and young children and gain an insight into how to work collaboratively with parents, families and communities.
You will also undertake a small-scale research project where you will identify and investigate an aspect of early years education to explore in-depth.
Critical Perspective on the Early Years Education
Developing Play-Based Provision in the Early Years Settings
Teaching in the Early Years
Working Collaboratively to Meet Each Child's Individual Needs
How you'll study
Following an initial on-campus induction, you will engage in online face-to-face sessions with your tutors one afternoon per week. You will also be invited to attend on-campus sessions 5-6 times per year at the beginning of each module. Along with face-to-face sessions, you will be asked to complete directed tasks and carry out independent research.
Supported learning using the internet and Edge Hill University's online resources is a major feature of the programme. No prior IT experience is necessary, as full support will be provided.
How you'll be assessed
You will be assessed in each module that you study. This may take the form of an assignment, portfolio, presentation or a combination of these methods.
There are no formal written examinations as part of the current assessment methods on this programme.
Who will be teaching you
You will be taught by a team of lecturers and associate tutors with extensive expertise and experience and a passion for their subject. All the team are involved in current research and have actively contributed to the development of the Early Years Foundation Stage, as well as various research projects at national and international levels.
Entry criteria
Entry requirements
You need to have completed a foundation degree in Early Years Education and Leadership or a related subject. If you have an equivalent qualification, please check to ensure this is acceptable. It is desirable to be in a leadership role within your setting.
How to apply
There is an online application process for this course.
Please choose the application form for your preferred intake date and mode of study.
Should you accept an offer of a place to study with us and formally enrol as a student, you will be subject to the provisions of the regulations, rules, codes, conditions and policies which apply to our students. These are available at www.edgehill.ac.uk/studentterms.
Did you know?
If you join a full time undergraduate degree at Edge Hill University, we will guarantee you the offer of a room in our halls of residence for the first year of your course.
Discover our accommodation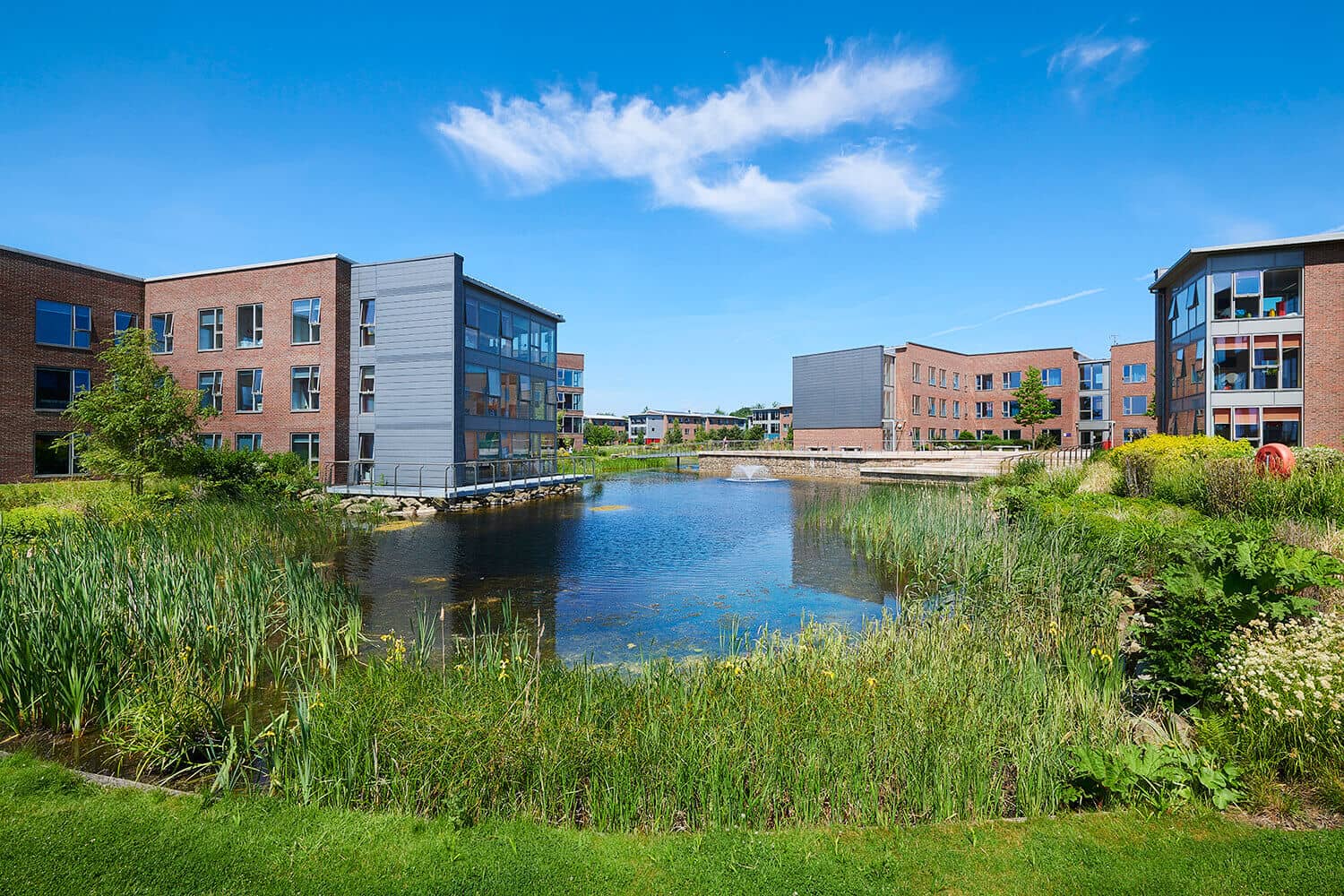 Facilities
Housed in a state-of-the-art £9million building, the Faculty of Education at Edge Hill University enjoys a stunning setting from both its lakeside and piazza buildings.
Facilities in the lakeside building include a 300-seat lecture theatre, five well-equipped ICT suites, and 18 teaching rooms complete with the latest technology. The lakeside building is also home to a popular vegan and vegetarian cafe where students can meet to socialise and discuss their studies.
The nearby piazza building offers modern facilities including a lecture theatre and a number of seminar rooms.
Alternatively, you can choose to study at Holy Cross College and University Centre in Bury. You'll be taught by Edge Hill lecturers and staff, and have access to a range of modern facilities, including recent building upgrades and refurbishments. There's a range of study spaces and a coffee shop where you can relax before lectures. Holy Cross is especially proud of their library, IT facilities, modern classrooms and meeting rooms in the Mary Kelly building where the face-to-face sessions will take place.
Where you'll study
Finance
Tuition fees
The UK tuition fee rate is subject to final Government approval for academic year 2023/24 entry.
EU/EEA and Swiss students who have settled or pre-settled status under the EU Settlement Scheme, as well as Irish nationals, may be eligible for the UK tuition fee rate.
Financial support
Subject to eligibility, UK students joining this course can apply for a Tuition Fee Loan from the Government to cover the full cost of tuition fees. UK students enrolling on the course may also be eligible to apply for additional funding to help with living costs.

Please view the relevant Money Matters guide for comprehensive information about the financial support available to eligible UK students.
EU/EEA and Swiss students who have settled or pre-settled status under the EU Settlement Scheme may be eligible to apply for financial support. Irish nationals can ordinarily apply to Student Universal Support Ireland (SUSI). Please see our EU student finance page for further details.
Your future career
Early years is a rapidly growing sector and our early years graduates work in settings across the UK. We offer excellent support throughout the programme to help you gain an understanding of the opportunities that exist for early years graduates.
As an Early Years Education graduate, you will have the opportunity to develop your existing career, or embark on an exciting new path, in a wide range of areas working with children and communities. This could include roles such as a graduate early years' practitioner, family support worker, community leader or a researcher for a charity in the voluntary sector.
Alternatively, you may wish to train to teach or embark on further study at postgraduate level.
Course changes
Every effort has been made to ensure the accuracy of this information, however our courses are subject to ongoing review and development. Changing circumstances may necessitate alteration to, or the cancellation of, courses.
Changes may be necessary to comply with the requirements of professional bodies, revisions to subject benchmarks statements, to keep courses updated and contemporary, or as a result of student feedback. We reserve the right to make variations if we consider such action to be necessary or in the best interests of students.
Track changes to this course
Download our course leaflet