Business and Management
PGDip
Leadership. Strategy. Operations. Study the factors that impact businesses and learn how to achieve your targets. Excel your career, boost your confidence, and prepare for success with our PGDip Business and Management.
Overview
Whatever your background, this is your chance to find your place in the business world. Get the management theory, tools and techniques you need to become an innovative and future-focused leader on this PGDip Business and Management.
Examine the influences that affect business success, then uncover the impact of society, new technology, and a company's inner workings. Use your new knowledge to make better business decisions and achieve your objectives.
You'll work alongside experts in our Business School. We'll teach you effective ways to manage people and operations. At the same time, you'll develop advanced skills in research, business analysis and strategic planning. You'll also pick an optional module in international finance, brand management, entrepreneurship or human resources.
You'll leave us with an impressive set of transferable skills and an invaluable management toolkit to boost your employability across the private, public and not-for-profit sectors.
Course features
International students can apply
What you'll study
Every business has an internal environment as well as being part of the wider world. Your studies will help you untangle the complex web of internal and external factors that affect a company's growth.
Study the core aspects of business and management and then add your choice of an optional module in human resources, international finance, branding or innovation depending on your own interests.
In today's fast-changing digital world, managers need to understand the impact of new technology on the workforce. You'll look at training, wellbeing and changes in work practices. Get a handle on business strategy too. You'll study key business theory, and we'll teach you essential analytic and planning tools and techniques.
Success or failure often depends on the customer experience. You'll see how strategic operations and project management are necessary for new products and services.
Creating and Managing the Global Value Chain
Fundamentals of the Business Environment
International Strategic Management
Leading, Managing and Developing People
Critical Perspectives on Managing Human Resources
International Finance and Investment
Strategic Brand Management
The Innovation Process: Creation to Implementation
Optional modules provide an element of choice within the course curriculum. The availability of optional modules may vary from year to year and will be subject to minimum student numbers being achieved. This means that the availability of specific optional modules cannot be guaranteed. Optional module selection may also be affected by timetabling requirements. Some restrictions on optional module choice or combinations of optional modules may apply.
How you'll study
You will study the Postgraduate Diploma across the autumn and spring semesters in one academic year as a full-time student or two academic years as a part-time student.
The programme will be delivered using a combination of lectures, seminars, tutorials, practical classes and workshops, alongside extensive online activities and guided independent study.
Face-to-face classes will typically take place in three-hour blocks in the afternoon and/or evening for nine hours per week for full-time students. You will be encouraged to apply your theoretical learning to real-life organisations.
How you'll be assessed
The programme combines several different forms of assessment to test intellectual development, vocational capability, and critical thinking. Coursework often involves both individual and group-based tasks. Case studies and problem-solving exercises are used, requiring the completion of a variety of written tasks, reports and project work.
Who will be teaching you
Edge Hill Business School is home to a thriving research community, hosts a growing international partnership portfolio, and is a member of AACSB International (The Association to Advance Collegiate Schools of Business), the world's largest management education network.
All our staff are passionate about student learning and development. The degree is delivered by specialists in economics, marketing, human resource management, e-commerce and small and medium sized enterprises, among others. The team includes active researchers who publish in academic journals, as well as academically and professionally qualified staff. All team members are people with an energy and enthusiasm for their subject areas.
Entry criteria
Entry requirements
You should have a degree equivalent to UK first-class or second-class honours (2:2 or above) in a subject other than business and management.
You may also be able to join the programme without a degree, subject to an interview, if you have appropriate professional qualifications or experience.
English language requirements
International students require IELTS 6.5, with a score no lower than 6.0 in each individual component, or an equivalent English language qualification.
If your current level of English is half a band, one band, or one-and-a-half bands lower, either overall or in one or two elements, you may want to consider our Pre-Sessional English course.
How to apply
There is an online application process for this course.
Please choose the application form for your preferred intake date and mode of study.
Please see our international student pages for further information about how to apply as a prospective international student.
Should you accept an offer of a place to study with us and formally enrol as a student, you will be subject to the provisions of the regulations, rules, codes, conditions and policies which apply to our students. These are available at www.edgehill.ac.uk/studentterms.
Did you know?
If you join a full time undergraduate degree at Edge Hill University, we will guarantee you the offer of a room in our halls of residence for the first year of your course.
Discover our accommodation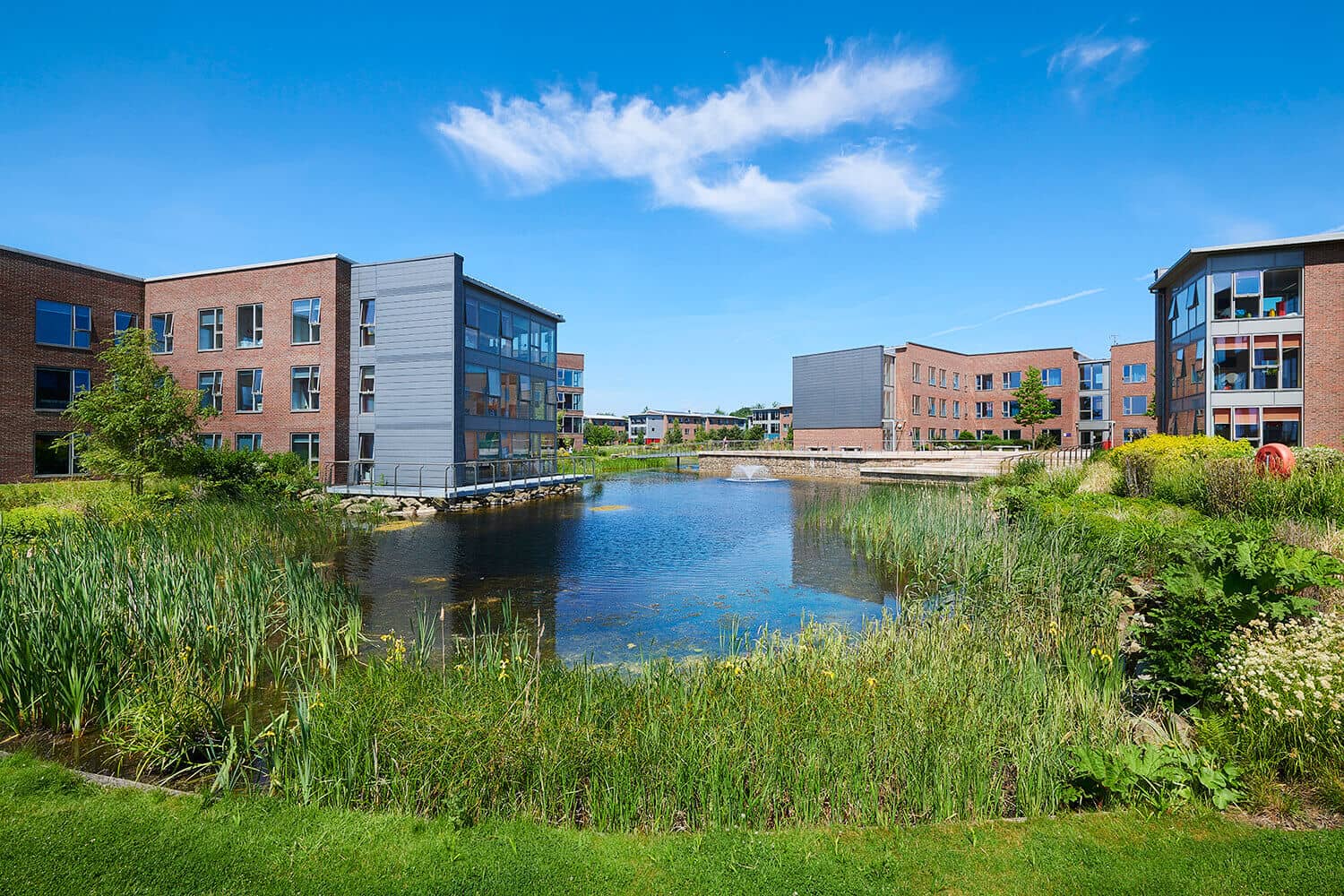 Facilities
A stunning £8m building provides state-of-the-art teaching and learning facilities for students in Edge Hill Business School.
The three-storey building offers a 100-seat lecture theatre and modern seminar and meeting rooms. There are also social learning areas which encourage a more informal and interactive style of learning, in addition to an attractive roof garden and atrium.
Where you'll study
Finance
Tuition fees
UK Part-Time
£47 per credit
for 180 credits
Tuition fees for international students joining the course in academic year 2023/24 are still to be announced. We will update this information as soon as it is available.
EU/EEA and Swiss students who have settled or pre-settled status under the EU Settlement Scheme, as well as Irish nationals, may be eligible for the UK tuition fee rate.
Financial support
Please view the relevant Money Matters guide for comprehensive information about the financial support available to eligible UK students joining postgraduate courses at Edge Hill University.
EU/EEA and Swiss students who have settled or pre-settled status under the EU Settlement Scheme may be eligible to apply for financial support. Irish nationals can ordinarily apply to Student Universal Support Ireland (SUSI). If you are an EU student who does not have settled or pre-settled status, or are an international student from a non-EU country, please see our international student finance pages.
Your future career
You'll leave our PGDip Business and Management course as a professional who has in-depth knowledge of your subject area and strong leadership and management skills. This is a winning combination for commercial, third sector and public-sector management.
You can move into general management in your field or use the course to change industry. You can also work in organisational development or set up as a consultant.
Our postgraduate diploma gives you the potential to go into further professional or academic study. You can look at taught Master's degrees or a Masters by Research (MRes) award.
Course changes
Every effort has been made to ensure the accuracy of this information, however our courses are subject to ongoing review and development. Changing circumstances may necessitate alteration to, or the cancellation of, courses.
Changes may be necessary to comply with the requirements of professional bodies, revisions to subject benchmarks statements, to keep courses updated and contemporary, or as a result of student feedback. We reserve the right to make variations if we consider such action to be necessary or in the best interests of students.
Track changes to this course
Download our course leaflet