A number of honorary awards, one of higher education's most significant accolades, are conferred at our graduation ceremonies each year.
"We seek to recognise individuals who have made significant contributions across different fields of accomplishment and whose outstanding achievements resonate with the ethos of Edge Hill University. We are privileged and delighted to welcome them as part of our University community." Dr John Cater, Vice-Chancellor

Dr John Cater, Vice-Chancellor
Edge Hill's honorary awards celebrate individuals who have roots in, or connections to, the region and have achieved at least one of the following:
Made an exceptional and outstanding contribution to the development of the University over a prolonged period.
Gained recognition for national or international excellence in an academic area relevant to the University.
Made a significant contribution to the national cultural, academic, educational, professional or economic arena.
Recipients of our honorary awards since 2013 are profiled below.
Clive Myrie
Honorary Doctor of the Arts
Recognised for his work his work bringing major news of recent history to the television screen.
Clive Myrie worked for 30 years as a BBC journalist. He has reported from close to 100 countries, covering some of the most important stories of our time including every US Presidential election since 1996.
He's won among other accolades the Royal Television Society Award for TV Journalist of the Year and Presenter of the Year, a Peabody Award for his reporting of the Rohingya/Myanmar crisis, the David Bloom Award for coverage of Mexico's deadly drug gangs, and he's been nominated for two BAFTA Awards and two Emmys. A fan of classical music, he is now a regular presenter of the BBC Proms. As host of Mastermind, Clive continues to promote the value of knowledge to audiences across the UK.
James Timpson
Honorary Doctor of Business Administration
Recognised for his innovation in business and advocacy for employment of disadvantaged individuals.
James' began working for Timpson at the age of 14. Today, he is the company's Chief Executive. During his 15-year tenure, the company has expanded from 320 shops to over 2,000, with profits from £3m to over £40m.
James is an advocate for the recruitment of ex-offenders, resulting in over 600 prison leavers now being employed by Timpson. James was awarded an OBE in 2011 for his services in training and employing disadvantaged individuals. His commitment to responsible business practices in the North West led to his appointment as an ambassador by HRH Prince of Wales in 2015, with a focus on showcasing employability programs.
Sir Terry Leahy
Honorary Doctor of Business Administration
Recognised for his five decade contribution to the retail industry.
Sir Terry Leahy is credited with turning Tesco into one of the world's leading supermarket chains. He was granted Freedom of the City of Liverpool and awarded a Knighthood in 2002. He was also named Britain's Business Leader of the Year in 2003, Future European Businessman of the Year in 2004 and Most Influential Non-Elected Person in Britain 2007.  
Professor Sarah Niblock
Honorary Doctor of Science
Recognised for her work as a chief executive, higher education leader, disruptor, journalist and public speaker with a global reach.
Professor Sarah Niblock is Chief Executive of the UK Council for Psychotherapy and has held high-ranking positions with University of Westminster and Brunel University London.
The psychotherapy expert and journalist is known for her gravitas, influence, warmth and ability to bring together disparate voices in a unifying way. She has influenced policy change in government and is a passionate advocate for ethics and transparency, social justice and equity.
Lynda La Plante CBE
Honorary Doctor of Arts
Recognised for her success as an internationally acclaimed author and screenwriter.
Liverpool-born Lynda La Plante is the author of over forty bestselling novels and made her break into writing for the screen with the phenomenally successful TV series Widows.
Her original script for the highly-acclaimed Prime Suspect won awards from BAFTA, the Emmys and the Royal Television Society, and in 2008 she was awarded a CBE for services to literature, drama and charity.
Dr Zoe Williams
Honorary Doctor of Science
Recognised for her work promoting healthy lifestyles and for inspiring the next generation of health professionals.
Dr Zoe Williams is one of the country's best-known GPs and resident doctor on ITV's This Morning.
The practicing GP and media medic boasts accolades such as being named on the Pulse Power 50 List as one of the country's most influential GP's. Outside of the surgery, Zoe is a National Adviser for Public Health England and is a clinical adviser to the Royal College of General Practitioners. She is also a director and founding member of the British Society of Lifestyle Medicine.
David Yip
Honorary Doctor of Arts
Recognised for his contribution to supporting the UK's Chinese Community through art.
Pioneering Liverpudlian David Yip is still remembered by many for creating the role of Detective Sergeant John Ho in the BBC's The Chinese Detective, starring as the titular character made him the first Chinese lead actor in a British television drama series.
He has also enjoyed roles in Hollywood films including Indiana Jones and the Temple of Doom, James Bond – A View to a Kill and Entrapment, as well as appearing in the second and third series of Sky Atlantic's Fortitude.
Judge Professor Paulo Pinto de Albuquerque
Honorary Doctor of Laws
Recognised for his outstanding contribution to social justice and human rights law.
Judge Professor Paulo Pinto de Albuquerque is a distinguished jurist and legal academic, having authored more than 150 opinions and significantly contributed to the development of international human rights law.
Having been in the legal profession for more than 30 years, his decisions are regularly cited by academic scholars and practitioners in human rights, public international and criminal law.
Gill Burns MBE
"My advice to students graduating today is to take the most of every opportunity, no matter how daunting and grab it with both hands."

Gill Burns MBE
Honorary Doctor of Science
Recognised for her achievements as a Women's Rugby World Cup winner and as a trailblazer for the sport.
Representing England between 1988 and 2002, including the World Cup winning side from 1994, Gill Burns MBE captained her country between 1994 and 1999, playing in four World Cups and winning 73 caps.
Gill was among the first six women to be indicted into the World Rugby Hall of Fame and the first woman to referee at Twickenham. She has been voted the all-time hero at Waterloo Rugby Club and won the Sunday Times Sportswoman of the Year Team Award.
Gary Everett
"Take what you've learned at Edge Hill into the world, making a contribution to helping society change for the better."

Gary Everett
Honorary Doctor of Arts
Recognised for the huge positive impact his work as a freelance curator has had on the profile of lesbian, gay, bi and trans* artists.
Gary Everett has spent the last 20 years programming, commissioning and producing work by an extensive range of LGBT artists for regional, national and international audiences.
As a curator, producer and developer, Gary has taken the risks that are necessary to create impactful cultural events. The results of Gary's boldness and vision can be seen in the brands he has created, the projects he has led, and the network of local, national and international partnerships and connections build around him.
Brenda Hale
"We must be flexible and determined, we must be ready to grasp the exciting opportunities that come our way no matter how daunting they may seem, we must not be downhearted when things go wrong but try, try and try again."

Brenda Hale
Honorary Doctor of Laws
Recognised for her success in becoming the first female President of the UK Supreme Court.
Brenda Hale, the Baroness Hale of Richmond, was appointed a High Court Judge in 1994. She subsequently became the first woman and the youngest person to be appointed to the Law Commission, and was appointed President of the Supreme Court in 2017.
Lady Hale has been described as a beacon and an icon in the legal world. Due to her open and frank dialogue around women, many doors have been opened to other women in her wake. Through her actions and words she has changed the face of the legal profession.
Nisha Katona MBE
Honorary Doctor of Business Administration
Recognised for her success as a restauranteur, food writer and broadcaster.
Nisha Katona opened her first Mowgli Street Food restaurant in 2014, serving contemporary Indian cuisine, and she now has 10 restaurants across the country, with her eleventh due to open in Bristol before the end of the year.
In 2018 Mowgli was listed in The Sunday Times Fast Track 100 Businesses, and the following year Nisha was appointed by the Cabinet Office as Ambassador for Diversity in Public Appointments and recognised with an MBE for services to the food industry.
Another central pillar of the business is Nisha's dedication to charitable giving through The Mowgli Trust.
Sir Robin Saxby
"It's important to live your life to the full, life is your oyster. Remember, life's about experiencing everything, gaining an all-round education, not just focusing on your studies. Make the most of life – there are enough pressures. Enjoy your friends, enjoy your time."

Sir Robin Saxby
Honorary Doctor of Technology
Recognised for his contribution to business and technology.
An extraordinary leader and pioneer of innovation, Sir Robin Saxby and his team at ARM Holdings can lay claim to having transformed how we live our lives.
Sir Robin became the first Chief Executive of Cambridge-based ARM in 1991 and was instrumental in it becoming a global giant over the next 15 years, the last five of which he served as Chairman.
Knighted in 2002, since his retirement five years later he has been a tireless promoter and champion of young entrepreneurs and continues to be involved in numerous start-up companies.
Dawn Airey
"You've got to go forth in your careers and break new ground, but not just break it, you need to smash it. You need to rip apart the world as we know it to create a more equitable, inclusive and loving society."

Dawn Airey
Honorary Doctor of Arts
Recognised for her career as an internationally acclaimed executive in the broadcast and media industries.
Dawn Airey who was brought up in Preston, has run, managed or chaired leading TV channels in the UK including ITV, Channel 4 and Channel 5.
Dawn's career has more recently taken in the technologically and globally driven world of digital media where she now leads Getty Images, the world-leading creators and distributors of award-winning still imagery, video, music and multimedia products.
Professor Jacky Hayden CBE
"I hope that you have the courage to speak out when things seem wrong, the wisdom and ability to change that which needs to be changed and the good grace to celebrate success with your teams."

Professor Jacky Hayden CBE
Honorary Doctor of Science
Recognised for her work as a medical expert who has helped to improve the education and training of a generation of health professionals.
Since starting her career as a GP in Bury, Professor Jacky Hayden CBE has worked across the North West as Dean of Postgraduate Medical Studies at Health Education England.
In 2012 Jacky completed four years as the Chair of the Committee of English Deans. She was an inaugural member of Medical Education England and an active participant on the Medical Programme Board, where she led work on metrics for medical education.
Jacky was awarded a CBE in 2013, the same year she was named as one of Health Service Journal's Top 50 Inspirational Women.
Janice Long 1955-2021
"Don't let anything get in the way of your dreams and ambitions. In media you have to dare to be different. Be yourself, be true to yourself and stick to your guns, have your dreams and follow them."

Janice Long
Honorary Doctor of Music and Art
Recognised for her contribution to popular music and national cultural life.
Janice Long, who began her career as a station assistant at BBC Radio Merseyside, became the first female DJ to be given a daily show on national radio.
Over the years she has worked for GLR, XFM and Radio 5, became the first female presenter on Top of the Pops and was part of the team presenting the charity event Live Aid.
Janice also established her own radio station, Crash FM (relaunched as Juice FM), and continues to work at the cutting edge of new music in Liverpool.
Professor Phil Scraton
"Whatever you choose to do, never ever be told you're not worthy, never ever by told you're not good enough or your chosen path isn't for the likes of you."

Professor Phil Scraton
Honorary Doctor of Philosophy
Recognised for his contribution to the campaign for justice for the victims and survivors of the Hillsborough Disaster.
For nearly three decades, Professor Phil Scraton, a founder member of the charity INQUEST, has worked alongside bereaved families and survivors of the 1989 Hillsborough Disaster. His initial research critiqued the Taylor inquiry, media coverage and police insensitivity, while his later work exposed the systematic review and alteration of police statements.
Phil headed the research of the Hillsborough Independent Panel and was the primary author of its 2012 report which led to the original inquest verdicts being quashed and new inquests established.
David Yates
"I love beginnings – the first chapter of a book, the first chord of a song, the first page of a script – because you're never quite sure where it's going to go. It's always full of promise and possibilities and, as I look at you lot, I can see a lot of promise and possibilities."

David Yates
Honorary Doctor of Arts
Recognised for his work as one of Britain's most celebrated film and television directors.
David Yates was director of the final four films in the Harry Potter series for which he received the BAFTA's John Schlesinger Britannia Award for Excellence in Directing.
Earlier in his career, David directed numerous short films and became a prolific television director. His credits include the six-part political thriller State of Play and the Emmy Award-winning TV film The Girl in the Café.
His more recent projects have included The Legend of Tarzan (2016) and the Fantastic Beasts films.
Marc Almond
"For me, success is being able to do what you love doing."

Marc Almond
Honorary Doctor of Philosophy;
Recognised for his music career which has seen him sell over 30 million records worldwide.
Singer-songwriter and musician Marc Almond has written music spanning a diverse range of musical styles from the electro of his band Soft Cell to Turkish torch songs, Brazilian Macumba music and Russian folk.
In 2010 Marc – who grew up in Southport – celebrated 30 years as a recording artist with a successful tour, culminating in receiving Mojo magazine's 'Hero Award'. He has most recently released the musical anthology Trials Of Eyeliner covering the years 1979-2016.
Professor Peter Beresford OBE
"For those of you graduating from social work and other professional courses, many of you will be working with children and young people. I'm hopeful that you will be advocates and a line of defence for them as we know from some of the awful things that have ultimately come to light recently, such as organized sexual abuse and how much they need people to stand up for them."

Professor Peter Beresford OBE
Honorary Doctor of Science
Recognised for his work as a leading figure in the arena of citizen participation and involvement.
Professor Peter Beresford OBE is arguably the pre-eminent voice in relation to service user and carer participation in service design, delivery and evaluation. In 2016, he was named as one of the top 100 influential people in the UK in relation to issues of disability and impairment.
Professor Beresford is currently Professor of Citizen Participation at the University of Essex, Emeritus Professor of Social Policy at Brunel University, Co-Chair of the independent user-controlled organisation, think tank and network Shaping Our Lives, and a visiting professor at Edge Hill University.
Chris Chibnall
"Something I wish I'd known earlier, you're probably all wondering 'what's going to happen to me in the future?' It sounds very obvious but I didn't realise it until four years ago when I wrote Broadchurch and people started stopping me in the street to ask about it – the future is you, it's not something that just happens. The future is there to be taken by every person graduating today."

Chris Chibnall
Honorary Doctor of Literature
Recognised as one of Britain's most important and accomplished television dramatists.
Chris Chibnall was the writer of all three series of acclaimed crime drama Broadchurch. He has also contributed scripts for Life on Mars, with other writing and producing credits include Law and Order UK, Torchwood and Camelot. His two television films, United and The Great Train Robbery, dramatised historical events.
Writer of five previous Doctor Who episodes, Chris became Showrunner for the legendary BBC series in 2017.
Steve Cram CBE
"I stand here today because I had something that I had a real passion for. You are graduating today in the Faculty of Arts and Science and you are the people who will forge the futures for others in years to come, to perhaps change other people's lives."

Steve Cram CBE
Honorary Doctor of Science
Recognised as one of the UK's most well-known sporting individuals and now TV presenter, athletics commentator and coach.
Steve Cram, nicknamed "The Jarrow Arrow" after his hometown, was one of the world's dominant middle-distance runners during the 1980s.
He was voted BBC Sports Personality of the Year in 1983 and set world records in the 1500m, 2000m and the mile during a 19-day period in 1985. He was the first man to run 1500m in under three minutes and 30 seconds, and won the 1500m gold medal at the 1983 World Championships and the 1500m silver medal at the 1984 Olympic Games.
Steve was awarded the Commander of the Order of the British Empire (CBE) in the 2015 New Year Honours lists for services to sport. Now retired, Steve has turned to television presenting, athletics commentating, as well as motivational speaking and coaching.
Ray French MBE
"Show humility in all that you do but above all have confidence in yourself, a belief that what you are doing is right. Be confident in your work."

Ray French MBE
Honorary Doctor of Arts
Recognised for his achievements as a former rugby player and subsequent media and writing career.
St Helens-born Ray French attained the rare honour of representing his country at international level in both rugby union and rugby league.
He is also a coach, TV and radio commentator, author and columnist, – who combined his sport and media careers with a teaching career lasting 34 years – the majority of which was as an English teacher at Cowley High School in St Helens.
Francesca Halsall
"Waste no time in achieving your dreams."

Francesca Halsall
Honorary Doctor of Science
Recognised for her success in elite sport as a pre-eminent Olympic swimmer.
Southport-born Francesca retired earlier this year from a career that saw her represent Great Britain in the Beijing, London and Rio Olympics and compete in many other international competitions.
Over the best part of a decade with Team GB's elite squad, Francesca broke records and brought home 14 gold, 14 silver and nine bronze medals from World, European and Commonwealth championships.
Dame Sue Ion
"One of the most important things about work after university is that you find something enjoyable to do that's challenging and also good fun. Based on my experience I've had this in spades."
Honorary Doctor of Science
Recognised for her work as one of the UK's foremost nuclear engineers.
Dame Sue Ion managed British Nuclear Fuel Limited's UK Research and Development portfolio.
She has worked tirelessly to promote the benefits of the industry and was credited with persuading Tony Blair to change Labour's official government policy on nuclear power, allowing the development of an energy policy that recognises the need for nuclear, alongside coal and renewable sources, to meet Britain's future energy requirements.
Alexei Sayle
"I need to provide those graduating today with some inspirational advice so I'll refer to one of my stand up characters who is a bit of Zen master. He says 'when one door closes, another opens.' I used to have a Vauxhall Astra that was like that…"

Alexei Sayle
Honorary Doctor of Literature
Recognised for his success as an innovative and original comedic agitator.
A stand-up comedian, actor, author, radio and television broadcaster, columnist and recording artist, Alexei is widely regarded as one of the most original and influential performers to emerge from the 1980s alternative comedy scene, and acknowledged as a creative innovator across numerous art forms.
Watch a short video featuring Alexei below.
In 2016 Honorary Awards were conferred to former First Vice President of the European Commission Baroness Cathy Ashton, reputable crime and policing historian Professor Clive Emsley, former Pro Vice-Chancellors Rhiannon Evans MBE and Mark Flinn, actor David Morrissey, classical musician Paul Lewis CBE and conductor and musical supervisor John Rigby. The achievements of Colin Parry OBE and Wendy Parry OBE who established the Foundation for Peace charity, and Vice President of the International Crime Court His Excellency Judge Cuno Tarfusser were also acknowledged.
Baroness Cathy Ashton
"My advice above anything else is to use what you've learnt so that people don't get left behind. You will know people who you were at school with who were just as smart as you, but for one reason or another didn't get this opportunity. Your job is to try and make sure the children you work with get as many opportunities as possible."
Honorary Doctor of the University
Recognised for the powerful influence her international political roles have had in encouraging peace and stability around the world.
Cathy is a Labour politician who served as the High Representative of the Union for Foreign Affairs and Security Policy and First Vice President of the European Commission.
An impressive list of career highlights include her role in patiently brokering the first ever talks between the leaders of Serbia and Kosovo, reopening diplomatic channels in Egypt following the Arab Spring, securing the details that formed the subsequent agreement to freeze Iran's nuclear programme, and working with US Secretary of State John Kerry to coordinate successive rounds of economic sanctions against Russia after its annexation of Crimea.
Professor Clive Emsley 1944-2020
"But why are history and English so significant? Because they teach you critical skills, not "GB plc" skills, but critical ways of approaching problems which employers find useful."

Professor Clive Emsley 1944-2020
Honorary Doctor of Philosophy
Recognised for his significant contribution to criminal justice historical research.
Emeritus Professor Emsley has been instrumental in the emergence of the history of crime and policing as a significant field of academic study.
He was a co-founder and co-director of the International Centre for Comparative Criminological Research at the Open University and was also President of the International Association for the History of Crime and Criminal Justice for 12 years. During his academic career Professor Emsley has written 14 single-authored texts, 18 edited or co-edited collections and over 50 articles and book chapters.
Professor Rhiannon Evans MBE
"I hope that you in your role as teachers will find a way to take forward into your schools Edge Hill's legacy of transforming lives and creating opportunities."

Professor Rhiannon Evans MBE
Honorary Doctor of the University
Recognised for her service to higher education.
The work Professor Evans has carried out during her 40-year career has helped open up routes for people from non-traditional backgrounds to move into further and higher education.
Professor Evans was a Pro Vice-Chancellor at Edge Hill University from 1994 to 2008, significantly developing the institution's higher education provision by establishing the first Access to University and Women Returner courses in the area.
Mark Flinn
"I am immensely proud to say along with you today that I have a degree from Edge Hill University."

Mark Flinn
Honorary Doctor of the University
Recognised for his service to higher education.
Mark served as an Edge Hill University Pro Vice-Chancellor for 17 years, retiring in July 2009. He was instrumental in the transformation of Edge Hill to the successful University it is today.
Since retiring, Mark has jointly authored the history of the University, A Vision of Learning, published Wide Horizons celebrating the University's 80+ years in Ormskirk, and written Temporary Darkness: Edge Hill in World War One. Alongside this, he has researched the Bingley Years, Edge Hill's forced relocation to West Yorkshire during the Second World War.
Paul Lewis CBE
"It was fantastic to feel the enthusiasm and excitement in the graduation ceremony. The morale of the students and the sense of celebration was great to be part of."

Paul Lewis CBE
Honorary Doctor of Arts
Recognised for being one of the leading pianists of his generation.
Artistic Director of Midsummer Music, an annual chamber music festival, and Joint Artistic Director of the Leeds International Piano Competition, Paul has consolidated his reputation as one of the world's foremost interpreters of the central European classical repertoire.
His numerous awards have included the Royal Philharmonic Society's Instrumentalist of the Year, two Edison Awards, three Gramophone Awards, the Diapason D'or de l'Annee, the Preis Der Deutschen Schallplattenkritik, the Premio Internazionale Accademia Musicale Chigiana, and the South Bank Show Classical Music Award.
David Morrissey
"It's a great honour to be here and share your day with you. I was shown around this fantastic University and have been so impressed by everything. I can't believe you've had the opportunity to spend time here."

David Morrissey
Honorary Doctor of Arts
Recognised for his ongoing contribution to UK drama, television and film.
Acknowledged by peers and institutions, David has achieved excellence in the world of film, television and the performing arts. His standout performances include Being Human, Captain Corelli's Mandolin, The Deal, The Missing and his iconic role as The Governor in The Walking Dead.
David also participates in charity work with the United Nations and has established his own Creative Arts School Trust, running drama workshops with children around the world.
Colin Parry OBE and Wendy Parry OBE
"I would look to you to be the generation that can break the mould, who will step across the road to speak to someone from the other side, whatever that other side is, who do take the trouble to learn more about why people have differences and to make your own contribution."

Colin Parry OBE and Wendy Parry OBE
Honorary Doctors of Education
Recognised for their efforts in promoting peace and community education in the wake of a family tragedy.
On 20 March 1993, Colin and Wendy's 12 year old son, Tim was involved in an IRA bombing attack in Warrington and died four days later. Keen to ensure that their son did not die in vain, Colin and Wendy established the Foundation for Peace charity.
The Foundation for Peace works with people from all backgrounds to prevent conflict by helping them to develop the skills and understanding to be able to resolve conflict through non-violent means. The Foundation also provides training and guidance to leaders and managers, including those at government level, on how to deal with past, present and future conflicts.
John Rigby
"Enjoy life, live it to the fullest, travel, eat great food, drink fine wine, listen to music, enjoy the arts, continue educating yourselves, learn a language, learn to dance, learn to bake. Rely on your friends, family and colleagues. Value them and their advice, learn from them and enjoy their company, and let them support you."

John Rigby
Honorary Doctor of Arts
Recognised for his career as an acclaimed conductor.
St Helens-born John began his career in musical theatre and has been musical director for a long list of prestigious productions.
He is currently the Musical Supervisor for The Phantom of the Opera US tour and for Les Misérables in London and Korea. His formidable list of current projects also includes Die Fledermaus, Viennese Whirl, Bond and Beyond, Classical Spectacular, Jingle Bell Christmas, The Johann Strauss Gala National Tour and A Very Merry Mooney Tunes.
Judge Cuno Tarfusser
"Dear young colleagues, I recommend to you to be aware that you are lucky, you are privileged, you have been given the possibility to study and this is your merit."

Judge Cuno Tarfusser
Honorary Doctor of Laws
Recognised for his ongoing contribution to Edge Hill University's Department of Law and Criminology.
International Criminal Court judge His Excellency Judge Tarfusser was appointed to the International Criminal Court in 2009, presiding over Pre Trial Chamber II where he has overseen many high-profile cases.
Judge Tarfusser has also contributed significantly to Edge Hill University's Department of Law and Criminology, collaborating on research projects and delivering key notes speeches at international conferences.
Professor Sarah-Jayne Blakemore
"Young people should seize opportunities available to them, as they will have a profound impact on brain development. It's a great time to learn new skills, a time when many people are at their most creative and passionate. Embrace this period of self-discovery and make the most of it."

Professor Sarah-Jayne Blakemore
Honorary Doctor of Science
Recognised for her contribution to neuroscience research.
Professor Blakemore is a Royal Society University Research Fellow and Professor of Cognitive Neuroscience at University College London.
Leader of the Developmental Cognitive Neuroscience Group at the Institute of Cognitive Neuroscience, whose research focuses on social cognition and decision-making in human adolescence, Sarah has been awarded a number of accolades. These include the British Psychological Society Doctoral Award, the British Psychological Society Spearman Medal, the Swedish Neuropsychology Society's Lecturer Award and the University of Turin's Young Mind and Brain Prize.
Terence Davies
"There are two things that are important to us, not just people in the arts, but to us all. The first is passion. Never lose your passion. But more importantly, never lose your sense of humour. As soon as you start taking yourself and the world seriously, that the shortest route to disaster. I speak from bitter experience."

Terence Davies
Honorary Doctor of Literature
Recognised as one of Britain's greatest and most original film-makers.
A Liverpool-born director, Terence is a Fellow of the British Film Institute whose films have been nominated for awards at all the major international film festivals.
Terence's first three films formed The Terence Davies Trilogy and cinematically recreated his childhood and youth in the Liverpool of the 1940s and 1950s. His other work includes The House of Mirth, based on a novel by Edith Wharton, and Of Time and The City which users newsreel and documentary footage, combined with voiceover commentary and a music soundtrack, to reflect on growing up in Liverpool in the 1950s and 1960s.
Peter Hooton
"I've watched and admired the expansion of the Edge Hill campus for many years, and came to the opening of the brilliant Creative Edge media facility in 2014. Accepting this award is an opportunity to endorse Edge Hill initiatives such as The Label, which has launched the careers of some great bands from the region, such as Hooton Tennis Club. It is visionary of the University to back projects like this."

Peter Hooton
Honorary Doctor of Philosophy
Recognised for his work as a musician, writer and campaigner.
Peter Hooton, founder of Liverpool band The Farm, has seen his work characterised not only by its impact but by a sustained commitment to social justice. With a wide and enduring influence, The Farm enjoyed several top 40 hits and a number one album, Spartacus.
In addition to his influential song writing with The Farm, Peter was the driving force behind the creation of the Justice Collective number one single in support of the Hillsborough campaign and the live touring Justice Tonight concerts that preceded it. He also co-founded The End music and football fanzine, a legendary and influential satirical publication.
Jane Horrocks
"Make the absolute most of your youth and the opportunities it provides. Be true to yourself – try not to get stuck doing something for money or for the sake of it. Seek out that something that really lights you up."

Jane Horrocks
Honorary Doctor of Arts
Recognised for her work as a highly accomplished actor and singer.
Born in Rawtenstall in 1964, Jane's strong Lancashire accent remains an essential part of her identity. Winning critical acclaim for her role as Nicola in Mike Leigh's film Life is Sweet, Jane came to national prominence in the stage show The Rise and Fall of Little Voice.
Successfully transferring to film, her portrayals of legends such as Judy Garland, Marilyn Monroe, Billie Holiday and Shirley Bassey led to Best Actress nominations from the British Academy of Film and Television Arts, the British Independent Film Awards and the Golden Globes. On television, Jane is perhaps best known for her role as the ditsy secretary Bubble in Absolutely Fabulous.
Michael Pinfold
"My approach to life is simple – work hard, maximise your opportunities and keep an open mind, but most of all, don't forget to enjoy what you do."

Michael Pinfold
Honorary Doctor of the University
Recognised for his contribution to Edge Hill's University's success.
Wirral-born Michael Pinfold enjoyed a stellar career as a lawyer prior to becoming the first Company Secretary of the Universities' Superannuation Scheme. His wider work for pension funds underpinned investments in many of the shopping centres, retail and industrial parks we use today.
Michael joined Edge Hill University's governing body in 2003 and was appointed Chair of the Board of Governors in 2008. During his tenure, he advised on and strongly supported the managed entrepreneurialism that continues to characterise the University's success today.
Ranvir Singh
"The road to success is not always smooth, but it's only when things get tough that you know you're on the right path."

Ranvir Singh
Honorary Doctor of Arts
Recognised for her success as an award-winning journalist and broadcaster.
Ranvir joined BBC Radio Lancashire in 2002 but her first big break came with BBC Radio Manchester where she fronted the flagship show at breakfast during the Commonwealth Games. She subsequently moved to the BBC's regional news programme North West Tonight as a journalist and presenter.
Ranvir's national breakthrough came when she joined ITV's Daybreak as co-presenter and newscaster in 2012. As well as presenting on ITV's Evening News and News at Ten, Ranvir has also hosted her own primetime current affairs series, Real Stories with Ranvir Singh. A natural in front of the camera, Ranvir was voted Asian Media Personality of the Year in 2015. Ranvir currently wakes up the nation on ITV's Good Morning Britain where she is Political Editor.
Dame Janet Suzman
"I can offer you no more than this. Just be useful, lead a useful life. And enjoy it."

Dame Janet Suzman
Honorary Doctor of Arts
Recognised for her work as an internationally acclaimed actor, director and writer.
Dame Janet remains one of the most respected classical stage actresses of her time. After her professional stage debut in 1962, Janet built up an impressive classical resumé portraying many of Shakespeare's illustrious heroines, as well as securing notable roles in productions such as The Three Sisters, She Stoops to Conquer, The Good Woman of Setzuan, Hedda Gabler and The Hollow Crown.
Janet has also graced a number of films including the florid historical piece Nicholas and Ale for which she was nominated for the Academy Award for Best Actress, as well as a British Academy of Film and Television Arts Award and Golden Globe Award. Janet is an Honorary Fellow of the Shakespeare Institute and has been awarded the Pragnell Award for Lifetime Services to Shakespeare.
Sir Harrison Birtwistle CH (1934-2022)
"Be ambitious for your ideas and not for yourself."

Sir Harrison Birtwistle CH
Honorary Doctor of Philosophy
Recognised for his status as a leading voice in British music and an international figure in modern music.
A Lancashire-born composer, Sir Harrison is best known for the opera Punch and Judy and the works Verses for Ensembles and The Triumph of Time.
In 1995, Birtwistle's work Panic, an 18-minute piece for alto saxophone, jazz drum kit and small orchestra was premiered during the Last Night of the Proms, watched and listened to by an estimated worldwide audience of 100 million people.
Wally Brown CBE
Honorary Doctor of Education;
Recognised as one of the most important individuals in Liverpool's history, dedicating much of his life to improving opportunities for others.
Wally was Principal of Liverpool Community College from its creation in 1992 until his retirement in 2008, transforming it into one of the most successful further education colleges in the UK.
At the time of the Toxteth riots in 1981, Wally was Chair of the Community Relations Council and acted as a mediator between the police and the local community. He continues to contribute to the local community as a Non-Executive Director of Liverpool Community Health NHS Trust Board, Chair of Liverpool Community Health Audit Committee, and a Member of the Equality and Diversity Group.
Colin Drummond OBE
Honorary Doctor of Business Administration;
Recognised for his role as a business leader and pioneer in recycling and green energy.
Under Colin's leadership, waste management company Viridor became the only successful example of diversification of a privatised water company. The organisation grew with successful acquisitions of other waste and landfill companies, seeing turnover exceed £700 million.
Colin has also chaired the Environmental Sustainability Knowledge Transfer Network as well as the Business Advisory Board for the cross-government Living with Environmental Change initiative.
John Foxx
Honorary Doctor of Philosophy;
Recognised for his contribution to music and the arts.
Ultravox founder John Foxx has been cited as a major influence on artists including Gary Numan, Moby, Depeche Mode, Blur and The Klaxons.
Ultravox emerged in 1976 with John as lead singer at the peak of British punk music, where he was instead known as a principal figure of the New Wave scene. He later signed as a solo artist to Virgin Records where he released three electronic music albums and set up his own recording studio. John returned to music performance in 2006 with the release of an album to accompany a sequence of films, Tiny Colour Movies.
Dr Helen Pankhurst
"With your degree you have something which is of much greater value than the formal knowledge of the subject you have studied. It raises you up and provides a greater range of skills than you would have had otherwise, and the great capacity for doing good through public service."

Dr Helen Pankhurst
Honorary Doctor of Philosophy;
Recognised for her tireless work in the fields of international development and humanitarian assistance, pioneering women's rights in East Africa.
Dr Helen Pankhurst, great-granddaughter of Emmeline Pankhurst and granddaughter of Sylvia Pankhurst, leaders in the British suffragette movement is CARE International UK's campaign ambassador.
Helen is also a Senior Technical Adviser for the Water Team of CARE USA with a remit to support CARE's water sector work internationally. On International Women's Day in 2014, Helen launched the Walk in Her Shoes campaign which draws attention to the gruelling trips made by women and girls in rural dry lands who spend up to 12 hours each day collecting enough water for their families to live.
Michael Pennington
"You as teachers are more important than ever. Education should be available to all rather than a luxury, and the responsibility falls on you to inspire the people you teach – especially those who may see college or University as unavailable to them – to pursue it."

Michael Pennington
Honorary Doctor of Literature
Recognised for his work as a talented writer, producer and artist as well as his contribution to the world of comedy and entertainment.
North West comedian Michael Pennington, better known as Johnny Vegas, has become a household name in the UK through his unique brand of stand-up comedy, a variety of television roles and regular appearances on comedy panel shows such as QI and 8 Out of 10 Cats.
In 2013 Michael turned his talents to directing and published his memoir Becoming Johnny Vegas to widespread critical acclaim.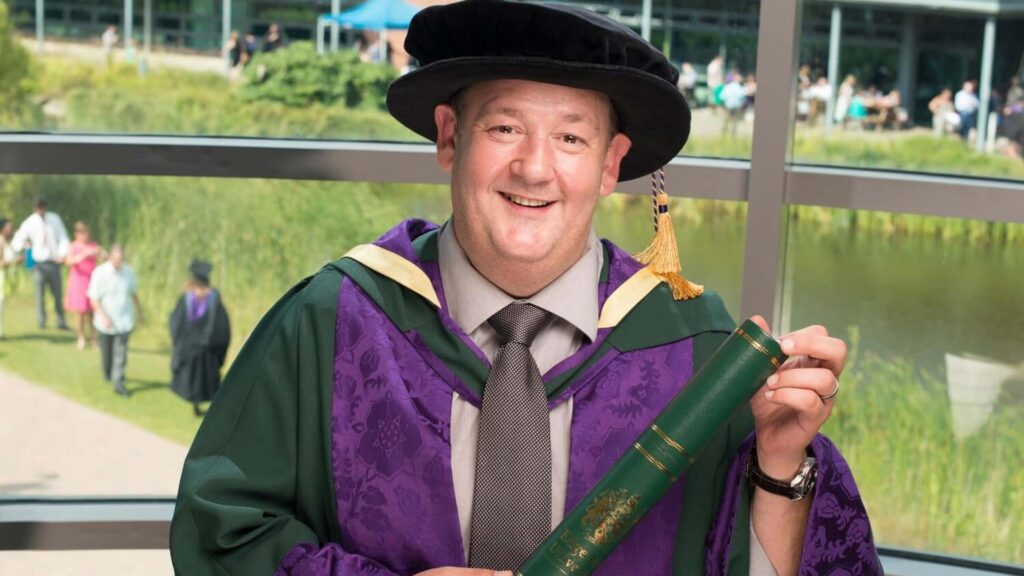 Sue Tibballs OBE
"I think the key message I'd like graduates to take away from today is to not just take the world as you find it, but make the world how you want it to be."

Sue Tibballs OBE
Honorary Doctor of Science
Recognised for her tireless campaigning to change women's sport policy, promote investment and encourage more girls to take part in physical exercise.
Sue is a former Chief Executive of the Women's Sport and Fitness Foundation who orchestrated a number of the charity's high profile campaigns, including women's boxing being recognised as an official sport at the 2012 London Olympics.
In addition to this, Sue has been instrumental in improving girls' participation in sport through challenging traditional attitudes and changing school policy, as well as driving forward the ground-breaking Creating a Nation of Active Women strategy.
Barrie Wells
"One of the best ways to enhance your own life is to enhance others. To help seriously ill and disabled children experience a dream is real success to me and to be recognised for doing this with such a prestigious honorary degree from Edge Hill is truly fulfilling. I am honoured and very grateful."

Barrie Wells
Honorary Doctor of Business Administration
Recognised for his contribution as an inspirational sports philanthropist and successful entrepreneur.
Barrie has made the dreams of many come true, helping some of the UK's top athletes achieve their potential, as well as inspiring the sportspeople of tomorrow.
Establishing the Wells Sports Foundation to enrich the lives of children through sport, Barrie created the Box 4 Kids initiative to enable seriously ill or disabled children to enjoy VIP days out at world-class sporting and entertainment events. He also provided funding for athletes including Jessica-Ennis Hill, Beth Tweddle and Katarina Johnson-Thompson to help them prepare for the London Olympic Games.
Dr Peter Carter OBE
"You won't be without daily stresses and strains, but my advice to you would be to develop good support mechanisms; rely on your colleagues and help each other."

Dr Peter Carter OBE
Honorary Doctor of Science
Recognised for dedicating a lifetime of service to the nursing profession.
Dr Carter is the Chief Executive and General Secretary of the Royal College of Nursing, the largest professional union of nursing staff in the world.
Peter has also played a pivotal role in developing modern mental health services and in recognition of this achievement he was awarded the President's Medal by the Royal College of Psychiatrists.
Frank Cottrell-Boyce
"Don't be scared to ask ridiculous questions. When putting together the Olympic Opening Ceremony we never thought the Queen would be willing to jump out of a helicopter for the ceremony but she was well up for it."

Frank Cottrell-Boyce
Honorary Doctor of Literature
Recognised for his outstanding contribution to British culture as a screenwriter, novelist and occasional actor.
Frank is one of the leading and most respected screenwriters of his generation, with credits including award-winning movies Hilary and Jackie, Revengers Tragedy, Millions and Grow Your Own. In recent years, he has also excelled as a children's author, winning the annual Carnegie Medal for Best Children's Book and the Guardian Prize.
His work with director Danny Boyle on the highly praised Opening Ceremony for the 2012 Olympics introduced Frank's work to a host of new admirers. An estimated global audience of 900 million people watched this event which drew on Shakespeare's The Tempest, Humphrey Jennings' Pandaemonium and the UK's NHS for inspiration.
Dr Giles Fraser
"I have one piece of wisdom to give – write your own obituary, it is such an extraordinary thing to see on paper."

Dr Giles Fraser
Honorary Doctor of Philosophy
Recognised for his work enhancing moral leadership and campaigning for social inclusion.
A leading commentator within the Church of England, Dr Fraser is most widely known for his role at St Paul's Cathedral, from which he resigned in October 2011 following the decision of the Church to evict Occupy London protestors from their camp outside the Cathedral.
As one of the country's leading Anglicans, Dr Fraser has sought to encourage debate and develop understanding around some of the Church's most difficult issues including same-sex marriage and homosexuality within the priesthood. Giles founded and is currently the President of the Inclusive Church, an organisation committed to working for a church that is welcoming and open to tall.
Colin McKeown
"Decide on what you want to do, and go for it."

Colin McKeown
Honorary Doctor of Literature
Recognised for his outstanding career in film and television and his work in the local community.
Responsible for some of the most iconic Liverpool film and television, Colin has a string of successful television series under his belt. He originally helped to establish Mersey Television which launched Channel 4's flagship soap Brookside, and has a string of other popular television series under his belt.
Colin regularly works with the youth of Merseyside and has created the Liverpool Film Academy charity which uses film as a vehicle to engage young people with issues that concern them.
Heidi Thomas
Honorary Doctor of Literature
Recognised for her contribution to the film and television industry.
Acclaimed screenwriter Heidi Thomas is behind numerous high-profile dramas and TV series, including Upstairs, Downstairs for the BBC and Call the Midwife. Her creative ability to make strong connections with her audience, exploring themes such as community life, families, health and education, has placed her among the most in-demand of screen writers for television.
Heidi has won Best Writer at both the UK Royal Television Society and UK Broadcasting Press Guild Awards, as well as the Technicolor Writing Award at the annual UK Women in Film and Television Awards. She was also nominated for two British Academy of Film and Television Arts Awards and received the Writers' Guild of Great Britain Award for Best TV Series for Cranford.
Previous Honorary Award Winners
Honorary awards have been conferred by Edge Hill University since 2008, following the institution being granted University status and degree awarding powers.
The recipients of honorary awards conferred between 2008 and 2012 include:
A comprehensive list of all honorary awards conferred between 2008 and 2012 is provided below.
2012
Dr Richard Benjamin, Honorary Doctor of Philosophy
Tony Cann CBE, Honorary Doctor of Education
Jane Cummings, Honorary Doctor of Science
George Davies, Honorary Doctor of Business Administration
Dr Karen Groves MBE, Honorary Doctor of Science
Sandra Hebron, Honorary Doctor of Literature
Dr Mayer Hersh MBE, Honorary Doctor of Education
Austin Thomas, Honorary Doctor of Science
2011
Joe Ainsworth, Honorary Doctor of Literature
Dame Patricia Bacon, Honorary Doctor of Education
Professor John Ellershaw, Honorary Doctor of Science
Lord Bhikhu Parekh, Honorary Doctor of Philosophy
Jennifer Saunders, Honorary Doctor of Literature
Mark Thompson, Honorary Doctor of Philosophy
2010
Mary Bousted, Honorary Doctor of Education
Jon Culshaw, Honorary Doctor of Edge Hill University
Sir Iain Hall, Honorary Doctor of Education
Angela Jones, Honorary Doctor of Science
Anne Laing, Honorary Fellow of Edge Hill University
Ken Millins, Honorary Fellow of Edge Hill University
The Right Honourable Baroness of Crosby Shirley Williams, Honorary Doctor of Philosophy
Robert Alfred (Bob) Wilson, Honorary Fellow of Edge Hill University
2009
Tim Gill, Honorary Doctor of Education
Stuart Maconie, Honorary Doctor of Literature
Dr Anne Merriman, Honorary Doctor of Science
Sue Smith, Honorary Doctor of Science
Moya Sutton, Honorary Fellow of Edge Hill University
2008
Professor Oliver Fulton, Honorary Doctor of Education
Reverend Jesse Jackson, Honorary Fellow of Edge Hill University
Sir George Sweeney, Honorary Doctor of Education