Further Education and Training
University Higher Diploma
Do you want to pursue a career teaching in Further Education? Do you want to teach your specialism in Further Education colleges? This course will develop your comprehensive knowledge and understanding of current theory and practice in Further Education and you will gain recommendation for Qualified Teacher Status (QTS).
Overview
The University Higher Diploma Further Education and Training supports your career progression into teaching your specialism in Further Education colleges. This University Higher Diploma is ideal if you are working in industry and wish to take up a role as a trainer in your profession. To join this programme you should have sound knowledge of your specialist subject, and have a keen interest in discovering how people learn and how they can best be supported in developing their knowledge and skills. This course covers a curriculum that will expertly prepare you for your future career by exposing you to the latest thinking in the fields of theory and practice in further education and training.
You will be supported in acquiring the knowledge, skills and professional confidence to ultimately take control of your own classes within FE colleges and settings. Through the clear training curriculum, you will be able to chart your own developing knowledge and confidence and be able to put into practice in supportive and familiar settings the knowledge and skills you have acquired on this University Higher Diploma.
You will have the opportunity to experience all aspects of teaching practice in one setting. For example, English, Mathematics, SEND, and Community Learning, adults and 16-18 curricula. Wirral Metropolitan College has links with a wide range of third sector, NHS and Social Services which offers opportunities for you to work with a broad range of students including those engaged in the probation service.
To support your career goals, you will have regular meetings with your personal academic tutor who will help you to identify your desired career path and then support you in achieving your career goals. You will also receive training on how to apply for roles in FE as well as how to approach interviews.
Following graduation, you will be ideally placed to pursue your QTLS certification from the Society for Education and Training. This is the most desirable professional certification for those teaching within the Further Education sector.
Course features
Professional practice placements
What you'll study
If you choose to study full-time, this programme will be delivered in one year. You will complete two academic modules and an extended professional placement. This will help you to expand your knowledge and skills required to develop and teach both individual lessons as well as design and deliver an extended curriculum of instruction for various age-groups and phases of learning. You will also gain the confidence and skills required to source and interpret the latest thinking and practice emerging from the cutting-edge research being published in the field of further education today. This will ensure that you are prepared not just for the classrooms of today, but also for the classrooms of the future.
For part-time students, the following modules are all compulsory in first year of this two-year course, and there are no options:
Principles of Learning and Curriculum Design.
Module code: CET2800
The Professional FE Practitioner 1.
Module code: CET2802
For part-time students, the following modules are all compulsory in year two of this two-year course, and there are no options:
Evidence Based Practice.
Module code: CET2801
The Professional FE Practitioner 2.
Module code: CET2803
Principles of Learning and Curriculum Design
The Professional FE Practitioner 1
The Professional FE Practitioner 2
How you'll study
For full-time students, sessions will usually be during the daytime each Thursday and Friday.
For part-time students, the Higher Diploma will typically delivered in late-evening sessions on Wednesdays and Thursdays, with professional practice taking place during specific days of the week.
How you'll be assessed
You will be assessed through a combination of practical, written and portfolio assignments. You will be supported in practising the design and delivery of course curricula, developing portfolios to evidence your own learning and development, and also creating responses to and reflections upon some of the latest research relating to Further Education policy and practice.
Who will be teaching you
You will be taught by Wirral Metropolitan College staff who are experts in their field.
Staff bring with them a blend of expertise in the design and delivery of FE and HE curricula, as well as professional experience in the subjects and specialisms that they teach.
All staff engage in continuing professional development to ensure that they keep abreast of the latest developments in the knowledge and practice of their specialisms.
Entry criteria
Entry requirements
To join this University Higher Diploma you will be expected to have:
Appropriate and relevant L4 qualifications (such as the first year of a Bachelor's degree) or equivalent, or significant appropriate industry experience.
5 GCSEs at Grace C or Grade 4 and above or equivalent as a minimum qualification, to include English.
GCSE English Language and GCSE Mathematics at Grade C or Grade 4 or above (or equivalent, including Level 2 English and Level 2 Mathematics) are required
Have an A-level (or other equivalent level 3 qualification) in your teaching subject specialism.
Candidates may also be considered where they have industry experience with Level 3 in a subject relevant to teaching practice.
Please note, for the purposes of initial teacher training, level 2 literacy and numeracy qualifications are not considered as equivalent to GCSE Grade C or Grade 4 in English Language and Mathematics.
If you accept a formal offer from Edge Hill University you will be required to meet the Department for Education's standards for physical and mental fitness to teach and clearance to work with children. Further information, including a Declaration of Health questionnaire and details of how to apply for a Disclosure and Barring Service (DBS) Enhanced Disclosure will be sent to you after you have firmly accepted an offer.
How to apply
There is an online application process for this course.
Complete the University application form for your preferred  mode of study:
Apply for the full-time route.
Did you know?
If you join a full time undergraduate degree at Edge Hill University, we will guarantee you the offer of a room in our halls of residence for the first year of your course.
Discover our accommodation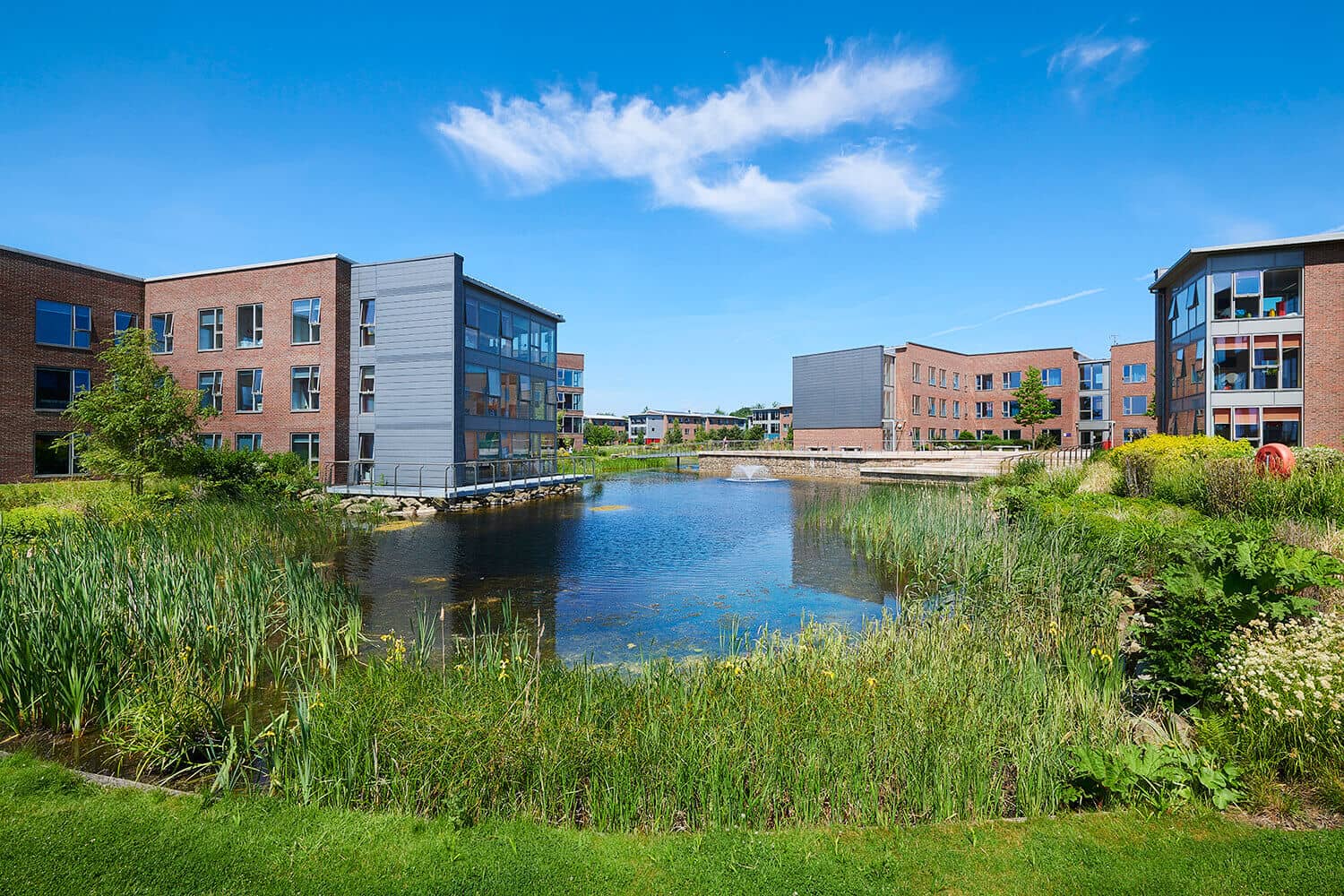 Facilities
You will study at Wirral Metropolitan College (Hamilton Campus) – https://www.wmc.ac.uk/
All campuses at Wirral Metropolitan College include a broad range of vocational and academic subjects, delivering 16-18, adults and Higher Education.
The College has invested a huge amount of resource into the facilities and learning resources for students.
It also offers family friendly timetables, and use online tutorials to fit around work and home life as well as facilitating 24hr access to all resources.
You'll find the College campuses are open 4 evenings per week until 9pm, facilitating evening study in tailored, quiet, and networked spaces.
Wirral Metropolitan College is currently graded "good" by Ofsted with areas of "outstanding" for Supported Entry Education. All departments offering placements for student tutors are graded "good" or "outstanding".
Finance
Tuition fees
The fees for this course are subject to approval. Please keep checking this page for further updates.
EU/EEA and Swiss students who have settled or pre-settled status under the EU Settlement Scheme, as well as Irish nationals, may be eligible for the UK tuition fee rate.
Your future career
After successfully completing the University Higher Diploma in Further Education and Training you will be ideally positioned to pursue careers in teaching in FE. The skills and knowledge that you will acquire as part of the course will also be transferrable into other careers relating to education, such as pastoral roles within schools and colleges, education roles in cultural and historical organisations (museums, galleries, historic properties, etc.) and also education roles within large corporations.
While this qualification is not a school teaching qualification there may be employment opportunities in some schools, particularly for teachers of vocational subjects.
On achieving this qualification, trainee teachers will be able to begin the process of achieving Qualified Teacher Learning and Skills status (QTLS). Please see the following website for further information on QTLS: Gaining QTLS.
Download our course leaflet