Professional Policing
BSc (Hons)
UCAS code: PP46
Socially conscious? Committed? Responsible? Start your career in the force with our pre-join professional policing degree licensed by the College of Policing. Practise dealing with different scenarios and making difficult decisions in our Police Training and Simulation Facility and Immersive Simulation Suite.
Overview
Want an insight into life in the Force from senior officers? Eager to get hands-on experience of interviewing suspects and gathering evidence from highly realistic simulated crime scenes? The pre-join BSc (Hons) Professional Policing degree from Edge Hill will provide you with the expertise, insight and training for an entry route into policing.
Combining classroom learning with guest lectures and workshops, this policing degree covers everything from criminal investigations to cybercrime to give you an in-depth understanding of the role of police constable and National Policing Curriculum. You'll explore areas like ethics and intelligence sharing. You'll team up with law students and present your findings in court. Above all, you'll gain the knowledge, skills and confidence you need to enter the modern policing workforce.
Put your skills to the test.
Apply everything you learn on our policing degree in our Police Training and Simulation Facility. Here you'll find a mock police station where we simulate a range of crime scenes and show you how to gather evidence. You'll also test out interview techniques through role play and understand how to protect the rights of suspects during this process.
Being able to make decisions while under pressure will also be key. To prepare you for this part of working in the police, you'll learn to respond to intense situations in a safe space – our brand new Immersive Simulation Suite.
Licensed by the College of Policing, our pre-join degree in Professional Policing is ideal preparation for a career as a police officer, enabling you to focus on key policing competencies as outlined in the National Policing Curriculum and approved within the Police Education Qualifications Framework.
Course features
International students can apply

Sandwich year option available

Studying abroad option available

Work placement opportunity
What you'll study
During the first year of the professional policing degree, you'll build a solid and comprehensive foundation in the knowledge and skills that are at the heart of good policing. We'll help you to understand the role of policing in society and introduce you to the criminal justice system. You will also cover what motivates people to commit a crime, along with modules in evidence-based and response policing, and how the law helps protect society's most vulnerable. The first year is designed to give you a strong foundation of knowledge to take forward into the rest of your policing course.
Introduction to Core Policing and Decision-Making
Public Protection, Vulnerability and Risk 1
Skills for Professional Policing
Year 2 on the BSc (Hons) Professional Policing looks at the area of community policing in greater depth. You'll explore challenges like historical mistrust in the police service and learn strategies to build effective engagement with the community. We'll provide an overview of policing research, how to protect vulnerable members of the public, and immerse you in the complexities of criminal investigation. Plus, you'll investigate the nature of police power, the impact of community policing and why policing our roads matters.
Criminal Investigation and Investigative Interviewing
Public Protection, Vulnerability and Risk 2
Building on the skills and knowledge you've gained, the final year of your professional policing degree is about exploration, with a forensic examination of the fast-moving areas of cybercrime and counter terrorism, including the culture of professionalism in policing. You'll look at ethics, integrity and accountability, as well as information and intelligence. You'll conduct a piece of academic research. And with a range of optional modules – along with work placement opportunities – you can discover your own specialisation.
Digital Policing and Cybercrime
Information and Intelligence
Police Ethics, Integrity and Professional Standards
Criminal Investigation of Serious and Complex Crime
Professional Policing Work Experience
Where your course includes optional modules, these are to provide an element of choice within the course curriculum. The availability of optional modules may vary from year to year and will be subject to minimum student numbers being achieved. This means that the availability of specific optional modules cannot be guaranteed. Optional module selection may also be affected by timetabling requirements. Some restrictions on optional module choice or combinations of optional modules may apply.
How you'll study
The programme will be delivered through a combination of lectures, seminars and workshops.
How you'll be assessed
Assessment methods on the professional policing degree include essays, formal examinations, report writing, practical-based demonstrations, case studies, oral presentations and academic posters.
Who will be teaching you
You will be taught by a highly-committed team of research-active, expert tutors who are specialists in policing, criminology and law. Guest speakers will also contribute to the delivery of the programme.
Entry criteria
Entry requirements
Typical offer 112-120 UCAS Tariff points. No specific subjects are required.
Example offers
| Qualification | Requirement |
| --- | --- |
| A Level | BBC-BBB. |
| BTEC Extended Diploma (or combination of BTEC QCF qualifications) | Distinction, Merit, Merit (DMM). |
| T Level | Overall grade of Merit. |
| International Baccalaureate (IB) | We are happy to accept IB qualifications which achieve the required number of UCAS Tariff points. |
| Access to Higher Education Diploma | 45 credits at Level 3, for example 15 credits at Distinction and 30 credits at Merit or 24 credits at Distinction and 21 credits at Merit. The required total can be attained from various credit combinations. |
Please note, the above examples may differ from actual offers made. A combination of A Level and BTEC awards may also be accepted.
If you have a minimum of two A Levels (or equivalent), there is no maximum number of qualifications that we will accept UCAS points from. This includes additional qualifications such as Extended Project Qualification (EPQ), AS Levels that haven't been continued to A Level, and General Studies AS or A Level awards.
English language requirements
International students require IELTS 6.0, with a score no lower than 5.5 in each individual component, or an equivalent English language qualification.
If your current level of English is half a band, one band, or one-and-a-half bands lower, either overall or in one or two elements, you may want to consider our Pre-Sessional English course.
How to apply
Should you accept an offer of a place to study with us and formally enrol as a student, you will be subject to the provisions of the regulations, rules, codes, conditions and policies which apply to our students. These are available at www.edgehill.ac.uk/studentterms.
Did you know?
If you join a full time undergraduate degree at Edge Hill University, we will guarantee you the offer of a room in our halls of residence for the first year of your course.
Discover our accommodation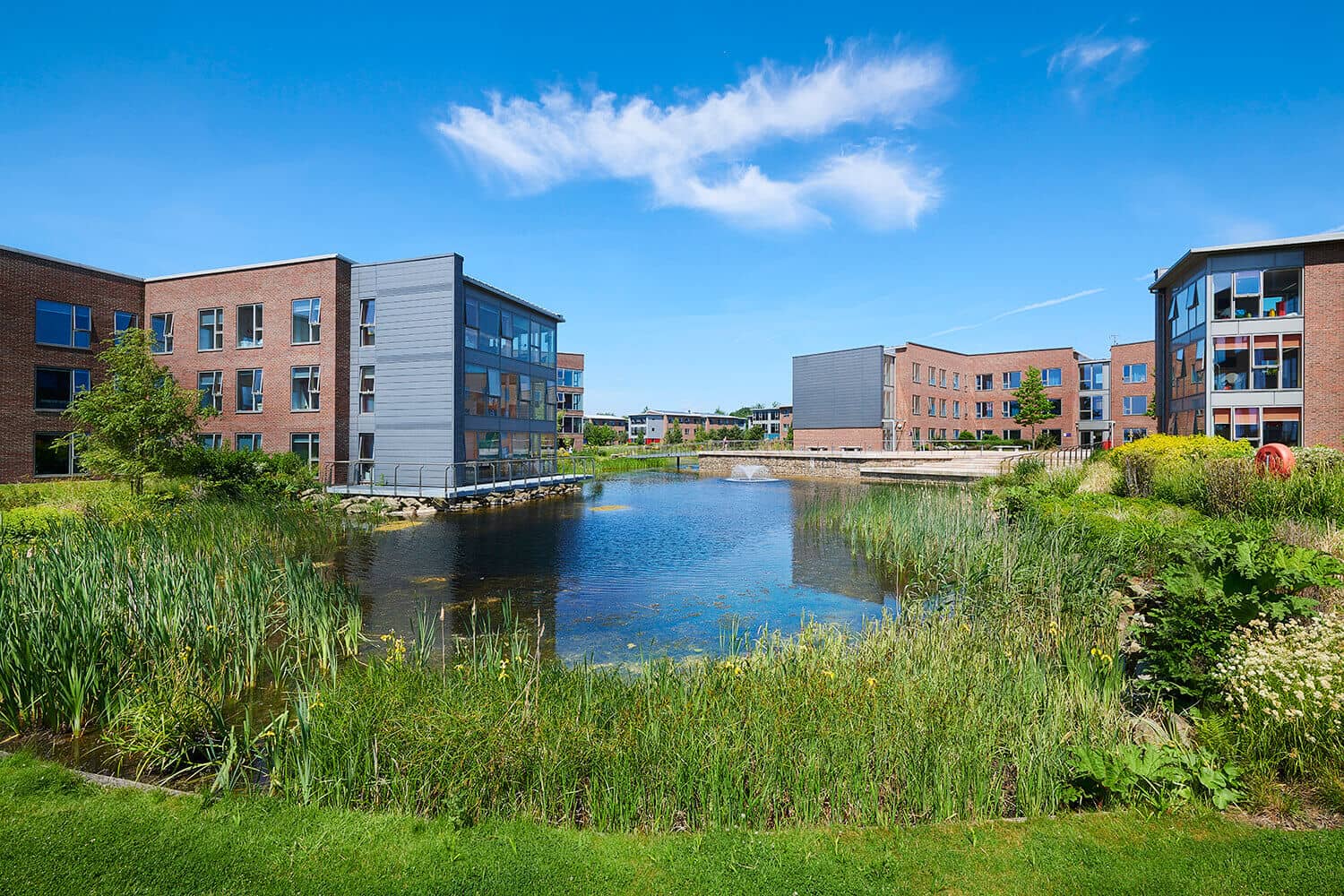 Facilities
The £6m Law and Psychology building provides contemporary teaching and learning facilities for students in the School of Law, Criminology and Policing and the Department of Psychology.
The three-storey building includes a 250-seat lecture theatre, seminar and tutorial rooms, and social learning areas which encourage a more informal and interactive style of learning. Elsewhere on campus, there is a mooting room (a mock courtroom) and Police Training and Simulation Facility.
Where you'll study
Police Training and Simulation Facility
Learning resources
The mooting room is where Law and Policing degree students can train and practice their advocacy skills and cross-examination techniques, as well as preparing for giving evidence in court, in a mock courtroom setting.
The Police Training and Simulation Facility, part of which is furbished as a police station, is used to simulate a wide range of crime scenes. This will enable Law and Policing students to work together in areas such as gathering and analysing evidence, including forensic evidence at crime scenes, as well as practicing interview techniques used by the police through role play, while also ensuring that the rights of suspects are upheld.
Finance
Tuition fees
UK Part-Time
£77 per credit
for 360 credits
The University may administer a small inflationary rise in tuition fees, in line with Government policy, in subsequent academic years as you progress through the course.
EU/EEA and Swiss students who have settled or pre-settled status under the EU Settlement Scheme, as well as Irish nationals, may be eligible for the UK tuition fee rate.
Financial support
Subject to eligibility, UK students joining this course can apply for a Tuition Fee Loan from the Government to cover the full cost of tuition fees. UK students enrolling on the course may also be eligible to apply for additional funding to help with living costs.

Please view the relevant Money Matters guide for comprehensive information about the financial support available to eligible UK students.
EU/EEA and Swiss students who have settled or pre-settled status under the EU Settlement Scheme may be eligible to apply for financial support. Irish nationals can ordinarily apply to Student Universal Support Ireland (SUSI). If you are an EU student who does not have settled or pre-settled status, or are an international student from a non-EU country, please see our international student finance pages.
Your future career
Whether you plan to work as a police officer or as a member of policing staff, this course is tailor-made for you. A pre-join degree licensed by the College of Policing, it has been designed for anyone ambitious for a career in any of the civil police forces in England and Wales, or with British Transport Police.
But the possibilities don't end there. Our professional policing degree also gives you the investigative skills and practical legal knowledge you need for a career in related areas, such as the National Crime Agency or HM Prison and Probation Service.
If you are interested in applying to join the police, you are strongly advised to consult relevant police entry requirements before starting your degree. This includes the Police Education Qualifications Framework, police health, fitness and security vetting requirements. Edge Hill University does not assess suitability for joining the police.
While successful completion of this programme does not guarantee recruitment to the police, the degree will greatly enhance your prospects in securing a role as a police constable or police staff via the College of Policing's dedicated Pre-Join route. The programme has a currency of five years following graduation for recruitment into policing.
Course changes
Every effort has been made to ensure the accuracy of this information, however our courses are subject to ongoing review and development. Changing circumstances may necessitate alteration to, or the cancellation of, courses.
Changes may be necessary to comply with the requirements of professional bodies, revisions to subject benchmarks statements, to keep courses updated and contemporary, or as a result of student feedback. We reserve the right to make variations if we consider such action to be necessary or in the best interests of students.
Track changes to this course
Discover Uni: Full-Time Study
Discover Uni: Part-Time Study
Download our course leaflet