Policing and Law Enforcement Investigation
MSc
Get to know the investigation process with insights from former senior police officers. Studying with us, you'll master the strategies used by the police and other law enforcement agencies in serious and complex cases.
Overview
Already a police officer or member of police staff? Working within a law enforcement agency? Or keen to kickstart your career in law enforcement? We've designed this course for anyone who wants to take charge of investigations, perform lead roles in intelligence and play a key role in tackling crime across the UK.
To prepare you for your future in investigations, we'll focus on building the practical and theoretical skills you need. This involves exploring the strategies within investigation plans, including forensics, witnesses and scene management.
Shape your policing and law enforcement studies with opportunities to explore different areas. Choose from the use of intelligence in reactive and proactive investigations, disclosure and digital policing and cybercrime.
At the same time as boosting your expertise, you'll develop sought-after advanced research skills. Employers will also value your other transferrable skills in communication, critical analysis, time management, teamwork and problem-solving.
Course features
International students can apply
What you'll study
On our MSc Policing and Law Enforcement and Investigation course, you'll explore the processes, legal requirements, policies and regulatory frameworks that apply to different stages of investigations into serious and complex cases.
We'll discuss policing and law enforcement topics such as the management of investigations, the ethical issues that apply to investigations, and evidence-based practice. All of this will develop your specialist knowledge and advance your understanding of research.
You can focus on specific types of investigations, or certain aspects or stages of an investigation with optional modules in Semester 2. Pick from a range of areas from cybercrime to the use of intelligence and disclosure.
Ethics and Integrity in Policing and Law Enforcement
Management of Investigations
Cyber Crime – Detection, Investigation and Enforcement
Use of Intelligence in Reactive and Proactive Investigation
How you'll study
The course will be delivered through traditional face-to-face learning, supplemented by elements of blended learning as required. You will typically attend weekly lectures and interactive seminars and a monthly online consolidation workshop.
Classes will involve a series of tutor-led elaborations and evaluations, as well as student-led engagements including the presentation of problem-solving exercises and discussion of pre-set questions.
Additional face-to-face or online student support sessions, along with access to online learning and research materials, will also be available.
How you'll be assessed
You will be assessed through coursework which will include assignments, such as essays, and the completion of portfolios or problem-solving exercises involving case studies or hypothetical scenarios. You will be required to identify and apply the pertinent law, policy, process or regulations to a given set of facts.
Your dissertation will be 15,000 words in length and could, for example, focus on a topic involving research around an element of investigation. It may also be conducted in the context of an employment setting, such as a police force or law enforcement agency.
There are no formal written examinations as part of the current assessment methods on this taught Masters degree.
Who will be teaching you
Designed and delivered by ex-senior professional police officers, police staff and academics in policing and law enforcement, the course is taught by staff who have significant experience of senior roles within the police service, including at Chief Constable, Head of Crime and Principal Analyst levels.
Your learning will be underpinned by extensive professional experience and cutting-edge research into investigations and associated processes, including the management of intelligence.
Guest speakers and subject experts from other departments and external to the University will also contribute to delivery of the course.
Entry criteria
Entry requirements
You should have a degree equivalent to UK first-class or second-class honours (2:2 or above) in a relevant subject.
Relevant professional qualifications and/or appropriate work experience will also be considered. This will allow for the recruitment of current police officers, police staff and staff from other law enforcement agencies with significant related work experience.
For applicants who don't have a second-class honours degree, an interview will usually form part of the selection process.
English language requirements
International students require IELTS 6.5, with a score no lower than 6.0 in each individual component, or an equivalent English language qualification.
If your current level of English is half a band, one band, or one-and-a-half bands lower, either overall or in one or two elements, you may want to consider our Pre-Sessional English course.
How to apply
This is a new course currently in development. Online applications will open once the validation process is complete.
Did you know?
If you join a full time undergraduate degree at Edge Hill University, we will guarantee you the offer of a room in our halls of residence for the first year of your course.
Discover our accommodation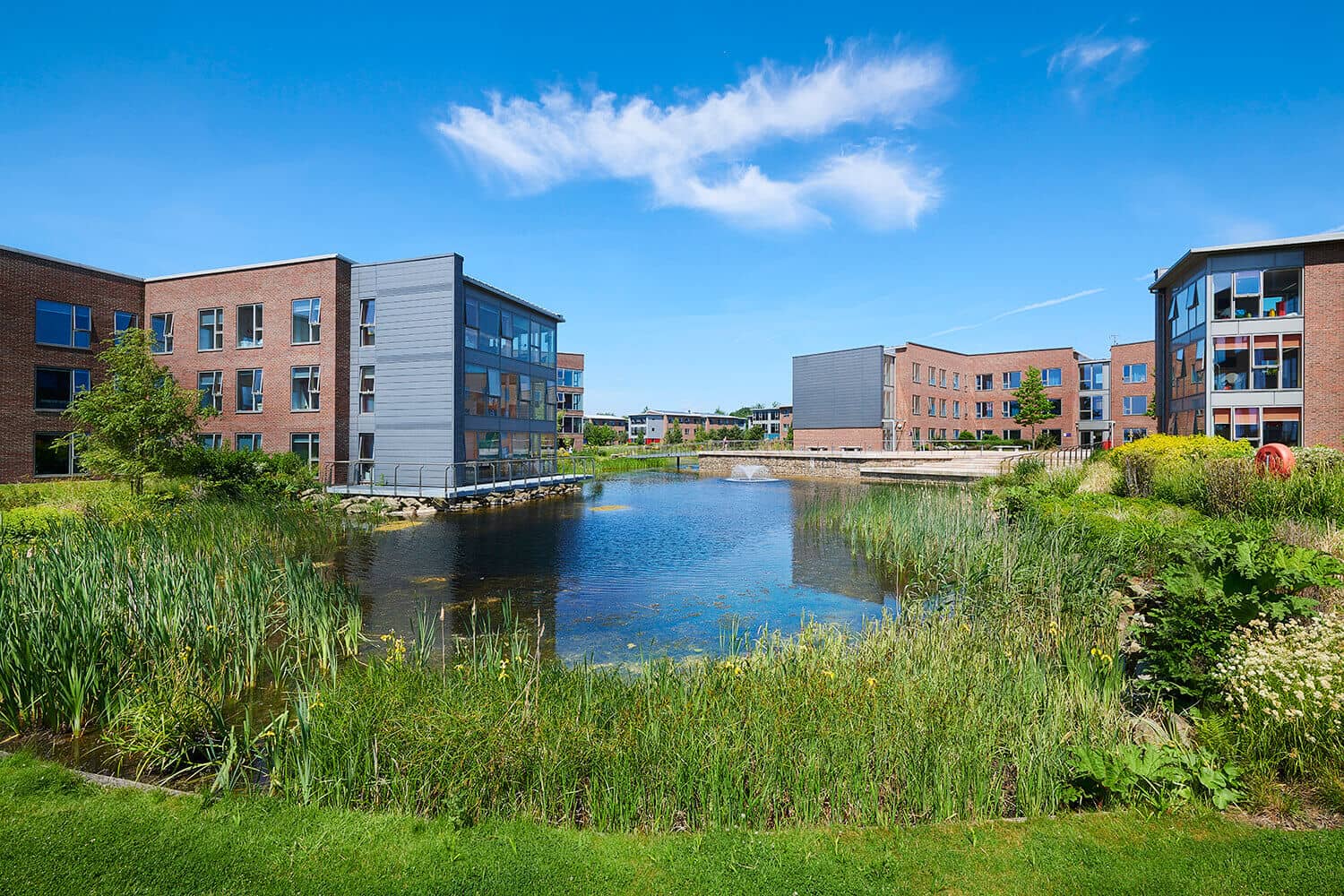 Facilities
The £6million Law and Psychology building provides contemporary teaching and learning facilities for students in the School of Law, Criminology and Policing and the Department of Psychology.
The three-storey building includes a 250-seat lecture theatre, seminar and tutorial rooms, and social learning areas which encourage a more informal and interactive style of learning. Elsewhere on campus, there is a mooting room (a mock courtroom) and Police Training and Simulation Facility.
Where you'll study
Police Training and Simulation Facility
Learning resources
The Police Training and Simulation Facility, part of which is furbished as a police station, is used to simulate a wide range of crime scenes. This will enable Law and Policing students to work together in areas such as gathering and analysing evidence, including forensic evidence at crime scenes, as well as practicing interview techniques used by the police through role play, while also ensuring that the rights of suspects are upheld.
Finance
Tuition fees
UK Part-Time
£47 per credit
for 180 credits
EU/EEA and Swiss students who have settled or pre-settled status under the EU Settlement Scheme, as well as Irish nationals, may be eligible for the UK tuition fee rate.
Financial support
Please view the relevant Money Matters guide for comprehensive information about the financial support available to eligible UK students joining postgraduate courses at Edge Hill University.
EU/EEA and Swiss students who have settled or pre-settled status under the EU Settlement Scheme may be eligible to apply for financial support. Irish nationals can ordinarily apply to Student Universal Support Ireland (SUSI). If you are an EU student who does not have settled or pre-settled status, or are an international student from a non-EU country, please see our international student finance pages.
Your future career
To start a career in the police force, you only need an undergraduate degree. However, by completing our MSc Policing and Law Enforcement and Investigation, you'll stand out from your competition with your advanced knowledge and research skills.
You'll be ready for roles in the Home Office and non-Home Office police forces in the UK, as well as other law enforcement agencies, such as the National Crime Agency. There are 35 national agencies in the UK with intelligence and investigation within their remit, so you'll find lots of opportunities in this area.
The course also provides career enhancement opportunities for serving police officers, police staff and members of other law enforcement agencies. You'll graduate with the skills needed to manage investigations and will be well placed to secure this through either promotion or professional development.
Download our course leaflet