Nineteenth-Century Studies
MA
Romantic poetry. Victorian society. Popular culture. Take part in field trips, work-based projects and independent study. You'll develop specialist academic skills as you explore the exciting world of the nineteenth century.
Overview
What is nineteenth century studies? It's exploring key aspects of Romantic and Victorian society and the lasting legacies of the period.
Take the next step in your teaching, academic or heritage career on our MA Nineteenth-Century Studies course taught by our cross-discipline team of specialists. You'll choose from a range of modules to suit your literary or cultural interests.
From Romantic creativity to Victorian entertainments and criminality, you'll study with experts in nineteenth-century literature, history, cultural heritage and digital humanities.
Throughout the course, you'll develop advanced academic writing and research skills and gain insights from classic and lesser-known texts. We'll encourage you to uncover how the debates and developments of the period shape popular culture today.
Become a research-active scholar. You'll contribute to current research on field trips and work with cultural heritage organisations. You'll gain in-demand skills for the education and heritage industries.
Course features
International students can apply

Work placement opportunity
What you'll study
You'll explore different periods, theories and approaches to nineteenth-century literature, history and culture, as well as analysing texts. We offer the chance to explore the evolution of attitudes towards criminality.
Work with physical and digital archives and develop active research skills. You'll learn valuable digital techniques to preserve late-Victorian media fragments.
Research professionally. Gain postgraduate referencing, writing and editing skills as you discover how to present your findings. Use your skills in a significant independent research project.
Make yourself more employable. Develop a work-based project. Undertake a work placement with one of our partner organisations. We encourage you to think about how to apply your research knowledge to careers in academia and beyond.
Crime, Criminal Justice and the City c.1840-1940
Entertaining the Victorians
Nineteenth Century Research Specialism
Working on the Nineteenth Century
Where your course includes optional modules, these are to provide an element of choice within the course curriculum. The availability of optional modules may vary from year to year and will be subject to minimum student numbers being achieved. This means that the availability of specific optional modules cannot be guaranteed. Optional module selection may also be affected by timetabling requirements. Some restrictions on optional module choice or combinations of optional modules may apply.
How you'll study
If you are studying the programme on a full-time basis, you will typically be required to attend two two-hour classes each week. These will usually take place in the afternoon and early evening of the same day. This means that full-time attendance makes the course accessible for those who have other commitments to consider. Part-time students will typically attend one two-hour session per week in the early evening.
Teaching will comprise a range of short lectures, skills workshops, seminar discussions and tutorials. There will also be opportunities for independent work-related learning and independent study, both of which will be supported by one-to-one supervision from subject specialists.
The programme will include field trips to established partners such as the Atkinson in Southport, the Wordsworth Trust in Grasmere, and the Bronte Parsonage in Haworth.
In addition to this, you will be involved in organising an annual conference and participate in a critical reading group which has the responsibility of inviting speakers to the EHU Nineteen seminar series.
How you'll be assessed
You will be assessed through a combination of critical essays, presentations, primary source analysis, close readings, referencing exercises, critical reflections and a dissertation.
There are no formal written examinations as part of the current assessment methods on this programme.
Who will be teaching you
You will be taught by a team of specialist tutors who are active researchers and committed teachers. Their interests include Romantic period women's writing, Victorian and neo-Victorian literature, nineteenth century periodicals, Victorian popular culture, gender theory, masculinity studies, children's literature, reception theory, the Gothic, and digital humanities.
More information on the programme team's research specialisms is available on the EHU Nineteen Research Group website.
You will also have the opportunity to attend talks from a range of external speakers, including collaborators from some of our heritage partners.
Entry criteria
Entry requirements
You should have a degree equivalent to UK first-class or second-class honours (2:2 or above) in a relevant subject.
Alternative professional qualifications and experience will also be considered, together with full and well-argued responses in your online application.
An interview may form part of the selection process.
English language requirements
International students require IELTS 6.5, with a score no lower than 6.0 in each individual component, or an equivalent English language qualification.
If your current level of English is half a band, one band, or one-and-a-half bands lower, either overall or in one or two elements, you may want to consider our Pre-Sessional English course.
How to apply
There is an online application process for this course.
Please choose the application form for your preferred intake date and mode of study.
Please see our international student pages for further information about how to apply as a prospective international student.
Did you know?
If you join a full time undergraduate degree at Edge Hill University, we will guarantee you the offer of a room in our halls of residence for the first year of your course.
Discover our accommodation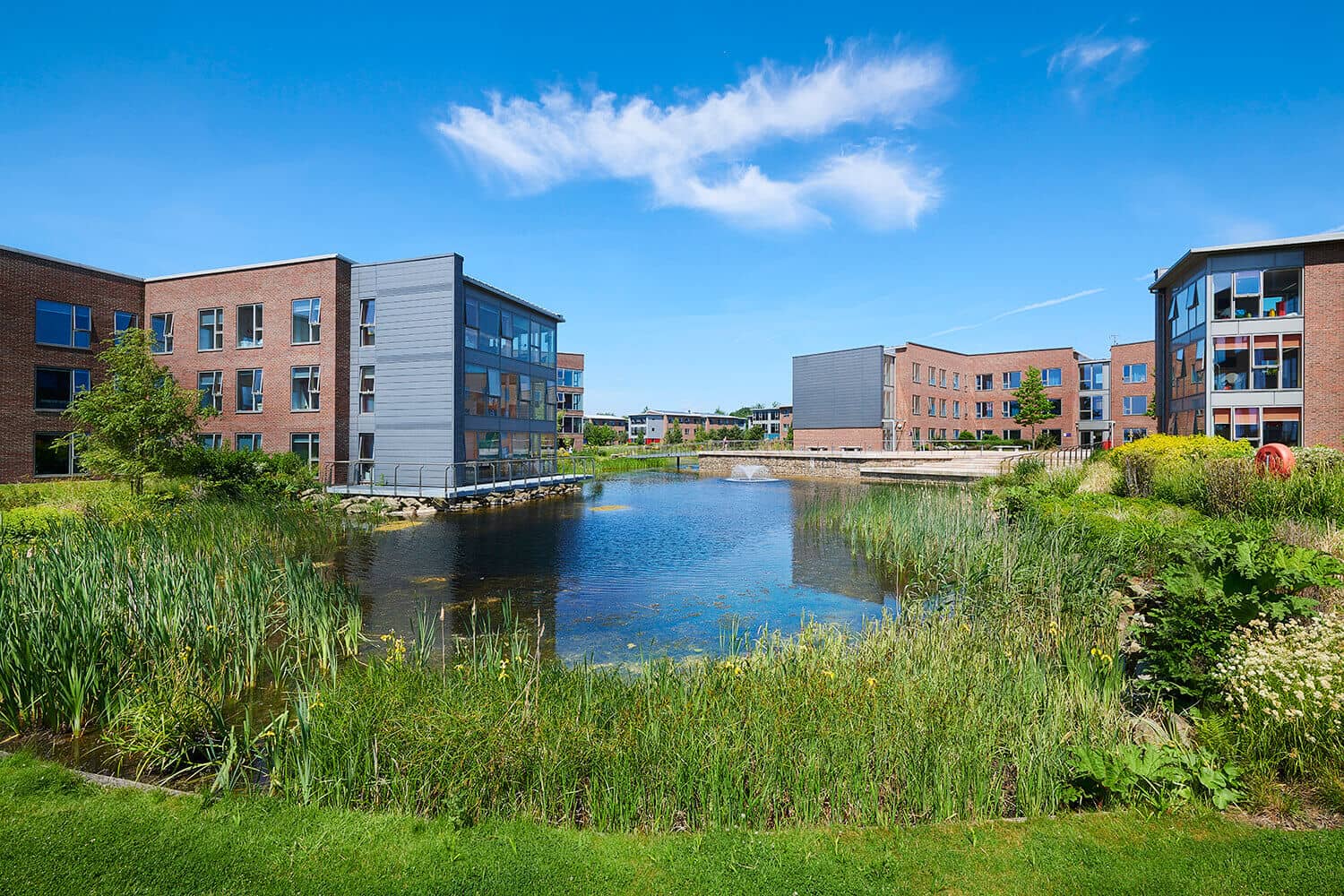 Facilities
The Department of History, Geography and Social Sciences is based in the Geosciences building. The contemporary facilities combine with a friendly and supportive learning environment to ensure that your studies are a rich and rewarding experience.
The Geosciences building features a large lecture theatre, small group teaching rooms, IT facilities and smaller tutorial spaces. There is also a large social area which encourages a more informal and interactive style of learning.
Where you'll study
Finance
Tuition fees
UK Part-Time
£50 per credit
for 180 credits
EU/EEA and Swiss students who have settled or pre-settled status under the EU Settlement Scheme, as well as Irish nationals, may be eligible for the UK tuition fee rate.
Financial support
Please view the relevant Money Matters guide for comprehensive information about the financial support available to eligible UK students joining postgraduate courses at Edge Hill University.
EU/EEA and Swiss students who have settled or pre-settled status under the EU Settlement Scheme may be eligible to apply for financial support. Irish nationals can ordinarily apply to Student Universal Support Ireland (SUSI). If you are an EU student who does not have settled or pre-settled status, or are an international student from a non-EU country, please see our international student finance pages.
Your future career
You'll graduate with the knowledge, skills and expertise you need for a wide range of postgraduate careers. Possible career paths you could choose include:
arts organisation and management
the heritage industry
publishing
advertising
journalism
libraries and learning centres
management/administration
teaching (further training required)
Our MA Nineteenth-Century Studies introduces you to advanced academic debates. You'll leave us with the independent research skills needed to continue to PhD level. This could be your next step to a career as a professional researcher.
Your future career is important to us. Your Personal Tutor will meet you at the start of the course to discuss your career aspirations and identify the best way for us to support them.
Course changes
Every effort has been made to ensure the accuracy of this information, however our courses are subject to ongoing review and development. Changing circumstances may necessitate alteration to, or the cancellation of, courses.
Changes may be necessary to comply with the requirements of professional bodies, revisions to subject benchmarks statements, to keep courses updated and contemporary, or as a result of student feedback. We reserve the right to make variations if we consider such action to be necessary or in the best interests of students.
Track changes to this course
Download our course leaflet