International Cyber Regulation & Policy
LLM
How should we govern the digital world? Untangle the rules and rights involved in online services, hardware and software. Explore the limits of traditional legislation. Analyse the new dangers we face and debate the conflicting underlying principles at stake.
Overview
Cybercrime. Cryptocurrency. Artificial intelligence. NFTs and intellectual property. Investigate the legal challenges created by the evolving digital world on our international cyber regulation and policy course.
We'll teach you how to police cyberspace. Discover how to combat terrorism and serious organised crime online. Define cyber property and digital rights and develop specialist knowledge of online regulations and governance.
Most internet servers are in international territories, so we need international cooperation and agreements. You'll debate how well international law and governance responds to digital crime today. Then you'll analyse current legal and regulatory frameworks and explore the connections between society, economics and IT laws.
Add experience to your CV
Our team of experts in cyber regulation and our experienced policing team bring their real-world experiences of detecting and investigating cyber crime into the classroom.
We also help you find relevant work experience so you can put your knowledge into practice. This could be in an appropriate legal practice or in a relevant role in an IT or telecommunications company.
Throughout the course, you'll develop a deep knowledge of the issues surrounding current and emerging technology as you become a cybersecurity legal expert.
Course features
International students can apply

Work placement opportunity
What you'll study
Traditional laws don't always translate to cyberspace. Your studies will help you untangle the relationship between the law and the nature of computer code and systems. You'll debate the struggle between the government and industry gatekeepers and argue the pros and cons of different schools of thought as you become an expert in international cyber regulation and policy.
New technology raises legal and ethical issues. You'll develop an advanced understanding as you pick up valuable skills in assessing technology for its suitability, impact and application in different situations.
Tailor your modules to your interests. You could specialise in intellectual property. Or find out more about detecting, investigating and prosecuting cybercriminals. You could also explore the intricacies of communications law and online terrorism. Or you could choose to specialise in information systems security management in the public and private sectors.
Gain additional sought after legal research skills preparing for your 15,000-word dissertation.
Research for Advanced Legal Studies
Counter Terrorism and Communications Law
Cyber Crime – Detection, Investigation and Enforcement
Information Security Management
Regulating Intellectual Property Law in Cyber Space
Optional modules provide an element of choice within the course curriculum. The availability of optional modules may vary from year to year and will be subject to minimum student numbers being achieved. This means that the availability of specific optional modules cannot be guaranteed. Optional module selection may also be affected by timetabling requirements. Some restrictions on optional module choice or combinations of optional modules may apply.
How you'll study
You will be taught in small groups through tutor-led lectures and interactive student-led seminars, while also having the opportunity to engage with your tutors on a one-to-one basis through personal tutorials, research supervision, and learning consolidation sessions.
Full-time students will typically attend three two-hour seminars per week while also watching three one-hour pre-recorded lectures per week for each module. Typically, full-time students would need to commit to two days per week on campus for their seminars and related student support and pastoral activities. The commitment for part-time students would typically be one day per week on campus.
The Law, Criminology and Policing department has a dedicated careers advisor available to support students who may wish to complete a placement, internship, or similar.
How you'll be assessed
Typically, you will be assessed through the submission of one piece of coursework for each taught module and the submission of a dissertation that may be a work-related research project. The coursework may be in the form of essays or problem-based case scenarios.
You will be assessed individually though on some occasions you will be invited to work as part of a team with your peers.
Who will be teaching you
You will be taught by experts in cyber regulation who have published extensively on the key themes of the programme or who have first-hand professional experience of working in law enforcement in these fields.
Research interests of the programme team include cyber and telecommunications law and policy, counter terrorism and communications law, intellectual property law, media law, European competition and regulatory law, and preventative legal measures against organised crime.
The programme also draws on the significant professional applied expertise located in the School of Law, Criminology and Policing's Policing team, particularly in relation to cybercrime detection and investigation.
Entry criteria
Entry requirements
You should have a degree equivalent to UK first-class or second-class honours (2:2 or above) in law, a relevant IT-based discipline, or a relevant non-law degree in the humanities or social sciences.
Relevant professional qualifications or suitable work experience will also be considered.
An interview forms part of the selection process for applicants with non-law degrees.
English language requirements
International students require IELTS 6.5, with a score no lower than 6.0 in each individual component, or an equivalent English language qualification.
If your current level of English is half a band, one band, or one-and-a-half bands lower, either overall or in one or two elements, you may want to consider our Pre-Sessional English course.
How to apply
There is an online application process for this course.
Please choose the application form for your preferred intake date and mode of study.
Please see our international student pages for further information about how to apply as a prospective international student.
Should you accept an offer of a place to study with us and formally enrol as a student, you will be subject to the provisions of the regulations, rules, codes, conditions and policies which apply to our students. These are available at www.edgehill.ac.uk/studentterms.
Did you know?
If you join a full time undergraduate degree at Edge Hill University, we will guarantee you the offer of a room in our halls of residence for the first year of your course.
Discover our accommodation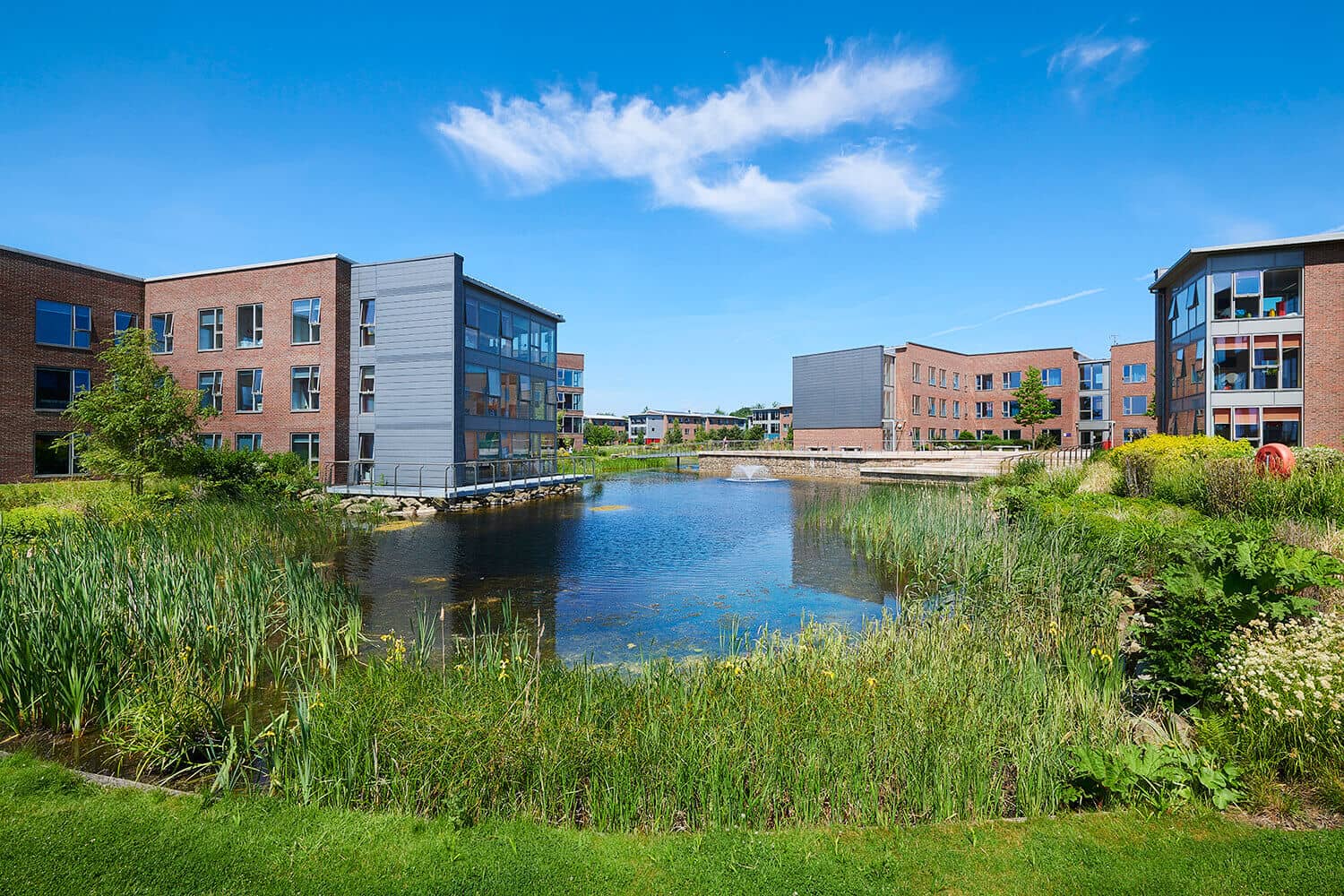 Facilities
The £6million Law and Psychology building provides contemporary teaching and learning facilities for students in the School of Law, Criminology and Policing and the Department of Psychology.
The three-storey building includes a 250-seat lecture theatre, seminar and tutorial rooms, and social learning areas which encourage a more informal and interactive style of learning.
Where you'll study
Finance
Tuition fees
UK Part-Time
£47 per credit
for 180 credits
EU/EEA and Swiss students who have settled or pre-settled status under the EU Settlement Scheme may be eligible to apply for financial support. Irish nationals can ordinarily apply to Student Universal Support Ireland (SUSI). Please see our EU student finance page for further details.
Financial support
Please view the relevant Money Matters guide for comprehensive information about the financial support available to eligible UK students joining postgraduate courses at Edge Hill University.
EU/EEA and Swiss students who have settled or pre-settled status under the EU Settlement Scheme may be eligible to apply for financial support. Irish nationals can ordinarily apply to Student Universal Support Ireland (SUSI). If you are an EU student who does not have settled or pre-settled status, or are an international student from a non-EU country, please see our international student finance pages.
Your future career
By the end of this course, you'll be ready to take your specialist knowledge straight into the legal profession. You'll understand how to defend rights infringements. You'll also have expertise in intellectual property rights, data privacy rights, and access and authorisation rights. All of these skills are highly sought after by independent legal practices.
Perhaps you'll decide to go into business. Your skills will open doors to compliance roles with IT company legal departments or at industry regulatory bodies. Or start a career in law enforcement. Cybercrime policing units are another avenue after completing our LLM International Cyber Regulation and Policy.
Other graduates from this course choose an academic path. You could go into specialist legal research or study for a PhD.
You'll graduate with a set of transferable legal and personal skills. You'll be able to find, identify, assess and apply rules to solve complex regulatory problems in other areas. You'll be ready for roles needing responsibility, independent working, strong communication and flexibility.
Course changes
Every effort has been made to ensure the accuracy of this information, however our courses are subject to ongoing review and development. Changing circumstances may necessitate alteration to, or the cancellation of, courses.
Changes may be necessary to comply with the requirements of professional bodies, revisions to subject benchmarks statements, to keep courses updated and contemporary, or as a result of student feedback. We reserve the right to make variations if we consider such action to be necessary or in the best interests of students.
Track changes to this course
Download our course leaflet