Public Health Nutrition
MSc
Ready to unravel the science of nutrition and the relationship between diet and health? Our master's degree allows you to explore the role of nutrition in disease prevention, improving life expectancy and protecting the health of people and the planet.
Overview
Our MSc in Public Health Nutrition provides you with the answers to many current nutritional issues. Should we eat less saturated fat to improve heart health? Is folic acid fortification necessary? Can we continue to eat what we do and prevent global warming? On this degree, you'll develop specialist scientific knowledge and practical skills to meet the nutritional challenges of the 21st Century.
As well as the teaching and learning spaces, you'll have access to our professional food science laboratory and kitchen, allowing you to carry out a variety of practical work with foods in a purpose-built environment.
Once you graduate, you'll be able to make significant contributions to the field of nutrition, at a national and international level.
Course features
International students can apply
Studying this degree has brought me the consciousness of what to eat and the need to check food labels before buying, to see the amount of fats, salt and other nutritional values.
Emmanuel Ayeni
MSc Public Health Nutrition
View student profile
What you'll study
We've designed all the modules on this public health nutrition course to diversify your understanding of the scientific evidence that underpins public health nutrition.
Discover the rationale behind dietary recommendations, reference nutrient intakes and strategies to improve population health. Learn about the metabolism of nutrients in regard to disease prevention. Look at the psychological models of behaviour and behaviour change in relation to food choice. Explore global health challenges, such as maternal and child nutrition, sustainable food production and food poverty.
Our research methods module introduces you to the research process and a range of methodologies. You'll complete a project relevant to your own interests or area of employment, supervised by one of the experts within the faculty.
Epidemiology, Evaluation and Effectiveness
Fundamentals of Public Health Nutrition
Health and Behaviour Change
Nutrition and Sustainability
Nutrition, Metabolism and Disease
Nutrition Research Methods
How you'll study
The programme incorporates a variety of teaching and learning strategies including lectures, workshops, student-led seminars, practical activities and case studies. This varied approach is designed to meet a range of learning needs, encourage problem-solving skills and foster peer discussion and communication. Teaching will usually be delivered during the daytime.
How you'll be assessed
Assessment methods are varied and include a combination of exams, essays, case studies and presentations.
Who will be teaching you
You will be taught by specialists in the fields of nutrition, health, physiology, biochemistry and psychology. The programme team are actively engaged in nutrition-related research and consultancy with organisations such as the British Dietetic Association and British Association for Cardiovascular Health and Rehabilitation. Staff research interests include maternal nutrition, cardiovascular health, obesity, nutrition and sustainability, food science and metabolism, and behavioural psychology. This expertise and knowledge is used to directly inform teaching activities ensuring a real-world learning experience.
Entry criteria
Entry requirements
You should have a degree equivalent to UK first-class or second-class honours (2:2 or above) in a relevant subject such as nutrition, dietetics, physiotherapy, occupational therapy, pharmacy, sport science, health, food science or biology.
Applicants with a third class honours degree and/or relevant work experience would need to demonstrate a good level of knowledge in biosciences and will be considered on an individual basis.
English language requirements
International students require IELTS 6.5, with a score no lower than 6.0 in each individual component, or an equivalent English language qualification.
If your current level of English is half a band, one band, or one-and-a-half bands lower, either overall or in one or two elements, you may want to consider our Pre-Sessional English course.
How to apply
There is an online application process for this course.
Please choose the application form for your preferred intake date and mode of study.
Please see our international student pages for further information about how to apply as a prospective international student.
Should you accept an offer of a place to study with us and formally enrol as a student, you will be subject to the provisions of the regulations, rules, codes, conditions and policies which apply to our students. These are available at www.edgehill.ac.uk/studentterms.
Did you know?
If you join a full time undergraduate degree at Edge Hill University, we will guarantee you the offer of a room in our halls of residence for the first year of your course.
Discover our accommodation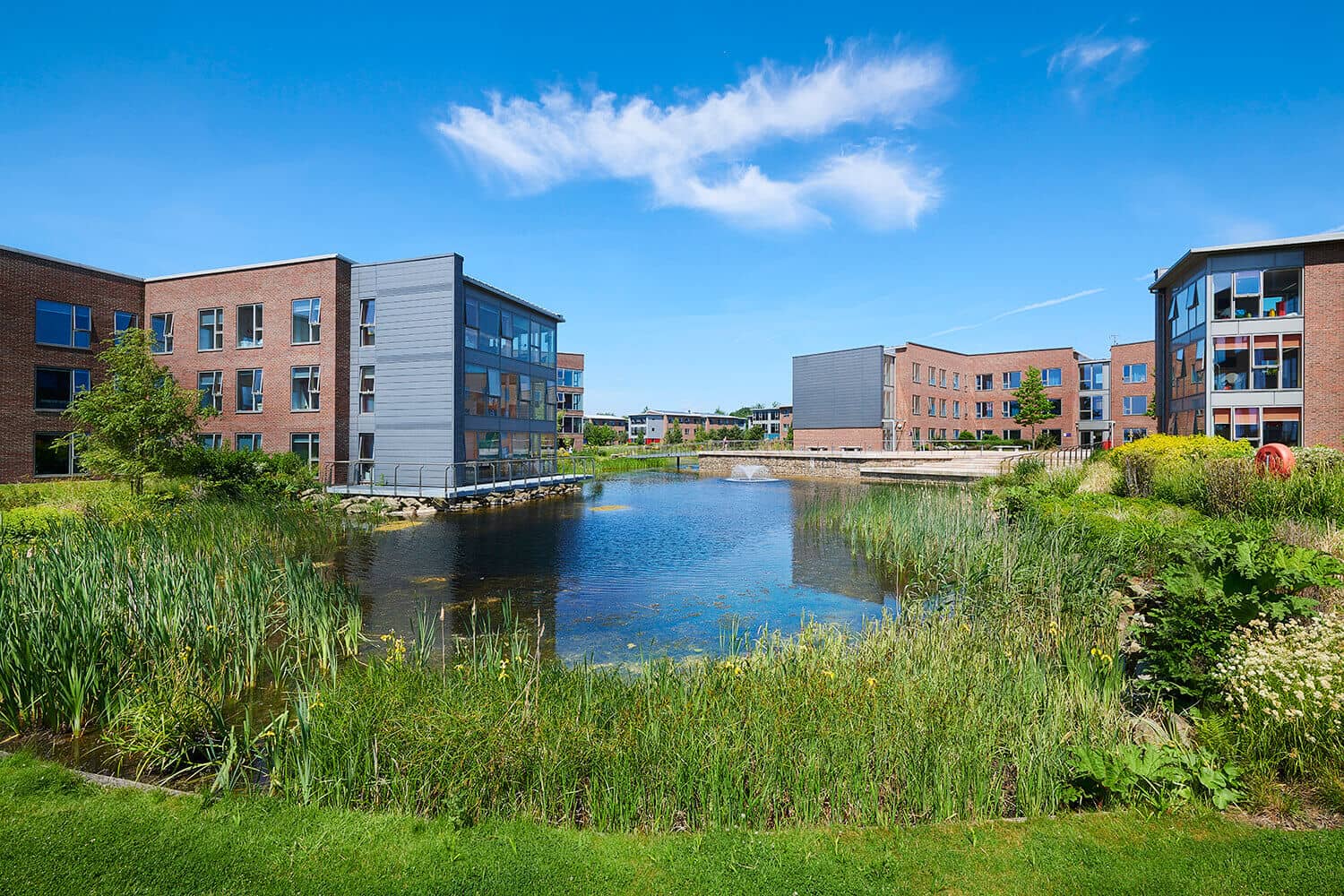 Facilities
The Faculty of Health, Social Care and Medicine offers outstanding facilities for the education and training of health and social care professionals.
The contemporary teaching and learning resources include leading edge clinical skills facilities, an 860-seat lecture theatre, and a variety of teaching rooms and social learning spaces. A professional food science laboratory and kitchen space enables Nutrition students to undertake a variety of practical work with foods in a purpose-built environment.
This dedicated space and the University's modern Biosciences laboratories are used to test how certain foods are manufactured and produced, investigate the physical properties of food, and conduct sensory evaluations. You will also have opportunities to participate in enterprise initiatives and research activity using the Nutrition facilities.
Where you'll study
Faculty of Health, Social Care and Medicine
Learning resources
Learning resources for Nutrition students include sphygmomanometers for measuring resting blood pressure to indicate cardio vascular risk, bariatric and geriatric suits to experience physical and mobility restrictions, wrist-based global positioning systems (garmin devices) that measure exercise duration, energy expenditure and heart rate, and actigraphs which estimate exercise intensity and track sleep quality and duration.
Finance
Tuition fees
UK Part-Time
£50 per credit
for 180 credits
EU/EEA and Swiss students who have settled or pre-settled status under the EU Settlement Scheme, as well as Irish nationals, may be eligible for the UK tuition fee rate.
Financial support
Please view the relevant Money Matters guide for comprehensive information about the financial support available to eligible UK students joining postgraduate courses at Edge Hill University.
EU/EEA and Swiss students who have settled or pre-settled status under the EU Settlement Scheme may be eligible to apply for financial support. Irish nationals can ordinarily apply to Student Universal Support Ireland (SUSI). If you are an EU student who does not have settled or pre-settled status, or are an international student from a non-EU country, please see our international student finance pages.
Your future career
Our MSc Public Health Nutrition prepares you for nutrition related roles in many public and private sector organisations. These include local authorities, charitable organisations, the NHS, health promotion organisations, the leisure industry and the private sector. Job roles include:
Nutritionist for food retailer
Scientific officer
Policy and communication officer
Nutrition and health adviser
Healthy lifestyle specialists
Alternatively, you might choose to progress to PhD study where you could focus on a specialist area of nutrition.
Course changes
Every effort has been made to ensure the accuracy of this information, however our courses are subject to ongoing review and development. Changing circumstances may necessitate alteration to, or the cancellation of, courses.
Changes may be necessary to comply with the requirements of professional bodies, revisions to subject benchmarks statements, to keep courses updated and contemporary, or as a result of student feedback. We reserve the right to make variations if we consider such action to be necessary or in the best interests of students.
Track changes to this course
Download our course leaflet