Education (Special Educational Needs)
MA
Place yourself at the cutting edge of supporting learners with special educational needs, while developing as a forward-thinking education professional on a programme delivered using a hybrid learning model.
Overview
The MA Education (Special Educational Needs) has been designed to meet the interests and professional development needs of a range of professionals who are working with those with special educational needs in education and related settings, such as health and social care and social services. The programme enables you to gain in-depth knowledge and understanding of barriers to learning. You will discover how to deliver inclusive practice for learners with special educational needs, focus on dyscalculia and mathematics learning difficulties, and explore multiple perspectives on educational leadership. You will also engage in meaningful and impactful research and enhance your understanding of the nature of educational enquiry and the analytical processes that support research-informed practice. If you are seeking to develop your practice and gain expertise in the field of special educational needs, then this is the programme for you.
You will benefit from exceptional personalised support, tailored to your individual professional interests and needs, and a flexible hybrid delivery model where you will normally attend classes online and on campus. The blend of students from different professional backgrounds will enable discussion, debate and the sharing of experiences in a supportive and welcoming environment, facilitated by staff who are experts in education theory and practice and special educational needs. You will also develop essential transferable skills, from purposeful and effective communication to utilising a range of media, making justifiable decisions in complex and unpredictable situations, and planning appropriate targets for improvement.
What you'll study
The overall focus of the course is on equipping you with comprehensive, theoretical, research-informed knowledge and an understanding of differing educational perspectives and diverse contexts.
Key themes include the nature of reflective and reflexive practice, inclusive practice for learners with special educational needs, and educational leadership. You will also have the opportunity to acquire specialist knowledge of dyscalculia and mathematics learning difficulties.
Supporting your personal professional development and enhancing your research skills are essential elements of the course, preparing you for the completion of an independent research project on a relevant topic of your choice.
Developing Practice: The Dissertation
Research Planning in Education
The Reflexive Practitioner
Educational Leadership in Context
Inclusive Practice for Learners with Special Educational Needs
Investigating Dyscalculia / Maths Learning Difficulties
Optional modules provide an element of choice within the course curriculum. The availability of optional modules may vary from year to year and will be subject to minimum student numbers being achieved. This means that the availability of specific optional modules cannot be guaranteed. Optional module selection may also be affected by timetabling requirements. Some restrictions on optional module choice or combinations of optional modules may apply.
How you'll study
An innovative hybrid blend of practical workshops, lectures and tutorial support provides a rich mix of experiences and modes of learning. The hybrid delivery model means that tutors will present sessions face-to-face and/or via a virtual classroom, ensuring a flexible approach where the location and mode of delivery can fit around the busy schedules of working professionals.
Taught sessions are built around dialogue, discussion and collaborative learning, with tutor support and expertise immediately at hand. Teaching is interactive, experiential and innovative, using a variety of technologies to enhance your learning, from presentation tools and virtual classrooms to mixed media, social media and mobile technologies. The programme will be tailored to enable you to focus your learning on your individual interests and professional requirements.
Each 30-credit module may typically involve four face-to-face or virtual classroom sessions, a significant amount of private study and reading, as well as independent research.
How you'll be assessed
You will be assessed through a combination of 5,000-word written assignments, project work, portfolios and presentations, as well as a 15,000-word dissertation. Opportunities to receive formative feedback are embedded into each module.
Who will be teaching you
The programme is delivered by a team of research-active academic staff who have extensive expertise in education and its related disciplines.
The work of the programme team has national and international impact, contributing to and informing education curricula and learning techniques, both in the UK and overseas.
Their research interests include inclusion and special educational needs, dyscalculia, dyslexia, educational policy and practice, educational leadership, as well as research methods and methodologies.
Entry criteria
Entry requirements
You should have a degree equivalent to UK first-class or second-class honours (2:2 or above) in a relevant subject or have a Masters degree or equivalent in a relevant field.
If you do not meet the above requirements but have two or more years of relevant work experience, you are encouraged to apply. Relevant work experience could include working in a school or other educational setting, youth and community work, or an educational role in the public or private sector.
All applicants must be employed in, or have sustained and appropriate voluntary access to, a relevant professional setting.
How to apply
There is an online application process for this course.
Applications for September 2023 entry will open later this year.
Should you accept an offer of a place to study with us and formally enrol as a student, you will be subject to the provisions of the regulations, rules, codes, conditions and policies which apply to our students. These are available at www.edgehill.ac.uk/studentterms.
Did you know?
If you join a full time undergraduate degree at Edge Hill University, we will guarantee you the offer of a room in our halls of residence for the first year of your course.
Discover our accommodation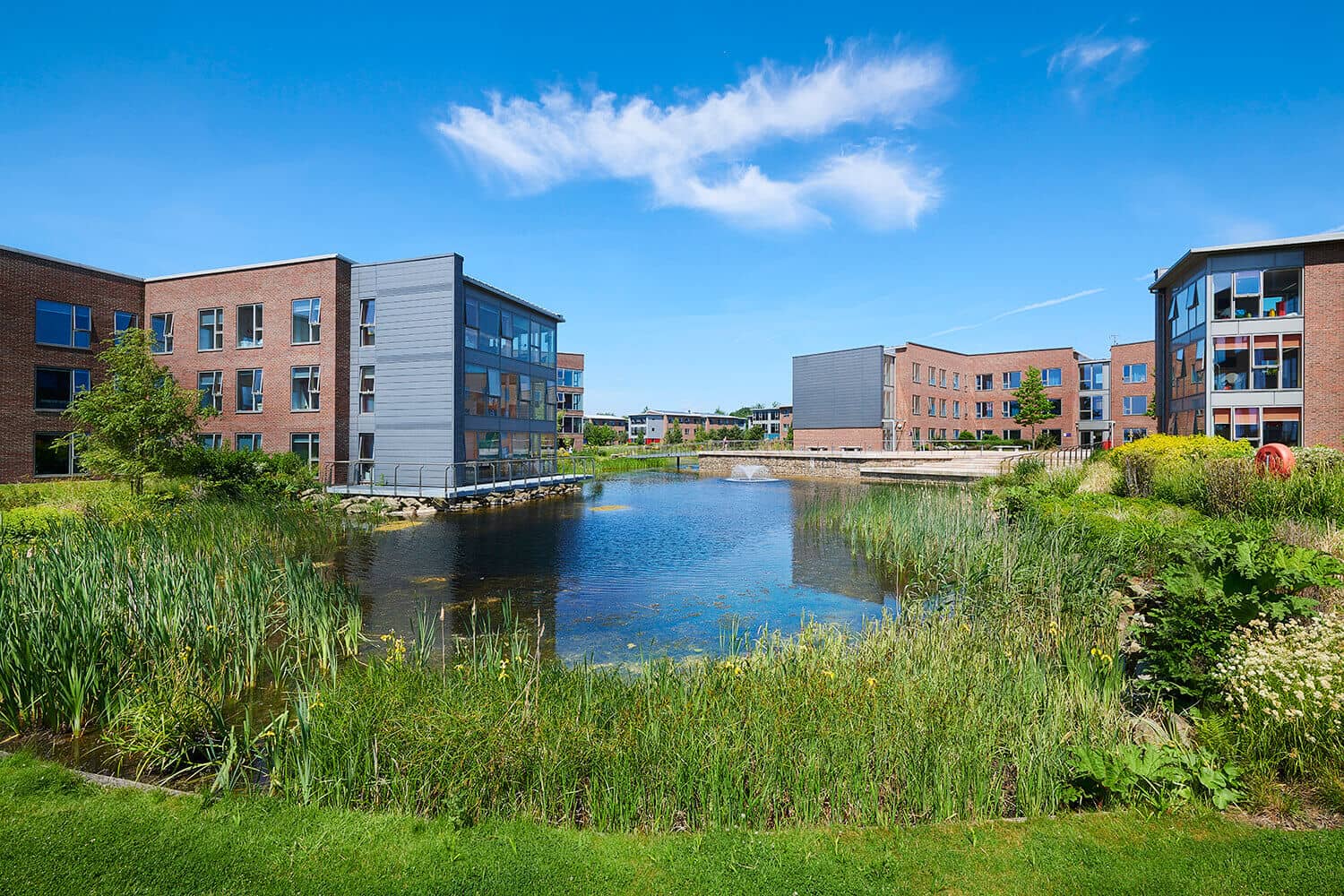 Facilities
Housed in a state-of-the-art £9million building, the Faculty of Education enjoys a stunning setting from both its lakeside and piazza buildings.
Facilities in the lakeside building include a 300-seat lecture theatre, five well-equipped ICT suites, and 18 teaching rooms complete with the latest technology. The lakeside building is also home to a popular vegan and vegetarian cafe where students can meet to socialise and discuss their studies.
The nearby piazza building offers modern facilities including a lecture theatre and a number of seminar rooms.
Where you'll study
Finance
Tuition fees
UK Part-Time
£47 per credit
for 180 credits
EU/EEA and Swiss students who have settled or pre-settled status under the EU Settlement Scheme, as well as Irish nationals, may be eligible for the UK tuition fee rate.
Financial support
Please view the relevant Money Matters guide for comprehensive information about the financial support available to eligible UK students joining postgraduate courses at Edge Hill University.
EU/EEA and Swiss students who have settled or pre-settled status under the EU Settlement Scheme may be eligible to apply for financial support. Irish nationals can ordinarily apply to Student Universal Support Ireland (SUSI). Please see our EU student finance page for further details.
Your future career
Preparing you for a wide variety of roles across the education workforce in the UK and internationally, this MA can enhance your professional career opportunities and employability.
On successful completion of the programme, you will be equipped with the knowledge and skills required to make a significant and positive contribution to a range of education settings and education-related contexts.
You will graduate well placed to apply for more senior positions both within your current workplace and with other providers. The skills and experience acquired through this MA will also provide you with essential preparation for progressing onto research qualifications, such as a PhD or Professional Doctorate.
Course changes
Every effort has been made to ensure the accuracy of this information, however our courses are subject to ongoing review and development. Changing circumstances may necessitate alteration to, or the cancellation of, courses.
Changes may be necessary to comply with the requirements of professional bodies, revisions to subject benchmarks statements, to keep courses updated and contemporary, or as a result of student feedback. We reserve the right to make variations if we consider such action to be necessary or in the best interests of students.
Track changes to this course
Download our course leaflet