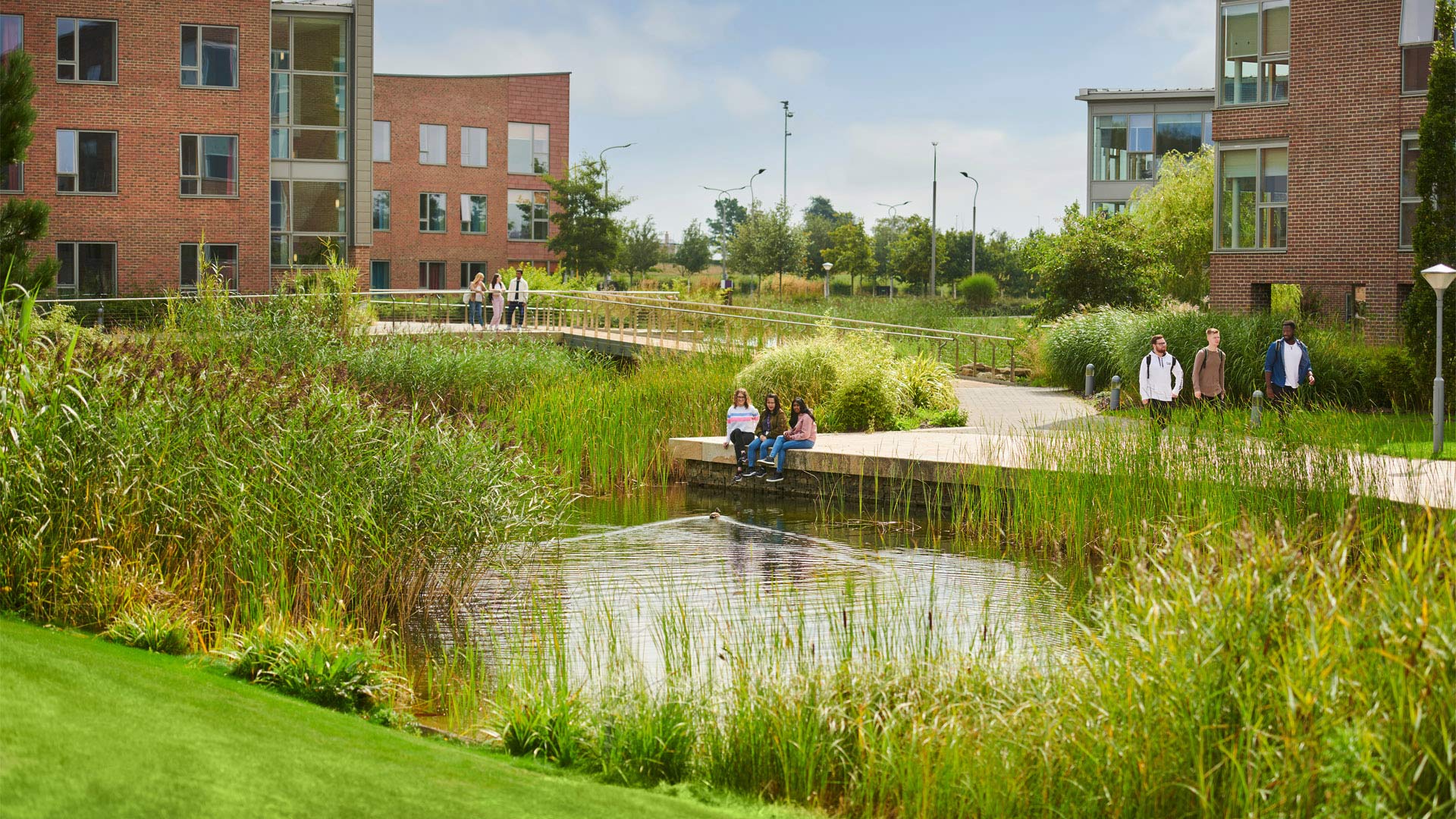 Get to know your green campus
We know that sustainability is important to you. And it's just as important to us too. Over the past 90 years, our campus has come on in leaps and bounds. And as we've grown, so has our commitment to sustainability and biodiversity. It's at the heart of everything we do.
Eco-friendly initiatives
We are proud of our facilities that are not only exceptional in performance but also sustainable in how they operate, ensuring a brighter and greener future for all. Here are just some of our activities:
We've invested heavily in redeveloping the campus with innovative energy-efficient technology. This means the energy we use comes from renewable sources, like ground source heating and solar thermal energy.
We work in partnership with the Carbon Trust, setting targets to reduce our energy use and to increase how much we recycle. In our Environment Sustainability Delivery Plan we've set out to become Carbon Neutral by 2030 and Net Zero by 2035.
We manage residual waste according to best practice across campus. You'll find banks of recycling bins placed in communal areas of your halls.
Each year, our Corporate Sustainability Team run the 'Big Campus Clear Out' in halls to encourage students to recycle rather than throw away any usable furnishing, clothing or kitchen equipment.
We continue to plant native trees as part of our landscaping strategy.
We've created biodiversity hotspots as part of our Biodiversity Action Plan (BAP). This sets out our approach to land management and how we care for our on-campus species – which include hedgehogs, ducks and rabbits – and ways to improve existing green spaces, such as introducing new 'no-mow zones.'
Top-tier for sustainability
We're thrilled to have achieved the highest ranking of 'Platinum Tier' in the annual Uswitch Green University study – just one of six universities overall to achieve the ranking out of 132 universities. Our eco-friendly initiatives were commended, including our team of sustainability champions and the SustainNET network, which promotes sustainability across all aspects of University life and the wider community.
This year, we also won our 12th Green Flag award – an international quality mark for green spaces – celebrating our stunning campus grounds. This recognises Edge Hill as one of the country's best parks and acknowledges the dedication of our Grounds Maintenance Team, who work hard in all weathers to maintain beautiful, natural areas to sit and relax, or enjoy walking between lectures.
And recently, we scooped not one, but two Green Tourism Awards, recognising the many sustainability measures adopted by Edge Hill Sport and its conference service.
Go green on the go
We have also created ways to get here more sustainably too. From Ormskirk town centre, you can catch the EdgeLink bus – a free service to all students when you show your UniCard. Great if you live in Ormskirk or arrive by bus or train.
If you drive to campus, we encourage you to consider car sharing. This is a great option to not only reduce your carbon footprint, but save money on reduced petrol costs and mileage. Best of all, you'll qualify for a reserved parking space on campus.
If two wheels is more appealing than four, cyclists can benefit from our Bike Locker Users' Club to store your bike securely on campus. Or use our Sheffield stands and all-mounted ranks offered free of charge. If you'd rather not head straight to your lectures after cycling to campus, consider a quick pit stop at the Sports Centre or Faculty of Health, Social Care and Medicine beforehand. There, you can take a free shower to make sure you are feeling fresh for your studies.
For more information about our sustainable travel initiatives, please visit our travel webpage.
Sustainability Fair
Come along to our Sustainability Fair running on 14 and 15 November 2023 from 10am – 2pm.
With COP28 coming up in December, there's no better time to celebrate our commitment to sustainability as a University community. This two-day event will celebrate the benefits and importance of sustainability, helping to inspire sustainable choices in our students and staff. With events across campus including Hale Hall, Catalyst, the Hub and around the EH Market. Make sure you explore it all across the two days.
The University will be hosting a range of stands and exhibitors, including the Ormskirk and Croston Beekeepers, iCycle for bike testing and maintenance demonstrations and the chance to win a prize by participating in the 'How Bad are Bananas?' Carbon footprint game.
Come along to learn about sustainability at Edge Hill, gather tips on sustainability, and get involved.
Other ways to get involved
We are always looking for volunteers to help out with campaigns and events. If you have any questions or are interested in helping out please email [email protected].
To find more about the University's commitments to sustainability, visit our sustainability webpage.
November 9, 2023