Protected: Psychology in Business
MSc
Learn to apply specialist psychological insights to boost the effectiveness of businesses and successfully sell services or products. If you're creative, innovative and ready to transform your leadership understanding and skills, join us and reach your potential.
Closed to further applications for September 2023 entry.
Overview
Can innovation and creativity be taught? How can psychology be used in sales and marketing? Does being a good team player depend on the fit between your role and personality? Is there a blueprint for a 21st century career? Our MSc Psychology in Business is designed for graduates in psychology or a related discipline. You'll learn advanced skills needed to thrive in a range of organisations, from start-ups to multinationals.
Our course is centred around creativity, innovation, communication, teamwork, leadership and management. You'll be taught by our expert staff in an immersive and supportive environment and have access to ultra-modern teaching and learning facilities in our £6 million Law and Psychology building.
We pride ourselves on the fact that our course is designed to be organic – which means you'll learn from undertaking projects and activities that are derived from your own motives, knowledge and experience.
Course features
International students can apply
What you'll study
You'll focus on contemporary issues and challenges facing organisations today. And you'll look at the nature of leadership and management roles, and the impact and influence of development interventions.
Modules encourage you to utilise the psychology of creativity, innovation, sales and marketing. You'll also explore the application of perspectives and insights from core areas of psychology to leadership, motivation, recruitment and employee wellbeing, as well as the role of psychometrics in selection, assessment and development.
Our MSc Psychology in Business will equip you with the professional skills you need for a successful career. You'll practise teamwork and communication in small groups with supportive Dragons' Den assessments. Together with individual reflective commentaries, you'll also benefit from detailed expert advice.
Advanced Applied Psychometrics: Personality and Individual differences in selection
Advanced Professional Skills
Leading, Managing and Developing People
Psychology Masters Dissertation
Psychology of Creativity and Innovation
Psychology of Sales and Marketing
Advanced Organisational Psychology
How you'll study
The programme adopts 'Professional Action Learning' (PAL) methodology for selected modules, developed from the classic Revans approach. These modules are designed with a series of day schools/workshops using group-based discussion and action, with 5-6 students per group.
Other modules will take a more traditional approach and require attendance at one seminar per week. These sessions will be a combination of tutor-led and student-developed interactive activities. You will also be encouraged to engage with your tutors on a one-to-one basis.
The module timetables are structured so that all contact time falls on a maximum of three days per week.
How you'll be assessed
You will be assessed through a combination of group-based presentations, written assignments, individual reflective portfolios and a 10,000 word dissertation.
Who will be teaching you
The programme will be delivered by a cross-department team of academic experts from the Department of Psychology and the Business School who have specialist knowledge of areas such as marketing, sales, teamwork, psychological assessment and professional development.
Entry criteria
Entry requirements
You should have a degree equivalent to UK first-class or upper second-class honours (2:1 or above) in psychology or a cognate discipline involving human sciences, including business and management, geography, social sciences, sport and exercise science, or a health-related subject.
Students with a lower second class honours degree (2:2) may be admitted at the department's discretion, based on evidence of relevant experience and/or prior learning.
An interview forms part of the selection process.
English language requirements
International students require IELTS 6.5, with a score no lower than 6.0 in each individual component, or an equivalent English language qualification.
If your current level of English is half a band, one band, or one-and-a-half bands lower, either overall or in one or two elements, you may want to consider our Pre-Sessional English course.
How to apply
Closed to further applications for September 2023 entry.
Should you accept an offer of a place to study with us and formally enrol as a student, you will be subject to the provisions of the regulations, rules, codes, conditions and policies which apply to our students. These are available at www.edgehill.ac.uk/studentterms.
Did you know?
If you join a full time undergraduate degree at Edge Hill University, we will guarantee you the offer of a room in our halls of residence for the first year of your course.
Discover our accommodation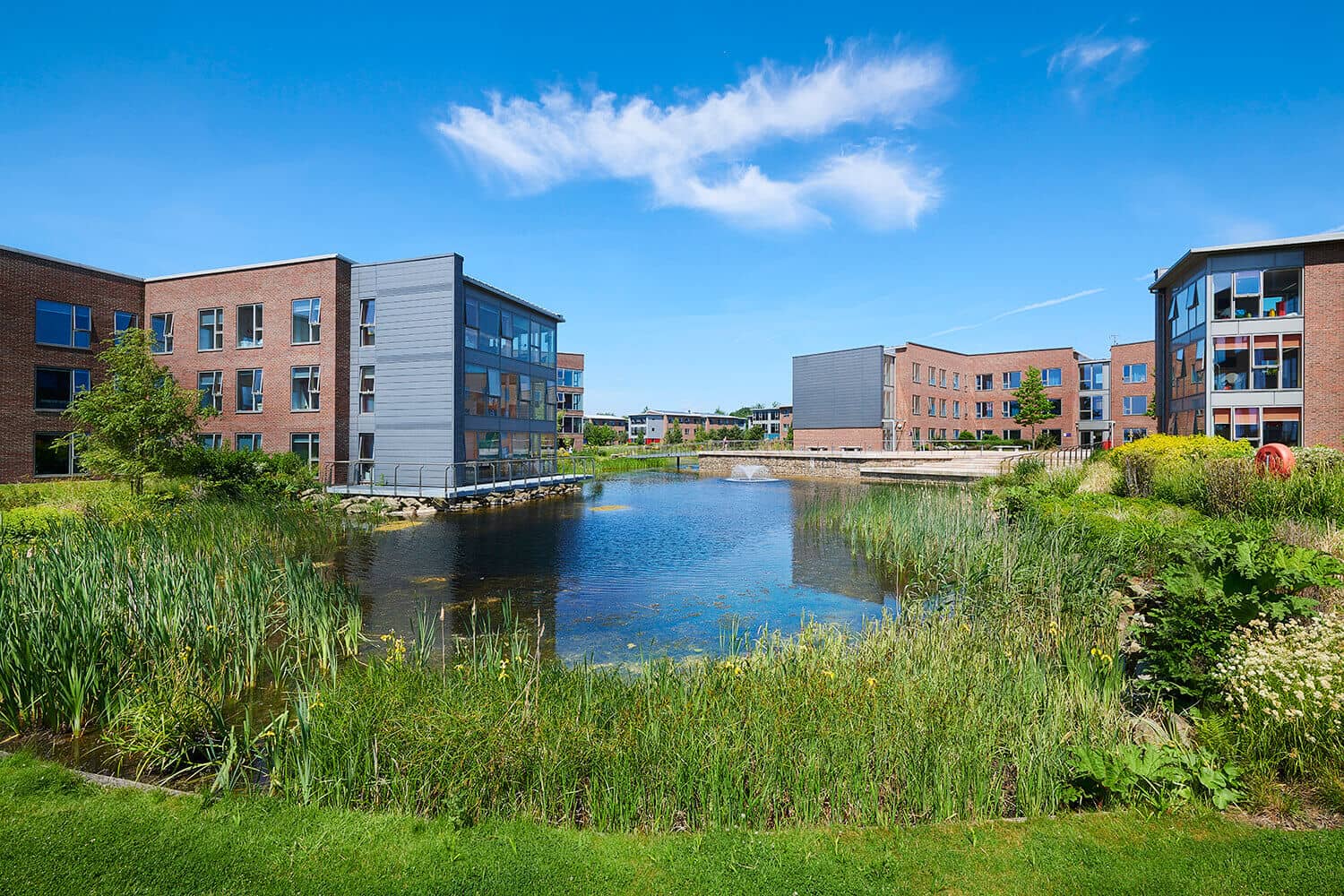 Facilities
The £6million Law and Psychology building provides contemporary teaching and learning facilities for students in the Department of Psychology and the School of Law, Criminology and Policing.
The three-storey building includes a 250-seat lecture theatre, seminar and tutorial rooms, and social learning areas which encourage a more informal and interactive style of learning. There are also specially designed laboratory and experimental facilities for psychological research.
Some modules will be delivered in Edge Hill Business School where the £8million teaching and learning facilities include a 100-seat lecture theatre, modern seminar and meeting rooms, social learning areas, and an attractive roof garden and atrium.
Where you'll study
Learning resources
Psychology resources include state-of-the-art eye trackers, transcranial direct current stimulation (tDCS) methods, and near-infrared spectroscopy (NIRS) for examining cognitive functioning and brain activity. Other specialist laboratories include a group testing laboratory, bi-directional observation rooms, a 'bar simulation laboratory' (for alcohol research), audio-visual suites and dedicated IT facilities equipped with subject specific software installed to support experimental work.
Finance
Tuition fees
UK Part-Time
£47 per credit
for 180 credits
EU/EEA and Swiss students who have settled or pre-settled status under the EU Settlement Scheme, as well as Irish nationals, may be eligible for the UK tuition fee rate.
Financial support
Please view the relevant Money Matters guide for comprehensive information about the financial support available to eligible UK students joining postgraduate courses at Edge Hill University.
EU/EEA and Swiss students who have settled or pre-settled status under the EU Settlement Scheme may be eligible to apply for financial support. Irish nationals can ordinarily apply to Student Universal Support Ireland (SUSI). If you are an EU student who does not have settled or pre-settled status, or are an international student from a non-EU country, please see our international student finance pages.
Your future career
You'll graduate with the skills and expertise to go into a wide range of careers. You'll have a competitive advantage in areas such as human resources, market research, recruitment and training and sales and marketing. Job roles include:
Entrepreneur
Industrial Counsellor
Industrial-organisational Psychologist
Corporate Consultant
Human Factors Specialist
Customer Relationship Specialist
Employee Retention Consultant
Professional Development Coach
Customer Service Manager
Change Management Specialist
If you've previously gained eligibility for the Graduate Basis for Chartered Membership (GBC) with the British Psychological Society, you'll be well placed to continue your progress towards becoming a chartered psychologist. You'll now have a deeper knowledge of organisations and contemporary business environments.
Course changes
Every effort has been made to ensure the accuracy of this information, however our courses are subject to ongoing review and development. Changing circumstances may necessitate alteration to, or the cancellation of, courses.
Changes may be necessary to comply with the requirements of professional bodies, revisions to subject benchmarks statements, to keep courses updated and contemporary, or as a result of student feedback. We reserve the right to make variations if we consider such action to be necessary or in the best interests of students.
Track changes to this course
Download our course leaflet