TESOL (Teaching English to Speakers of Other Languages)
MA
Learning English as a second language provides people with new connections, new opportunities and newfound confidence communicating in different countries. Join us to make mastering this widely-spoken language easier and more engaging by exploring theories and issues in teaching.
Overview
Course length:
1 year full-time
2 years part-time
Start dates:
September 2023
September 2024
Location:
Edge Hill University
Subject(s):
TESOL
Department:
Language Centre
Is this course right for you? We've designed our TESOL course for people in the UK, Europe and beyond who are interested in teaching English as a second or foreign language. You'll be looking to boost your professional skills, discuss language learning and leap into the analysis of teaching English around the globe.
Together we'll explore the theories and key principles of language education. Our teaching is rooted in practice meaning you'll be able to apply everything you learn in your own classroom. At the same time, you'll become aware of national and international issues in teaching English to other language speakers. You'll also explore debates around the role of non-native speaker teachers.
Our unique Educational Management module delves into practical educational management challenges and helps you prepare for more senior roles. Outside of the classroom, you'll have the opportunity to attend a conference and boost your CV with work experience such as teaching English to local refugees and asylum seekers.
Course features
International students can apply
What you'll study
During our MA TESOL degree, you'll grow your understanding of the key theories that surround English language teaching. You'll also get the chance to develop your professional, practical and reflective skills to help you become the best teacher you can be. Prepare for life after graduation by improving your research skills and questioning the relationships between theory and effective practice.
In Term 1, you'll take two compulsory modules: Theories of Second Language Education and Practical Knowledge of TESOL. You'll become familiar with the individual differences that influence second language acquisition, so you can accommodate the needs and learning goals of your students. We'll also introduce you to the key methods and approaches that inform language teaching.
In Term 2, you'll develop your research skills to prepare you for your 10,000 word dissertation, which you'll work on in Term 3. You'll also shape your studies by choosing an optional module. If you're already an experienced teacher or want to step into management, Educational Management of TESOL will be a great match for you. If you have less experience or want to create courses, you might find TESOL Syllabus and Material is a better fit.
Practical Knowledge of TESOL
Preparation for Researching TESOL
Theories of Second Language Education
Educational Management of TESOL
TESOL Syllabus and Material Development
Optional modules provide an element of choice within the course curriculum. The availability of optional modules may vary from year to year and will be subject to minimum student numbers being achieved. This means that the availability of specific optional modules cannot be guaranteed. Optional module selection may also be affected by timetabling requirements. Some restrictions on optional module choice or combinations of optional modules may apply.
How you'll study
Our teaching methods follow a variety of formats from traditional-style lectures to tutorials, seminars and workshops. Teaching materials are accessible via our virtual learning environment and will include regular formative tasks for you to work through with the help of an assigned academic tutor. You will also engage in individually-directed activities, tailored to your personal and professional interests and needs, in preparation for module assessment.
How you'll be assessed
Summative assessment is based mainly on a portfolio-building approach. You will also be engaged in writing reflective accounts, projects, essays and an extended research study based on your personal professional interests. You will be given clear assessment criteria and constructive feedback for each piece of work.
Formative assessment opportunities are also embedded in each module, where you will receive individual feedback on in-session tasks and selected drafts of your work.
Who will be teaching you
The Language Centre is accredited with the British Council for the teaching of English in the UK, as well as BALEAP, the global forum for English for Academic Purposes (EAP) professionals. It has also been recognised as a centre of excellence by EL Gazette, a key English language teaching industry publication.
The programme is delivered by experienced and well-qualified staff, all of whom have worked in TESOL-related environments in the UK and overseas. Tutors are currently studying for, or have already gained, a PhD and possess strong research profiles, with experience presenting at many conferences nationally and internationally. Areas of interest and research include second language acquisition, motivation, materials design, and management and leadership.
Entry criteria
Entry requirements
You should have a degree equivalent to UK first-class or second-class honours (2:2 or above). No specific subjects are required.
Applications are welcome from both experienced teachers and newly graduated students who are motivated and interested in teaching English as a foreign language.
English language requirements
International students require IELTS 6.5, with a score no lower than 6.0 in each individual component, or an equivalent English language qualification.
If your current level of English is half a band, one band, or one-and-a-half bands lower, either overall or in one or two elements, you may want to consider our Pre-Sessional English course.
How to apply
There is an online application process for this course.
Please choose the application form for your preferred intake date and mode of study.
Please see our international student pages for further information about how to apply as a prospective international student.
Should you accept an offer of a place to study with us and formally enrol as a student, you will be subject to the provisions of the regulations, rules, codes, conditions and policies which apply to our students. These are available at www.edgehill.ac.uk/studentterms.
Did you know?
If you join a full time undergraduate degree at Edge Hill University, we will guarantee you the offer of a room in our halls of residence for the first year of your course.
Discover our accommodation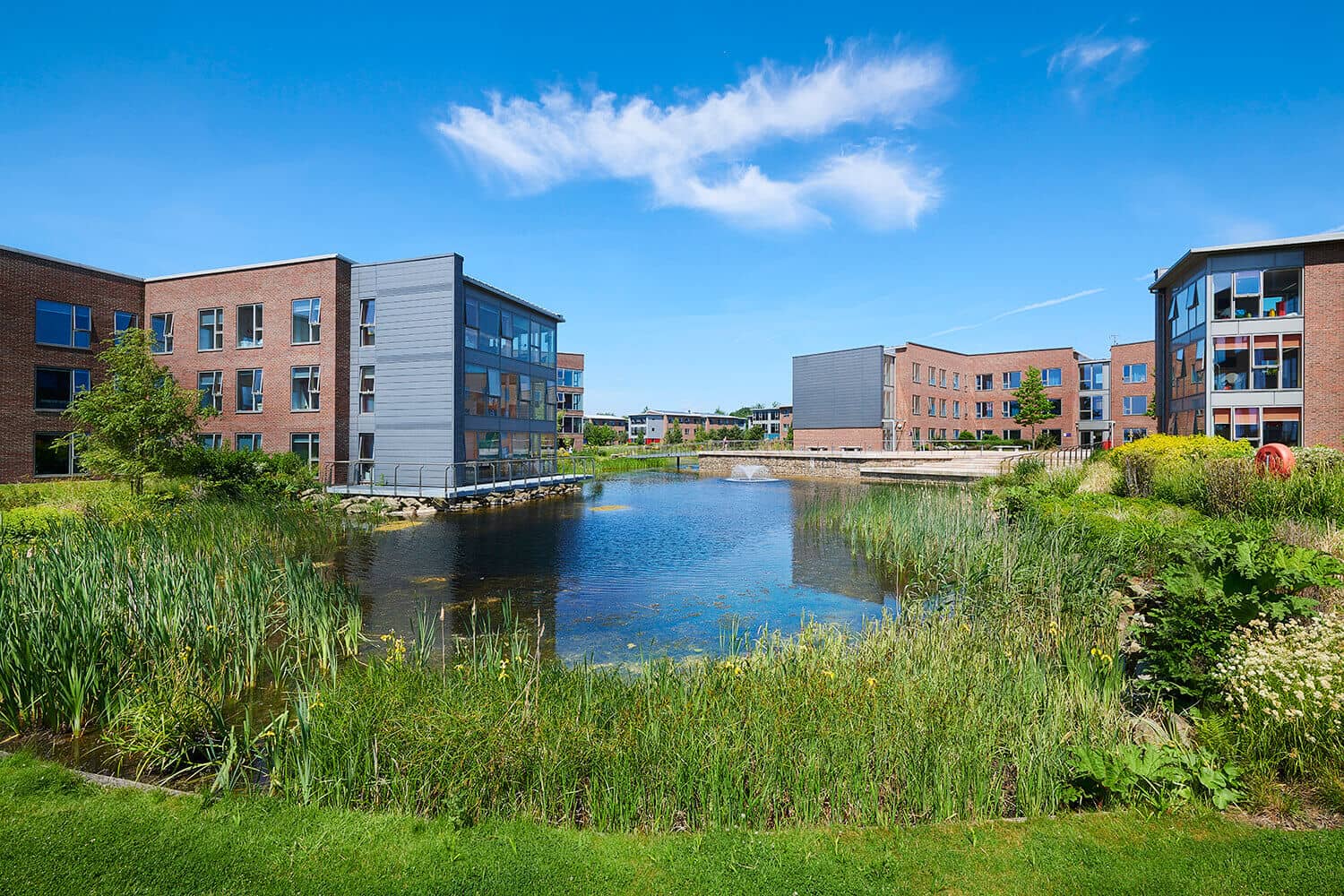 Facilities
The Language Centre is located on the ground floor of the £6million Law and Psychology building. The three-storey building includes a 265-seat lecture theatre, seminar and tutorial rooms, and social learning areas which encourage a more informal and interactive style of learning.
The facilities include a dedicated language laboratory with 16 computer stations, a reading corner and work space. The language laboratory is used for teaching and also as a self-study facility, enabling you to participate in language learning activities in 15 different languages.
You can also access the EAP Toolkit, an online learning resource which provides practice opportunities in academic writing, reading, critical thinking, listening, note-taking, communication, vocabulary and grammar.
Where you'll study
Finance
Tuition fees
UK Part-Time
£47 per credit
for 180 credits
Tuition fees for international students joining the course in academic year 2023/24 are still to be announced. We will update this information as soon as it is available.
EU/EEA and Swiss students who have settled or pre-settled status under the EU Settlement Scheme, as well as Irish nationals, may be eligible for the UK tuition fee rate.
Financial support
Please view the relevant Money Matters guide for comprehensive information about the financial support available to eligible UK students joining postgraduate courses at Edge Hill University.
EU/EEA and Swiss students who have settled or pre-settled status under the EU Settlement Scheme may be eligible to apply for financial support. Irish nationals can ordinarily apply to Student Universal Support Ireland (SUSI). If you are an EU student who does not have settled or pre-settled status, or are an international student from a non-EU country, please see our international student finance pages.
Your future career
By the time you've finished this course, you'll be confident taking the next step in your career. You'll have what it takes to make a difference academically and professionally to the changing world of international English language education.
Through our Masters in TESOL, you'll develop the skills and mindset to find employment all over the world. You'll be ready to apply for dynamic roles such as:
teacher
trainer
lecturer
instructor
administrator
director of study within language schools, colleges, universities or organisations such as the British Council
As a Masters graduate, you could also consider taking your education further with an MPhil or doctoral research.
Course changes
Every effort has been made to ensure the accuracy of this information, however our courses are subject to ongoing review and development. Changing circumstances may necessitate alteration to, or the cancellation of, courses.
Changes may be necessary to comply with the requirements of professional bodies, revisions to subject benchmarks statements, to keep courses updated and contemporary, or as a result of student feedback. We reserve the right to make variations if we consider such action to be necessary or in the best interests of students.
Track changes to this course
Download our course leaflet