Strategic Leadership in Emergency Services and Law Enforcement
MSc
When critical incidents happen, there must be a streamlined response. We'll help you take the lead in identifying, managing, and leading in this challenging area. Graduate ready for rewarding roles in emergency services and law enforcement agencies.
Overview
| | |
| --- | --- |
| Course length: | 2 years part-time |
| Start dates: | September 2023 |
| Location: | Edge Hill University |
| Subject(s): | Policing |
| Department: | Law and Criminology |
Learn to lead responses to serious and critical incidents. Discover the challenges and complexities of working in this area. Understand the legal requirements in place and the responsibilities you'll have as a leader.
Designed and delivered by former senior professional police officers and academic experts, this taught Masters provides a practical and theoretical approach to the ever-increasing complexities of strategic leadership. Learn through roleplay and problem-solving exercises to explore real-life scenarios.
We'll cover how to manage competing operational and organisational demands, as well as the wider strategic implications of critical and major incident management. At the same time, you'll develop knowledge of advanced research methods and transferable skills to help you stand out after you graduate.
Being able to make decisions while under pressure will also be key. To prepare you for this part of working in the police, you'll learn to respond to intense situations in a safe space – our brand new Immersive Simulation Suite.
Is MSc Strategic Leadership in Emergency Services and Law Enforcement right for you? You might work in the emergency service or at a law enforcement agency. Perhaps you're already in a leadership position and want to advance your experience. Maybe you've recently finished your undergraduate studies. Whatever your background, we'll set you up for success in this area.
What you'll study
In the first year of this Master's course, you'll explore operational and organisational leadership in critical incidents and across strategic partnerships. We'll also immerse you in the ethics of leadership in this area.
The second year of the course is dedicated to your dissertation. This 15,000-word research project gives you the opportunity to explore a topic that interests you. You might even decide to examine a real-life scenario relevant to your employment.
Optional modules provide an element of choice within the course curriculum. The availability of optional modules may vary from year to year and will be subject to minimum student numbers being achieved. This means that the availability of specific optional modules cannot be guaranteed. Optional module selection may also be affected by timetabling requirements. Some restrictions on optional module choice or combinations of optional modules may apply.
How you'll study
The course will be delivered using a blended approach of online learning (comprising live and pre-recorded sessions) and more traditional classroom-based lectures and seminars. You will typically attend weekly in-person interactive seminars, weekly lectures (which may be online or face-to-face), and a monthly online consolidation workshop.
Classes will involve a series of tutor-led elaborations and evaluations, as well as student-led engagements. These will include the presentation of problem-solving exercises and discussion of pre-set questions.
Additional in-person or online student support sessions, along with access to online learning and research materials, will also be available.
How you'll be assessed
You will be assessed through a combination of essays, roleplay and problem-solving exercises based on real-life scenarios, as well as a 15,000-word dissertation.
Who will be teaching you
Designed and delivered by former senior police officers, police staff and academics in business, policing and emergency services leadership, the course is informed by both practical experience and current research and policy development.
The course team has significant experience of high-level delivery within the police service, including at Chief Constable and Head of Crime levels. It also includes senior academic staff with experience of public service delivery and emergency management.
Guest speakers and external subject experts will also be invited to contribute to lectures and case studies to enhance your learning experience.
Entry criteria
Entry requirements
You should have a degree equivalent to UK first-class or second-class honours (2:2 or above) in a relevant subject.
Relevant professional qualifications and/or appropriate work experience will also be considered. This will allow for the recruitment of current police officers, police staff and staff from other law enforcement agencies with significant related work experience.
For applicants who don't have a second-class honours degree, an interview will usually form part of the selection process.
English language requirements
International students require IELTS 6.5, with a score no lower than 6.0 in each individual component, or an equivalent English language qualification.
If your current level of English is half a band or one band lower, either overall or in one or two elements, you may want to consider our Pre-Sessional English course.
How to apply
This is a new course currently in development. Online applications will open once the validation process is complete.
Should you accept an offer of a place to study with us and formally enrol as a student, you will be subject to the provisions of the regulations, rules, codes, conditions and policies which apply to our students. These are available at www.edgehill.ac.uk/studentterms.
Did you know?
If you join a full time undergraduate degree at Edge Hill University, we will guarantee you the offer of a room in our halls of residence for the first year of your course.
Discover our accommodation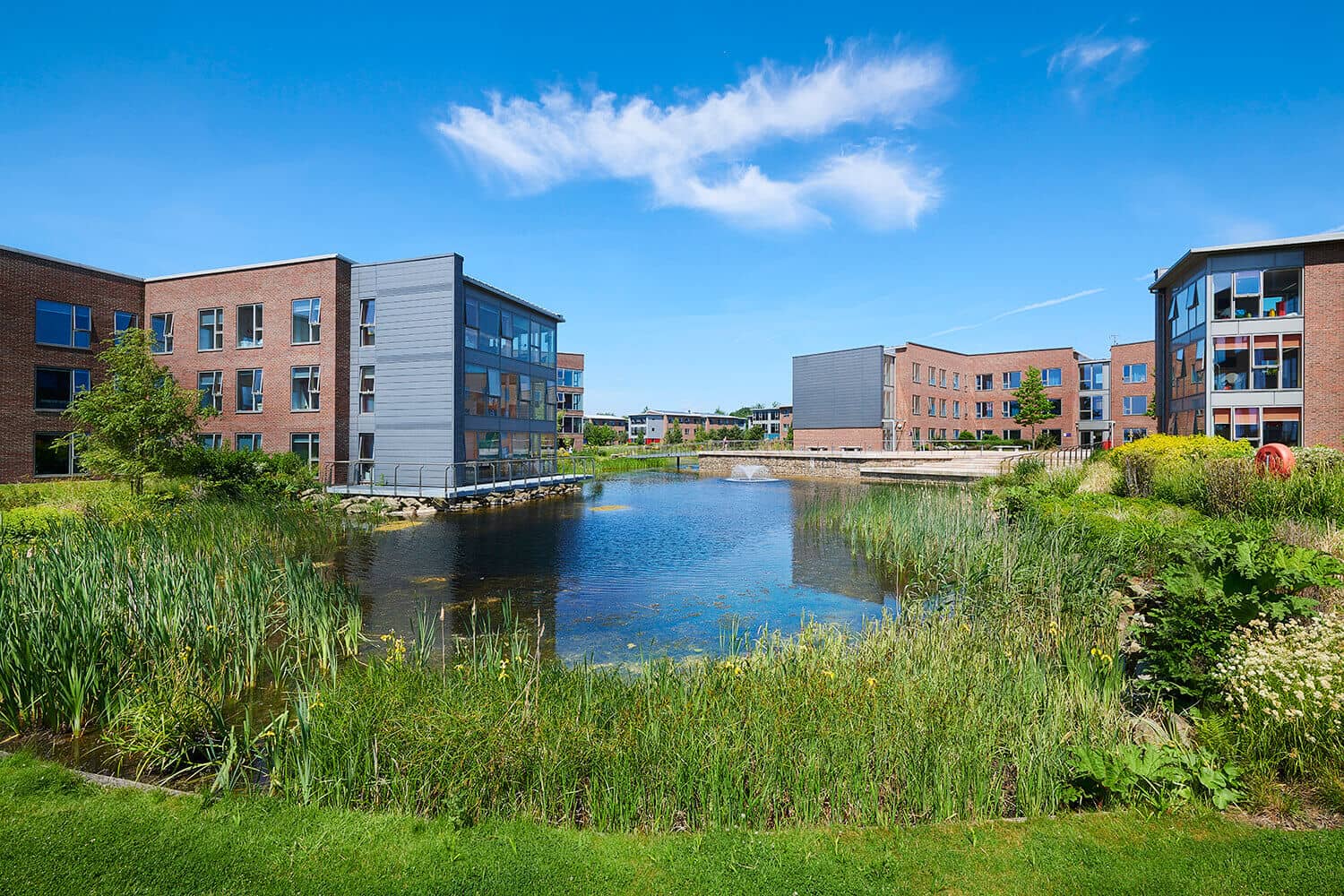 Facilities
The £6million Law and Psychology building provides contemporary teaching and learning facilities for students in the Department of Law and Criminology and the Department of Psychology.
The three-storey building includes a 250-seat lecture theatre, seminar and tutorial rooms, and social learning areas which encourage a more informal and interactive style of learning. Elsewhere on campus, there is a mooting room (a mock courtroom) and Police Training and Simulation Facility.
Where you'll study
Police Training and Simulation Facility
Learning resources
The Police Training and Simulation Facility, part of which is furbished as a police station, is used to simulate a wide range of crime scenes. This will enable Law and Policing students to work together in areas such as gathering and analysing evidence, including forensic evidence at crime scenes, as well as practicing interview techniques used by the police through role play, while also ensuring that the rights of suspects are upheld.
Finance
Tuition fees
Tuition fees for students joining this course in academic year 2023/24 are still to be announced. We will update this information as soon as it is available.
EU/EEA and Swiss students who have settled or pre-settled status under the EU Settlement Scheme, as well as Irish nationals, may be eligible for the UK tuition fee rate.
Financial support
Financial support arrangements for eligible UK students joining this course in academic year 2023/24 are still to be announced by the Government. You are advised to check this page regularly and once the position has been confirmed we will update this information.
EU/EEA and Swiss students who have settled or pre-settled status under the EU Settlement Scheme may be eligible to apply for financial support. Irish nationals should ordinarily apply to Student Universal Support Ireland (SUSI). Please see www.edgehill.ac.uk/eufinance for further details.
Your future career
By the end of this strategic leadership course, you'll be ready for a future in the police force, as well as other emergency services and law enforcement agencies. You'll have the skills needed to identify, manage and lead responses to serious and critical incidents.
You'll find opportunities with the Home Office and non-Home Office police forces, as well as other bodies, such as the National Crime Agency. You'll also be ready for rewarding roles in the safety and security industry within the private sector.
With a Master's on your CV, you'll also be in a great position to move into leadership roles through promotion or professional development. Alternatively, you might continue to carry out research with a PhD.
Download our course leaflet