Social Sciences (Critical Autism Studies)
MA
Designed and delivered with support from autistic people, this Masters challenges the assumption that autism is a disorder or impairment. Instead, you'll learn to view it as a form of cognitive diversity and understand what support empowers autistic people.
Overview
How do modern attitudes and interventions in autism affect autistic people? And what do autistic people and the autistic community think of these? Studying with us, you'll develop a grounding in autism and be encouraged to view autism as a form of cognitive diversity that occurs naturally. From early approaches to contemporary models of best practice, we'll encourage you to explore current discussions and controversies.
Not only will you benefit from specialist training, you'll also learn from autistic people who work alongside our interdisciplinary department. Hear about their experiences and learn to appreciate autism as a unique way of being.
Want to take your learning to the next level? You'll have the chance to go on a field trip to explore international perspectives of autism. And there is an opportunity to apply your knowledge in a work setting.
We've designed this degree for anyone who works or communicates regularly with autistic people. The course offers an opportunity to take on continuing professional development (CPD) and boost your career prospects. We particularly welcome applications from autistic people, their families and carers.
Course features
International students can apply

Work placement opportunity
What you'll study
In semester one, you'll critically examine current models of autism that view it as a form of disorder or deficit, instead of a type of cognitive diversity.
You'll engage with current discussions and controversies. We'll also encourage you to consider the skills and values required for working with and supporting autistic people.
To prepare for your dissertation, you'll develop a detailed understanding of the foundations of social research and the range of different approaches to undertaking research.
During your second semester, you'll have the opportunity to do a range of optional modules, including work-based learning or an international field trip. And there are opportunities to specialise in children's mental health or social relations through self-directed learning.
You'll finish the course with a dissertation. For this, you'll complete supervised independent social research on a topic of your choice.
Approaches, Interventions and Supporting Autistic People
Contemporary Issues in Autism
Introduction to Critical Autism Studies
Social Science Methodologies
Deconstructing Challenging Behaviour
Work-Based Learning and Employability
Optional modules provide an element of choice within the course curriculum. The availability of optional modules may vary from year to year and will be subject to minimum student numbers being achieved. This means that the availability of specific optional modules cannot be guaranteed. Optional module selection may also be affected by timetabling requirements. Some restrictions on optional module choice or combinations of optional modules may apply.
How you'll study
The programme is delivered via blended learning, with a combination of face-to-face discussions and online and independent study.
There are six taught sessions per module which are often delivered as blocks of two consecutive days, with the opportunity to participate in additional sessions via the virtual learning environment.
All seminars will be a combination of tutor-led and student-developed interactive learning. You will also engage with tutors on a one-to-one basis.
How you'll be assessed
You will be assessed through a combination of workbooks, essays, reflective journals, independent projects and a dissertation.
There are no formal written examinations as part of the current assessment methods on this programme.
Who will be teaching you
You will be taught by research-active staff who have expertise in autism studies. Some members of the programme team also have previous experience of working as social workers, youth workers, teachers and project workers prior to embarking on their academic careers.
Entry criteria
Entry requirements
You should have a degree equivalent to UK first-class or second-class honours (2:2 or above) in a relevant subject such as social sciences or other human sciences.
It may be possible to join the course without a degree if you are in full-time employment, have a minimum of five years' work experience, and can demonstrate evidence of continuing professional development through a portfolio and written statement.
Applications are particularly welcomed from 'experts by experience', including autistic people, as well as their family members or carers.
An interview will form part of the selection process if you do not meet the degree requirements outlined above.
English language requirements
International students require IELTS 6.5, with a score no lower than 6.0 in each individual component, or an equivalent English language qualification.
If your current level of English is half a band, one band, or one-and-a-half bands lower, either overall or in one or two elements, you may want to consider our Pre-Sessional English course.
How to apply
There is an online application process for this course.
Please choose the application form for your preferred intake date and mode of study.
Please see our international student pages for further information about how to apply as a prospective international student. Please note this course is closed to international applications for September 2023.
Should you accept an offer of a place to study with us and formally enrol as a student, you will be subject to the provisions of the regulations, rules, codes, conditions and policies which apply to our students. These are available at www.edgehill.ac.uk/studentterms.
Did you know?
If you join a full time undergraduate degree at Edge Hill University, we will guarantee you the offer of a room in our halls of residence for the first year of your course.
Discover our accommodation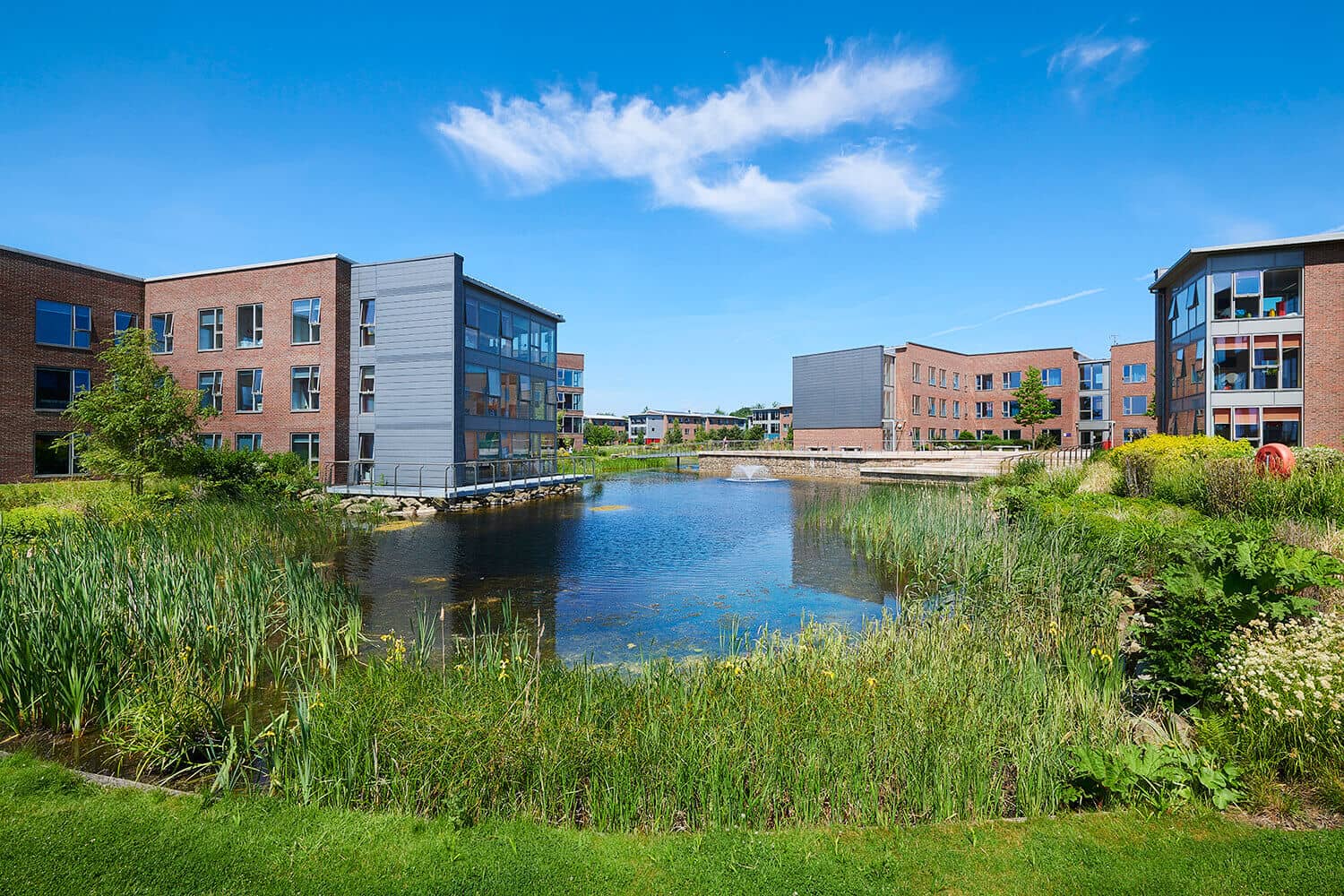 Facilities
The Department of History, Geography and Social Sciences is based in the Geosciences building. The contemporary facilities combine with a friendly and supportive learning environment to ensure that your studies are a rich and rewarding experience.
The Geosciences building features a large lecture theatre, small group teaching rooms, IT facilities and smaller tutorial spaces. There is also a large social area which encourages a more informal and interactive style of learning.
Where you'll study
Finance
Tuition fees
UK Part-Time
£47 per credit
for 180 credits
EU/EEA and Swiss students who have settled or pre-settled status under the EU Settlement Scheme, as well as Irish nationals, may be eligible for the UK tuition fee rate.
Financial support
Please view the relevant Money Matters guide for comprehensive information about the financial support available to eligible UK students joining postgraduate courses at Edge Hill University.
EU/EEA and Swiss students who have settled or pre-settled status under the EU Settlement Scheme may be eligible to apply for financial support. Irish nationals can ordinarily apply to Student Universal Support Ireland (SUSI). If you are an EU student who does not have settled or pre-settled status, or are an international student from a non-EU country, please see our international student finance pages.
Your future career
After our MA Social Sciences (Critical Autism Studies), you'll feel better prepared for a career working with and supporting autistic people. This could be in health and social care, or in international development. With additional training, you may consider a career in teaching, social work or counselling.
You might also think about continuing your studies with a research qualification, such as an MPhil or PhD.
By the end of the course, you'll understand how autistic people interact with the world and others. You'll be able to think critically about developments in policy and services, as well as act as an advocate for autistic human rights and offer empowering support.
Course changes
Every effort has been made to ensure the accuracy of this information, however our courses are subject to ongoing review and development. Changing circumstances may necessitate alteration to, or the cancellation of, courses.
Changes may be necessary to comply with the requirements of professional bodies, revisions to subject benchmarks statements, to keep courses updated and contemporary, or as a result of student feedback. We reserve the right to make variations if we consider such action to be necessary or in the best interests of students.
Track changes to this course
Download our course leaflet