Safeguarding in Sport
MA
Prepare for a career in safeguarding, athlete welfare or working with young people on this specialist Masters degree, designed for graduates and those already working in sport or the children's workforce.
Overview
Examining the abuse and maltreatment of children and other athletes in sports environments, this specialist course will enhance your professional profile and deepen and expand the horizons of your future practice. Whether you are aspiring to a career in safeguarding, athlete welfare or within the children's workforce, or are already employed in such a role, you will gain advanced knowledge and understanding of current practice, policy, and research relating to the abuse and maltreatment of children, other athletes, and non-athlete groups, in sporting contexts. Exploring aspects of sport, child abuse, childhood, athlete welfare, child protection and safeguarding, the course will highlight preventative strategies and practices established within the national and international sports sectors. You will be supported through a blended approach of face-to-face and online learning, developing your own specialist areas of expertise and making original contributions to knowledge. Applying complex theoretical ideas to real-world environments, you will explore codes of conduct, professional values and research ethics, while building a portfolio of transferable skills, from problem solving and creative thinking, to project design and implementation. There are additional opportunities to enhance your learning through an optional international field trip and work-based learning.
Course features
Work Placement Opportunity
What you'll study
The course uses a range of concepts, as well as theoretical perspectives, to investigate and interpret the abuse and maltreatment of children and athletes in sports environments.
Taking a critical, evidence-informed approach, you will examine the institutional contexts of safeguarding policy and practice, exploring how children and athlete's rights are generated, negotiated and implemented.
An introduction to social research methods and methodologies will fully prepare you for carrying out a supervised dissertation on a relevant topic of your choice.
Optional modules provide a variety of opportunities to tailor your studies. You can study a specialist module in children's emotional distress, gain real-world experience on a work placement, engage in self-directed learning, and have the chance to participate in the cultural analysis of a different society on an international field trip.
Childhood in International Context
Safeguarding and Athlete Welfare in Sport
Social Science Methodologies
Work-Based Learning and Employability
Optional modules provide an element of choice within the course curriculum. The availability of optional modules may vary from year to year and will be subject to minimum student numbers being achieved. This means that the availability of specific optional modules cannot be guaranteed. Optional module selection may also be affected by timetabling requirements. Some restrictions on optional module choice or combinations of optional modules may apply.
How you'll study
The course is delivered via blended learning, with a combination of face-to-face discussions and online and independent study.
Taught sessions will be delivered in two-day intensive teaching blocks, held two or three times each semester per module studied. There is also the opportunity to participate in additional sessions via the virtual learning environment.
You will learn through a combination of lectures, interactive seminars, individual and small group tutorials, and one-to-one supervision.
Learning will take place in the classroom, online and in professional or practice environments.
How you'll be assessed
Modules will typically be assessed through one or two pieces of coursework, including essays, reports, reviews and presentations.
There are no formal written examinations as part of the current assessment methods on this course.
Who will be teaching you
You will be taught by research-active staff who have expertise in safeguarding in sport and child and athlete welfare. Their ongoing research and strong external networks, established over many years of research, evaluation, consultancy and advocacy, directly inform the curriculum.
Guest speakers will further enhance your learning experience. These are expected to include victims and survivors of abuse in sport, as well as external experts and professionals.
Entry criteria
Entry requirements
You should have a degree equivalent to UK first-class or second-class honours (2:2 or above) in a relevant subject, such as social sciences or other human sciences.
Appropriate work experience will also be considered, subject to an interview, if you have a minimum of five years' experience and can demonstrate evidence of continuous professional development.
English language requirements
International students require IELTS 6.5, with a score no lower than 6.0 in each individual component, or an equivalent English language qualification.
If your current level of English is half a band or one band lower, either overall or in one or two elements, you may want to consider our Pre-Sessional English course.
How to apply
This is a new course currently in development. Online applications will open once the validation process is complete.
Should you accept an offer of a place to study with us and formally enrol as a student, you will be subject to the provisions of the regulations, rules, codes, conditions and policies which apply to our students. These are available at www.edgehill.ac.uk/studentterms.
Did you know?
If you join a full time undergraduate degree at Edge Hill University, we will guarantee you the offer of a room in our halls of residence for the first year of your course.
Discover our accommodation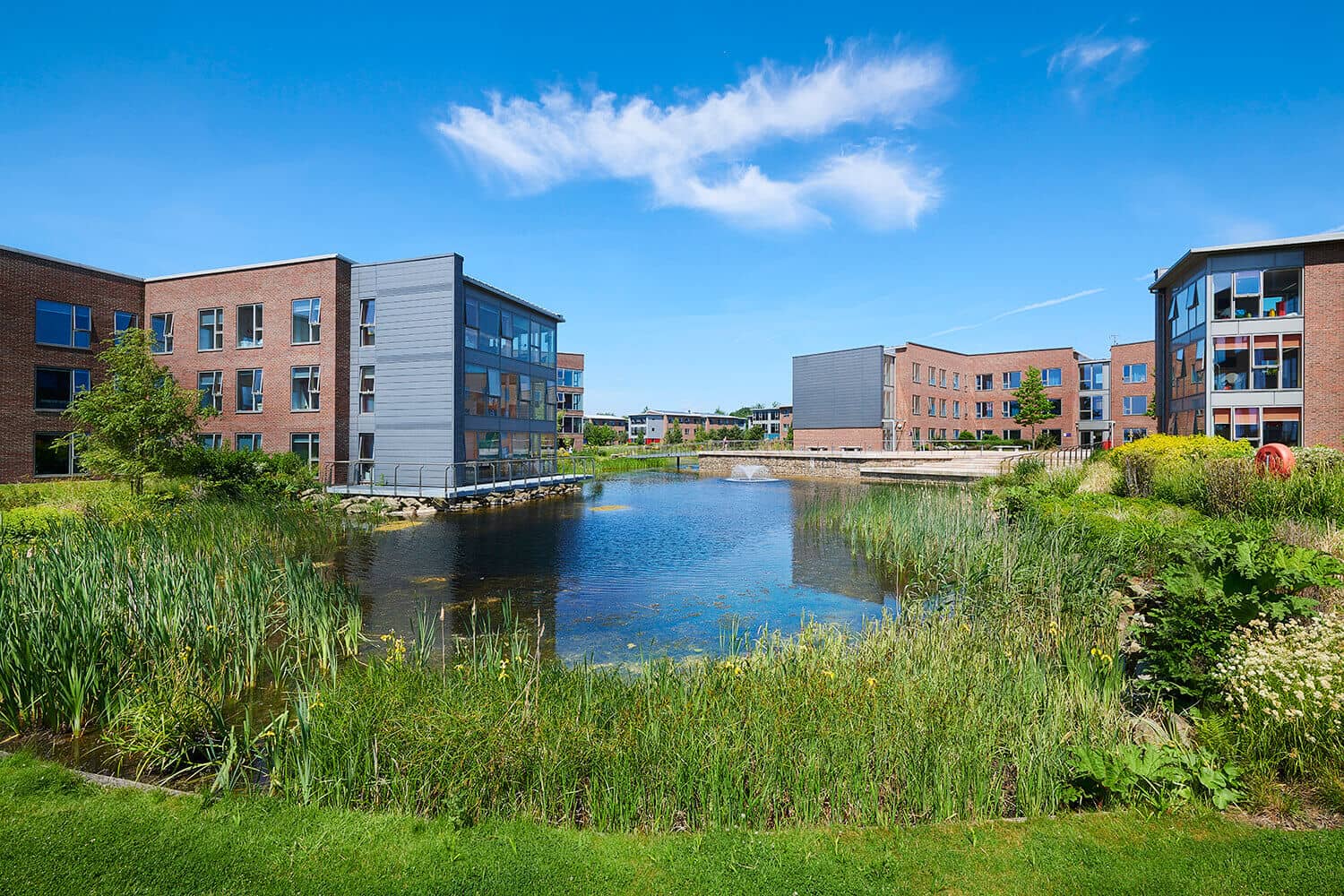 Facilities
The Department of Social Sciences is based in Creative Edge, a state-of-the-art £17million building offering highly contemporary facilities for Social Sciences students.
The building features a lecture theatre, seminar rooms, IT facilities and smaller tutorial spaces. There are also social learning areas which encourage a more informal and interactive style of learning.
Where you'll study
Finance
Tuition fees
Tuition fees for students joining this course in academic year 2023/24 are still to be announced. We will update this information as soon as it is available.
EU/EEA and Swiss students who have settled or pre-settled status under the EU Settlement Scheme, as well as Irish nationals, may be eligible for the UK tuition fee rate.
Financial support
Financial support arrangements for eligible UK students joining this course in academic year 2023/24 are still to be announced by the Government. You are advised to check this page regularly and once the position has been confirmed we will update this information.
EU/EEA and Swiss students who have settled or pre-settled status under the EU Settlement Scheme may be eligible to apply for financial support. Irish nationals should ordinarily apply to Student Universal Support Ireland (SUSI). If you are an EU student who does not have settled or pre-settled status, or are an international student from a non-EU country, please see our international student finance pages.
Your future career
As the global sport sector continues to invest in and improve the sports environment for children and athletes, major national and international organisations, such as Sport England, have identified safeguarding as central to their strategies and future development. This course will prepare you to enter, or progress within, this growing field of employment in the sport sector.
Specific safeguarding roles, teams and units exist in the public, private and voluntary sectors, for example in national governing bodies of sport. However, the knowledge and skills you will develop on the course are relevant to a wide range of careers, within the sport sector and beyond. These include a variety of roles that involve working with, or having responsibility for, children, including coaching, sports development and sports management, as well as other areas of youth work.
Successful completion of the course will also ensure you are equipped with the research skills needed for further academic study, such as doctoral research on a PhD.
Download our course leaflet