Post-14 Education
PGDE
GOV.UK code: X341
Eager to enter teaching or boost your experience in further education? Gain eligibility for Qualified Teacher Learning and Skills status and demonstrate achievement of the Professional Standards for Teachers and Trainers in Education and Training.
Overview
Harnessing your passion for education starts here. Perhaps you're entering teaching for the first time or have already provided training or teaching in the voluntary sector, police, fire service, health service or prison service. Whatever your background, this postgraduate diploma in education will open up exciting opportunities in the world of education, and provide a pathway to future Masters or PhD study.
How can you use educational philosophies in the classroom today? What influences do social justice and inequality have on learning? And how important is research and self-evaluation for teachers and trainers? We'll answer these questions and more to help you make a difference to the people you teach.
If you're eager to take your career to the next level and find your place in management and leadership roles, we'll help you develop the practical skills and insights to become a confident, credible and effective teacher or trainer.
Rated Outstanding by Ofsted
The most recent Ofsted inspection (June 2014) judged our university's initial teacher education for further education to be Outstanding. The report commended "the exceptional high-quality training in further education" which "develops deeply reflective trainees, guided by expert mentors who help them to attain outstanding outcomes".
This programme carries eligibility for Qualified Teacher Learning and Skills (QTLS) status. Since April 2012, QLTS has been approved by the Department for Education as being equivalent to Qualified Teacher Status (QTS) for schools and therefore there is the possibility of teaching in a school if your specialist subject is part of the curriculum for the given age range.
Course features
International students can apply

Professional practice placements
What you'll study
This course underpins professional practice with key theoretical perspectives. Our programme will give you the skills and knowledge to find your place in the post-14 education and training sector. We'll cover the importance of research-informed teaching and develop your understanding of pedagogy at this level. You'll get the chance to take part in placements and apply what you've learnt on campus.
Boost your professionalism with a better understanding of what makes successful teachers and trainers. We'll explore current issues in the lifelong learning sector and teach you practical strategies for teaching, learning and assessment.
You'll learn to design effective curriculums and examine the impact of resources and learning technologies. We'll also cover an evaluation of the innovative approaches that you'll use throughout your career.
Taking part in mock interviews and self-reflection exercises helps you get to grips with the Professional Standards for Teachers and Trainers in Education and Trainers in Education and Training. This will prepare you for the next stage of your career in education, such as applying for Qualified Teacher Learning and Skills status.
Curriculum Planning and Quality Processes in Post-14 Education
Evidence-Informed Practice in Post-14 Education
Principles of Teaching, Learning and Assessment in Post-14 Education
Reflective Professional Practice in Post-14 Education
How you'll study
The programme is delivered through a combination of lectures, seminars, tutorials and workshops, as well as professional practice.
Attendance is typically two days per week on campus, with three days per week dedicated to professional practice. Your professional practice requires a minimum of 100 hours solo teaching.
How you'll be assessed
Assessment is through coursework and eight observations of teaching and training. Observations will be conducted by either by your mentor on placement, or a tutor from Edge Hill University, and provide you with feedback on both your subject knowledge and general teaching skills.
The assessment strategies are varied but place a significant focus on developing knowledge and skills that will be useful in practice. Portfolios of evidence, drawn from the trainee's practice, encourage the development of innovation in teaching and learning activities.
There are no formal written examinations as part of the current assessment methods on this programme.
Who will be teaching you
The Faculty of Education has been at the forefront of teacher education for 135 years and today enjoys the enviable position of being one of the country's leading providers of education, training and research for the children's workforce.
You will be taught by expert staff who have first-hand experience of post-14 teaching, as well as work-based mentor trainers who are specialists in their subject area.
Entry criteria
Entry requirements
You should have a degree equivalent to UK first-class or second-class honours (2:2 or above) in a subject that is clearly part of the Further Education and Training curriculum. For applicants with a degree in a subject not related to the Further Education curriculum, other suitable Level 3 qualifications may be considered if these are supplemented by appropriate professional experience.
GCSE English Language and GCSE Mathematics at Grade C or Grade 4 or above (or equivalent, including Level 2 English and Level 2 Mathematics) are required.
An interview and reflective task form part of the selection process.
If you accept a formal offer from Edge Hill University you will be required to apply for a Disclosure and Barring Service (DBS) Enhanced Disclosure indicating that you meet the mandatory criteria of 'Clearance to Work with Children and/or Vulnerable Adults'. Further information will be sent to you after you have firmly accepted an offer.
English language requirements
International students require IELTS 6.5, with a score no lower than 6.0 in each individual component, or an equivalent English language qualification.
If your current level of English is half a band, one band, or one-and-a-half bands lower, either overall or in one or two elements, you may want to consider our Pre-Sessional English course.
How to apply
Should you accept an offer of a place to study with us and formally enrol as a student, you will be subject to the provisions of the regulations, rules, codes, conditions and policies which apply to our students. These are available at www.edgehill.ac.uk/studentterms.
Did you know?
If you join a full time undergraduate degree at Edge Hill University, we will guarantee you the offer of a room in our halls of residence for the first year of your course.
Discover our accommodation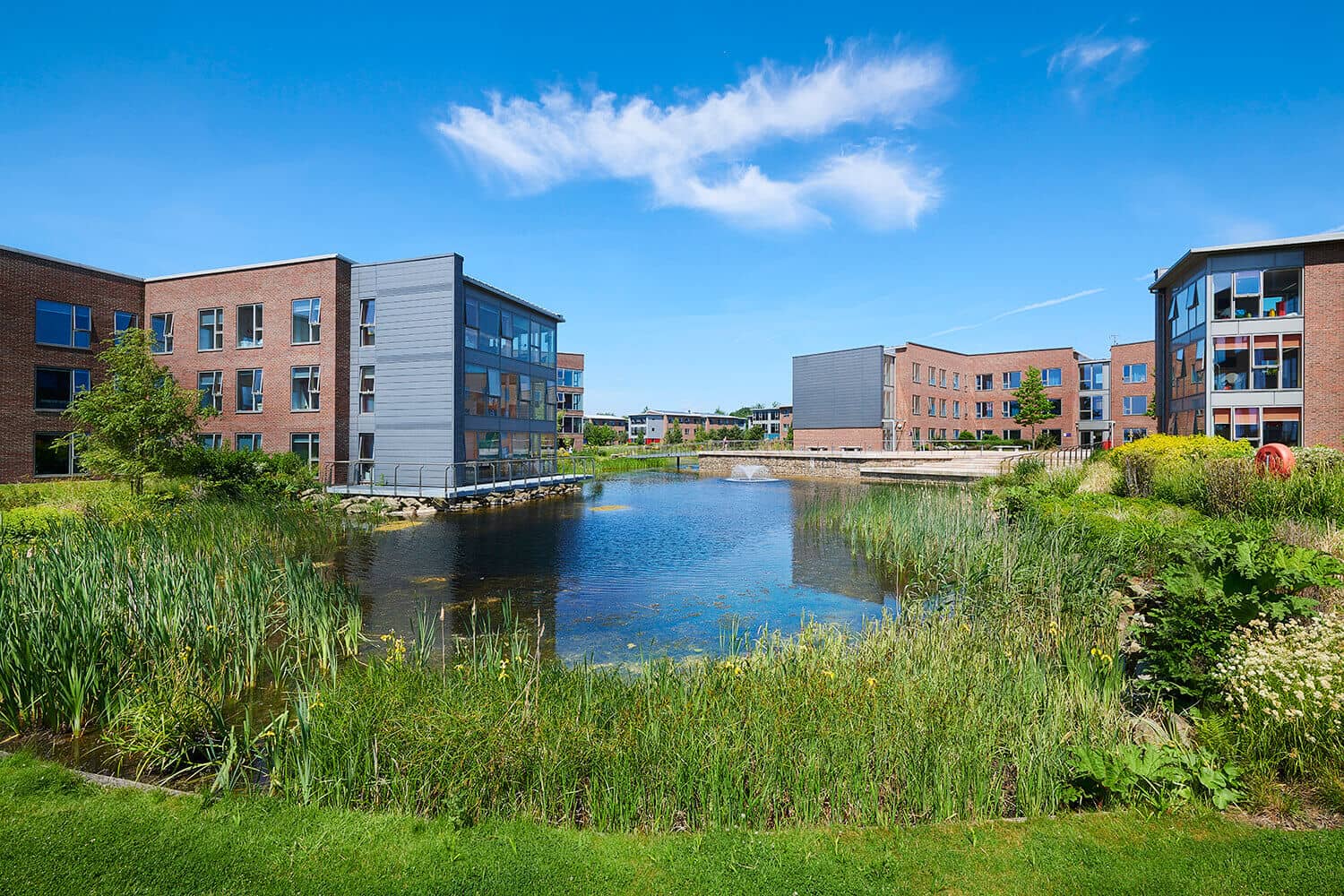 Facilities
Housed in a state-of-the-art £9million building, the Faculty of Education enjoys a stunning setting from both its lakeside and piazza buildings.
Facilities in the lakeside building include a 300-seat lecture theatre, five well-equipped ICT suites, and 18 teaching rooms complete with the latest technology. The lakeside building is also home to a popular vegan and vegetarian cafe where students can meet to socialise and discuss their studies.
The nearby piazza building offers modern facilities including a lecture theatre and a number of seminar rooms.
Finance
Tuition fees
The UK tuition fee rate is subject to final Government approval for academic year 2023/24 entry.
EU/EEA and Swiss students who have settled or pre-settled status under the EU Settlement Scheme, as well as Irish nationals, may be eligible for the UK tuition fee rate.
Financial support
Subject to eligibility, UK students joining this course can apply for a Tuition Fee Loan from the Government to cover the full cost of tuition fees. UK students enrolling on the course may also be eligible to apply for additional funding to help with living costs.

Please view the relevant Money Matters guide for comprehensive information about the financial support available to eligible UK students.
EU/EEA and Swiss students who have settled or pre-settled status under the EU Settlement Scheme may be eligible to apply for financial support. Irish nationals can ordinarily apply to Student Universal Support Ireland (SUSI). If you are an EU student who does not have settled or pre-settled status, or are an international student from a non-EU country, please see our international student finance pages.
Your future career
After completing this programme, graduates from Edge Hill University have gone on to work in the Further Education sector including sixth form colleges, further education colleges and other post-compulsory education settings. Some graduates will also gain employment working in academy secondary schools from 11-19 or 11-16 while completing their post-qualification QTLS route.
The programme is specifically designed to allow you to demonstrate achievement of the Professional Standards for Teachers and Trainers in Education and Training. These Professional Standards, published in May 2014, stipulate the minimum professional requirement in terms of knowledge, skills and professional values.
Once you have completed this programme and are active as a teacher, trainer or tutor in the sector, you will be eligible to apply for Qualified Teacher Status Learning and Skills (QTLS) as part of the professional formation process.
Download our course leaflet